Simple Tomato Pasta
This post may contain affiliate links. Please read my disclosure policy.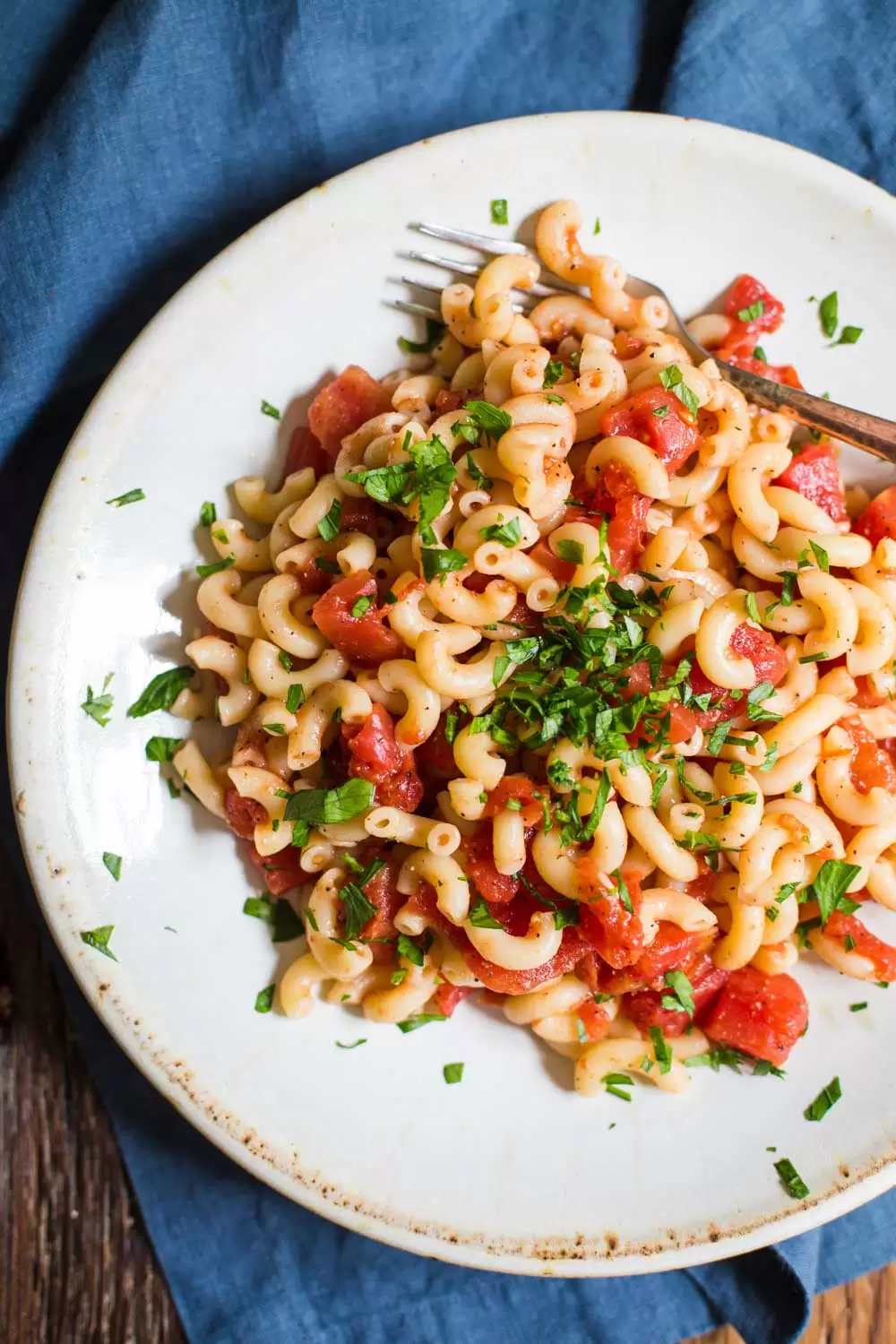 While I feel a bit strange sharing a recipe with you for something so incredibly simple, it's a big part of my childhood and a recipe I've been wanting to recreate for some time now. Growing up, my mom made this dish ALL of the time. Partly because it's simple, cheap, and still very tasty. But, also because HER mother always made it for her and it reminder her of her own childhood.
At first, I asked my mom for the recipe with the intention of veganizing it. However, once she told me the few ingredients that were in it, I realized it was a naturally vegan recipe. Easy!
My mom likes her pasta (and her everything) with loads of pepper on it. I tried to reflect that when I made this dish to photograph but then I put WAY too much pepper in it and it was almost inedible. Oops. I added a little more sugar in the end which helped to balance it all out. It was still super tasty!
I can't tell you how many times I have consumed this exact dish in my life and I can't wait to make it for my kids too :) Especially on the nights when there's not much in the house but we ALWAYS have pasta and we pretty much always have canned tomato. Just cook the pasta (technically any past would do but macaroni is ideal because…that's how mom makes it), dump in the tomatoes with a bit of salt and pepper as well as a dash of SUGAR and…that's it.
The incredible simplicity of this is why it almost feels silly to even share a recipe for it. Throwing some canned tomato into cooked pasta is nothing revolutionary. But, it sure is YUMMY!!
Pro-tip: I've tried this dish with lots of different pastas including black bean pasta and quinoa pasta and it's ALL good. I've become a HUGE fan of black bean pasta lately (just don't overcook it because BLEH it gets all mushy and is basically not worth eating!).
Speaking of which, are there any good kinds of veggie pasta out there that I should try!!? I'm Italian and 100% cool with regular pasta (for the record) BUT trying different kinds of pasta is also fun sometimes too :)
Anywho, happy Monday, friends! It's a short week, Mr. Britnell's birthday week, AND THANKSGIVING!!! Thanksgiving to me= good food, time with family + (and most importantly?) the socially acceptable time to bring out ALL THINGS XMAS!! This is going to be a good week!
Print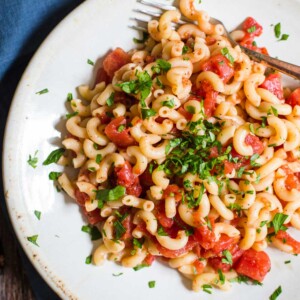 Simple Tomato Pasta
---
Author:

Total Time:

15 minutes
1

pound of macaroni pasta

1

15 ounce can of diced tomatoes, drained of about half of the liquid

1 tablespoon

of sugar

2 teaspoons

of salt (or, salt to taste)

1 teaspoon

of freshly ground black pepper (or pepper to taste)
optional for serving: fresh herbs such as parsley
---
Instructions
Cook the pasta according to directions. Once done, drain and pour back into the pot.
Stir in the tomatoes, sugar, salt, and pepper.
Optional: stir in/ top with fresh herbs.
ENJOY!!
Prep Time:

5 minutes

Cook Time:

10 minutes
This post may contain affiliate links. Please read my disclosure policy.