Slow Cooker Taco Soup
This post may contain affiliate links. Please read my disclosure policy.
It's the second week of the new year….how are those resolutions going??? I wrote about mine last week and I'm happy to say that I'm doing pretty good! I'm holding strong in my green smoothie a day challenge. I went to brunch yesterday with a friend. I have yet to start doing any additional reading but I have a list of books to check out and I'm going to order one today. AND I've been working really hard on a few exciting and fun blog things. (kind of a side note- I have 9 recipe posts photographed, edited, and partially written! I've never had more than 2 ready at a time and it feels really good to be a bit ahead of the game for once.)
In weather related news- it snowed at my house yesterday!! I live in a tiny suburb of Nashville called Joelton that's mostly just farms, a tiny grocery store that's popular for it's meat specials and people that drive ridiculously slow. When we first moved here, I heard many people make comments about how Joelton is in some kind of a weird bubble that very often gets snow even when no where else in Nashville does. From my understanding, it often causes the whole county's school system to shut down even though Joelton was the only place that actually got any snow.
I experienced this yesterday. I'm typically a grinch when it comes to snow. However, I kind of didn't mind it. That being said, I'm happy that there's no more snow in the foreseeable future.
And to stay warm, we're making this Slow Cooker Taco Soup.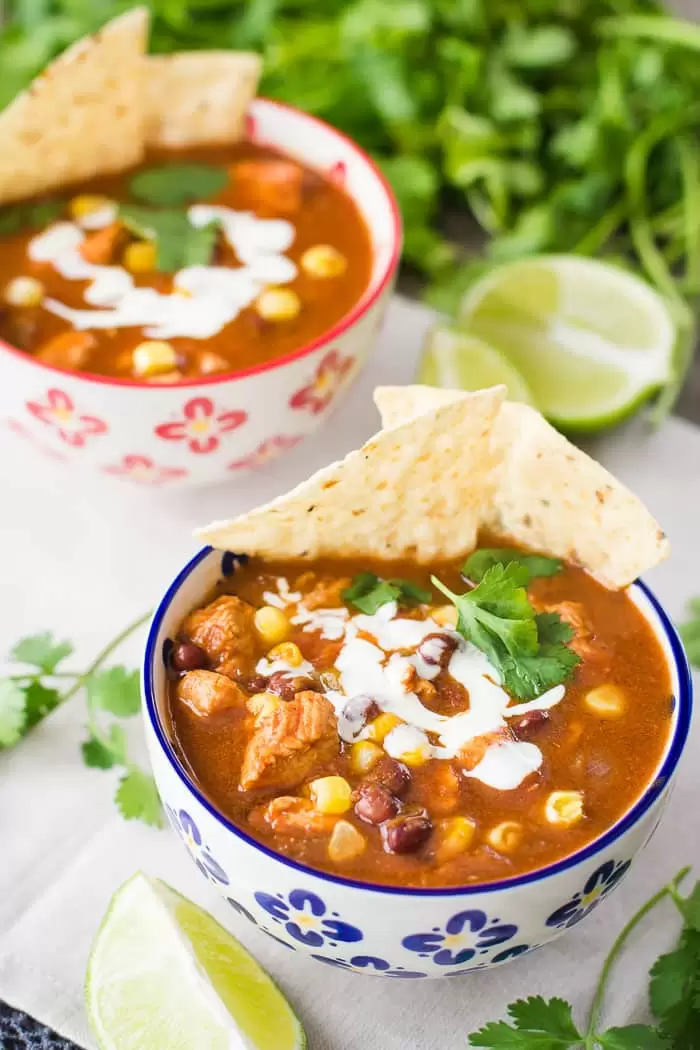 I've been meaning to photograph and post this recipe for quit some time. It's one of the first slow cooker recipes that I EVER made and I seriously make it at least about 2 times per month. I got the idea for the recipes in the comments of a totally unrelated recipe that was posted on facebook. Random, I know. I wish that I could give credit to that person but it was 4 years ago and I have NO way of finding that post or comment.
The original recipe was actually for slow cooker chicken tacos. It had significantly less liquid and the idea was that you would shred the chicken once it was done cooking and then add it to tortillas to make tacos. We tried that one time, liked it okay, but quickly discovered that we preferred this dish in soup form.
I've tried this out with several different types of salsa and I've discovered that my favorite is simply the cheap Kroger brand mild or medium salsa.
ALSO, it's SO super easy. I mean, I guess that's the whole point of slow cooker meals but even for a slow cooker meal, this one is pretty easy.
You could cook the chicken whole and then shred it briefly before serving. I've found that if you shred it later and then add it back to the slow cooker, the chicken absorbs a lot of the liquid in which case I would recommend adding an additional 1/2 cup of chicken broth.
I pretty much always dice the chicken prior to adding it to the slow cooker.
And a note on the black beans: from much trial and error, I've discovered that I prefer to NOT drain the black beans before adding them to the slow cooker. I know that many people prefer to drain and rinse their black beans. If you do this, I suggest adding an additional 1/4 cup of chicken broth to the mix.
This dish is NOT suitable for cooking all day while you are at work, I have learned. It just gets a bit to mushy if it cooks all day even on the low setting. It does, however, work great if you throw everything in the slow cooker when you get home in the evening and set it on high. Assuming your chicken is fully thawed, this dish can be ready to eat in just under 2 hours which is typically how I do it.
Either way, it's easy and delicious and I HIGHLY recommend that you make this ASAP! :)
Print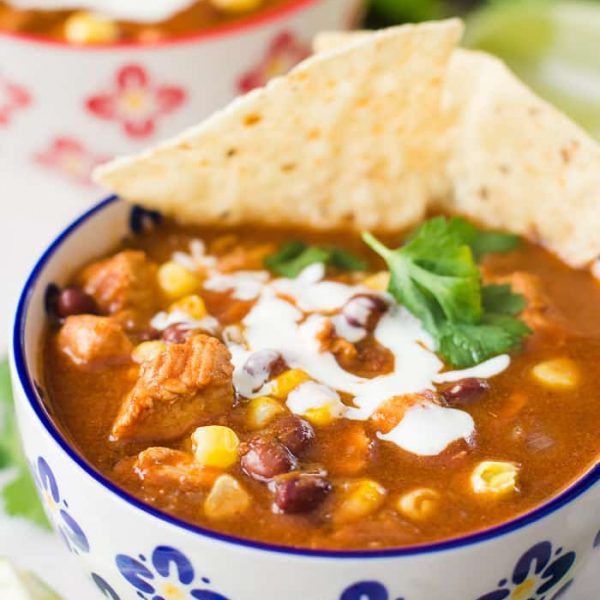 Slow Cooker Taco Soup
---
Author:

Total Time:

3 hours 5 minutes

Yield:

4

1

x
2

large chicken breasts

1

16 ounce jar of salsa

1

15 ounce can of black beans

1

packet of taco seasoning, reduced sodium

1 cup

of reduced sodium chicken broth

1

heaping cup of frozen corn
optional for topping: cilantro, chopped
---
Instructions
Chicken can be cooked whole and shredded later. I prefer to dice the chicken up into bite sized pieces before adding it to the slow cooker.
Add the chicken, salsa, black beans, seasoning, and chicken broth to the slow cooker.
Cook for 2-3 hours on high or 5-6 hours on low. 20 minutes before serving, add in the corn and stir.
Stir in a bit of fresh cilantro and ENJOY!!
Prep Time:

5 minutes

Cook Time:

3 hours

Category:

Slow Cooker

Cuisine:

Mexican
This post may contain affiliate links. Please read my disclosure policy.