Spicy Black Bean Stew w/ Turkey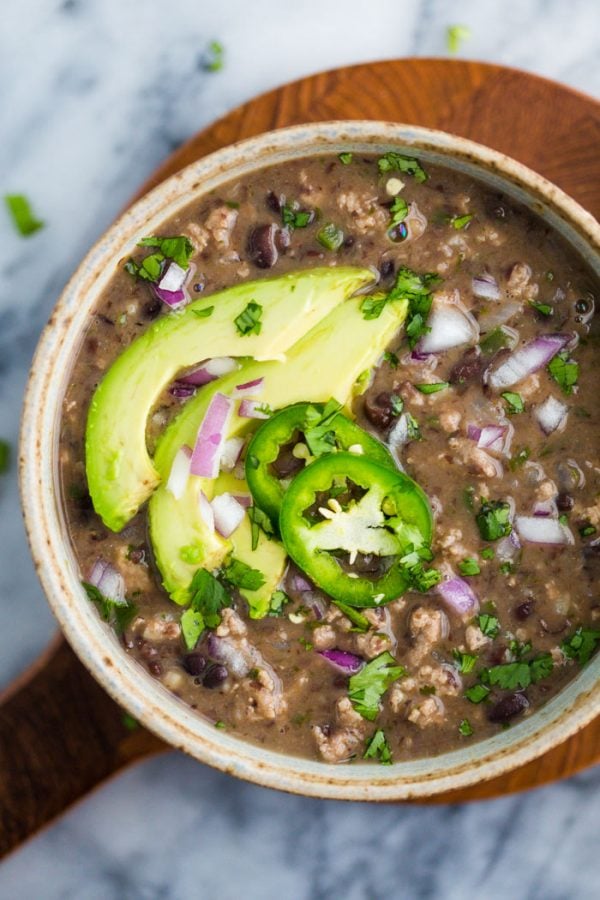 If you've been around for a while and you're thinking to yourself "this recipe looks familiar" it's because IT IS! I'm making my way through old recipes and finding ones that are great recipes but have terrible photos and need a little updating. This Spicy Black Bean Stew is from 3 years ago which in blog years is about 50.
I'm doing my best to take advantage of the last cool days of the season to make all of the soups and stews on my favorites list. That being said, it was almost 80 degrees today (but it's dropping to 37 tonight so this stew is STILL justified!). ALSO planning to make THIS Beer Cheese Soup soon and THIS Zucchini Noodle Ramen!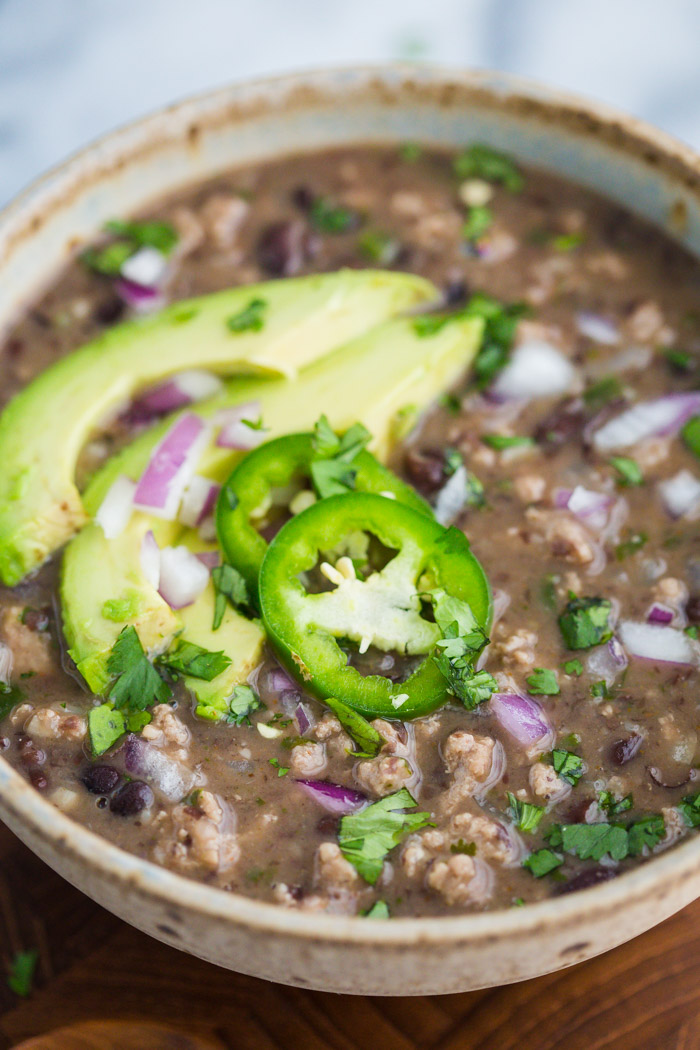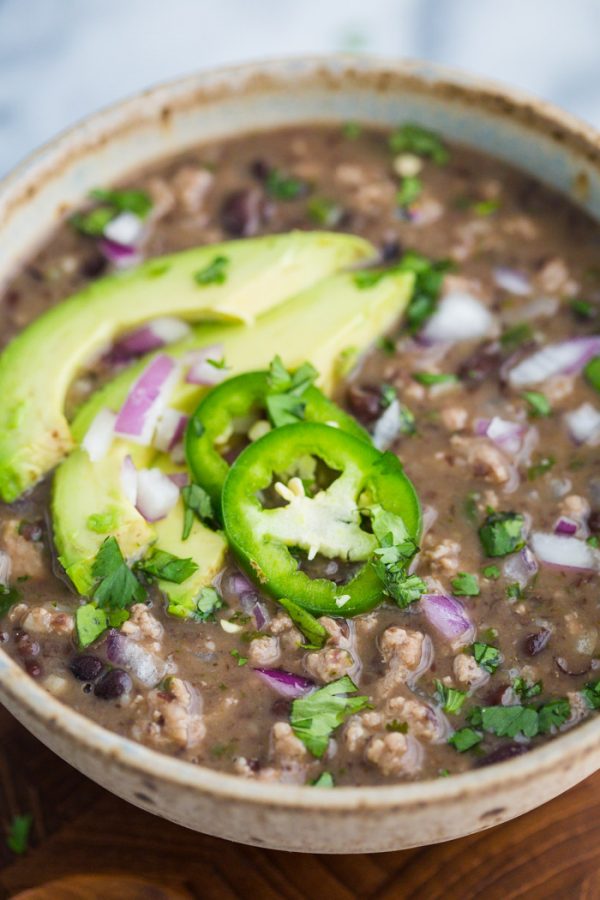 This stew is a classic case of "it don't look so pretty but is sure as hell tastes great!". I got the base for this recipe from The Yellow Table cookbook
. I love how incredibly simple this recipe is! It's also an easy recipe to make adjustments to if, for example, you don't like cilantro (how dare you!) or maybe, like my grandmother, you don't handle spicy very well. AND, it's basically just black beans, veggies, and some lean meat so it's a great light meal.
I really like the creamy aspect of this which is accomplished by pureeing half of the soup. But if you wanted a more chili-like type soup, you could always just skip that step :)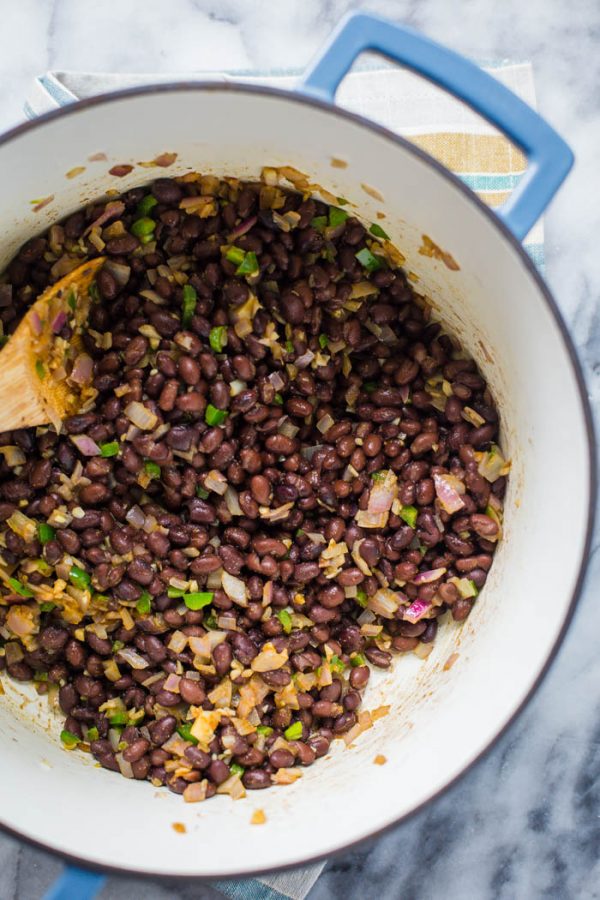 Everything, minus the turkey, is cooked in a big pot. Once done and lightly cooled, half of the mixture is added to a blender or food processor and pureed so as to make this a creamy & chunk stew.
The first few times that I made this, I transferred some of the soup into my blender. BUT for this go around, I used an immersion blender. It didn't puree everything quite as well, but it's a lot easier and less time consuming. So if you have an immersion blender, I highly recommend just using that.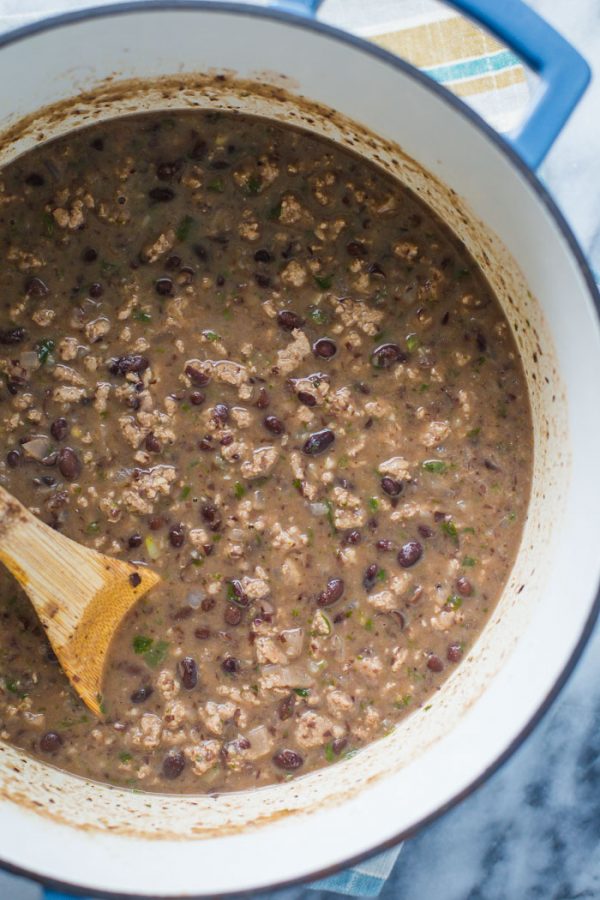 The pureed black bean mixture is added back to the pot and the additional cilantro and cooked ground turkey are added. Once stirred and lightly heated back up, the stew is ready. Easy!
I like mine topped with a bit of plain greek yogurt and a healthy portion of sriracha. When I'm not trying to make things look pretty for the blog, I added on an extra dollop of sour cream/ greek yogurt AND a hefty handful of raw onion and cilantro like so: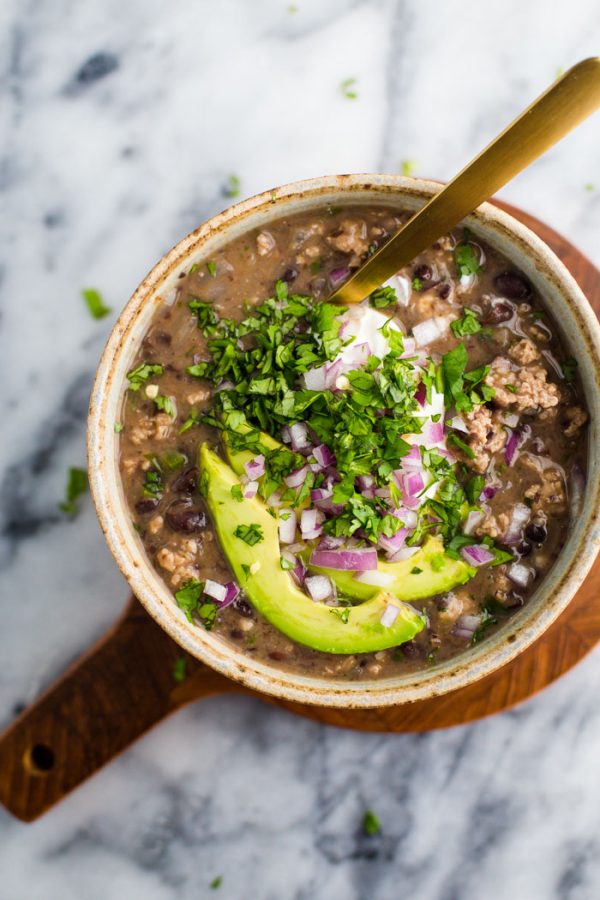 Be on the lookout for more recipe makeovers! Since I'm always looking to create and test new recipes for myself and my clients, it's nice to sometimes just make an old recipe that I already know I love!
I hope you love this Spicy Black Bean Stew w/ Turkey and if you make it, please let me know!
Print
Spicy Black Bean Stew w/ Turkey
---
Author:
Prep Time: 10 minutes
Cook Time: 25 minutes
Total Time: 35 minutes
Yield: 4 1x
Scale
Ingredients
1 pound of ground turkey
2 tablespoons of olive oil
1 small red onion, finely chopped
6 large cloves of garlic
2 medium jalapenos, seeded and finely chopped
2 teaspoons of cumin
1/2 teaspoon of cayenne
3 cans of black beans, drained and rinsed
3 cups of vegetable stock
3/4 cup fresh cilantro, chopped and divided in half
2 tablespoons of lime juice
salt & pepper to taste
optional: sriracha sauce and sour cream/ plain greek yogurt
---
Instructions
In a large pot, heat the olive oil over medium heat and add the onion to saute for about 4 minutes.
Stir in the garlic and jalapeno. Continue stirring for ~1 minute.
Add in the cumin and cayenne and continue to stir for about 2 minutes.
Pour in all of the black beans, vegetable stock, and half of the cilantro. Bring to a boil.
Reduce the heat and simmer for 15 minutes. Then remove from heat.
While the black bean mixture has just a few minutes left, cook your ground turkey until done.
Optional: take half of the black bean mixture (or all if you want it extra smooth) and process it in a food processor or blender until it reaches your desired consistency.
Mix the purred black bean stew back in with the rest of the stew and stir in the ground turkey, remaining cilantro, and lime juice.
Salt & pepper to taste and ENJOY!!
I love mine topped with a dollop of plain greek yogurt and a good serving of sriracha sauce
---
Notes
Adapted from The Yellow Table Cookbook's Spicy Black Bean Stew