Loaded Vegan Chili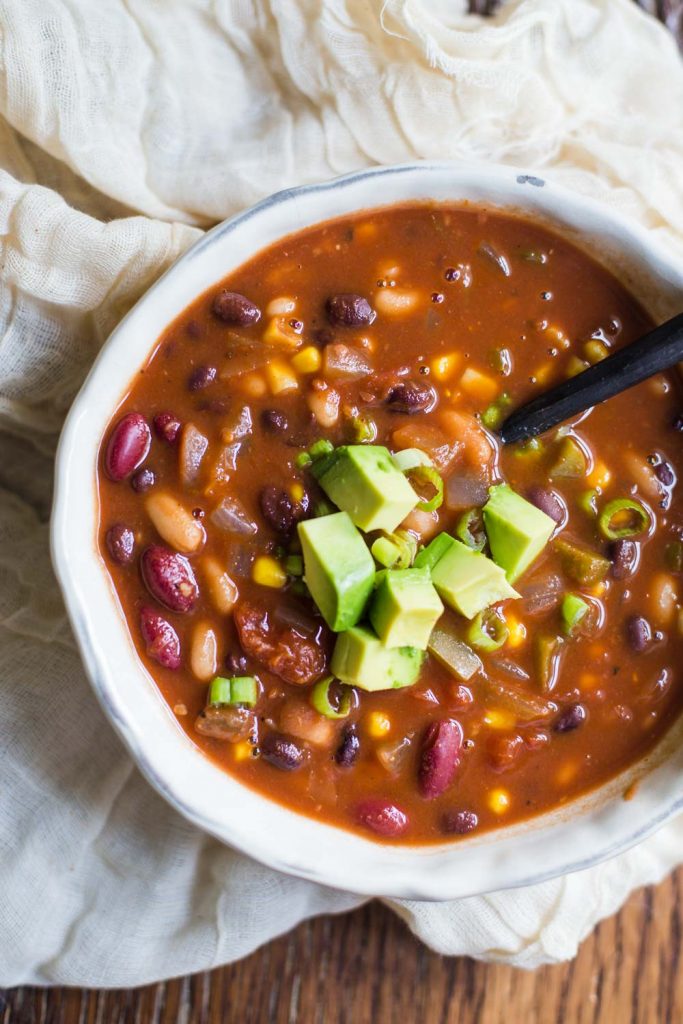 I want to say thank you to all of the lovely comments and kind words that I received from so many of you after my post about my father's passing last week. It truly meant more to me than you will every know. Between this online community, my coworkers, and my closest family and friends, I feel incredibly loved and supported and for that, I am eternally grateful. Thank you so very much!
After quite a few weeks in Kentucky, spending time with my father, cleaning out his house, and making his arrangements, it honestly feels great to be back to work and good to be back in the swing of things.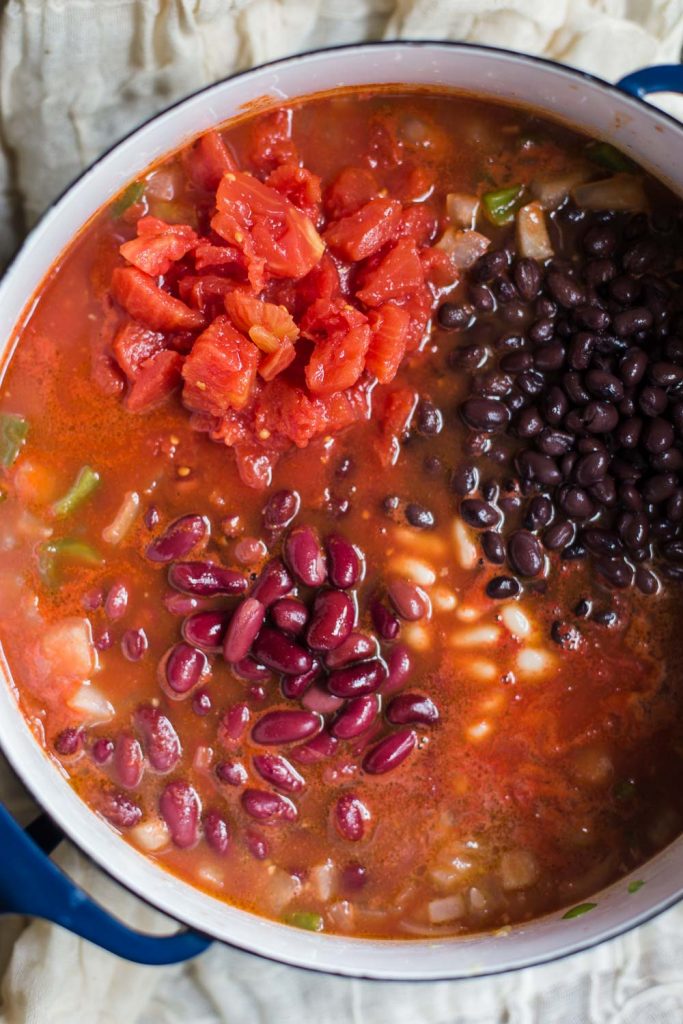 MY LATEST VIDEOS
Soups and stews and chilis are one of my absolute favorite parts about the cooler seasons. Well, that plus all things pumpkin. And, apple cider. But yea, chili. I'm a huge fan. Let's do this, Loaded Vegan Chili.
I call it loaded because I basically just dumped everything in the pot that struck my fancy including 3 different kinds of beans, corn (is that typically in chili?), and even….cocoa powder. I heard a long time ago that the true secret ingredient of a good chili is just a bit of cocoa powder. And, I totally agree with that assessment! So, whip out your cocoa powder for this recipe. If the cocoa powder thoroughly weirds you out, then try adding half of it in first. You could also just leave it out all together BUT I highly recommend that you at least give it a try :)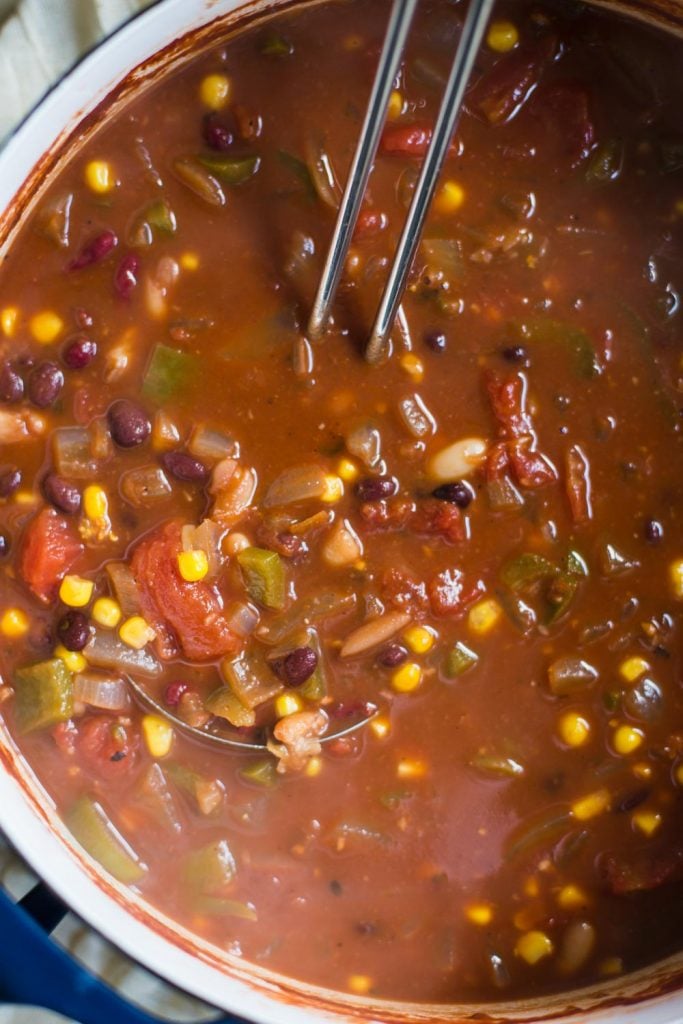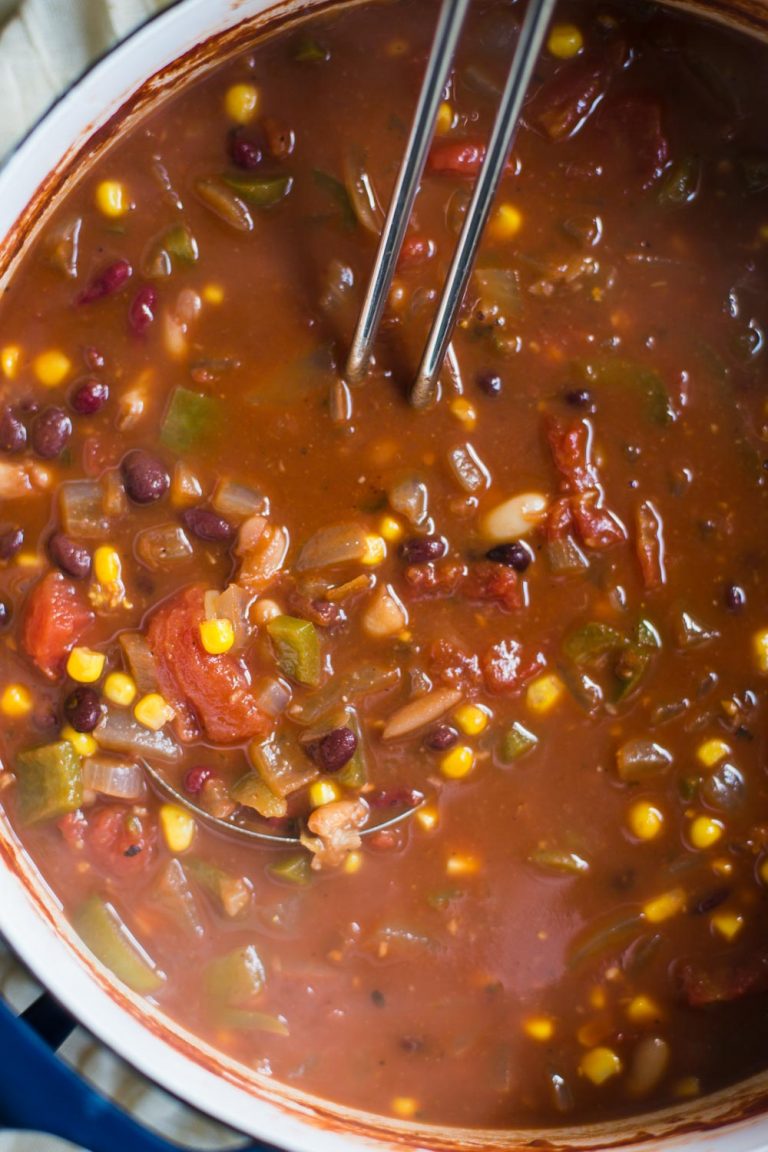 How to Make Vegan Chili
One of the things that I really love about chilis like this is that it's minimal effort (sauté some veggies in a big pot and then dump in the remaining ingredients to just cook for a bit) for what ends up being quite a few meals. With the portions that Mr. Britnell and I eat, we get about 8 servings out of this recipe. We'll eat it for dinner, take it to lunch for a day or two each and then freeze a couple just to have as a quick freezer meal when we're feeling extra lazy.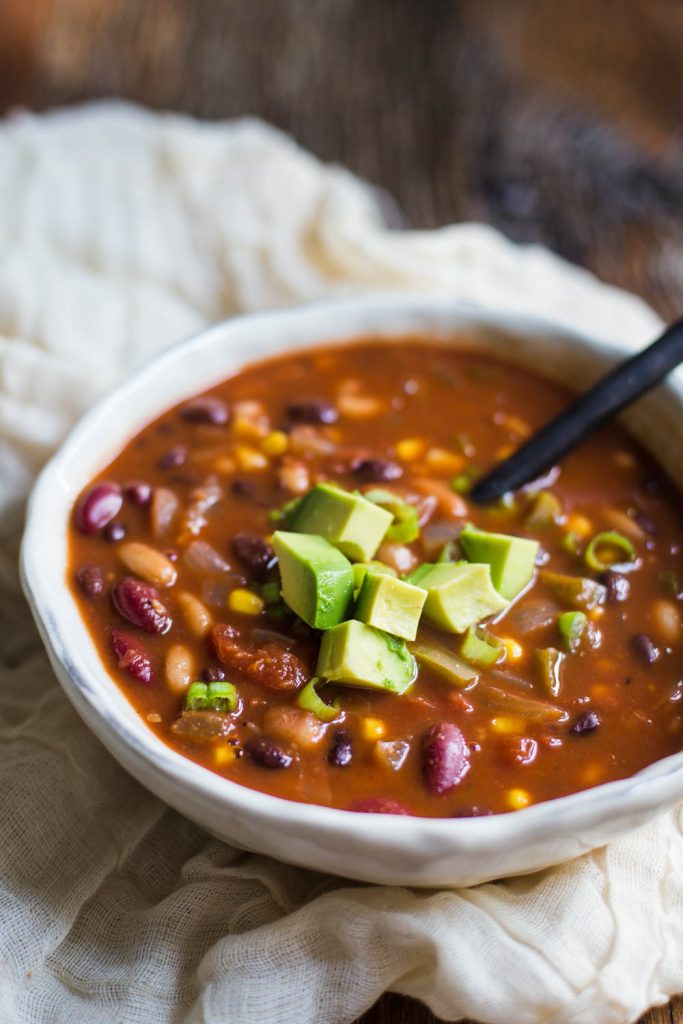 I highly suggest keeping a bit of this in the freezer. You'll find yourself VERY thankful that you did on a cold winter night when all you want to do is curl up on the couch with a warm meal and very minimal effort.
Oh hey, the recipe for this cornbread is also coming next week. I'm a pretty big fan of it and LOVE that last minute, I dumped in some canned sweet corn. LOVE.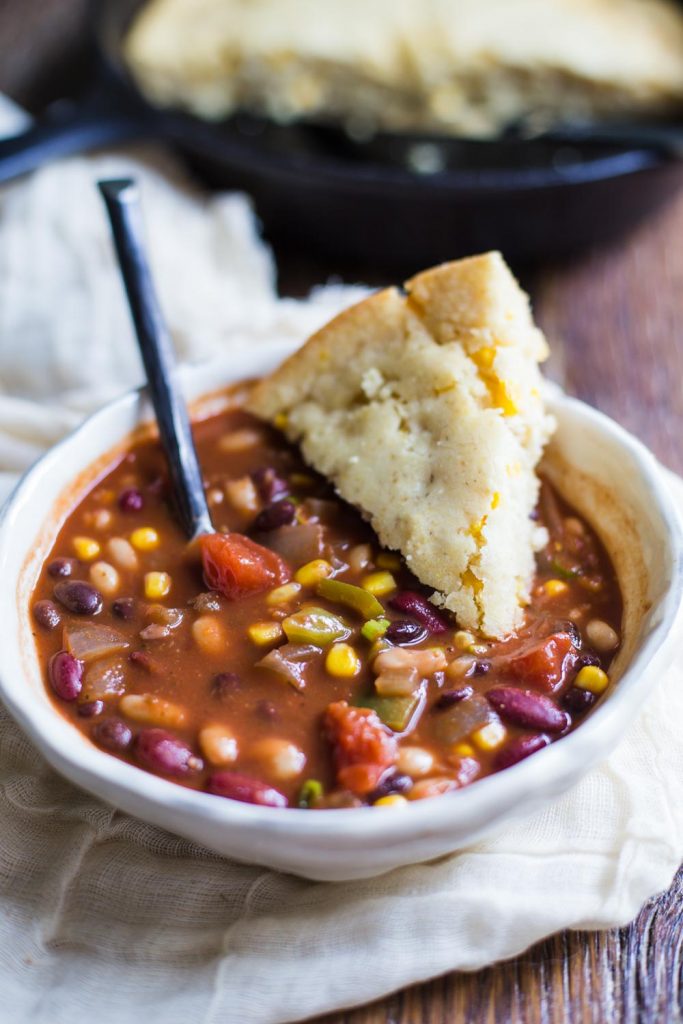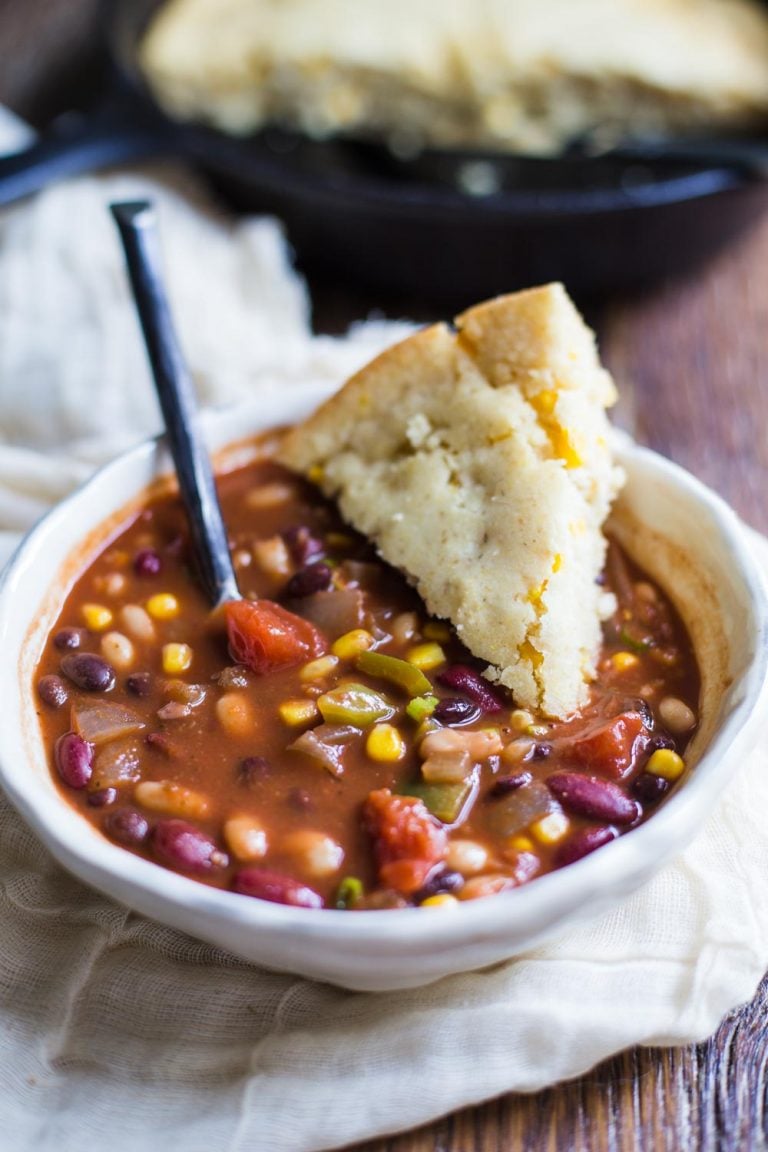 That's all for today, dear friends. Thanks again for your incredibly kind words after my last post. I hope that you have a lovely weekend!
See How to Make the Vegan Chili here:
Print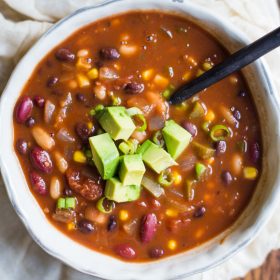 Loaded Vegan Chili
---
Author:
Prep Time: 5 minutes
Cook Time: 30 minutes
Total Time: 35 minutes
Yield: 8 servings
Category: dinner
Method: stovetop
Cuisine: american
Ingredients
2 tablespoons of olive oil
1 medium onion, chopped
1 medium green pepper, chopped into small pieces
4 cloves of garlic, pressed (or finely minced)
3 cups of vegetable broth
1 15 ounce can of tomato sauce
1 15 ounce can of diced tomatoes
1 15 ounce can of kidney beans
1 15 ounce can of great northern beans
1 15 ounce can of black beans
1 tablespoon baking cocoa
1/2 teaspoon of black pepper
1/2 teaspoon of chili powder
1/2 teaspoon of oregano
1/8 teaspoon of cayenne pepper
1 cup of frozen corn
---
Instructions
In a large pot over medium heat, add in the oil. Once the oil is warmed, add in the onion and pepper and cook for about 5 minutes, stirring frequently.
Add in the garlic and cook for an additional 2 minutes, stirring frequently and being careful not to burn the garlic.
Mix in the remaining ingredients (minus the corn), increase heat, and bring to a boil.
Reduce the heat to a simmer and cook for at least 30 minutes. The longer the chili cooks, the more flavor it will have. So, if you've got the time, let it very gently simmer on the stove for an hour or even up to 2 hours. If you cook it for several hours, you may need to add in just a bit more broth or water.
Right before taking off of the heat to serve, stir in the corn and let it heat for a few additional minutes.
Once ready to eat, take off of the heat and garnish with some vegan sour cream, green onion, avocado, etc.
ENJOY!