Super Seed Crackers
This post may contain affiliate links. Please read my disclosure policy.
These Super Seed Crackers are brought to you courtesy of a good friend and co-worker, Lisa. Lisa had crackers similar to this at a vegan restaurant here in Nashville called Avo and then proceeded to talk about said crackers for WEEKS. Finally she tried making them at home and insisted that I do so as well. So, I took note of her ingredients, add a few of my own and here we are!
Thanks to Lisa for turning me on to the wonderfulness of homemade super seed crackers. I'm officially in love!
Lisa was right when she said that these crackers are SO stinkin' good! Bonus, they're super easy. I added pretty much all the seeds that I could find in my house plus a bit more.
Since moving to a new house, we've started buying things in bulk since we now have the room to store the excess. I've also become an insane hoarder of glass jars which I'm not sorry about and which is slowly but surely taking over our kitchen. glass. jars. everywhere!
So yea, lots of yummy things in these crackers including chia seeds, sunflower seeds, pumpkin seeds, sesame seeds, flaxseed, and (my favorite last minute addition) quinoa!
These also might be the easiest crackers that you will ever make.
Step 1: Pre-heat oven to 200 degrees F.
Step 2: Mix ALL the things in a big bowl. Let sit for a few minutes.
The water activates the chia seeds and the flaxseeds which create kind of a gel and hold the cracker together.
Step 3: Pour contents onto a lined baking tray and spread out. (mine actually took 2 baking trays)
Step 4: Bake for 2-2 1/2 hours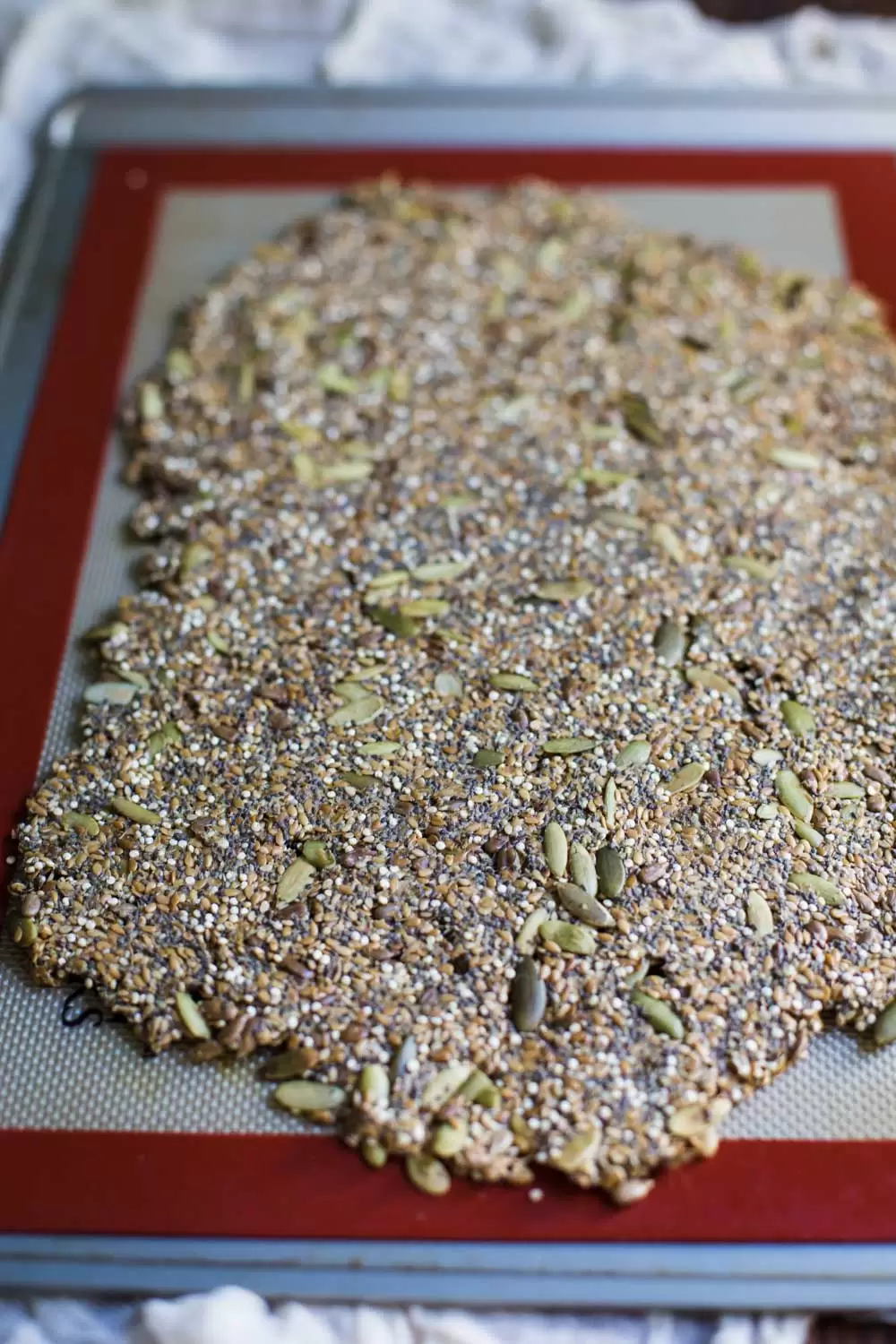 Step 5: EAT!
THEY'RE SO GOOD! I'm pretty sure that I'll be making a big batch of this about once a month. You should do the same.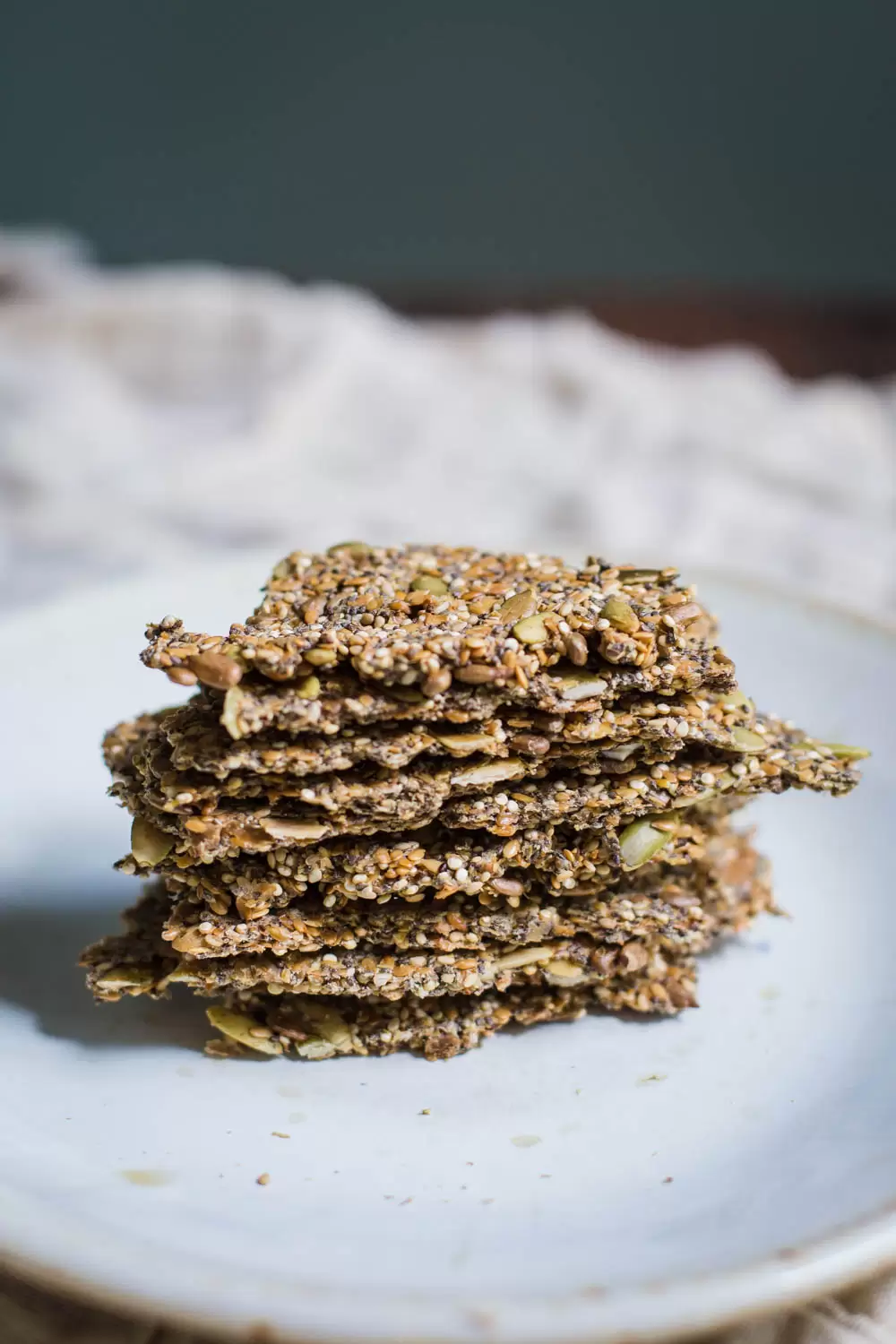 The zucchini hummus spread that is featured on the crackers is a recipe that is coming next week. Get excited. It's pretty spectacular! Have a wonderful weekend, friends! I'll be BUSY doing lots of blog work and beginning to work on a few exciting new video projects that I can't wait to share with you!
**Some possible flavor combinations. I haven't tried all of these out yet but if you're up for experimenting, I think these would be yummy: 1) turmeric and paprika 2) cumin and cayenne 2) thyme and sea salt 4) rosemary and garlic powder 5) really any spice, have fun with it! Maybe try with about 1/2-1 teaspoon of each spice and see how that is. For spices such as rosemary and thyme, either fresh or dried herbs would work.
Print
Super Seed Crackers
---
Author:

Total Time:

2 hours 7 minutes
1/2 cup

chia seeds

1/4 cup

sunflower seeds

1/2 cup

pumpkin seeds

1/4 cup

of quinoa (uncooked)

1/4 cup

of sesame seeds

1/2 cup

of ground flaxseed

1/2 cup

of whole flaxseed

1 teaspoon

of salt

1 1/4 cup

of water
optional: various spices for flavor (see note above)
---
Instructions
Pre-heat oven to 200 degrees F.
In a large bowl, mix all of the ingredients together and let sit for 5 minutes.
Line 2 large baking trays with silicone mats or parchment paper.
Spread the mixture out very evenly.
Optional: before baking, cut the crackers if you want them to have clean lines. I simply cracker mine into rough pieces after they bake.
Bake for 2- 2 1/2 hours.
Once out of the oven, let cool completely and then ENJOY!! Store in an airtight container to eat later.
Prep Time:

7 minutes

Cook Time:

2 hours

Category:

snack
This post may contain affiliate links. Please read my disclosure policy.