Vegan Salsa Con Queso
This post may contain affiliate links. Please read my disclosure policy.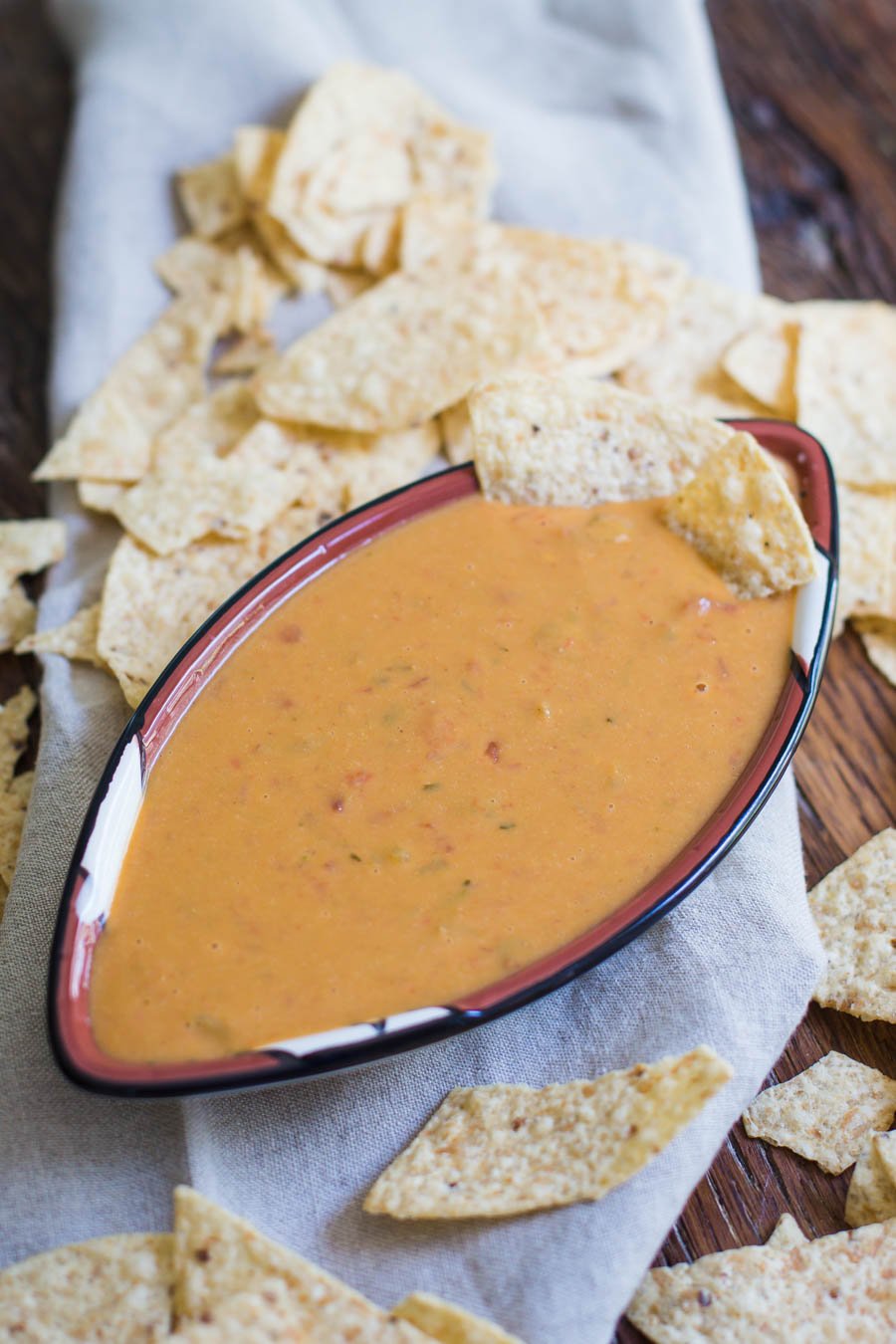 Any Packers fans out there? My dad lived in Wisconsin when he first moved to the US and was therefore a HUGE Green Bay Packers fan. I honestly never really cared all that much for them BUT watching them get so close to the super bowl this year (I mean did you SEE last weeks game!?)
Anyways, I figured that their game this weekend warranted a few Super Bowl themed recipes on the blog. Lets just hope they make it to the super bowl (hint: they will!!).
I actually came up with this recipe back in September when football season first started. But, for some unknown reason, I never got around to actually posting it. The recipe itself is only a slight remake of my original Vegan Nacho Cheese Sauce. Really all we're doing is adding some salsa and a small can of green chiles.
Here's the original recipe video: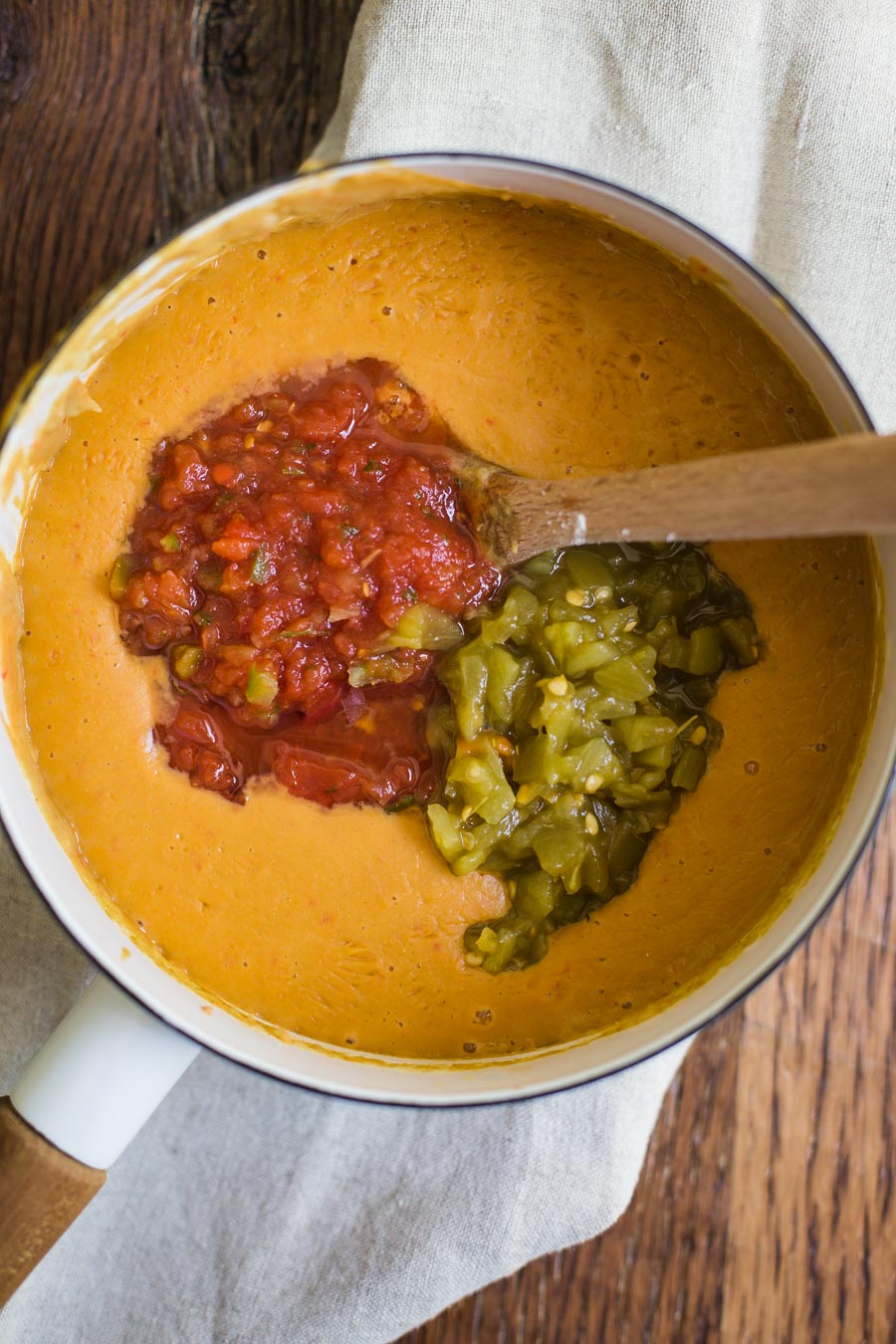 BAM. Delicious Salsa Con Queso!! I also decreased the broth and added a bit more flour to give it a thicker consistency and make it a bit more scoopable.
You *could* put this on nachos but I'm a huge fan of simply dipping chips into this queso. You just have to be careful because next thing you know, you've eaten half of the bowl…..all by yourself. True story.
If you're also feeling feisty (or want to further confuse your meat eating friends), try sprinkling some plant based beef on top to take it to the next level. I tried the Lightlife meatless original crumbles and really liked it! But again, this queso is GREAT even without the meat crumbles.
Have fun with it!!
AND, don't forget to cheer for the Packers this weekend :D I rearranged a newborn shoot I have scheduled for Sunday JUST to make sure that I'm home in time for the game to start.
Happy weekending, friends!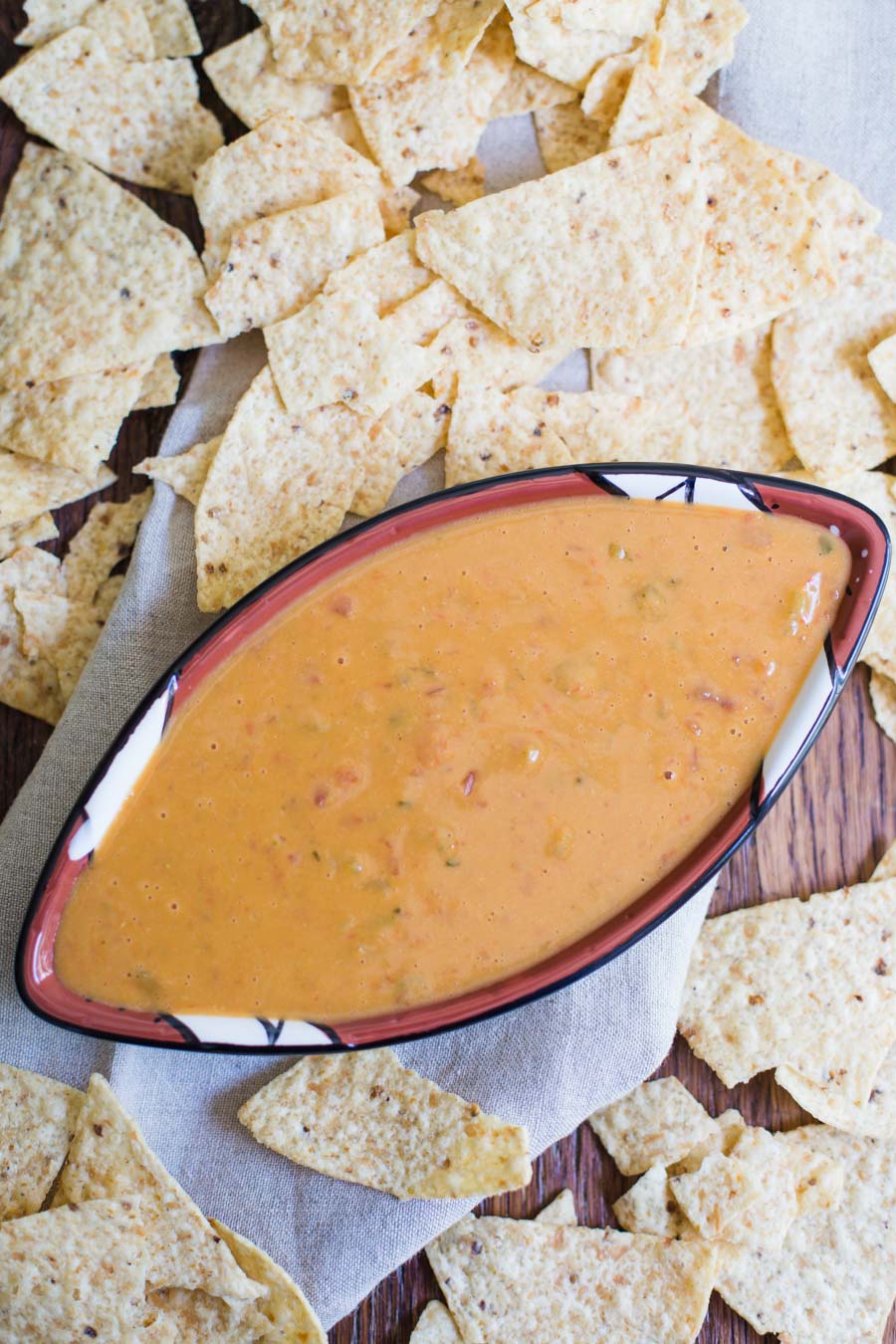 Print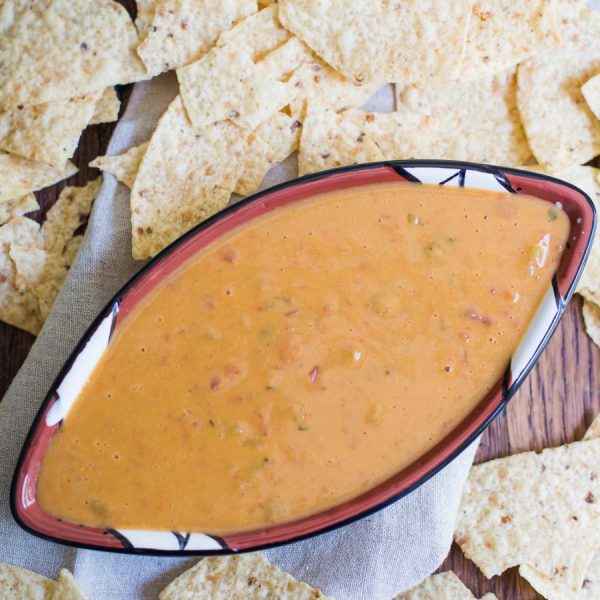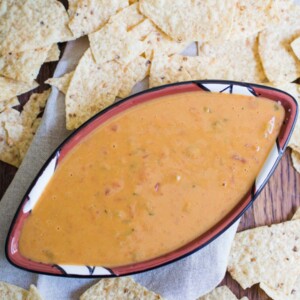 Vegan Salsa Con Queso
---
Scale
Ingredients
1

15 ounce can of white beans (I used cannellini beans), drained and rinsed

1 1/2 cups

of vegetable broth (I use this broth base)

1

large jalapeno, roughly chopped

1 teaspoon

of garlic powder

1 teaspoon

of cumin

1/3 cup

of nutritional yeast

2 tablespoons

of dijon mustard

3

heaping tablespoons of flour (can use all purpose, I used THIS glu

ten

free flour blend)

1/2 cup

of red bell pepper, chopped
salt and pepper to taste (but it doesn't need much!)

1 cup

of chunky salsa (could also use rotel)

4 ounce

can of green chiles, drained
---
Instructions
In a medium pot, stir together the beans, broth, jalapeno, and spices. Bring to a boil.
Reduce heat to a simmer. Stir in the nutritional yeast, dijon. Whisk in the flour and continue to whisk until the sauce begins to thicken. Remove from heat.
Add in the bell pepper, salsa, and green chiles.
Blend the mixture using an immersion blender OR in a blender/ food processor.
Season to taste with S&P.
ENJOY!!!!
---
This post may contain affiliate links. Please read my disclosure policy.