Zucchini Linguine
This post may contain affiliate links. Please read my disclosure policy.
This Zucchini Linguine is an easy vegetarian dinner that is made with linguine and spiralized zucchini noodles for a meal that only takes 15 minutes to make!
We've had quite a few over 80 degree weather days here in Nashville lately and it makes my heart SO happy! I'm a summer girl and if I didn't love living close to family so much, I would do my best to convince Mr. Britnell to move to a part of the country that's warm year round.
One of my favorite parts of summer is the massive amount of veggies that we have exploding out of our garden. I always manage to plant WAY too much zucchini. In my defense, I have a hard time justify killing any seedlings. They say to plant a few seeds just in case some don't work out. But when they all DO work out, I just let them grow which results in mountains of zucchini that we almost can't even give away fast enough.
So, we end up eating a LOT of zucchini noodles throughout the summer months. Can't say that I'm complaining about it at all.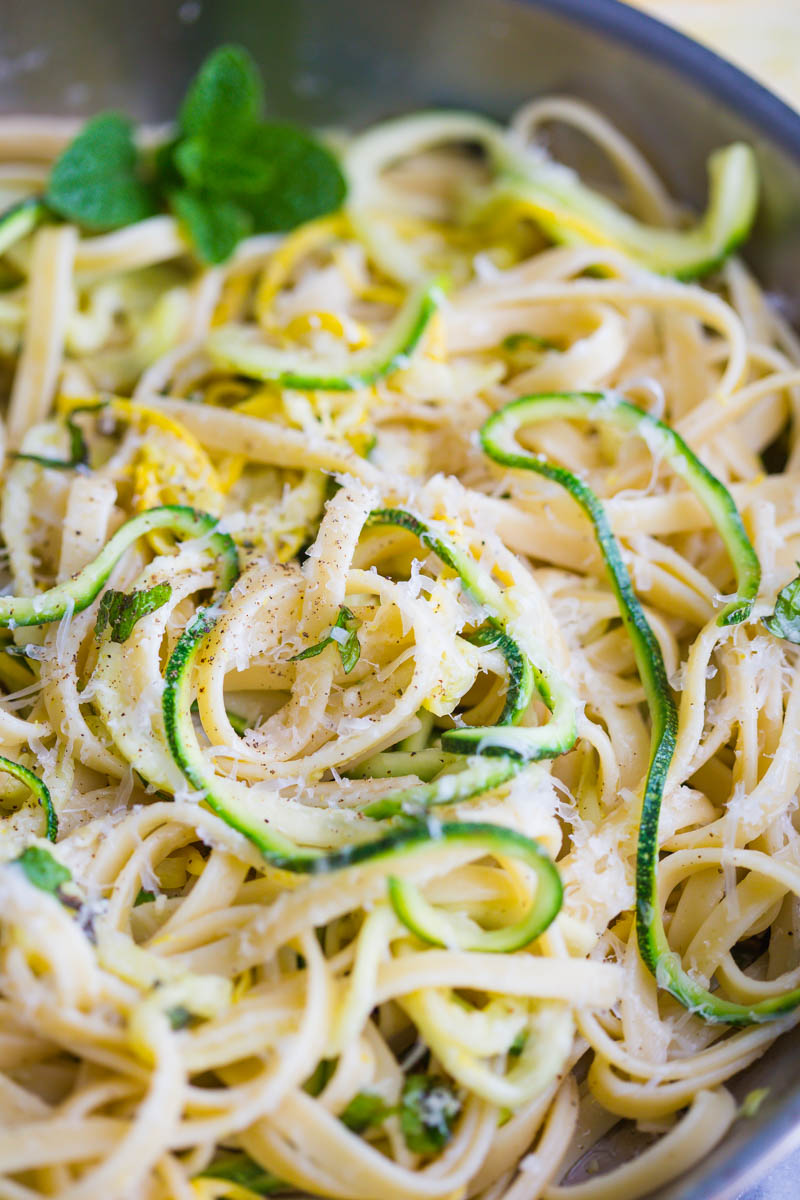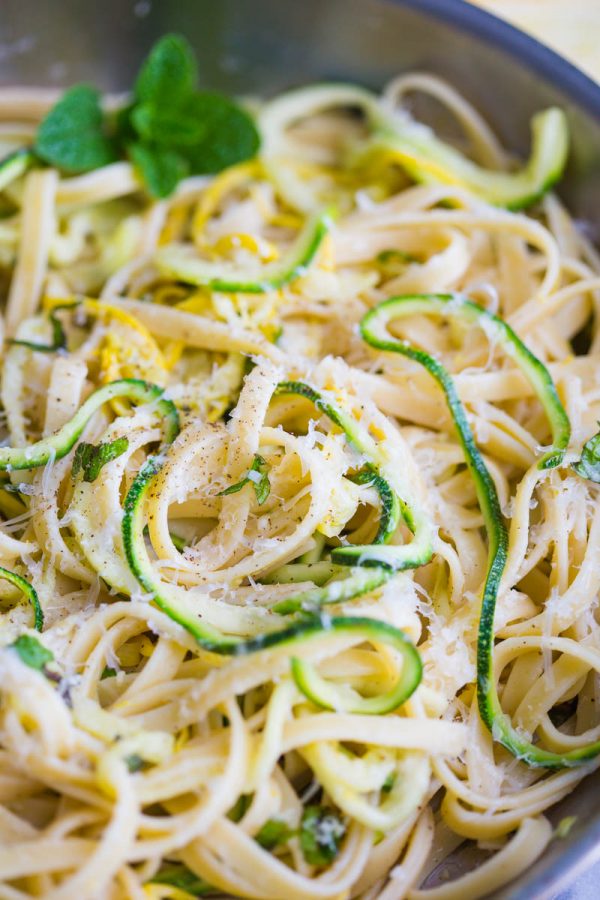 This dish is a combination of 2 of my favorite summer elements: Zucchini noodles AND fresh mint. If you don't have mint growing in your yard, go plant some NOW. It requires ZERO effort to keep alive, it grows back on its own, year after year, and obviously, it's AMAZE! Just be careful because it grows like a WEED and will take over if you're not careful.
I got the inspiration for this recipe from one of my all time favorite chefs: Jamie Oliver. My lovely mother-in-law brought his newest cookbook back for me from England and I love it so much. All of the recipes are made with 5 ingredients so they're all simple and easy (LOVE!). I tweaked this one a bit and am excited to share it with you!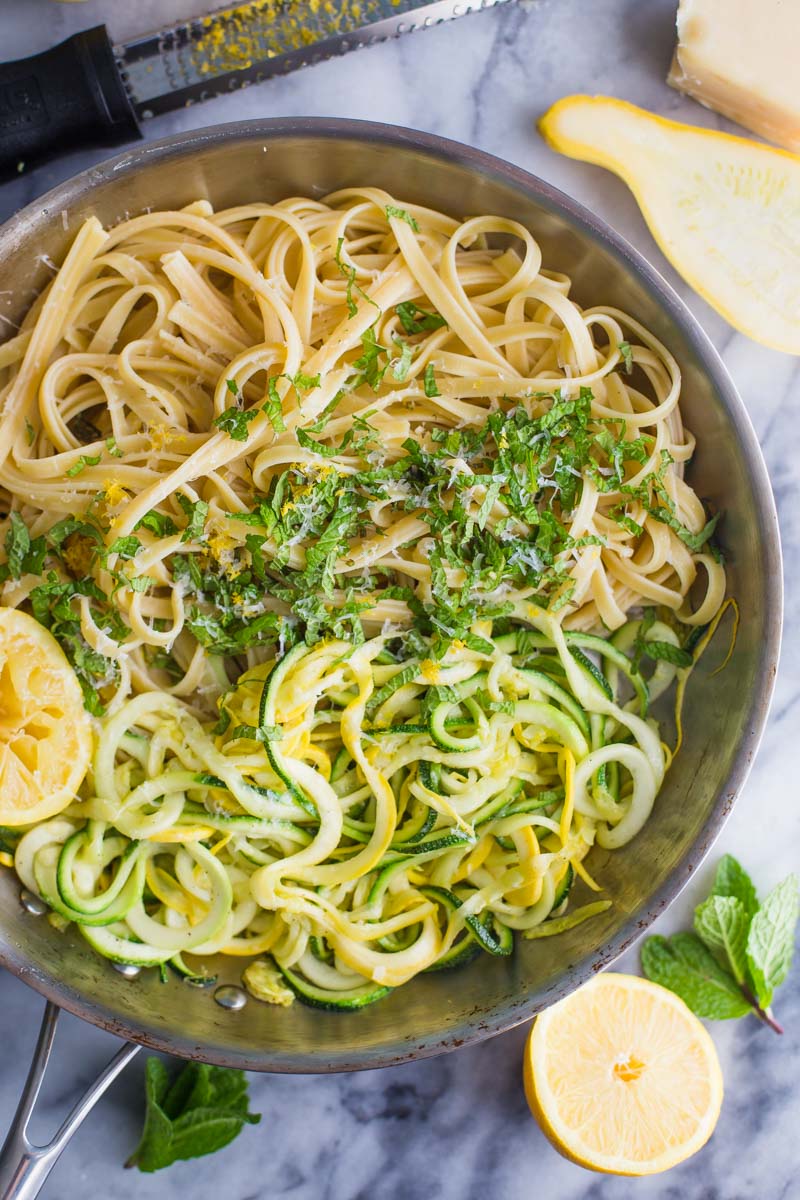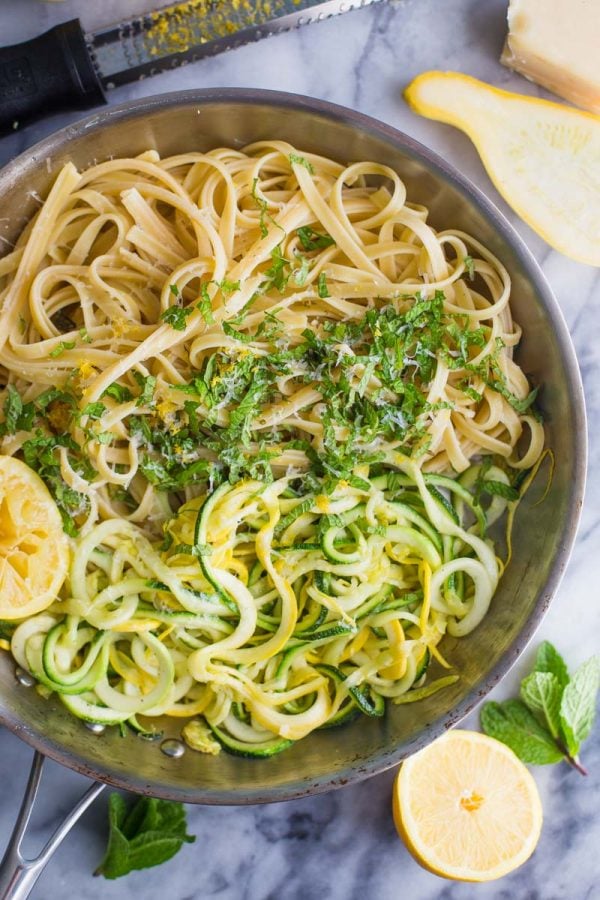 This Zucchini Linguine recipe is ridiculously easy and comes together in just 15 minutes! Just cook your pasta, spiralize and heat up your zucchini noodles, and then toss it ALL together with some lemon juice and zest, mint, and parmesan.
The simplicity of this dish is part of what makes it SO good. And I know that mint in your pasta might sound a little strange BUT TRUST ME. It's refreshing and so ridiculously tasty! Just give it a chance :)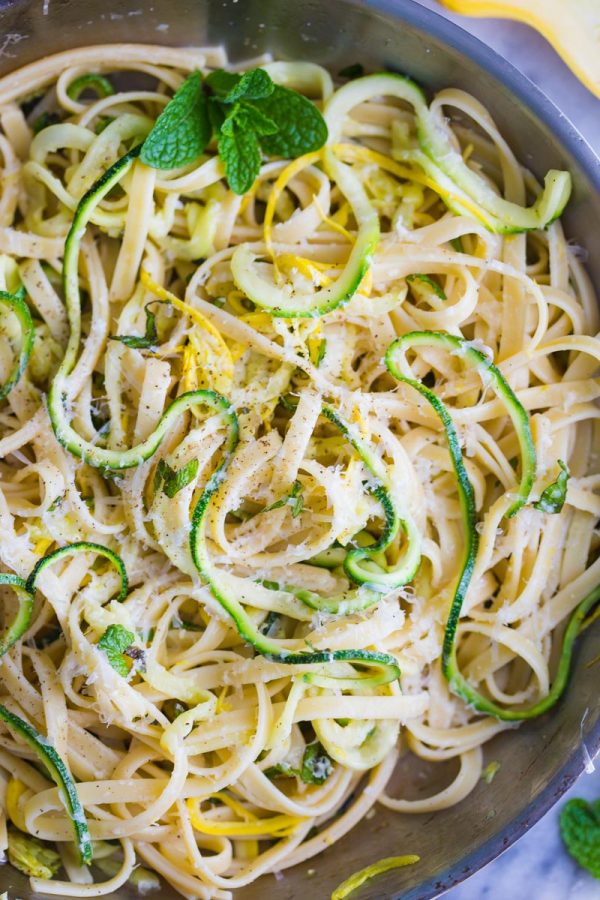 How to Make Zucchini Noodles
If you've never made zucchini noodles, it's VERY easy. Jamie's cookbook recommends thinly slices the zucchini into very thin strips which definitely works. If it's something you think you'll do regularly then I recommend getting yourself a spiralizer. You can get a simple handheld one like THIS ONE. I have THIS spiralizer called the "Inspiralizer" and I kind of love it.
I've also heard great things about THIS spiralizer which has great reviews on Amazon!
If using a spiralizer, you simple load the zucchini onto the spiralizer and you've got zucchini noodles in about 60 seconds. EASY! I recommend using some scissors to cut the noodles a bit. Otherwise, you end up with a piece of zucchini pasta that's 10 feet long. LOL. I aim to make the zucchini pasta about the same length as normal pasta.
How to Cook Zucchini Noodles
Cooking the zucchini noodles is just as easy as making them!
Simply heat about 1 tablespoon of oil in a drying pan to medium heat. Add in your zucchini noodles and cook according to how done you want your zucchini:
3-5 minutes gets your zucchini noodles heat all the way through BUT leaves them with a nice crunch left to them. It's almost like eating raw zucchini that has been heated up. This is my preferred way to eat zucchini pasta.
5-8 minutes gets your zucchini noodles a little soft and just cooked through so that there's a tiny bit of a crunch left.
8-11 minutes gets your zucchini noodles quite a bit softer but still to the point that they hold together nicely. I know a lot of people that like their zucchini pasta cooked like this. I suggest experimenting with it a bit :)
I'm not a huge fan of fully replacing pasta with vegetable noodles but I do love to do a 50/50 combo of zucchini noodles and pasta. I am Italian after all, so I'm not sure that I can ever fully give up pasta :)
If you're looking for more zucchini noodle recipes, you should DEFINITELY try my Zucchini Noodle Ramen. SO GOOD! I need to make it again soon. I'm also a BIG fan of Butternut Squash Noodles!
Print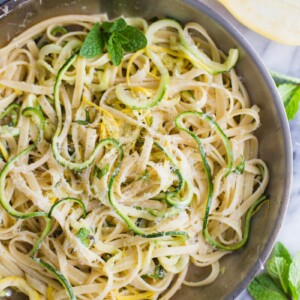 Zucchini Linguine
---
Author:

Total Time:

15 minutes

Yield:

2

servings

1

x
Description
Zucchini Linguine- this easy vegetarian dinner is made with linguine and spiralized zucchini noodles for a meal that's delicious and filling for the whole family!
---
1/3

pound of dried linguine noodles

2

summer squash- I used one yellow crookneck squash and one zucchini squash

1 tablespoon

of olive oil
Large handful of fresh mint- ends up being about 1/4 packed, thinly sliced
Juice and zest from one lemon

1/4 cup

of freshly grated parmesan cheese- fresh tastes a lot better and melts into the dish better than already grated parmesan
---
Instructions
Cook the pasta according to package instructions. I like the lightly oil and generously salt my water. Once done, reserve 2/3 cup of the cooking water and drain the pasta.
Slice or spiralize your squash.
In a large skillet over medium heat, add in your olive oil and let get hot. Add in the squash and cook to your desired doneness. I like mine almost still raw but heated all of the way through which takes about 3-4 minutes. You can also cook the squash longer, about 8 minutes, until it's softer and cooked through a bit better.
Turn the heat to low and add in the mint slices, lemon zest, lemon juice, drained pasta, and 1/2 cup of the cooking water (the other 1/3 cup is just in case you think it needs a bit more). Toss until combined.
Divide the pasta among 2 plates and grate on the parmesan to each dish.
Salt and pepper to taste and then ENJOY!!
Prep Time:

5 minutes

Cook Time:

10 minutes
This post may contain affiliate links. Please read my disclosure policy.