Butternut Squash Pasta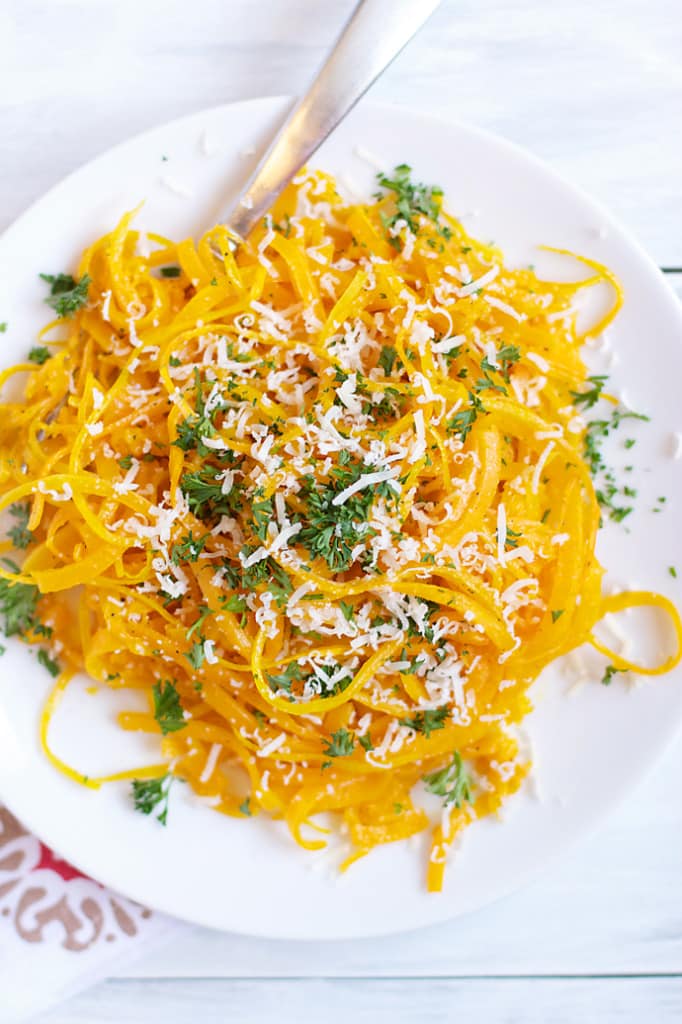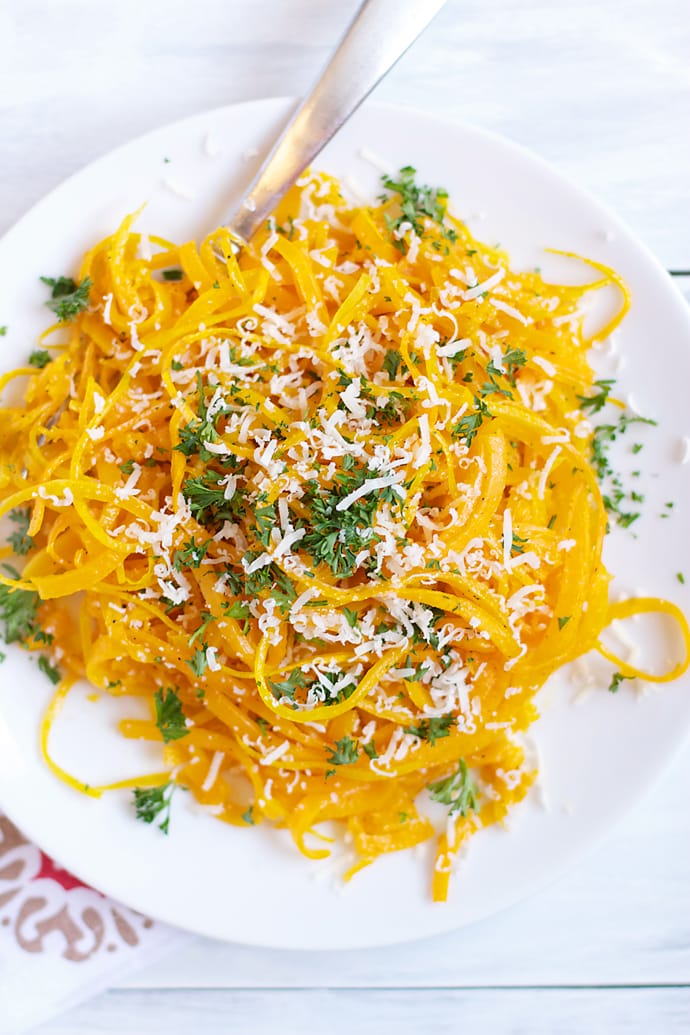 UPDATES to this post!! I now have a fun little recipe video to go along with it :D

I also want to answer a question I get A LOT: what is my favorite spiralizer. I have tried about 4 different spiralizers and The Inspiralizer is BY FAR my favorite. I can't recommend it enough. Full disclosure, the Inspiralizer is about double the price as some of the other ones that you can find on Amazon. However, as someone who has owned TWO of those cheaper spiralizer, I'm here to testify that this is the time to spend the extra money. One of the spiralizer was just total crap and didn't work very well and the other one worked okay for about 6 months but then broke. I was able to tape it back together and it worked kind of okay. But yea, just splurge for the Inspiralizer!

Today we're eating Butternut Squash in noodle form. Because, why not??? Well, it's because I really love pasta and would eat it every single meal if possible.

Truth be told: I'm not really a fan of spaghetti squash in the form of spaghetti. No matter what I do, it always ends up soggy and mushy and I just don't love it. So, when I eat spaghetti squash, I eat it in the form of hash browns or baked "mac n' cheese". But, that's all beside the point.

The point: while a bit more work, Butternut Squash makes for some YUMMY noodles!! And, it give me an excuse to use my spiralizer which I find overly exciting.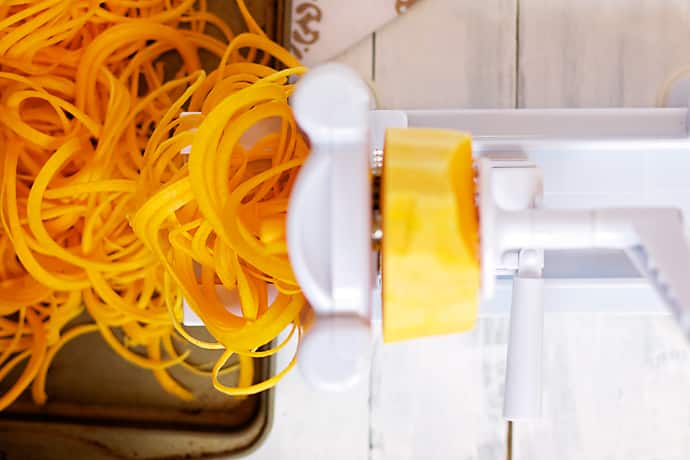 And since my favorite way to eat pasta is with a little bit of butter, herbs, and cheese, this dish is so super easy to throw together and SO so tasty.
Start by preparing your squash: cut the ends off, peel the whole squash, and then cut it in half. I usually only cook half of a squash at a time. But, if you're cooking for more than 2 people, the whole squash will be needed.
Load it on the spiralizer 
and get to twisting. If you don't have a spiralizer, you can use a peeler like this one
 to make noodles.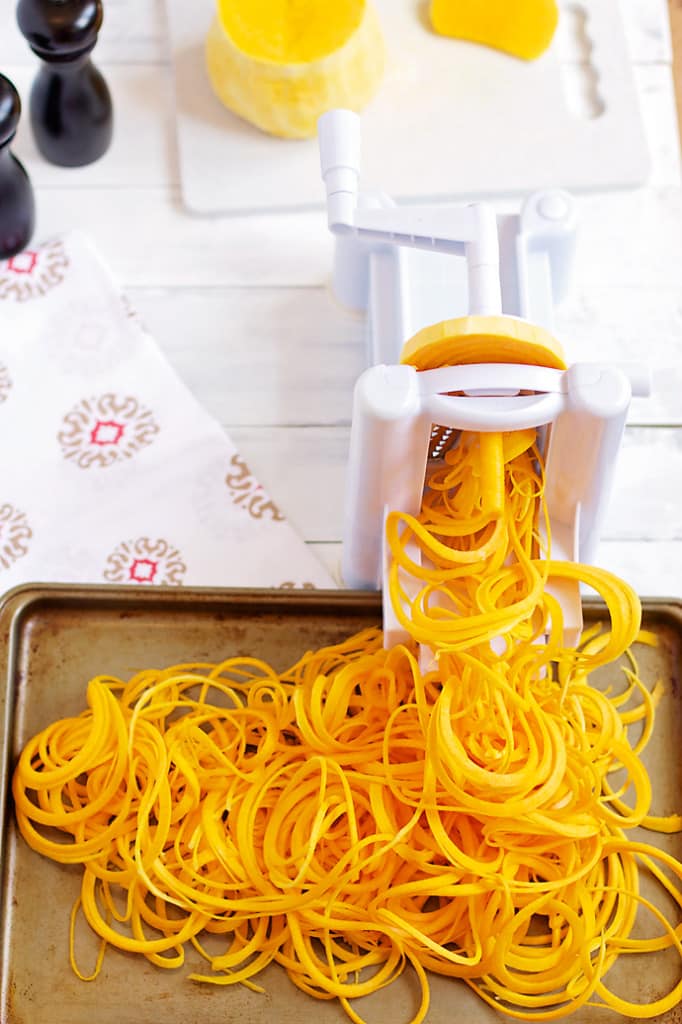 When the noodles are ready, toss them with olive oil, salt, and pepper.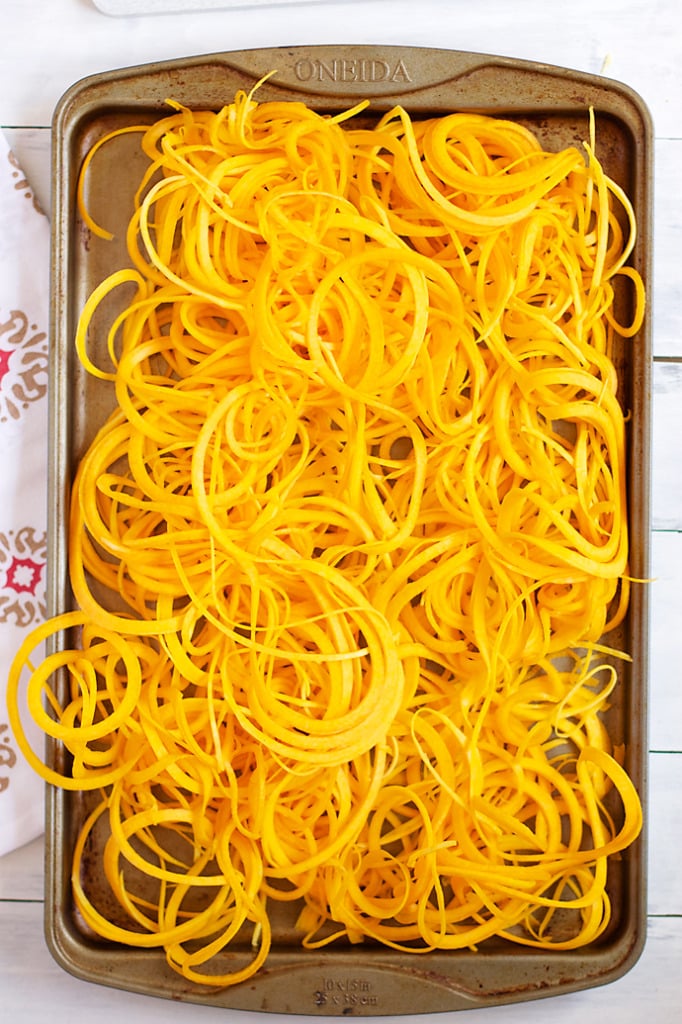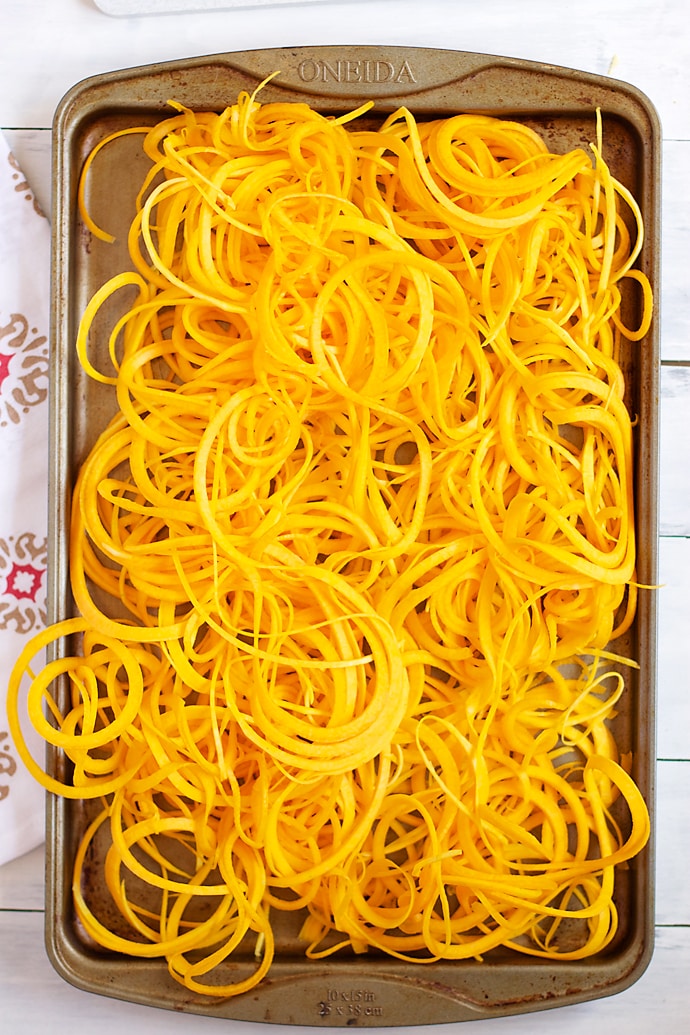 Throw it in the oven for just 10-12 minutes. Once done, plate the Butternut Squash Pasta.
Toss it with a bit of butter, some fresh herbs, and cheese. Add additional salt & pepper to taste. It's that easy!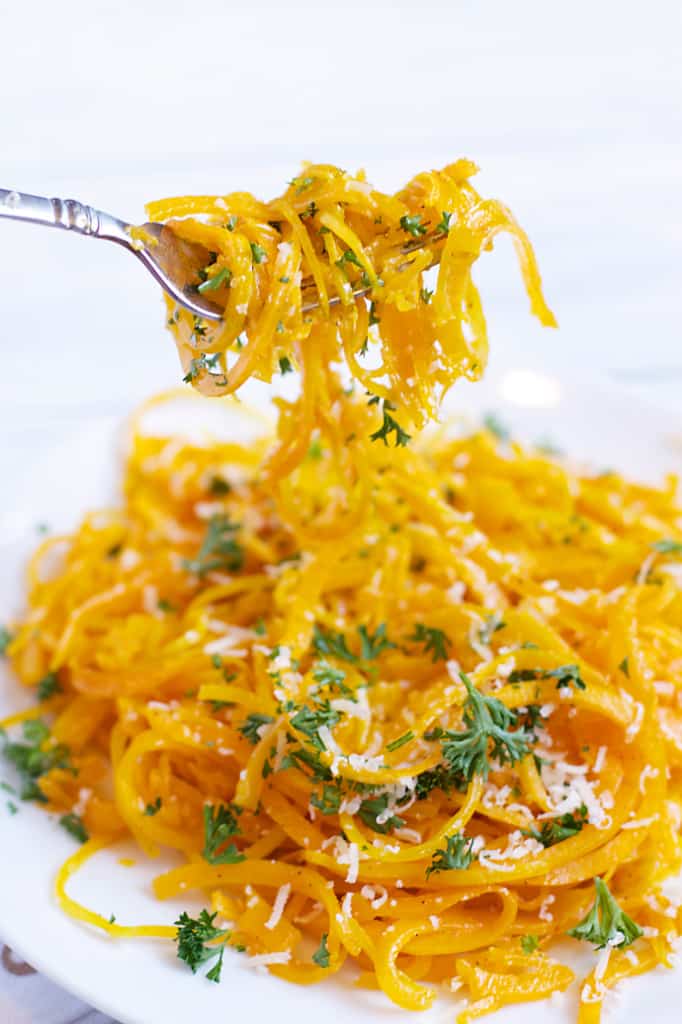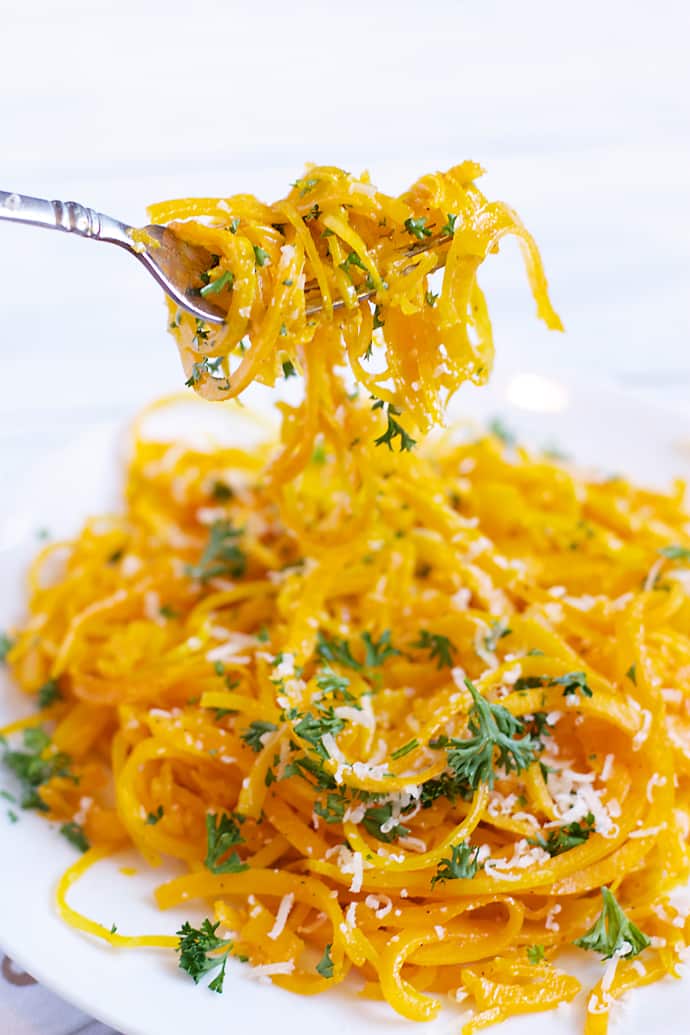 This Butternut Squash Pasta is light and yet still very filling (much like traditional pasta). I love that it fills me up and I have the satisfaction later knowing that I just ate a giant plate of veggies.
This pasta also keeps well and makes for great leftovers for lunch!!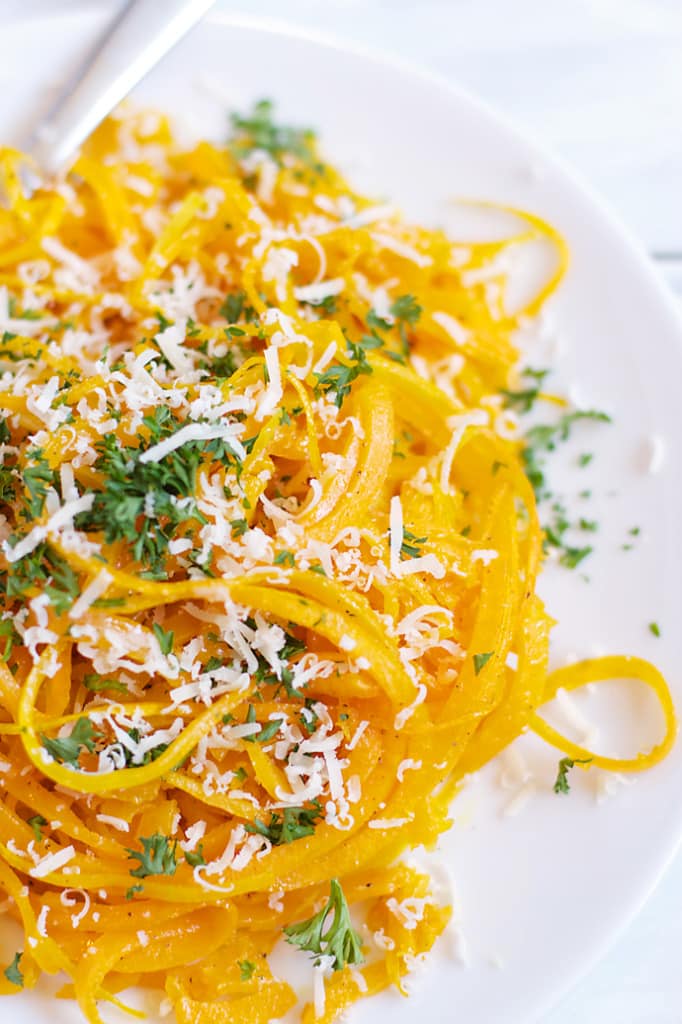 Yields 2
Butternut Squash Pasta
10 minPrep Time
15 minCook Time
25 minTotal Time
Ingredients
1/2 of a butternut squash
Olive oil
S&P to taste
2 tablespoons of butter, divided
2 tablespoons of fresh parsley (or other herb), divided
3 tablespoons of parmesan cheese, divided
Instructions
Pre-heat the oven to 400 degrees F.
Prepare your squash by cutting off the ends, cutting it in half, and peeling the half of the squash that you plan to use.
Load the squash on the spiralizer and spiralize the whole half. You can also use a peeler to peel the squash into long thin, noodle like, strips.
Place the noodles on a baking sheet, drizzle with olive oil, sprinkle with S&P, and toss the pasta to coat it all.
Bake in the oven for 10-12 minutes until the pasta is tender but not crispy at all.
Plate the pasta on 2 plates and top each plate with half of the butter, half of the parsley, and half of the cheese.
ENJOY!!! Easy, right??
7.6.7
40
https://foodwithfeeling.com/butternut-squash-pasta/