4th of July Brownies
These 4th of July Brownies are fully vegan and super easy to make! Perfect for upcoming holiday parties! :)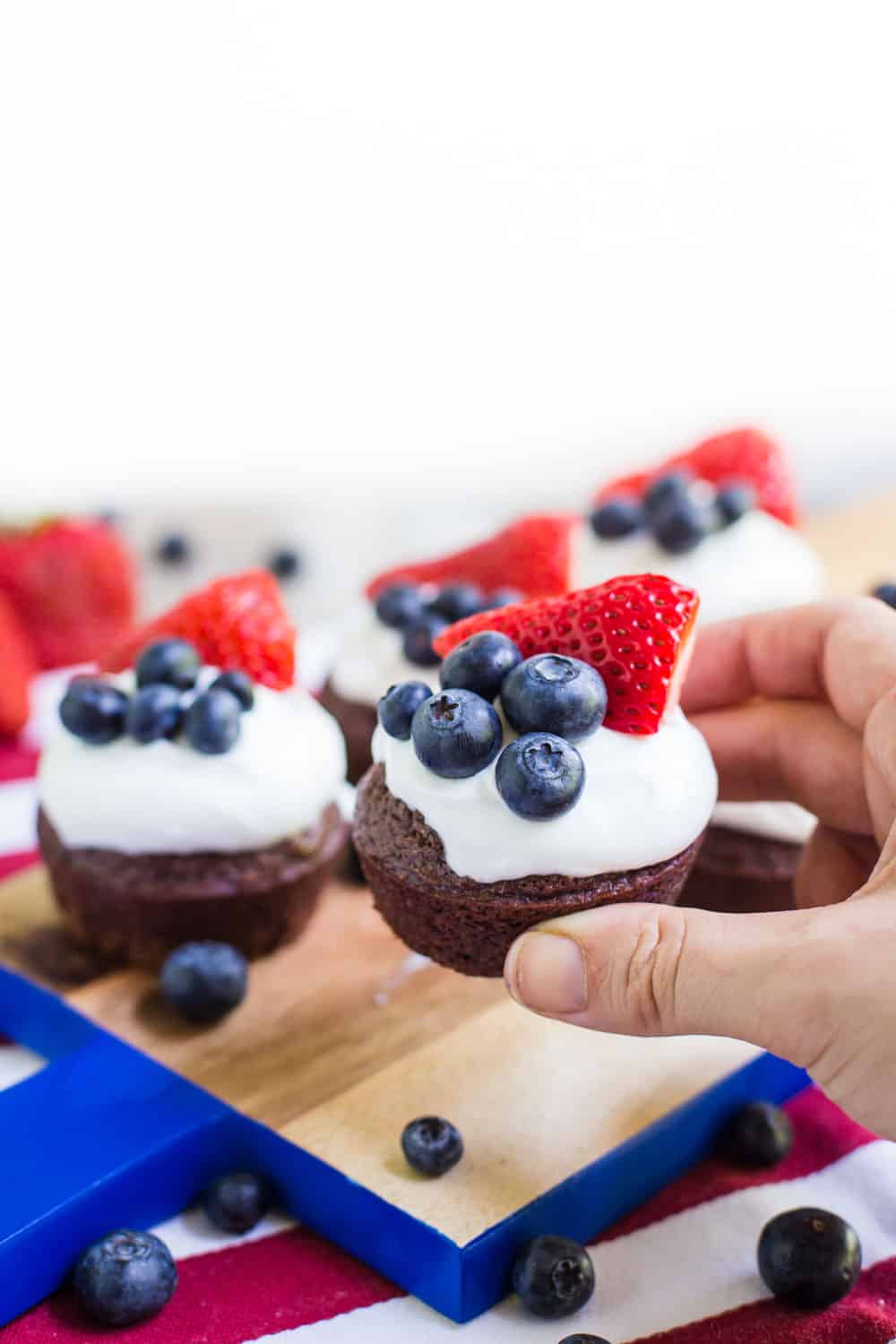 Can you believe that the 4th of July is only 11 days away!!? How did that happen, exactly? I swear Christmas was just last week. That also means that 2016 is about half over which genuinely blows my mind. Stop it, time. Just stop.
In other news, yesterday was me and Stephen's 3 year wedding anniversary. :D We kept things simple and celebrated in the way that we celebrate everything: with lots of food. I picked up a small cake from the bakery that made our wedding cake which we ate as a pre-dinner snack because it's our anniversary and we can do what we want. (did you see all the snaps of the cake?? Check out my snapchat HERE if you're on a mobile device) Then we went to an Indian restaurant here in Nashville that's been there forever but that we had never been to. I'm no expert on Indian food but I thought it was pretty spectacular.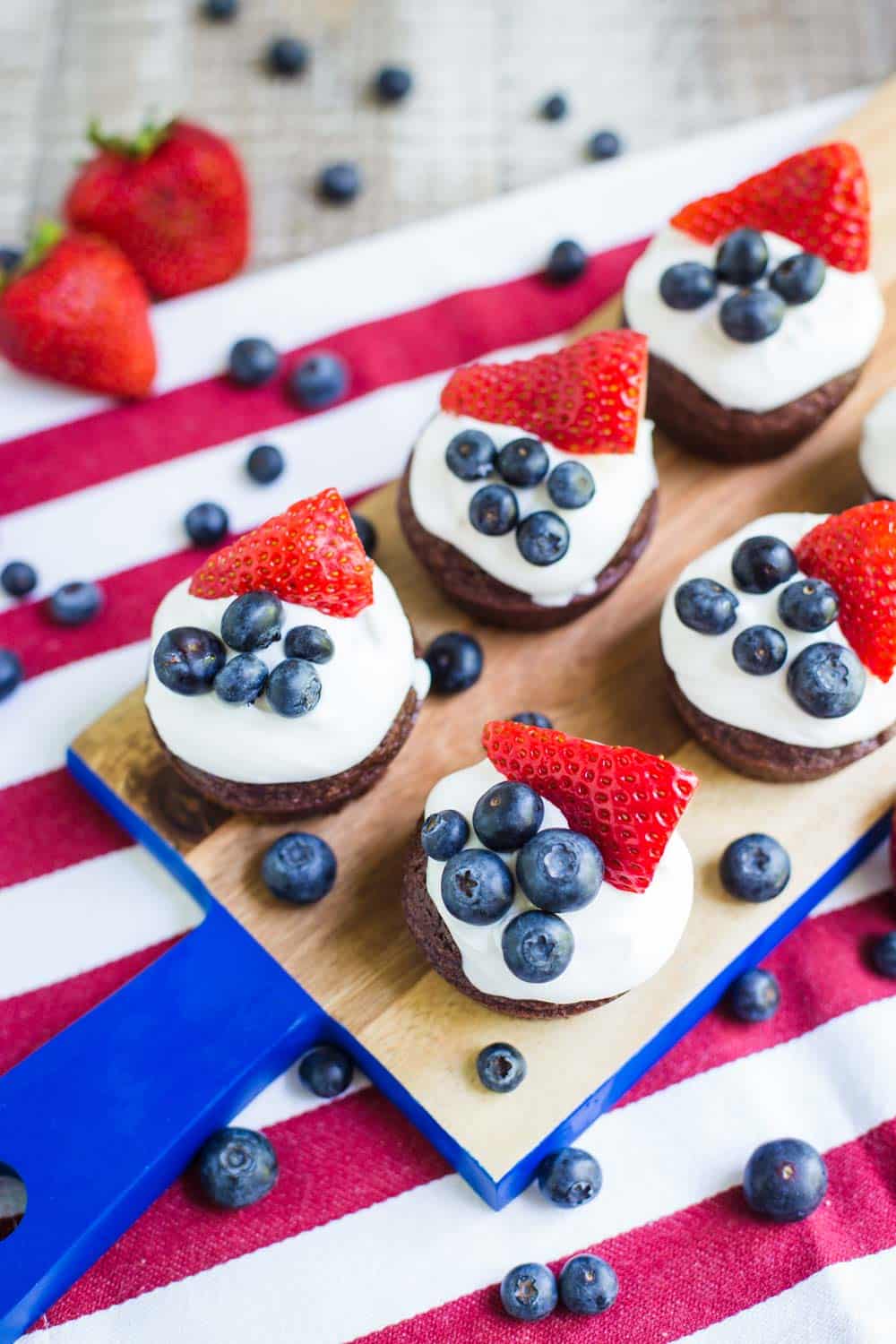 So, these 4th of July Brownies. As things go around here these days, they're completely vegan, dairy-free, and delicious. If you bake them for a few less minutes, they take on a more fudgy brownie texture but if you bake them a few minutes longer, they resemble a bit more a cupcake. All I know is that they're chocolaty and delicious either way!
The brownies come together in just one big bowl.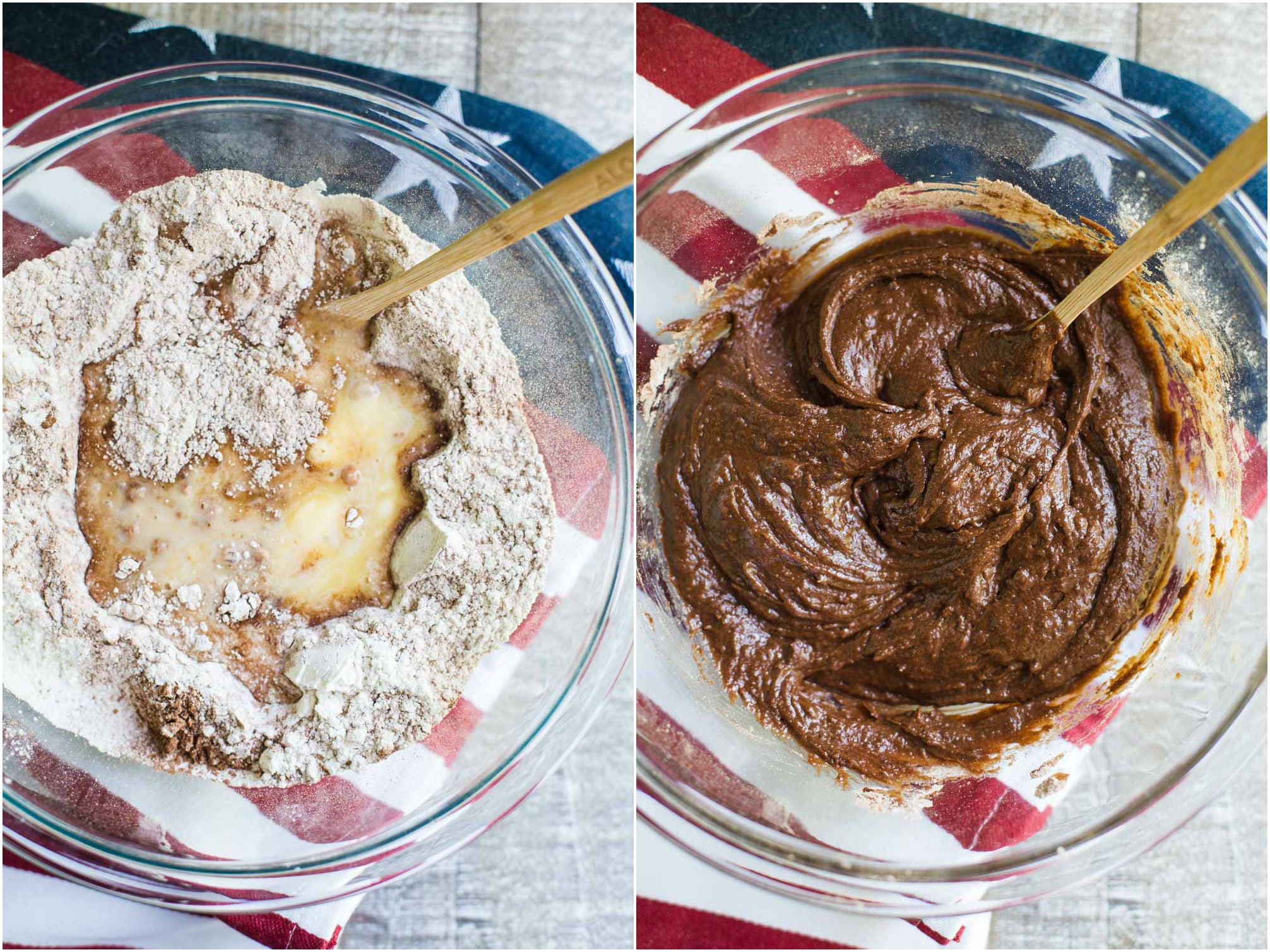 The dry ingredients first and then the wet ingredients. you could bake these brownies in the traditional square manner but I decided to use a muffin tin to create little bite sized nuggets.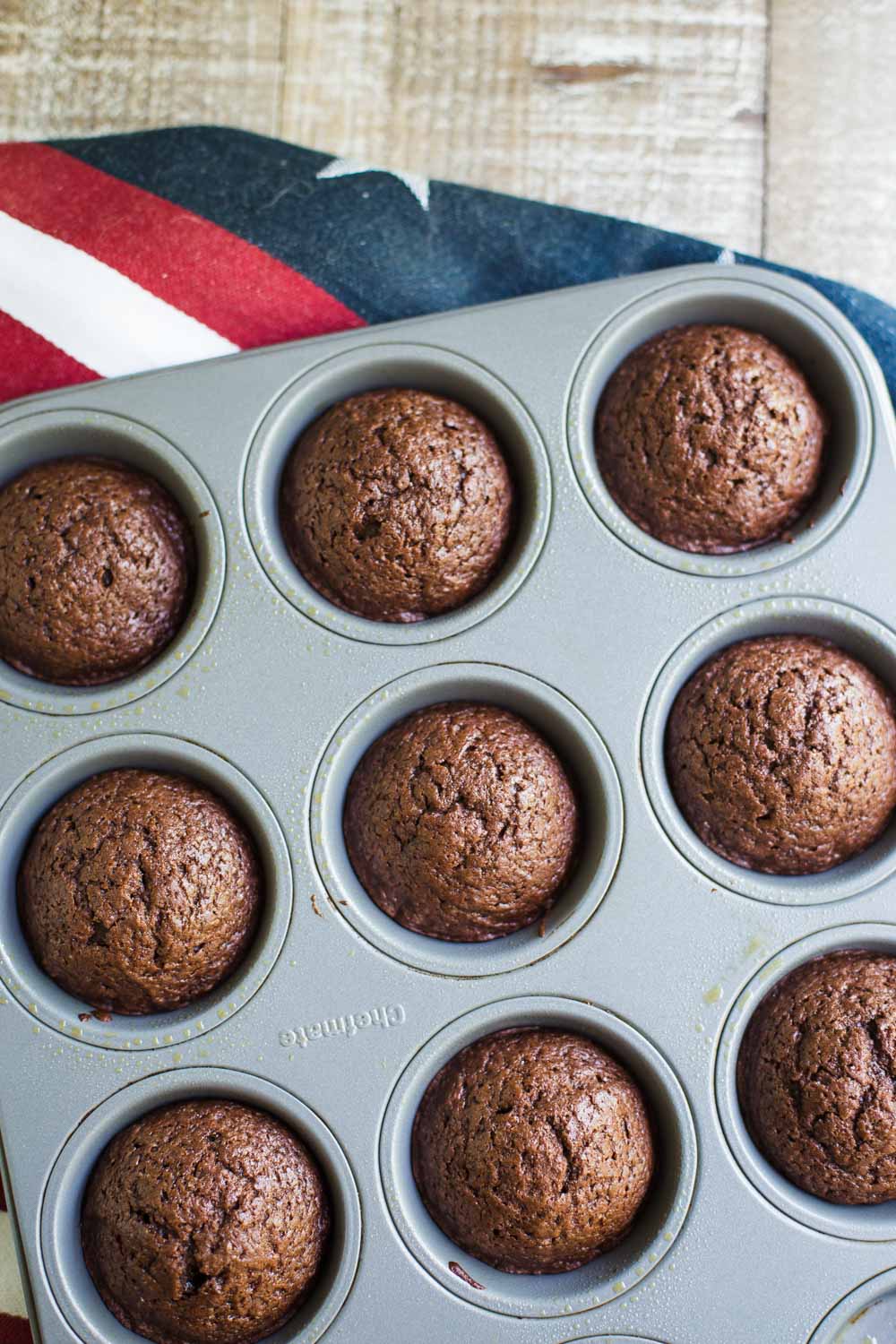 If you're making these for a party, the muffin tin makes things just so perfectly easy. And, I think it provides a cleaner and prettier presentation, right? I'm really into it :)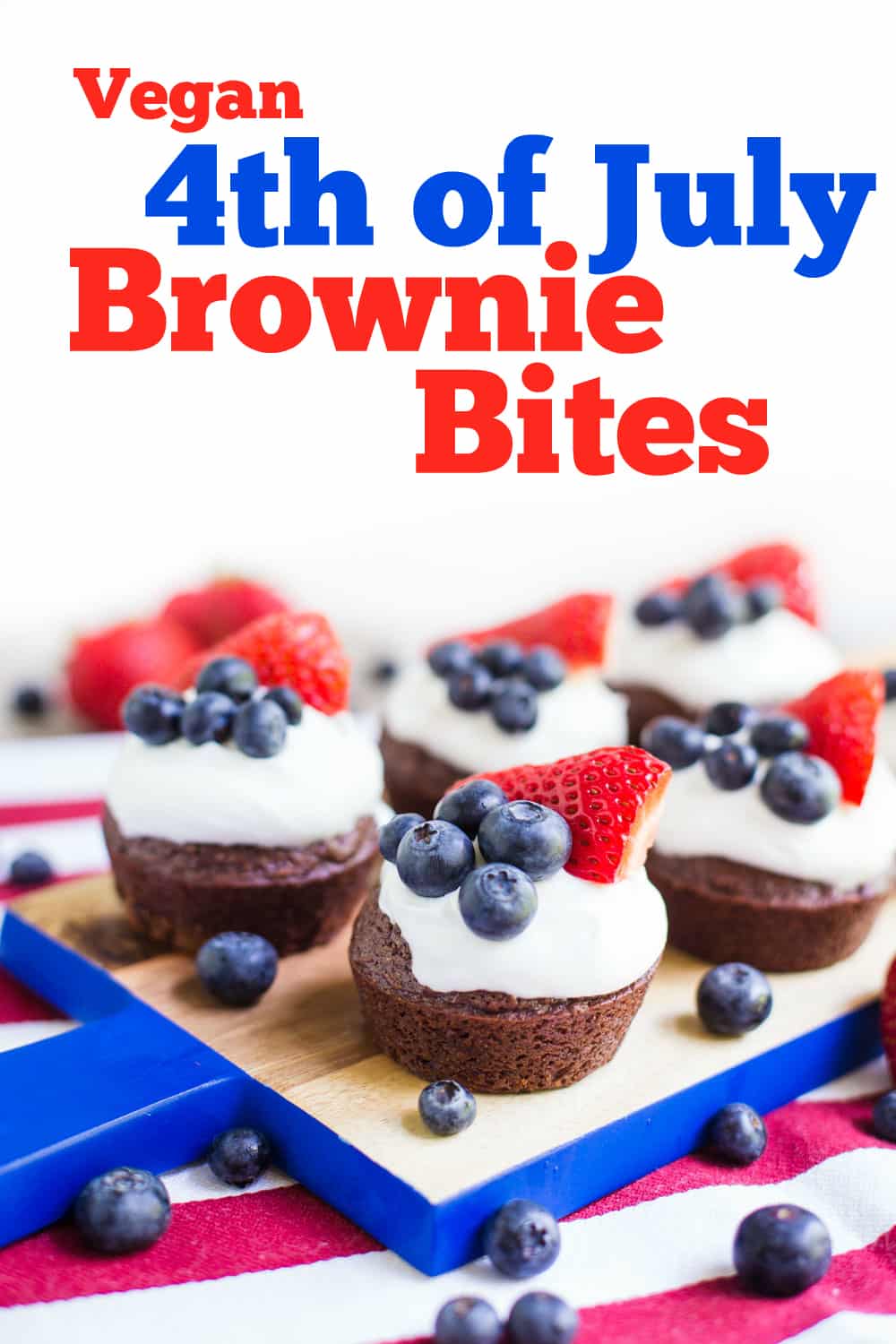 Alternatively, you can just make these brownies anytime of the year because you love America (or just really love berry topped fruit (or both!!)).
Happy Wednesday friends!! And remember, only 11 more days until our long 4th of July weekend!!!
Print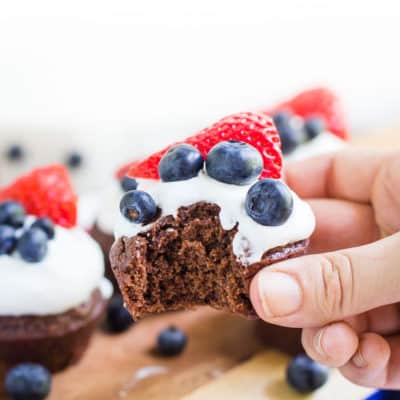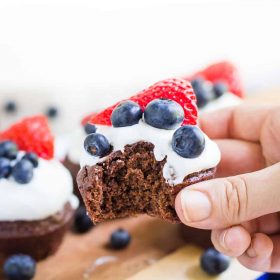 4th of July Brownies
---
Author:
Prep Time: 10 minutes
Cook Time: 20 minutes
Total Time: 30 minutes
Yield: 9 brownies 1x
Scale
Ingredients
1 cup of all purpose flour (can easily be made gluten free by using THIS 1–1 Gluten free flour mix)
1 cup of sugar
1/3 cup of cocoa powder
1/2 teaspoon of salt
1/2 teaspoon of baking powder
1/2 cup of water
1/2 cup of non dairy butter, melted
1 teaspoon of vanilla extract
1 cup of Coconut whipped cream)
strawberries, washed and quartered
blueberries, washed
---
Instructions
Pre-heat your oven to 350 degrees F and lightly grease or line a muffin pan.
In a large bowl, sift together the flour, sugar, cocoa, salt, and baking powder.
Make a well in the middle and pour in the water, butter, and vanilla extract.
Stir until the mixture is full incorporated. If desired, you could mix in chocolate chips here to make them more chocolaty :)
Pour the batter evenly into the muffin tins. I filled 9 cups up half way but you could make them bigger or smaller if desired.
Bake for 18-25 minutes (depending on size and desired doneness). For more fudgy brownies, cook, check for doneness at around 18 minutes. For more cupcake like brownies, cook for a bit longer.
While the brownies baked, I took this time to make the coconut whipped cream and cut up the strawberries.
Once done, take out of the oven and let cool completely before adding on the whipped cream.
Spoon on the whipped cream to each brownie. Optional: place the brownies in the freezer for 10 minutes to let the whipped cream harden and set.
Top with the strawberries and blueberries and ENJOY!! :)
---