Vegan Pumpkin Pie
Welcome to our Virtual Pumpkin Party of 2016!! If you remember from last year, Sarah hosted the first ever #virtualpumpkinparty which rocked the internet with ALL things pumpkin. The party is back this year but, if I recall correctly, it's twice the size with twice as many awesome bloggers (and twice the amount of PUMPKIN!). Sara and Aimee put quite a bit of work into organizing this pumpkin internet takeover and I'm very grateful/ excited/ overcome with pumpkin love to participate.
Hey, check out me making this pumpkin pie completely from scratch in under 2 minutes (with editing magic!)
Because the list of bloggers and their pumpkin recipes is so long, I'm going to link you to Sara's posts and Aimee's post. I HIGHLY recommend that you check it out not only for the massive amount of incredible pumpkin recipes but also to maybe discover some great new food blogs :) I haven't actually had the chance to look through all of the posts myself (because there's awesomely so many of them), but I'm hoping to make my way through the list throughout the week.
I've said this many times before but I haven't said it recently: easily the best thing about food blogging is the community. I've made some friends through my blog that have become my closest friends over the past couple years. And for that, I am very grateful. All of that to say that some (probably all but I don't actually know all of them) of the bloggers participating in this party are some of the coolest people and I'm very thankful to have them in my life. I wish that they all lived closer so that I could give them a piece of this pumpkin pie. And, you too. Want some pie??
My contribution to the Pumpkin Party comes in the form of a veganized classic: the pumpkin pie! I tested this recipe out quite a few times to get it to perfection and that I did! I honestly don't think you would ever know that this pie is vegan if I didn't tell you!
OH! and the crust. I've literally made this crust about 6 times over the past week to make sure that it was right. I had planned to post the crust recipe BEFORE posting the recipe for this pie. But alas, that just didn't happen. The recipe for the crust will be coming tomorrow though so you don't have much of a wait. Hopefully you aren't planning to make this pie TODAY on October 24, 2016 ;) The Coconut Oil Pie Crust is HERE. It's amazing!!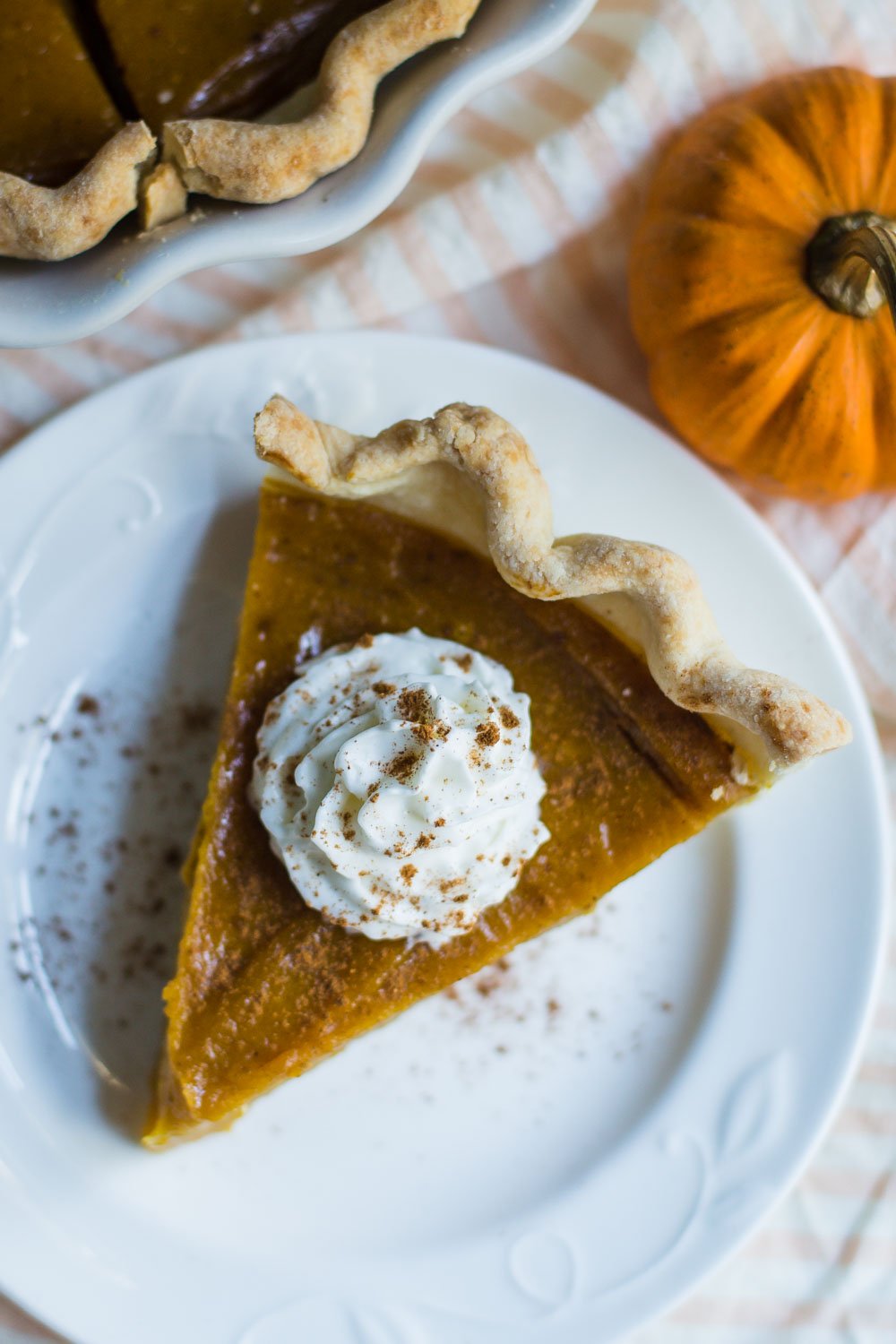 And just for the record, the crust recipe is AMAZING! It's exactly like a regular crust but with coconut oil instead of butter. It's so much easier to throw together than you might think and seriously so delicious.
But, more on the crust tomorrow. Today is about this Vegan Pumpkin Pie!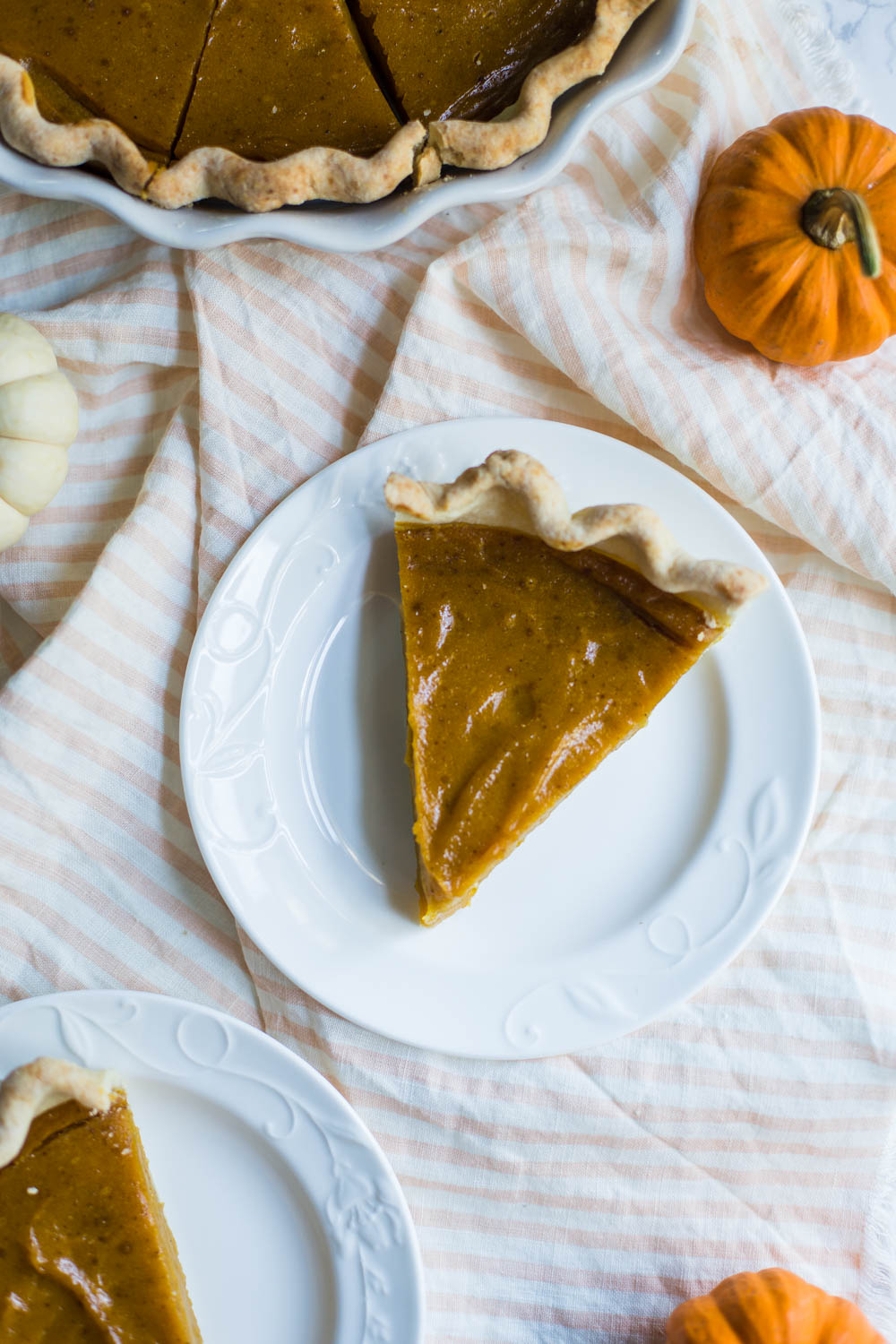 I pulled out all of the stops for this one including the already mentioned homemade crust and roasting a fresh pumpkin instead of using canned pumpkin. My 100% honest feelings= canned pumpkin v. fresh pumpkin doesn't make much of a difference. But, I had the pie pumpkin so I figured that I would use it.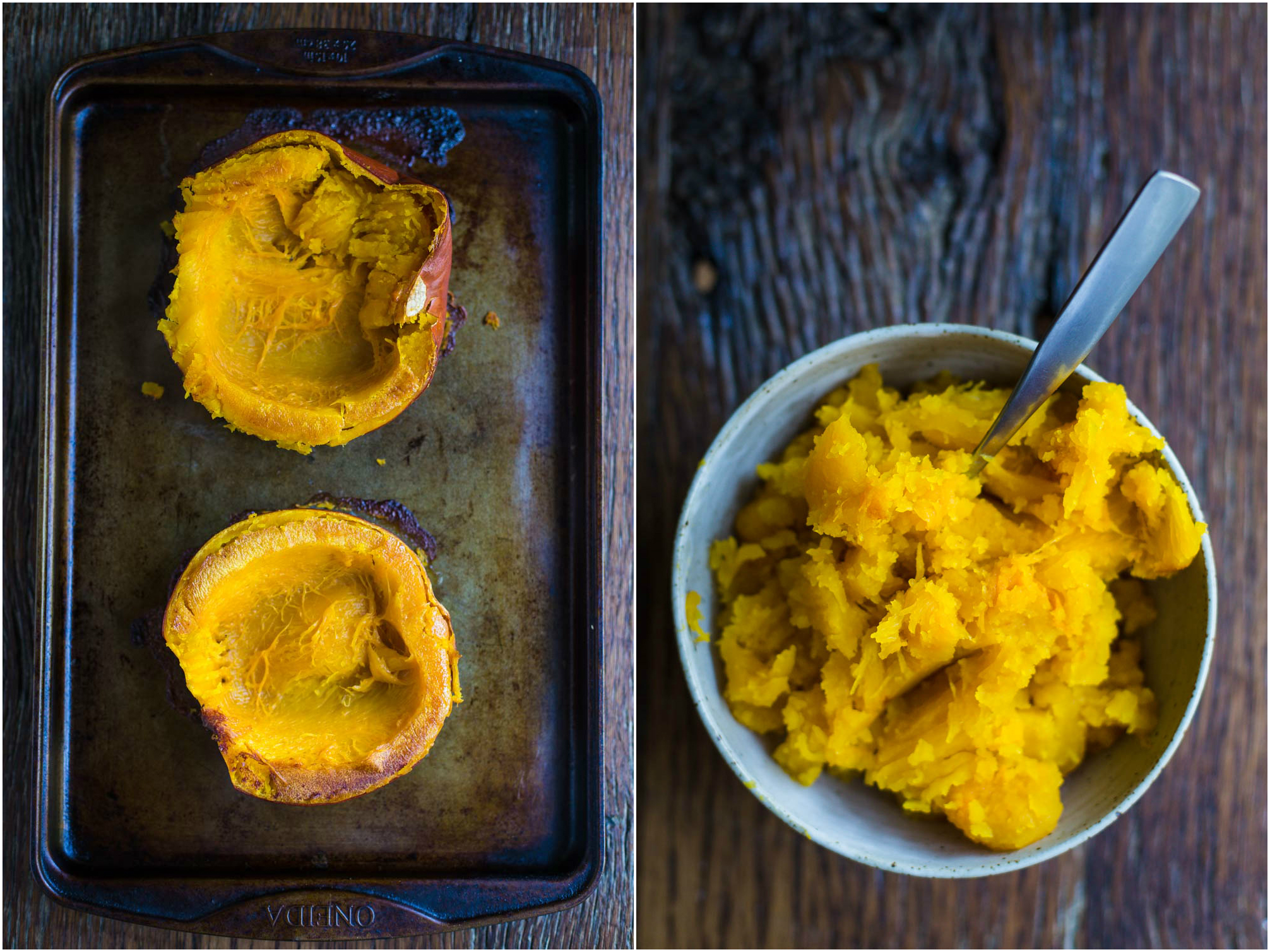 That's all I have for you today. I have lots of exciting things coming to the blog this week (I've been very busy!). I'll be back tomorrow with the recipe for the crust ;)
Until then, PLEASE go check out some of the other wonderful bloggers' pumpkin recipe. Again, you can find the full list on Sara's blog HERE and Aimee's blog HERE.
Print
Vegan Pumpkin Pie
---
Author:
Prep Time: 5 minutes
Cook Time: 55 minutes
Total Time: 1 hour
Yield: 1 pie
Ingredients
2 1/2 cups of pumpkin
1/3 cup of brown sugar
1/4 cup of maple syrup or agave
3/4 cup of full fat coconut milk from the can, shake the can well before opening it!
1 teaspoon of vanilla
1 teaspoons of pumpkin pie spice
1/2 teaspoon of salt
3 tablespoons of cornstarch
---
Instructions
Pre-heat your oven to 350 degrees F.
In a high speed blender or food processor, combine all of the pie ingredients (minus the crust of course :)) and blend until creamy and smooth. Should only take a minute.
Pour the pie filling into your crust and spread out until it's smooth.
Bake in the oven for 55-65 minutes. The top should be firm and the crust should be lightly browned around the edges.
Once done, take out of the oven and let cool on the counter. Put in the fridge and let cool completely. The cooling process really firms up the pie so although you'll want to eat it right away, try and refrain :)
Top with some whipped coconut cream and ENJOY!!