Apple Cinnamon Protein Pancakes
This post may contain affiliate links. Please read my disclosure policy.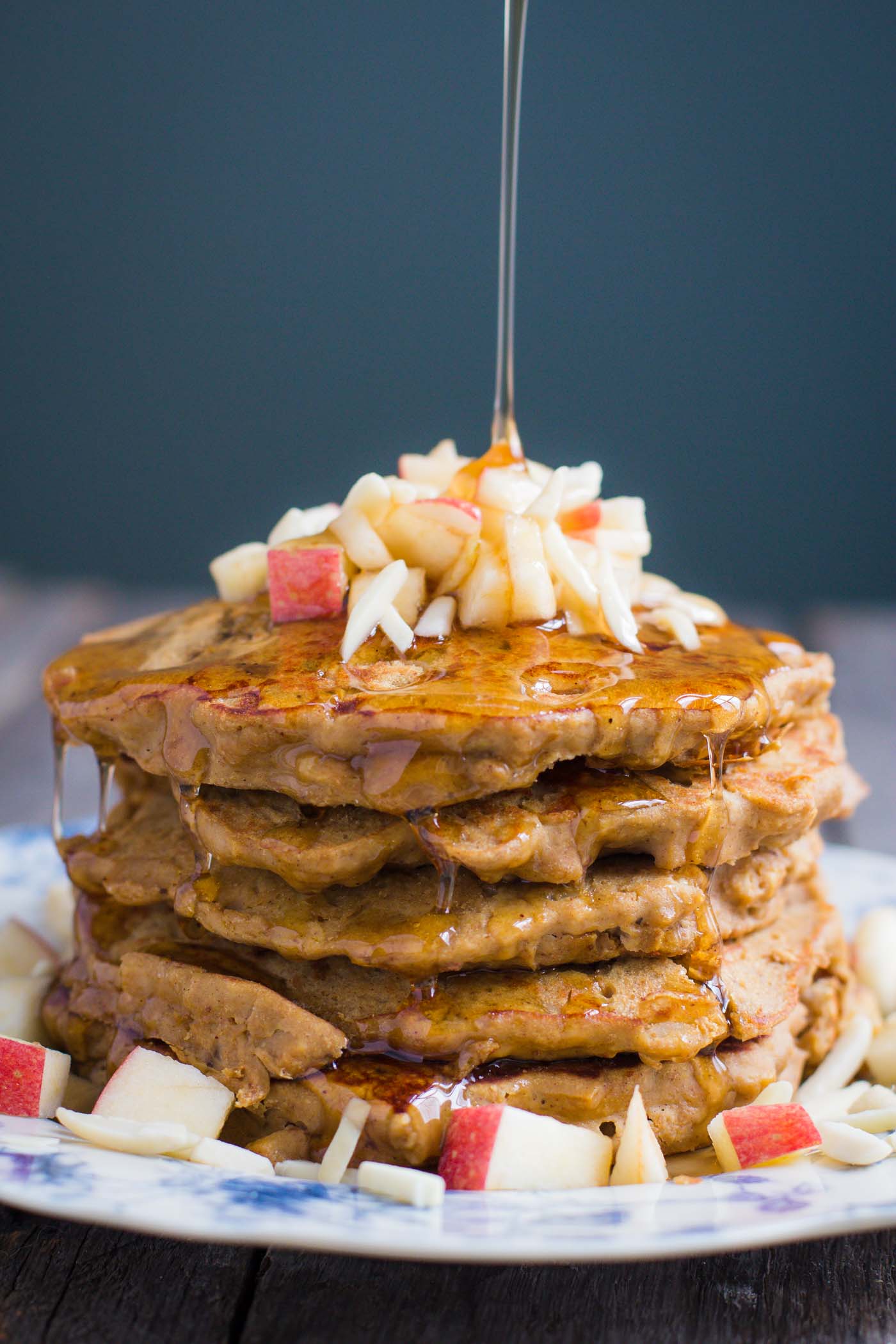 I'm happy to report that my apple trees are planted snuggly in the ground thanks to my husband waking up early on a Saturday morning and helping me dig holes in freezing weather. Everyone keeps asking me very confused "is this the right time of year to be planting apple trees!?" to which I respond "I dunno. But the lady I bought the trees from said it was okay and offered me a 1 year money back guarantee if anything happens to the trees". So, we have apple trees. (!!!)
Right now they kind of just look like 6 feet tall sticks in the ground but I'm told that they'll grow big enough to actually produce fruit by next year.
When I was in Mexico last Fall, I bought a really cool hammock and carried the ridiculously shaped thing through multiple airports to get it home. My ultimate dream is that I can eventually (probably in a few years) hang the hammock between 2 of the apples trees. I haven't actually researched whether or not apple trees can support something like that but it's a dream that I have. Bonus points if any apples fall on my head.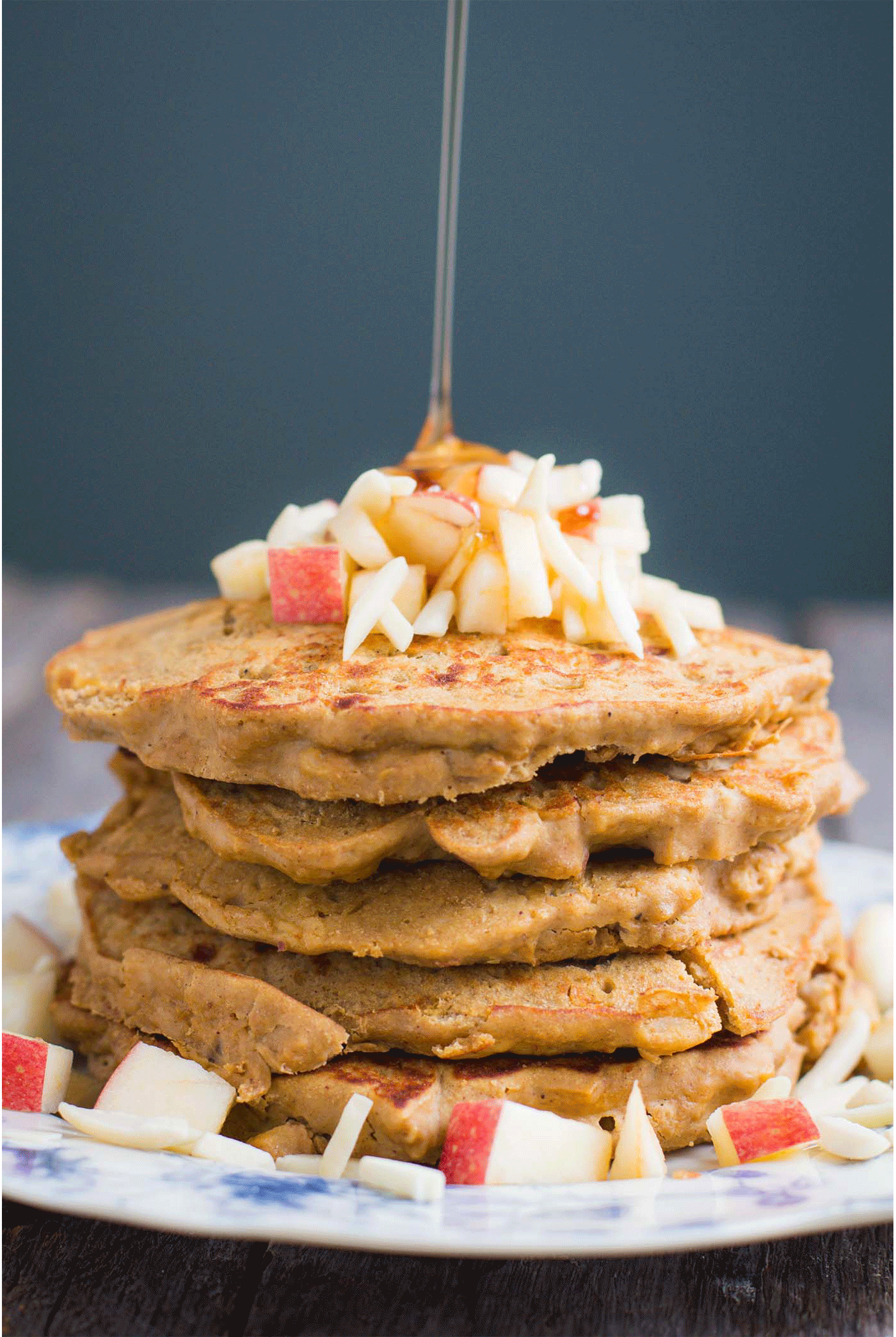 So, these Apple Cinnamon Protein Pancakes. They're an ode to my growing little farm that I refer to as 'Britnell Farms' on a regular basis even though our property is well under 2 acres. One day I hope to be able to make these pancakes with the eggs from my chickens and the apples from my trees.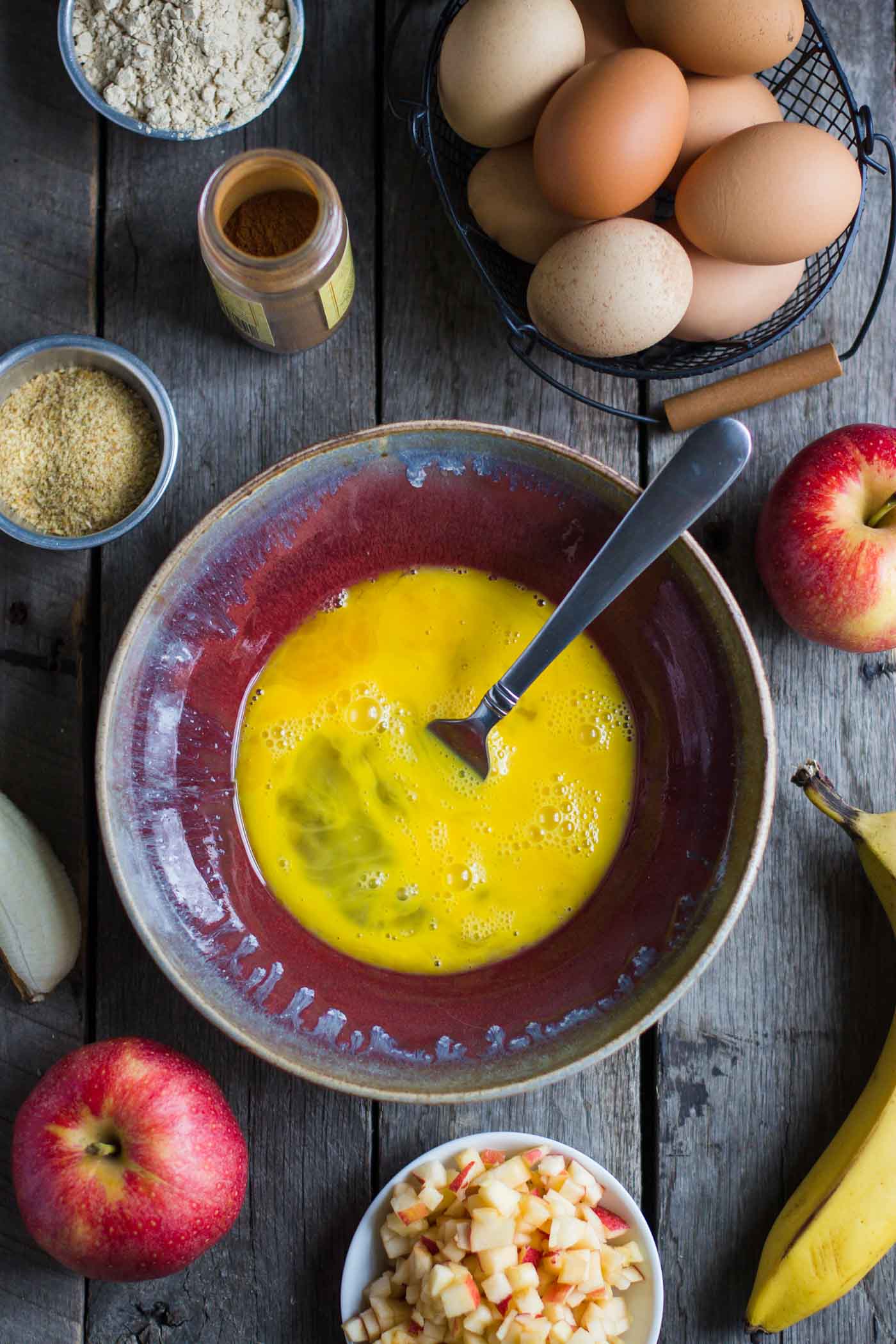 As pancakes go, they're very easy to make BUT full disclaimer: this is NOT an "omg these taste just like normal pancakes" kind of recipe. It's just not. They also cook a bit different than your average pancake. You need to cook these on a low heat for about double the amount of time that you would normally cook pancakes. If you try and cook them on a high heat for a quicker time, they're fall apart a bit.
They are however SUPER yummy and a bit more nutritious than your average pancakes.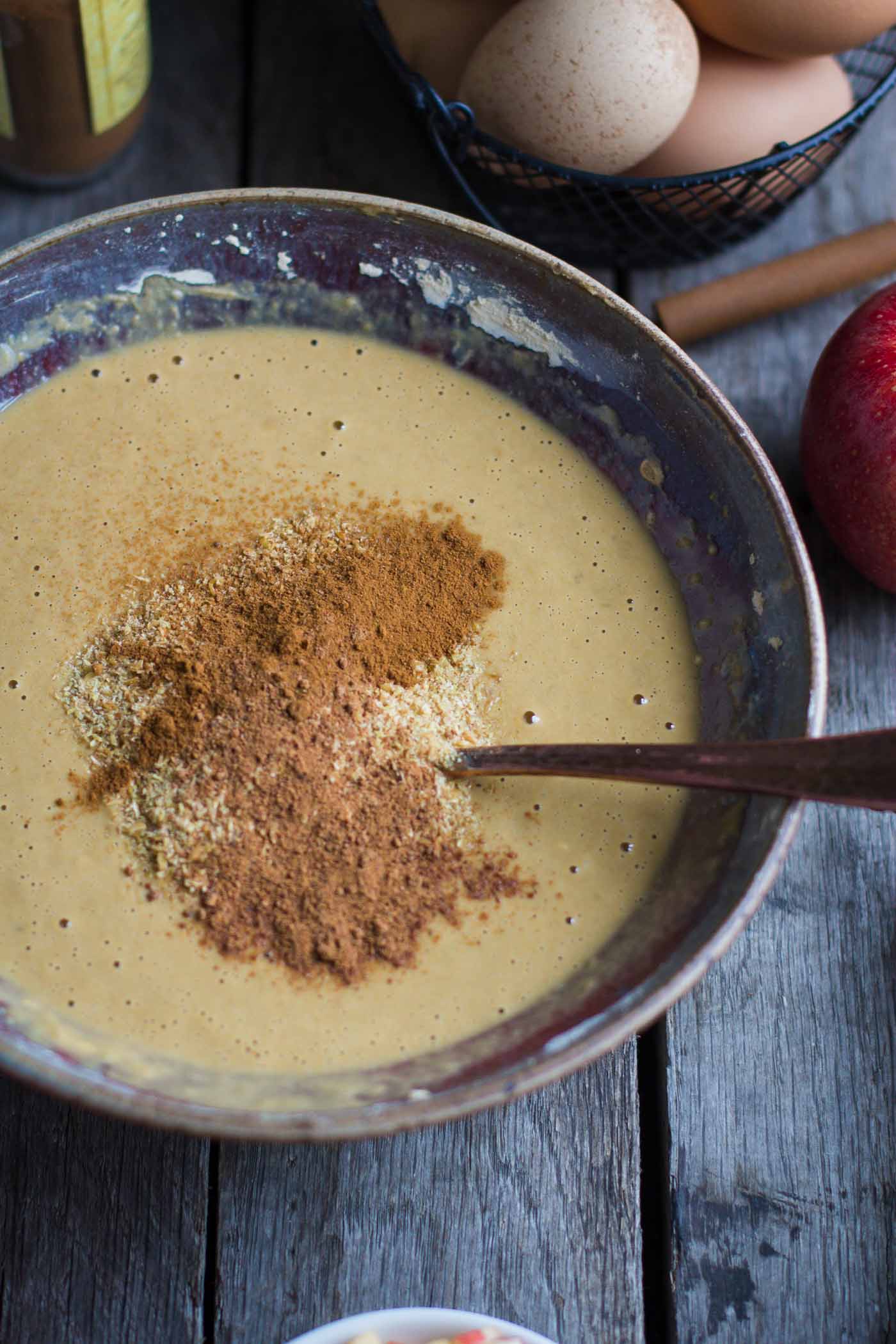 When it comes to protein powders: I have yet to find a protein powder that I love. I've been using a plant based protein power from an online company that I can't even remember. Sara from Cake Over Steak recently recommended that I try Vega protein so I've got that on my list to try. Any good recommendations?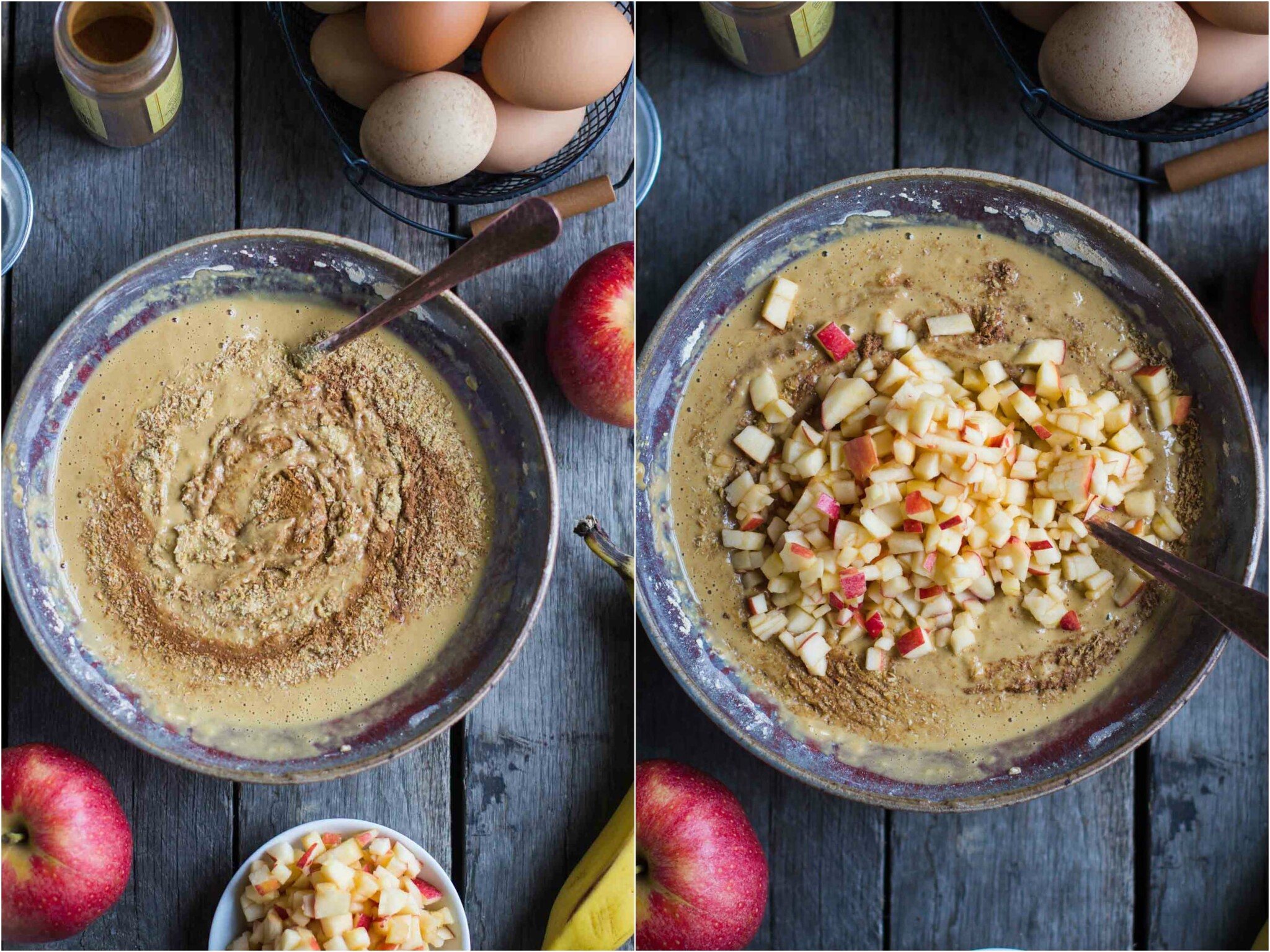 These pancakes also freeze well and make for a great on the go breakfast. Just heat them up in the microwave for a minute and you've got an easy breakfast.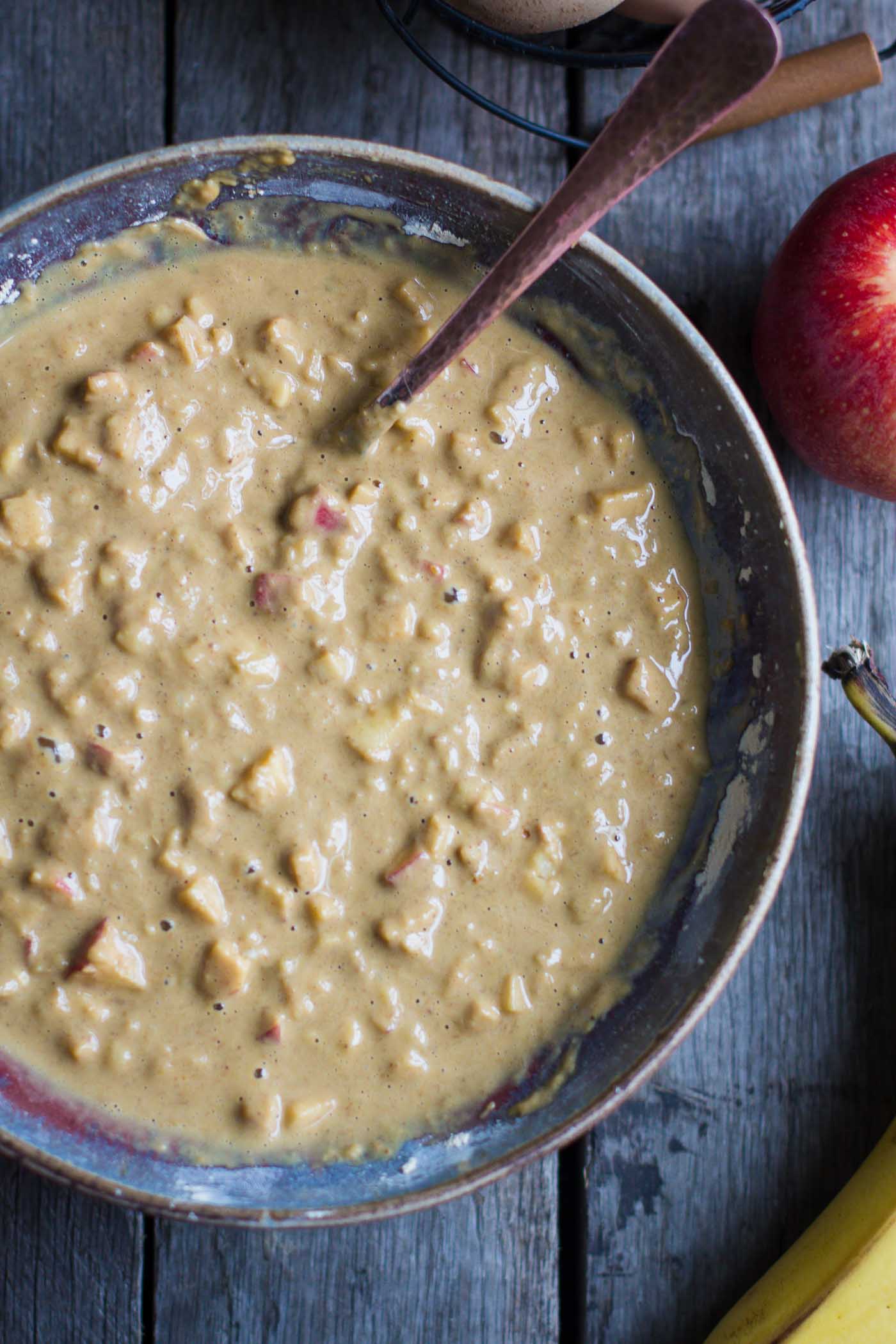 If you're looking for a gluten-free, healthier/ more nutritious pancake, I highly recommend these!! You could substitute the apples out for other fruit as well including berries or even a bit more banana.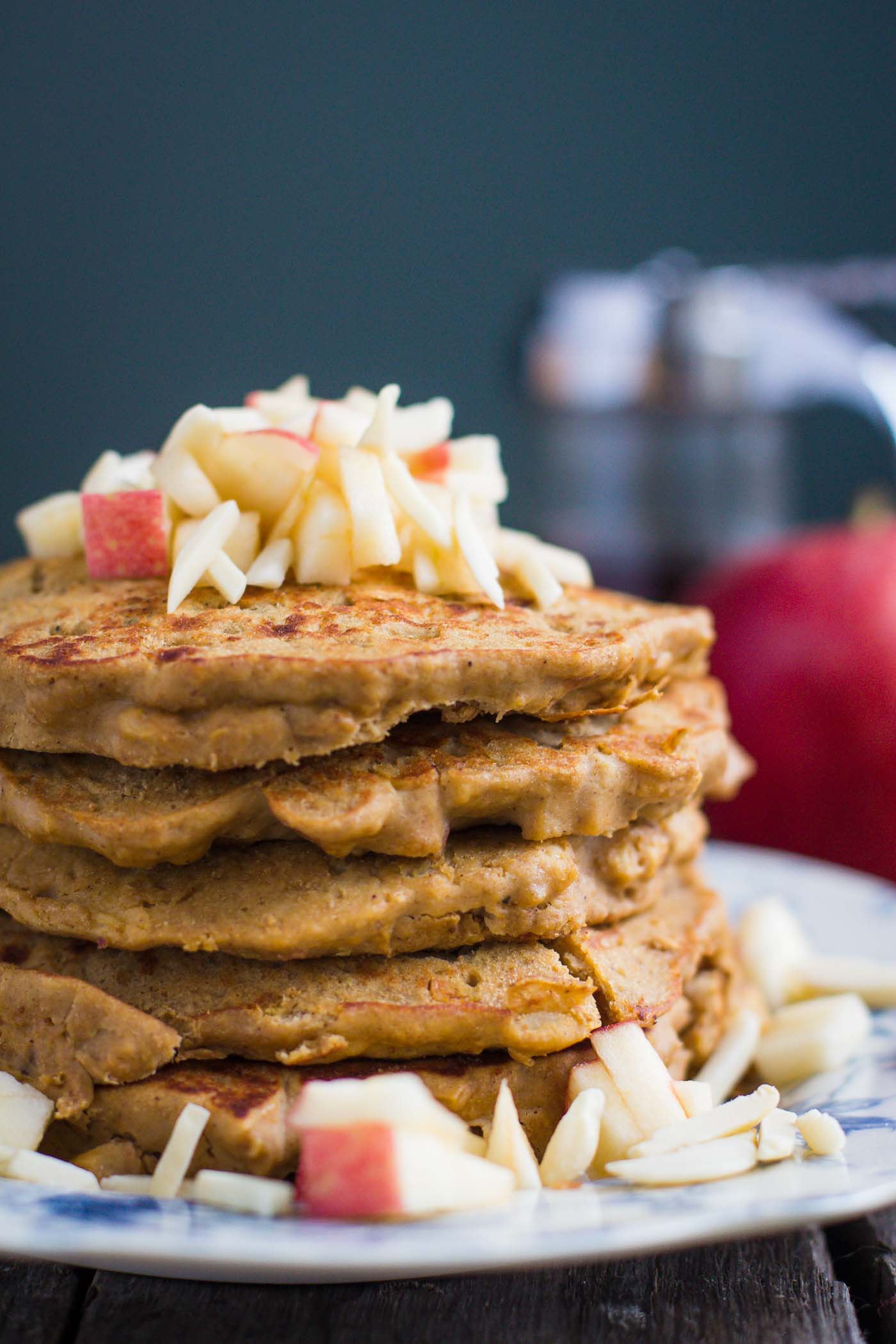 Don't forget that we have a great giveaway going in honor of Ashley's new Etsy shop, Tulle & Grace. You can enter the giveaway at the bottom of THIS post.
Print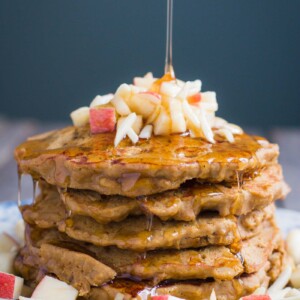 Apple Cinnamon Protein Pancakes
---
Author:

Total Time:

25 minutes

Yield:

2

1

x
2

ripe banana, mashed

2

whole eggs

2

scoop protein powder

2 tablespoon

ground flaxseed (the recipe could be made without this)

1/4 cup

of almond milk

1 teaspoon

of cinnamon

1/2 teaspoon

of nutmeg

1

medium apple, finely chopped (peeled if desired)
cooking spray/ coconut oil
for topping: chopped nuts, extra chopped apple, and maple syrup/ agave
---
Instructions
Mash the bananas in a large bowl and then whisk in the eggs.
Stir in the protein powder, flaxseed, almond milk, cinnamon, nutmeg, and apple. Stir until fully mixed together. If batter seems a bit too thick, add more almond milk, 1 tablespoon at a time.
Heat a skillet or griddle over medium LOW heat and grease with cooking spray or coconut oil. Pour the batter onto the skillet ~1/2 cup at a time and cook for 5-7 minutes on each side. Flip gently and cook for an additional 6 minutes on the other side.
Repeat with all of the batter.
Top your pancakes with chopped apple, chopped buts, and a bit of maple syrup/ agave.
ENJOY!! :)
Notes
These are NOT like normal pancakes. The consistency is a bit denser and therefore they NEED to be cooked at a lower temperature for a longer amount of time than your average pancakes. Additionally, they don't hold together quite as well so be careful when you're flipping them.
Prep Time:

10 minutes

Cook Time:

15 minutes

Category:

Breakfast
This post may contain affiliate links. Please read my disclosure policy.