Bacon, Cheddar, & Chive Soda Bread
This post may contain affiliate links. Please read my disclosure policy.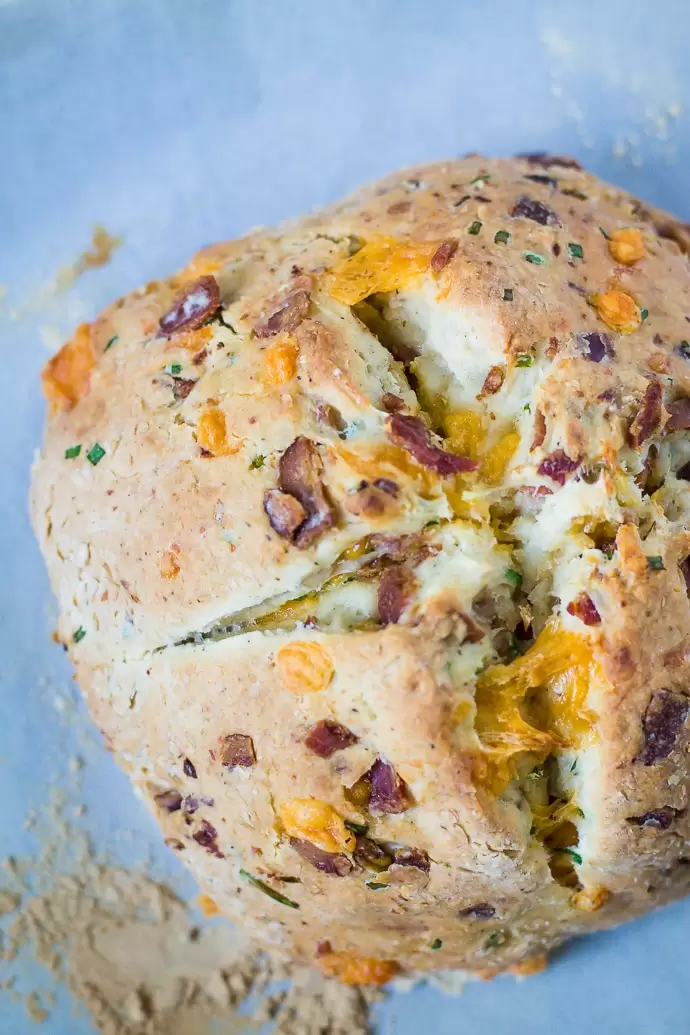 Week 3 of the Great British Bake Off was bread week. I think that was a good few weeks ago at this point but hey, here I am. I'm baking along with the show even if I'm lagging behind a bit. For the bread week, I opted for the soda bread and decided to use a simple recipe that I could then add lots of other yummy things to. Bacon, cheddar, and chive seemed like a good idea. In reality: it was a great idea!!
I mean, seriously. Look at this bread: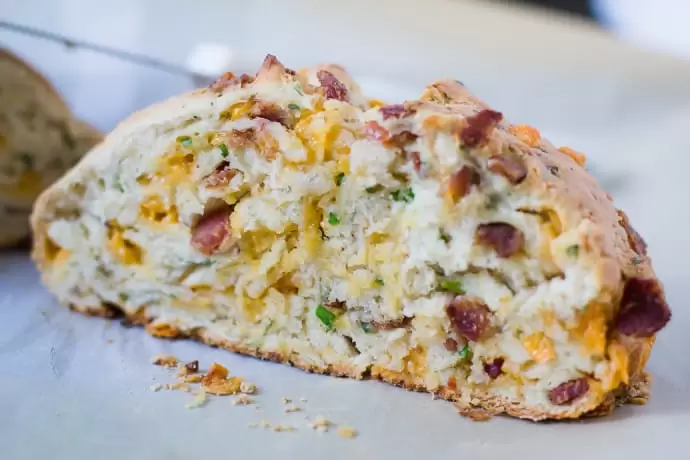 It's as magical as it looks and you should probably make it ASAP.
Bread is one of those things that I absolutely love baking, and I'm so thankful once I've done it, but I rarely actually do it. So, I've made a goal to bake a loaf of bread every week through the end of the year. We'll see how that goes.
This bread is really easy to make which I'm a big fan of.
The dry ingredients are sifted together before the bacon, cheddar, chives, and buttermilk are mixed in.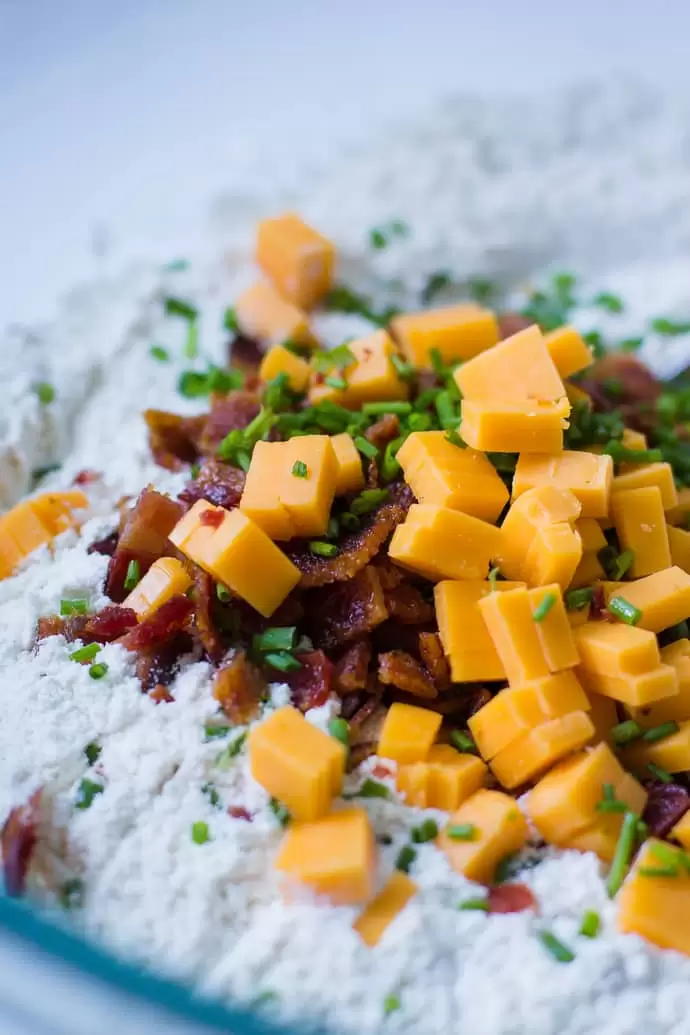 Once kneaded together, the dough is formed into a loaf and baked for 25 minutes to perfection.
It turns a nice golden brown and when cut open reveals beautiful pockets of melted cheese, bacon, and chives.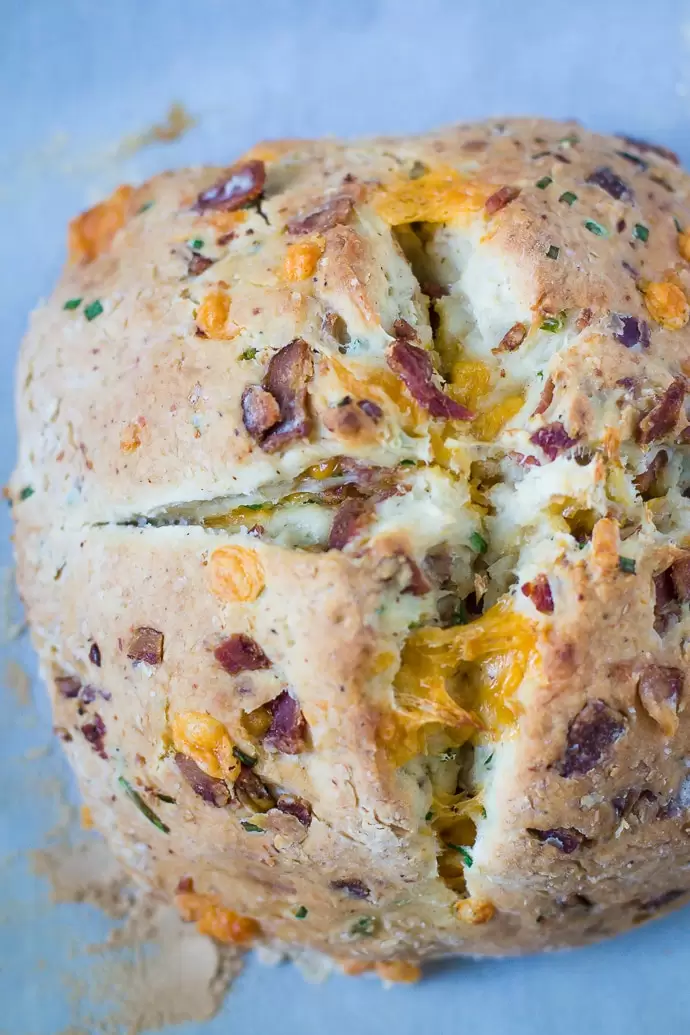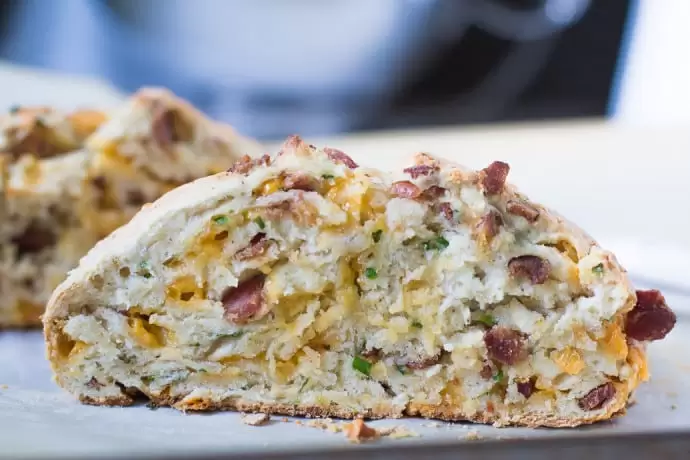 Happy bread baking!!
Print
Bacon, Cheddar, & Chive Soda Bread
---
Total Time:

45 minutes

Yield:

1

1

x
2 cups

all-purpose flour

1/2 teaspoon

baking soda

1/2 teaspoon

sugar

1/2 teaspoon

salt

1/2 teaspoon

freshly ground black pepper

2 ounces

sharp cheddar, cut into small cubes

4

–

5

slices cooked bacon, finely chopped

1/4 cup

of chives, finely chopped

3/4 cup

buttermilk, plus a few tablespoons extra if needed
---
Instructions
Pre-heat the oven to 400 degrees F. Line a baking sheet with parchment paper.
In a large bowl, sift together the flour, baking soda, sugar, salt, and pepper.
Stir in the cheddar, bacon, and chives into the flour mixture and stir well to combine.
Add in the buttermilk and stir until thoroughly mixed together.
On a floured surface, knead for 2 minutes. If the dough is overly dry and wont hold together, add in more buttermilk 1 tablespoon at a time and continue to knead for a minute.
Form the dough into a round loaf and place on the baking sheet. Cut a large X into the top of the loaf going about 2/3 of an inch deep.
Bake for 20-25 minutes until golden brown on the outside and full cooked on the inside (test doneness by sticking a fork or toothpick into the center of the loaf).
ENJOY!!!
Prep Time:

20 minutes

Cook Time:

25 minutes
This post may contain affiliate links. Please read my disclosure policy.