Bacon Mac & Cheese
This post may contain affiliate links. Please read my disclosure policy.
Sometimes I'm really good and drink lots of freshly squeezed juices and eat lots of leafy greens and keep things pretty light. Other times I cook bacon and then stir it into pasta and cheese and then top it with more cheese. Eating "right" is really really hard sometimes.
A few years ago, a trainer and nutritionist told me that I needed to learn to view food solely as a means of sustenance and to let go of any emotional attachments that I have towards food. I've spent a lot of time thinking about this; agonizing over it really. Such a huge part of me didn't want to view food this way. Another part of me felt guilty that I didn't have better discipline and self-control to hold these viewpoints.
I was raised in a family that put food at the center of almost everything that we did together. When we traveled, one of the first things we did was make a list of the 'must-try' restaurants in the area. Like for most people, our family functions pretty much revolved around food. We all gather in the kitchen, around dishes of casseroles and cookies and large pitchers of sweet tea, and hang out there pretty much the whole time. Everyone has a signature dish that they're known for in the family and are always expected to bring it. For my mom, it's her pasta salad. One of my aunts brings a cheesy potato casserole thing that I crave on a daily basis.
I've found that simply not worrying about it all is the easiest solution. I have weeks where I crave salads and all the veggies and eating loads of nutritious foods is all I want to do. And then I have weeks where I just want to bake old fashioned chocolate chip cookies and eat mac n cheese leftovers for every meal. It works for me. Every once in a while I feel like maybe I need to take a load off the carbs and eat a few more salads (and drink more water!!!). Almost as if my body needs a quick reset. But, realizing that is 90% of the battle and within half a day, I feel better.
I think I just need to write a whole post on this one day soon. Because I have lots and lots of thoughts and you're really just here for the mac n cheese (and bacon).
I made this mac n cheese for Christmas and got some good reviews on it.
Baked Homemade Mac n' Cheese is possibly one of my favorite things in the whole world. It's just pure goodness. And easy.
Pasta is cooked (under cooked) so that it's just slightly underdone and can finish cooking in the oven. While that happens, the cheese sauce is prepared and bacon is cooked.
Butter is melted, flour is added and cooked a bit. Milk and dry mustard and a tempered egg and cheese are all added in eventually too but no pictures are produced because it's stressful to make a sauce which comes together quickly AND get pretty photos at the same time. I did try it out though. :)
This is the final delicious product:
The pasta is mixed into the cheese sauce resulting in yummy, gooey, delicious mac n' cheese:
You could stop there. I kind of wanted to due to the fact that I was very hungry and this looked so good already. But nope, we're adding bacon and more cheese. Deal with it.
Everything is added to a casserole pan. First the mac n' cheese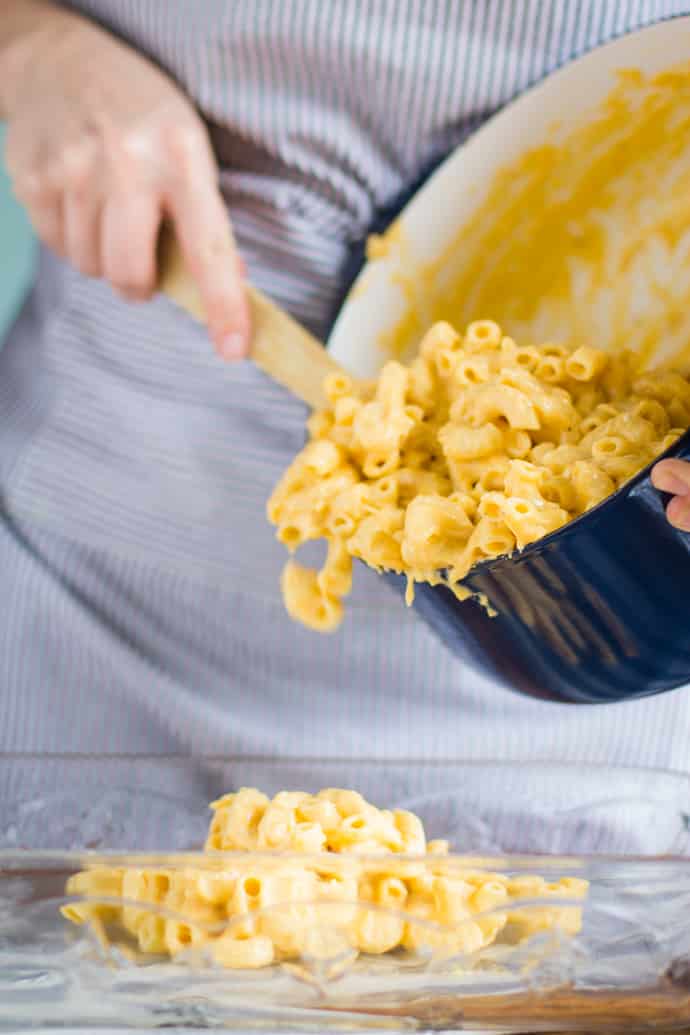 Then the bacon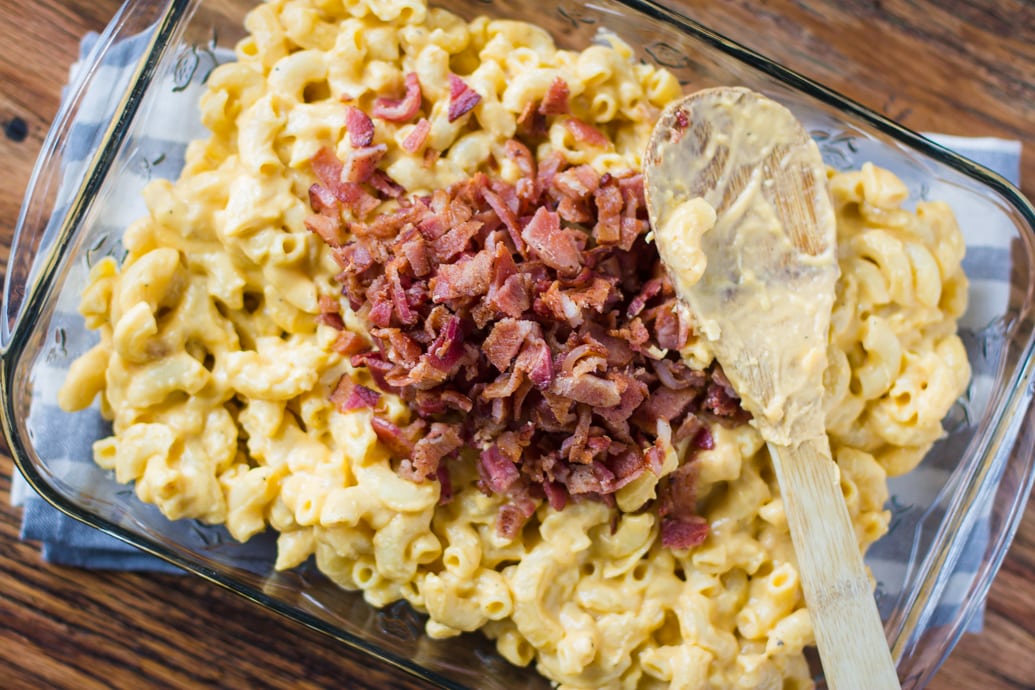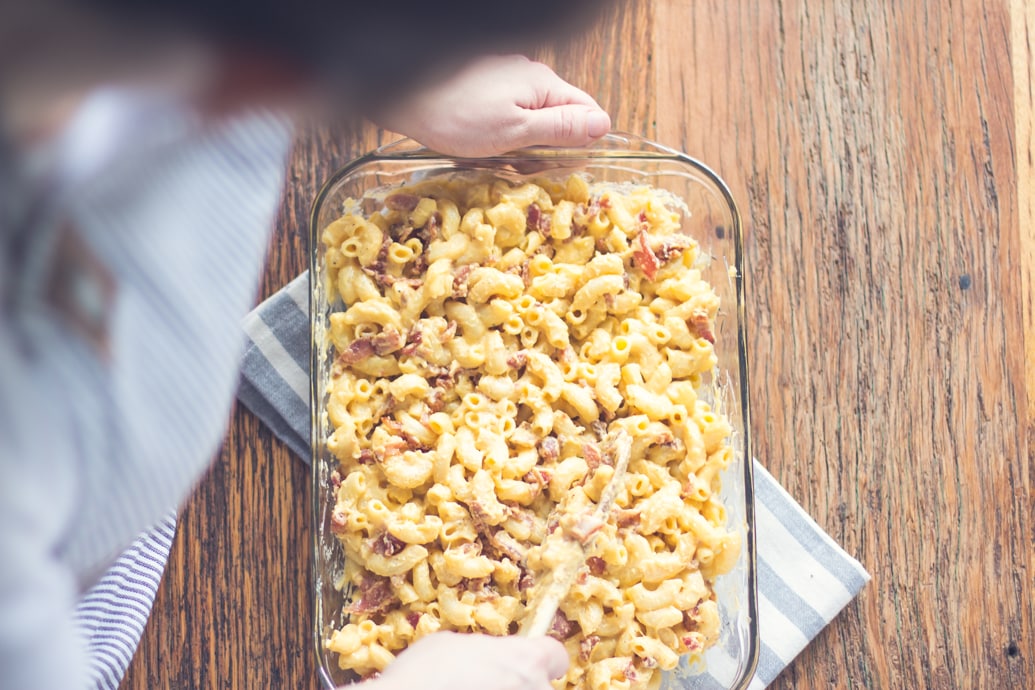 And topped with a thin layer of cheddar cheese
Since everything is already cooked, this really just needs to be in the oven long enough to melt the cheese evenly.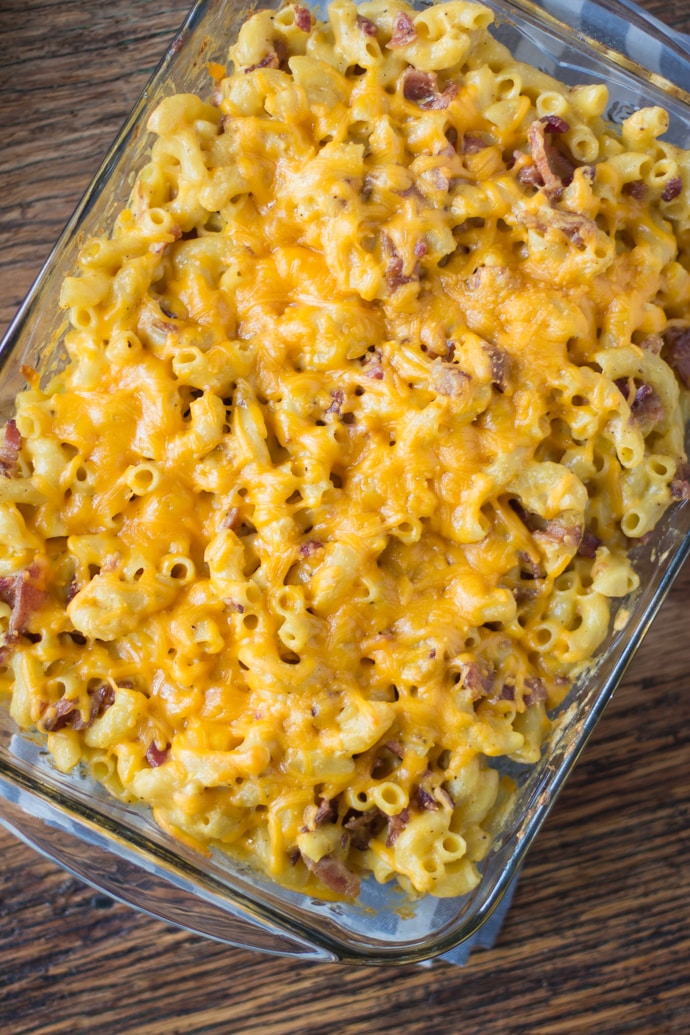 The bacon in this is lovely and just adds a nice something to the mac n cheese. I'm a pretty big fan of this bacon mac n' cheese.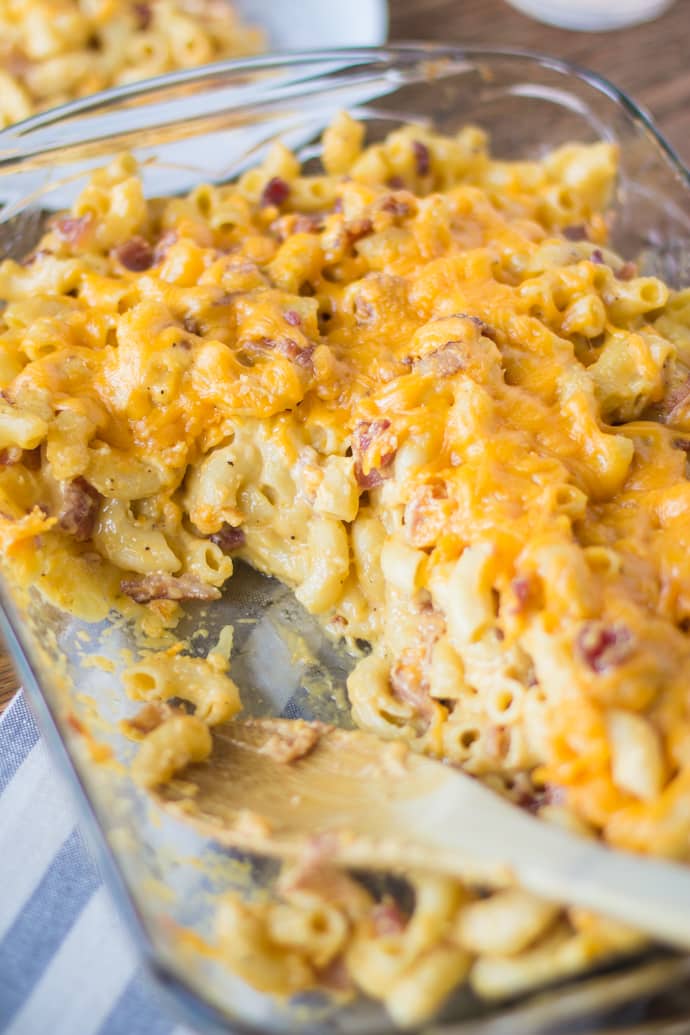 Print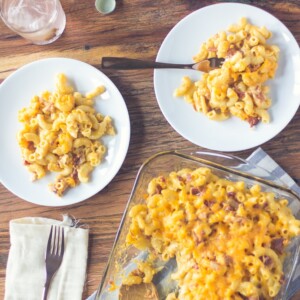 Bacon Mac n' Cheese
---
~1 pound of bacon (about 15 strips)

4 cups

of uncooked macaroni

1/2

stick (1/4 cup) of butter

1/4 cup

flour

2 1/2 cups

of milk (I used 2%)

1 1/2 teaspoons

of dry mustard

1

egg, beaten

1

pound of sharp cheddar cheese, grated and divided
salt & pepper to taste
---
Instructions
Cook the bacon and set aside to cool.
Cook the macaroni to al dente. You want it to be slightly under done since it will cook a bit more in the oven.
In a large pot, melt the butter over medium heat and then whisk in the flour. Cook for 3 minutes, stirring constantly.
Add in the milk and mustard, stir good. Cook until the sauce has thickened up quite a bit, about 5 minutes and then reduce heat to low.
Take a few tablespoons of the sauce and pour into the egg while whisking. Let that cool a bit and then add it into the pan with the sauce. Stir.
Add in a cup and a half of the cheese (saving the rest for topping) and continue to stir until all of the cheese is completely melted.
Before adding S&P (or any extra spices) taste the cheese sauce to see how you would like it. It may be salty enough for your liking and you'll only want a bit of pepper. S&P to taste.
Pour cooked macaroni into the cheese sauce, stir, and then pour into a casserole dish.
Chop bacon, stir into the macaroni and cheese, and then spread the mixture evenly out among the dish.
Top with cheese and bake at 350 degrees F for 25 minutes.
ENJOY!
Notes
adapted from The Pioneer Woman
Prep Time:

20 minutes

Cook Time:

25 minutes
Macaroni and Cheese recipe adapted from the Pioneer Woman
This post may contain affiliate links. Please read my disclosure policy.