Bacon Wrapped Asparagus
Bacon Wrapped Asparagus- this super easy side dish is perfect for entertaining and something everyone will love! The bacon adds a nice salty flavor to the asparagus.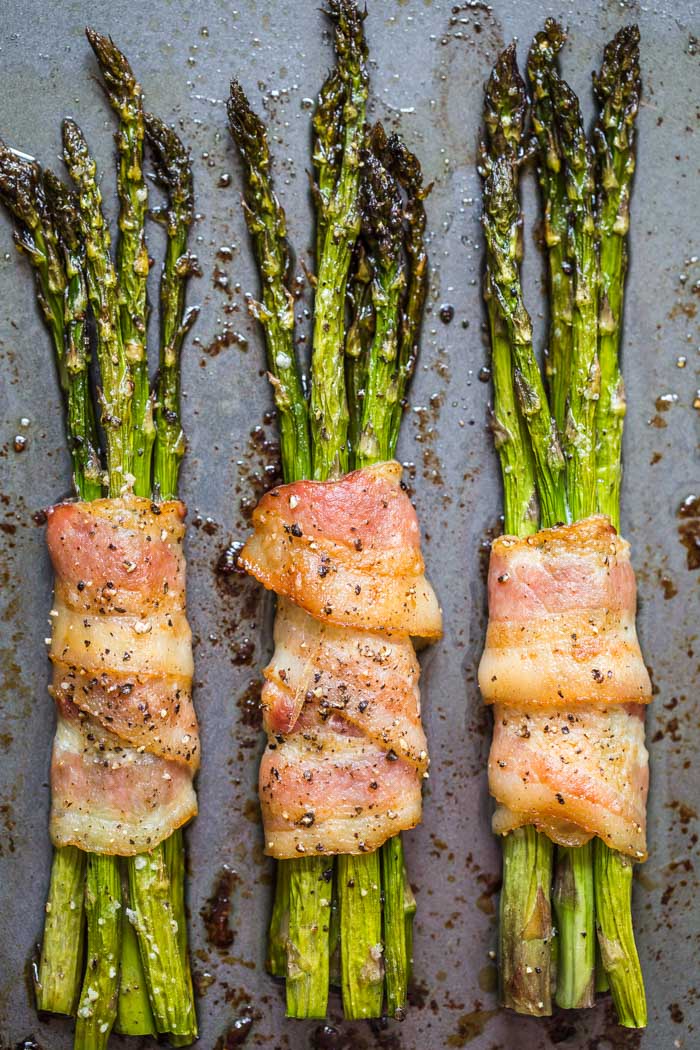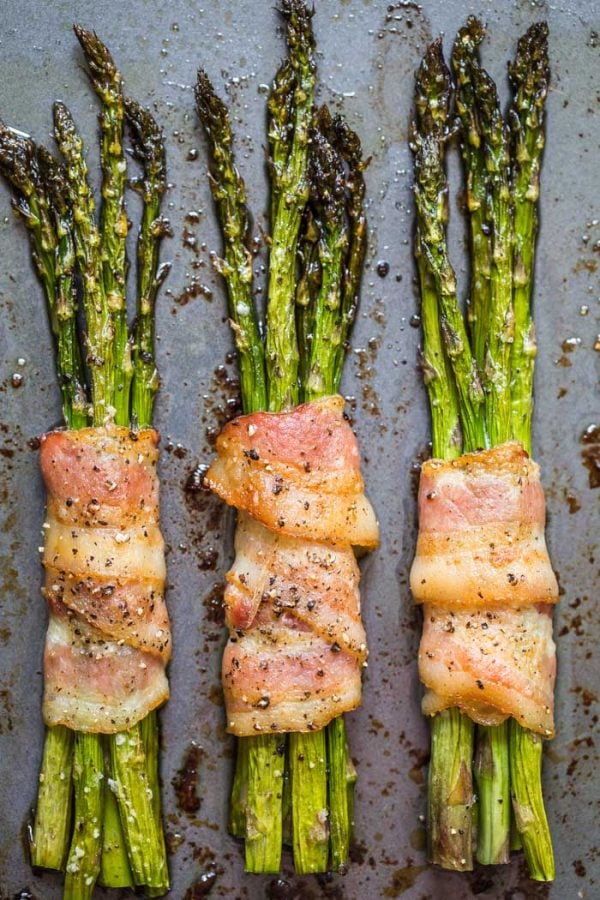 Yep. Another asparagus recipe! 🤗 I just really like asparagus, mmkay?
This time we're wrapping it in salty bacon and roasting it in the oven. It's simple and it's delicious and you need it at your next dinner party (or just dinner).
Let's just dive right into this today, shall we….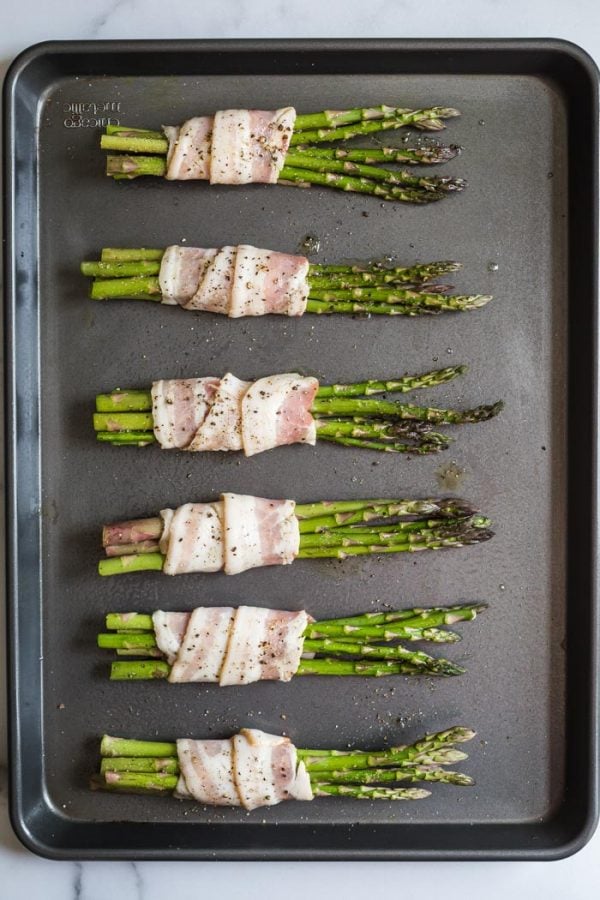 How to cook Bacon Wrapped Asparagus:
While there are some complicated ways of doing this, I did my best to keep this simple and easy.
To make this bacon wrapped asparagus in the oven, we'll start by dividing the asparagus into ~6 bundles. You could do more or less if desired. I ended up with 6 bundles of 5 spears each.
Each of those asparagus bundles is wrapped with a single piece of bacon so that the bacon is partially overlapping. Place those all on a prepared baking sheet.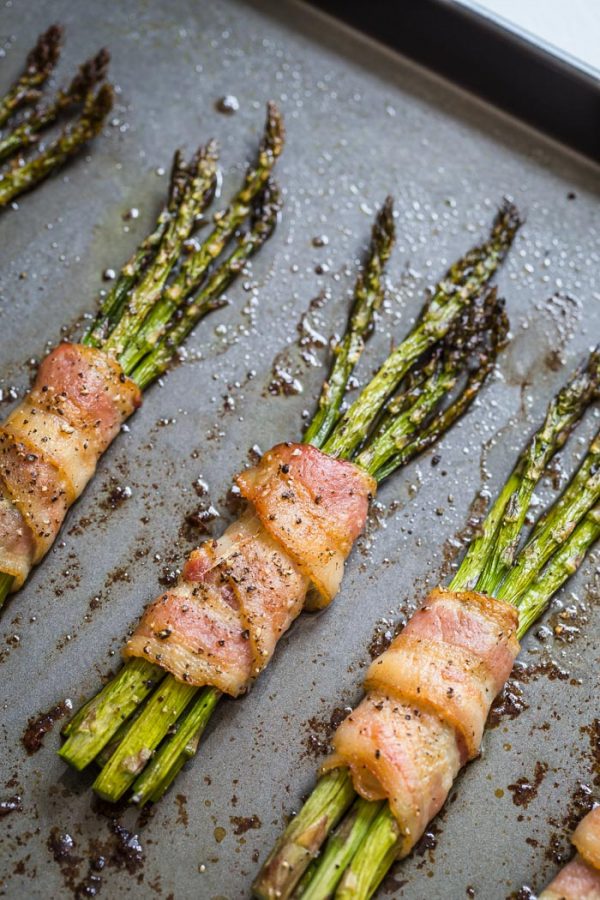 Next, we'll whisk together the oil and garlic powder and brush that all over the bacon and asparagus and then sprinkle it with some fine sea salt and pepper.
That is then baked in the oven for about 15-22 minutes (depending really on the thickness of your bacon and asparagus). Once done, you can, if desired, brush each piece of bacon with a bit of maple syrup to add a little bit of sweetness. I honestly prefer it without the maple syrup.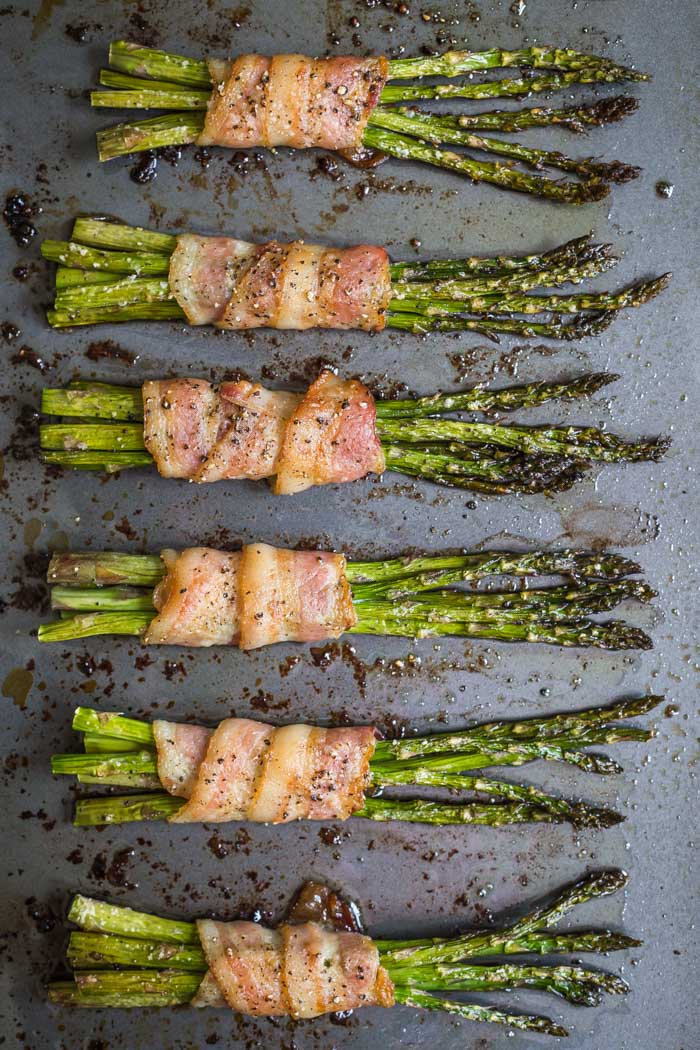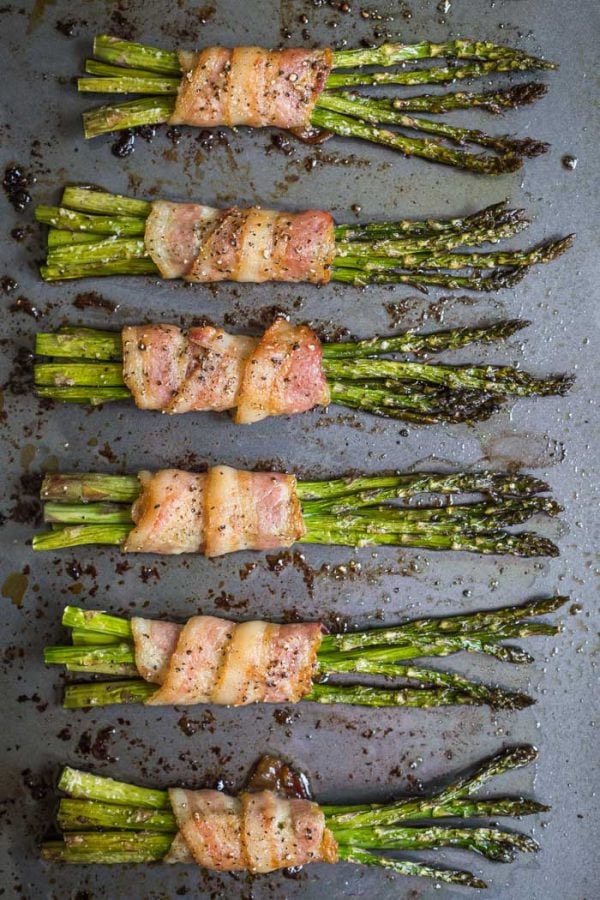 How to make Grilled Bacon Wrapped Asparagus:
Why YES, you CAN make this recipe on the grill! Here's how to do it:
Make the recipe as written. Pre-heat your gas grill to 400 degrees. Place the bundles on the grill and cook for 5 minutes, flip, and cook for an additional 5 minutes. Easy peasy.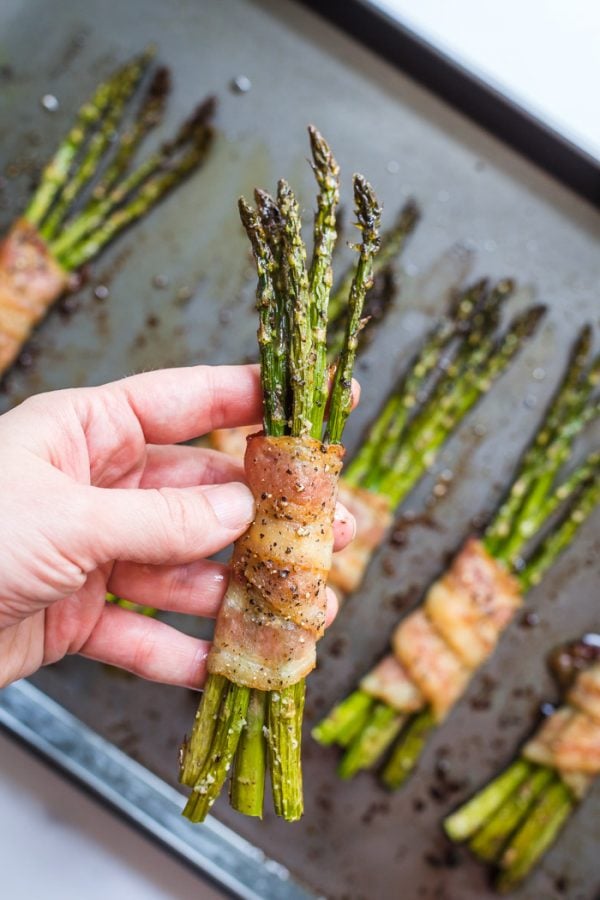 That's it! If you make this recipe, I hope that you like it and please come back to let me know!
Other Asparagus recipes for you:
Print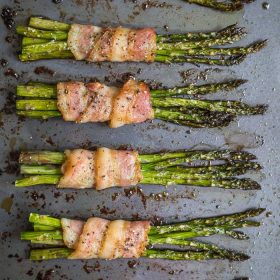 Bacon Wrapped Asparagus
---
Author:
Prep Time: 10 minutes
Cook Time: 15 minutes
Total Time: 25 minutes
Yield: 3-4 servings 1x
Description
Easy Baked Bacon Wrapped Asparagus Bundles!
---
Scale
Ingredients
1 bunch of asparagus, ends trimmed
2 tablespoons of olive oil
1/2 teaspoon of garlic powder
fine sea salt and pepper to taste
6 slices of bacon, I do not recommend thick cut bacon as it will take too long to cook compared to the asparagus
1 tablespoon of maple syrup (optional)
---
Instructions
Pre-heat the oven to 400 degrees F and spray a baking sheet with cooking spray.
Divide the asparagus into 6 bundles. You could do more or less if desired. Mine ended up being 6 bundles of 5 asparagus spears each. Wrap the bacon around the middle of the asparagus bundles so that it overlaps a little (see photo for reference). Place the bundles on the prepared baking sheet.
In a small bowl, whisk together the olive oil and garlic powder until combined. Plush that all over the bacon and asparagus. Sprinkle to taste with salt and pepper.
Roast in the oven for 15-22 minutes or until your bacon is nicely cooked (it won't be very crispy at all). Once out of the oven, I recommend placing the bundles on a paper towel lined plate to absorb some of the excess grease.
Optional: once out of the oven, brush the bacon with a little bit of maple syrup to add sweetness.
ENJOY!
---
Category: Side dish
Method: Baking
Cuisine: American
Keywords: asparagus bundles, roasted asparagus, baked asparagus, healthy appetizer