Black Bean & Quinoa Burgers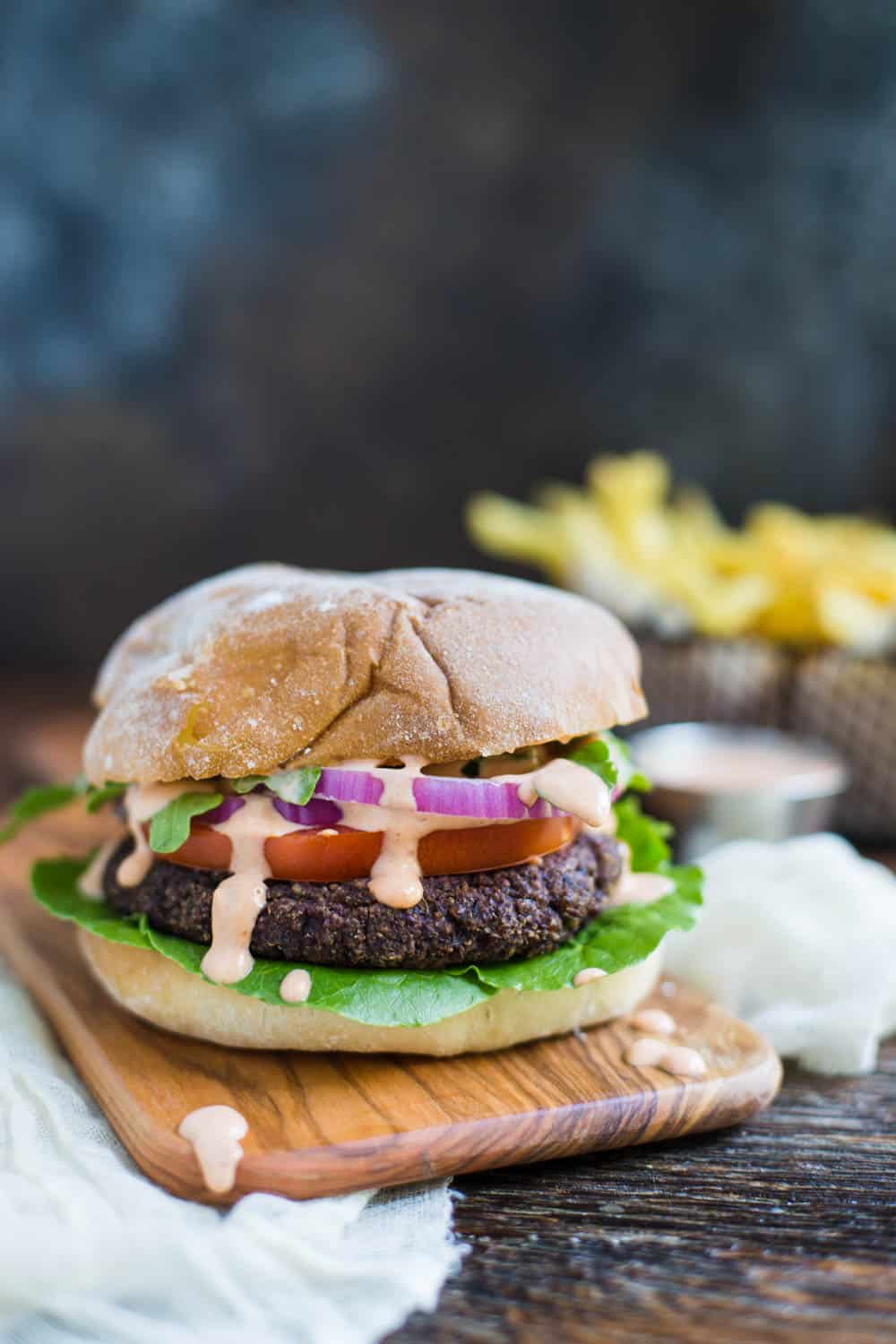 It's hump day, finally! But, I have Friday off so really I'm over halfway through my week and I COULDN'T be more ready for my extra long weekend. On the schedule for this weekend: a minimal amount of cooking, lots of painting (gotta finish painting that hallway now that I've decided on a color), the TN Renaissance Festival (bc we go every year!), and as much relaxing as I can manage.

UPDATE: There's a fun new recipe video for this post. Check it out!

In other news, I'm having serious thoughts about UN-retiring from roller derby. Why did I retire, anyways? I don't remember anymore. Now that work has massively slowed down and I have time to breather again, I find myself feeling only kind of busy instead of omg-I have so much going on-how will I manage all of this!?. I seem to prefer the later kind of busy in my life. I went to practice on Monday and really loved it. Also- I needed the exercise because I have been rather lazy in that department of my life. Ooops :) If you start seeing lots of snaps (@bbritnell) of me with skates on my feet, then you'll know what's up.

So yea, what's happening today? Oh yea, these Black Bean & Quinoa Burgers of amazingness! These are seriously SO yummy and bonus: they're pretty easy, too! (do I use exclamation points too often??!)
I've made veggie burgers in the past and besides tasting delicious, I really wanted to create a patty that held together well and didn't just fall apart as soon as you bit into it. Mission accomplished.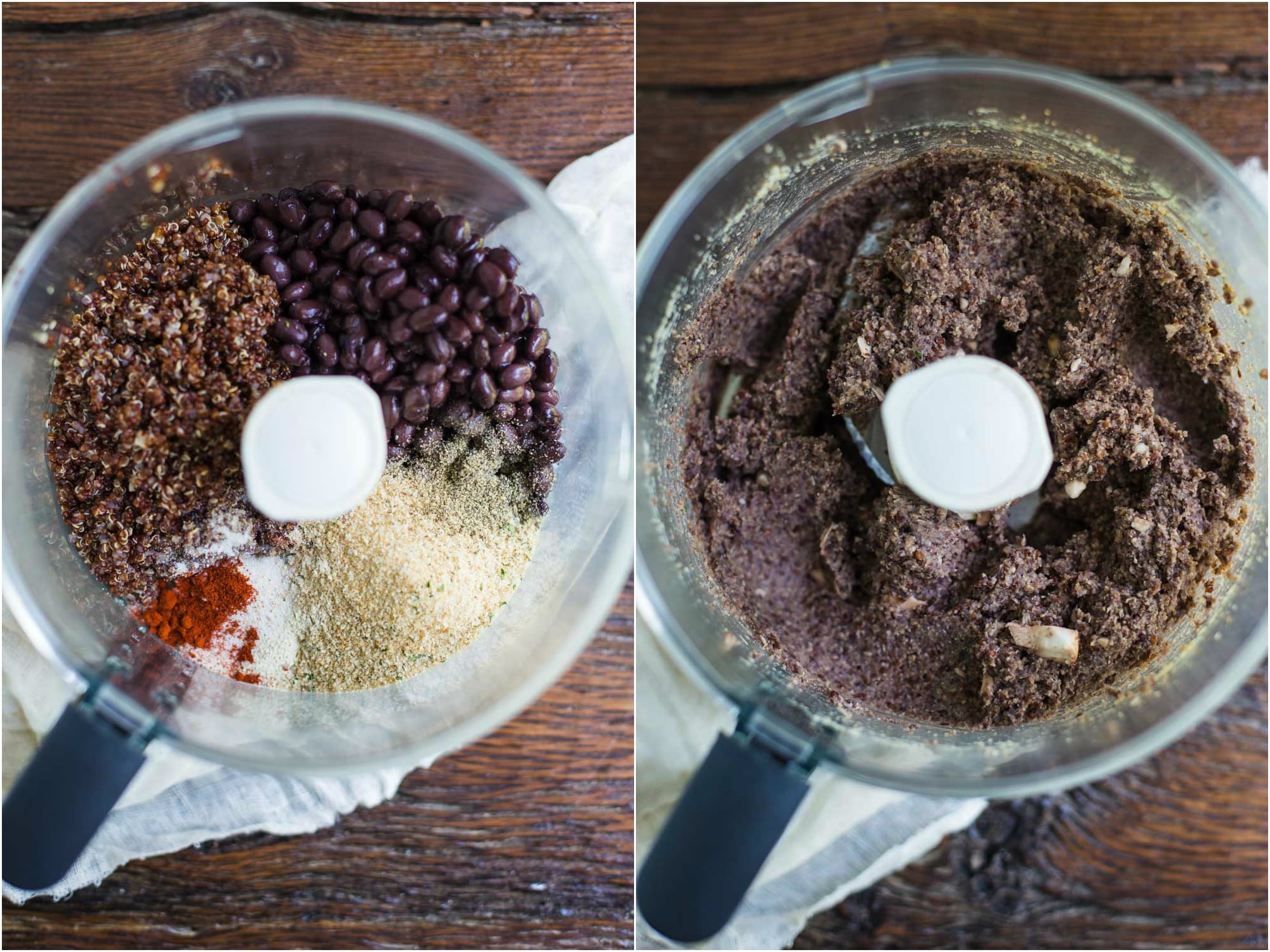 Aside from cooking the quinoa, all you really have to do is blend all of the ingredients together, form them into patties, and then cook them in a skillet. Easy!
And because everything (aside from the mushrooms) is already cooked, there's really no right or wrong when it comes to cooking the patties. I just cooked mine in a minimal amount of oil until each side was browned enough for my liking.
I then loaded the burger onto a bun with all of the average burger toppings (including my new obsession: sriracha mayo) and inhaled the whole thing in one minute.
yumyumyum! I put the leftovers in the fridge and ate those for lunch over the next couple of days. Even on their own (with no bun and no toppings) these burgers are still so super tasty and filling! I'm a pretty big fan :)
Just in time for Memorial Day :D I haven't actually tried it yet, but I think these would work well on the grill since they hold together so well. I'll report back my findings.
Print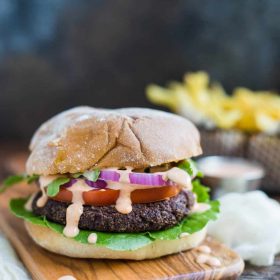 Black Bean & Quinoa Burgers
---
Author:
Prep Time: 20 minutes
Cook Time: 10 minutes
Total Time: 30 minutes
Yield: 6
Ingredients
11/2 cups cooked quinoa (almost exactly 2/3 cup of UNCOOKED quinoa), any kind of quinoa will work but I used red quinoa to keep the color of the burgers darker
1 1/2 cups of veggie broth (to be used in place of the water when cooking the quinoa)
1 15 oz can black beans, rinsed and drained
1/2 cup breadcrumbs
1/2 teaspoon garlic powder
1/2 teaspoon onion powder
1/2 teaspoon of paprika
1/2 teaspoons salt
pinch of black pepper
Cooking spray for the pan
1/2 cup mushrooms, chopped (about 6 large baby bella mushrooms)
optional: all of your favorite burger toppings :)
---
Instructions
Cook your quinoa according to package instructions using the veggie broth in place of the water to give the burgers greater flavor. Once done, take off of the heat and let cool slightly.
In a food processor, combine the quinoa, black beans, breadcrumbs, garlic and onion powder, paprika, and salt & pepper. Process until full combined and there are no more chunks of black beans.
Add in the mushrooms and process until the mushrooms are broken up into small pieces but still a little chunky.
Taking about 1/2 cup at a time, roll the mixture into balls and then form them into patties. Repeat until all of the mixture is used up.
Gently spray a skillet with cooking spray and heat over medium high. Once heated up, add in as many of the patties will fit without touching each other.
Cook for 5-8 minutes on each side or until the patties are a nice browned color on each side.
Top with your favorite burger toppings and ENJOY!!