Caramel Apple Dessert Nachos
This post may contain affiliate links. Please read my disclosure policy.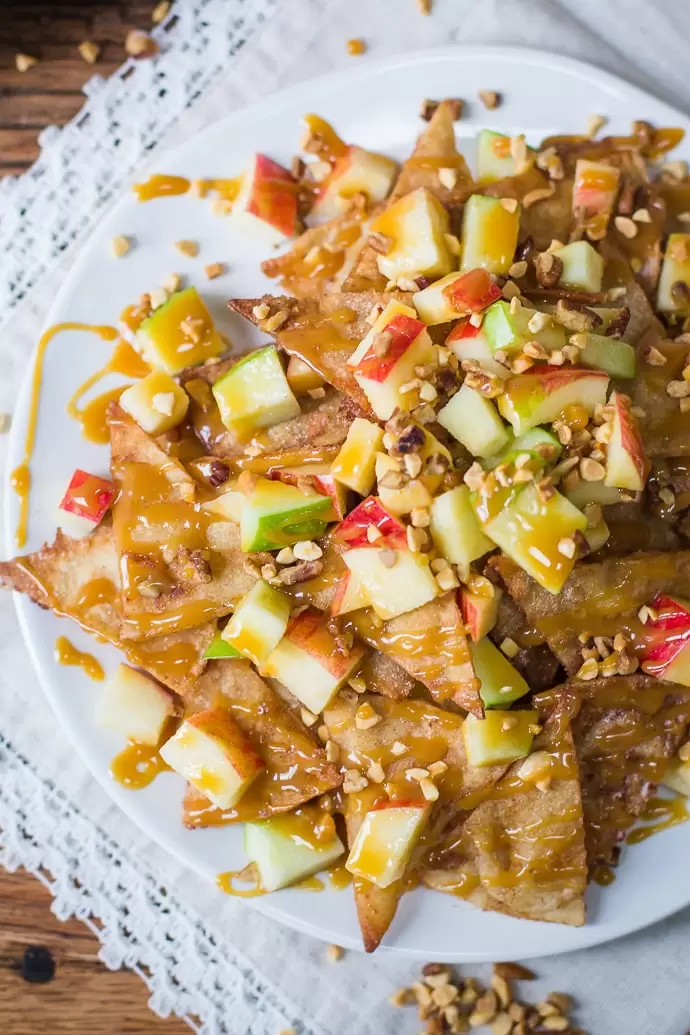 Guess what?? Today is NATIONAL NACHO DAY!! Seeing how nachos is one of my all time favorite dishes, I'm pretty excited about today.
Ya know what else today is?? The day that I play with my team at the WFTDA Roller Derby World Championships! We play at 10am cst today so depending on when you read this, our game might already be over. We won, I'm sure. The outcome of this game determines what time we play on Sunday but either way, our game will be played on ESPN 3! I'm pretty excited about that. So, if you're interested, you can tune in to see me play on Sunday (time TBD). I'll update my facebook page with the time so you can tune in :)
SO, National Nacho Day. As I said before, I LOVE nachos. I love brisket nachos, I love nacho fries, I LOVE breakfast nachos, and now I have a new found love for DESSERT NACHOS. Caramel Apple Dessert Nachos to be exact. I figured I'd combine nacho day with a little hint of autumn.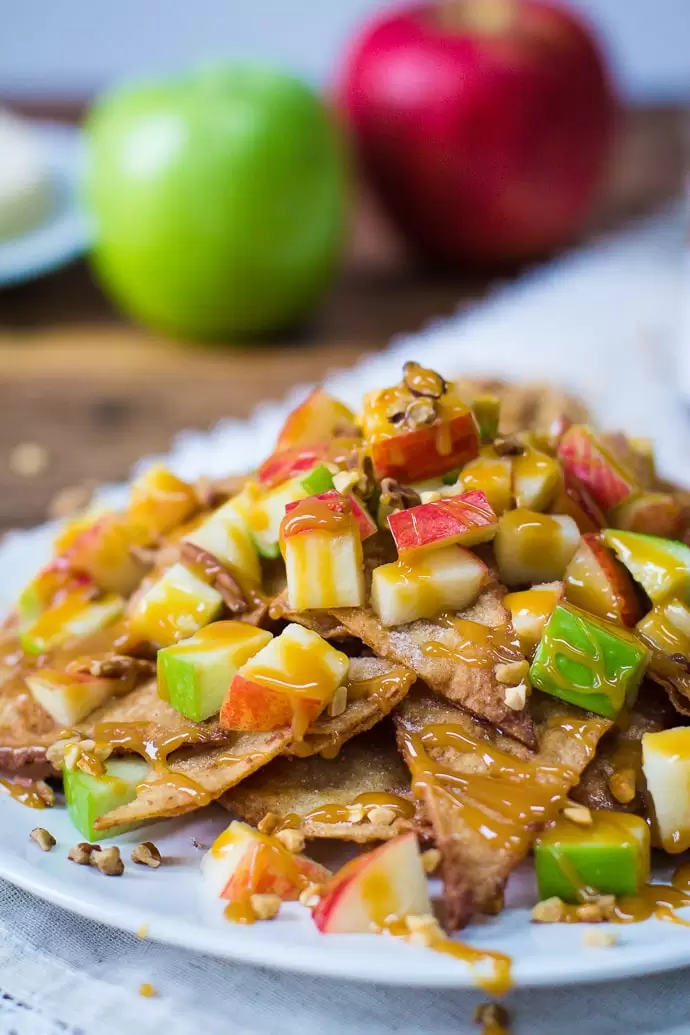 I thought the chips would be more difficult to make but they're actually SUPER easy.
I cut the tortilla rounds into 8ths this time as opposed to quarters like I did with these nachos.
The tortilla triangles are then tossed with butter and eventually lots of sugar and CINNAMON.
They're then neatly (or not so neatly, whichever works best for you) arranged on a baking sheet and baked for 4 minutes on each side.
After 8-10 minutes, you won't think they're done. They'll seem a bit limp still and maybe a little soggy. But trust me: have faith in the cinnamon sugar tortilla chips. Let them sit on the counter and cool for a few minutes and in no time, they'll crisp RIGHT up. If you so desire, you can sprinkle a bit more sugar and cinnamon over the top (like I did of course).
The only think really left is to assemble the nachos. Start with the cinnamon sugar chips.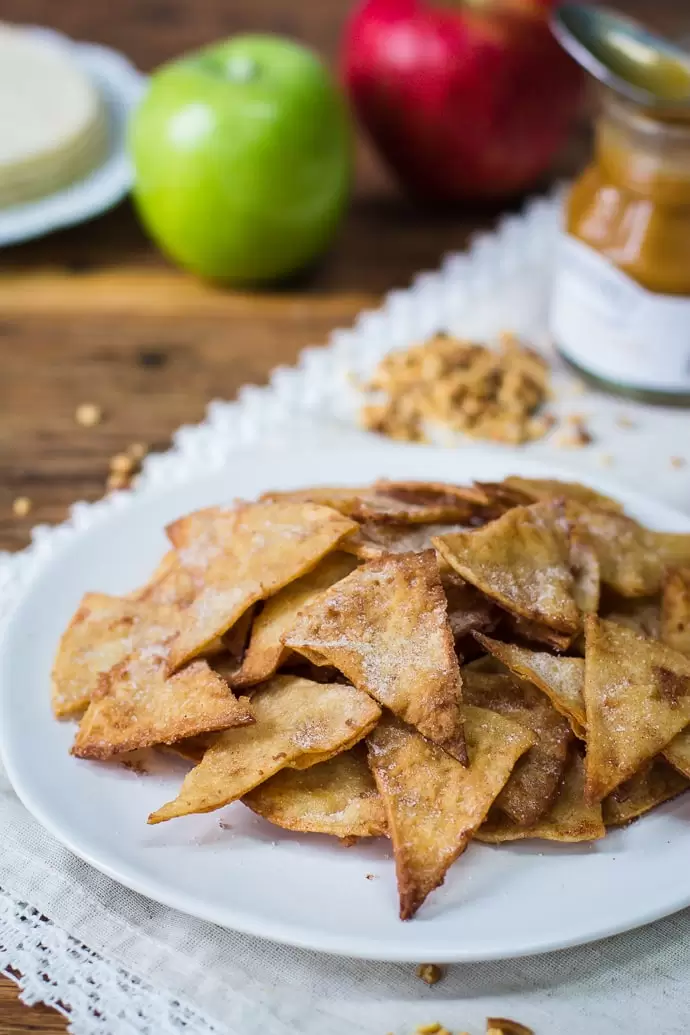 And simple top with all the fixins: creamy caramel, diced up apples, and a sprinkle of nuts. I had originally intended to put a bit of white chocolate on these nachos as well but then decided against it so that the caramel apple-ness was left in it's true form (I mean, it's true form in a nacho version).
I highly recommend that you celebrate nacho day first with a plate of regular nachos and THEN with a plate of these super yummy and sweet DESSERT NACHOS. mmmmmm.
What's the craziest thing you've ever put on your nachos?? Have you ever tried dessert nachos?
Print
Caramel Apple Dessert Nachos
---
Total Time:

15 minutes

Yield:

4

1

x
10

small round white corn tortillas

2 tablespoons

of butter, melted

1 cup

of sugar

2 teaspoons

of cinnamon

1

medium apple (I used half red, half green to add a bit of color), finely chopped into 1/4 inch pieces

2

–

3

tablespoons of caramel (I used salted caramel but really any caramel will do)

2 tablespoons

of finely chopped peanuts
---
Instructions
Pre-heat the oven to 400 degrees F.
Cut the tortilla rounds into 8 even pieces (picture above). These could also be cut into quarters if you so desire.
In a small bowl, mix together the cinnamon and sugar until well combined.
Place the tortilla pieces into a large bowl and toss to coat with the butter. Stir the pieces carefully so that you do not break the chips up while they're soggy.
While gently stirring/ tossing, slowly add in the sugar mixture (you might not end up using all of it and that's okay) until it's all combined. Be sure to break apart any pieces that may have stuck together and didn't get properly coated by the sugar.
Line 2 baking sheets with silicone mats (or parchment paper!!!!!!!!????????) and evenly spread the chips out on the baking sheets. Be sure not to overlap the chips at all or they will not bake evenly.
Bake for 4 minutes, flip the chips, and then bake for an additional 4 minutes. The chips are done when they just begin to brown around the edges.
***Important note: once first out of the oven, the chips will not appear to be done. They won't be perfectly crisp and that's okay. After no more than 10 minutes, take them out of the oven.
Let cool for 5-10 minutes. The cooling process should crisp your chips up so that they more like regular chips with lots of crunch.
Sprinkle with additional cinnamon sugar if you so desire.
Arrange the chips on a large plate, top with the apple pieces, drizzle evenly with caramel, and top with a sprinkle of the nuts.
ENJOY!!!
Prep Time:

5 minutes

Cook Time:

10 minutes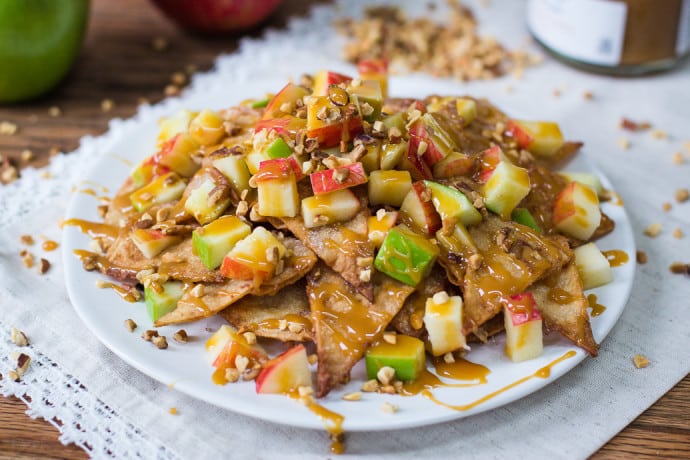 [wysija_form id="3″]
This post may contain affiliate links. Please read my disclosure policy.