Coconut Oil Vegan Pie Crust
This post may contain affiliate links. Please read my disclosure policy.
Coconut Oil VEGAN Pie Crust- this easy to make pie crust is DAIRY FREE and the BEST pie crust you will ever have!!
**UPDATE: I have received a lot of questions about this crust. If you want to see me make and trouble shoot this, step by step on my Instagram Stories, click HERE.**
Welcome to another recipe makeover! I originally posted this Coconut Oil Vegan Pie Crust recipe almost exactly 2 years ago and while the recipe itself was pretty damn good, I still wanted to test it a few more times (to hyper perfect it) AND update the photos. I went through this phase a couple years ago with my photography where I tried to take moodier and darker photos. Most of them are meh and I'm happy to be going back through and updating them with light and bright, beautiful new photos :)
Side note, speaking of several years ago, almost everything in my life now is measured in relation to Jemma. Everything in the past is referred to as "pre-Jemma" or "post-Jemma". I think this is a normal parent thing to do and I'm totally okay with it :)
If you're in the need of a dairy free/ vegan pie crust, THIS crust is your gal!! It's so flaky and sweet and perfect and you need it for all of the holiday baking that you're doing SOON! Such as this pumpkin pie or maybe this apple pie?? :D
I've made this crust MANY times over the past couple of years. I'm REALLY happy with it (and also maybe in a crust coma) so I hope that you like it as well!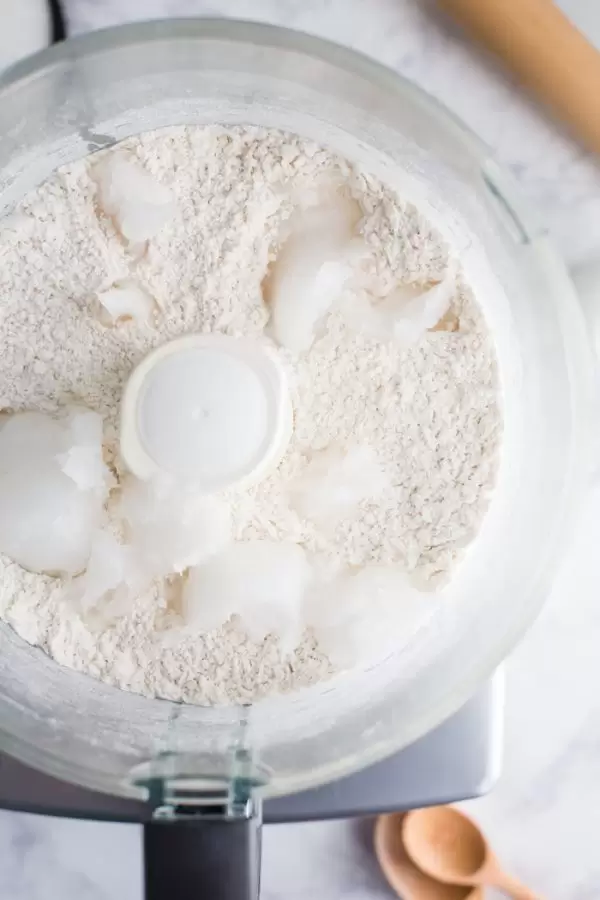 How to Make Coconut Oil Vegan Pie Crust
In the past, I've typically mixed my crust by hand, using a pastry cutter. HOWEVER ***I find that this particular crust is much easier in a food processor.
At first, I tried making it where there were still little pea size chunks of coconut oil (like you would do with butter) but I didn't like it that way. The coconut oil melted and ended up leaving little holes in the crust in a way that butter doesn't do. Making it in the food processor, the coconut oil gets nicely mixed into the crust and avoids those little chunks that you get from mixing it by hand.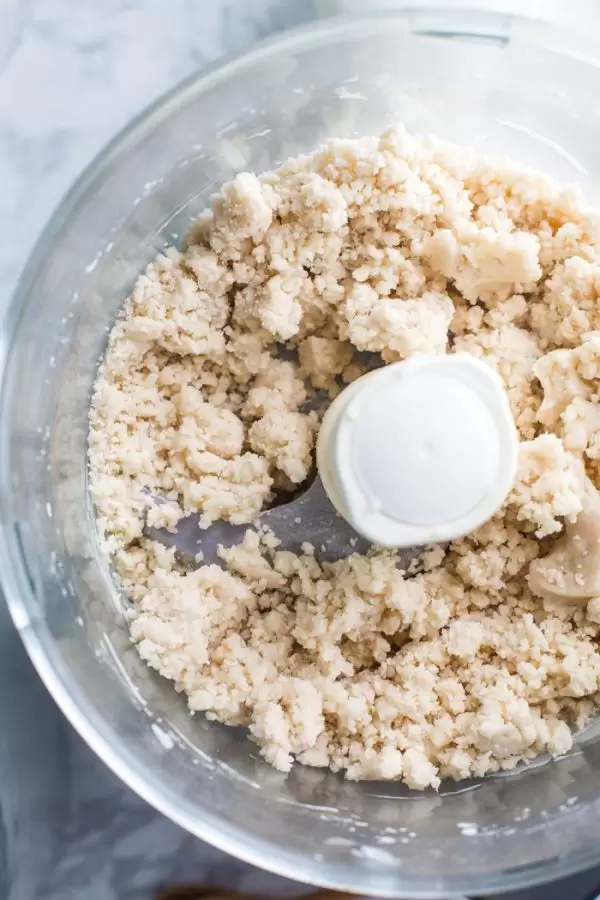 If you do cut in the coconut oil by hand, just make sure to get it all nice and mixed in as opposed to leaving small chunks. I usually accomplish this by cutting the oil in and then using my hands to rub the oil in the flour and make sure that it's well incorporated.
To making the dairy free pie crust, we'll start by first processing together the dry ingredients. Then the coconut oil and ice water are added in and pulsed until fully combined. If needed, a little more water is added in as well.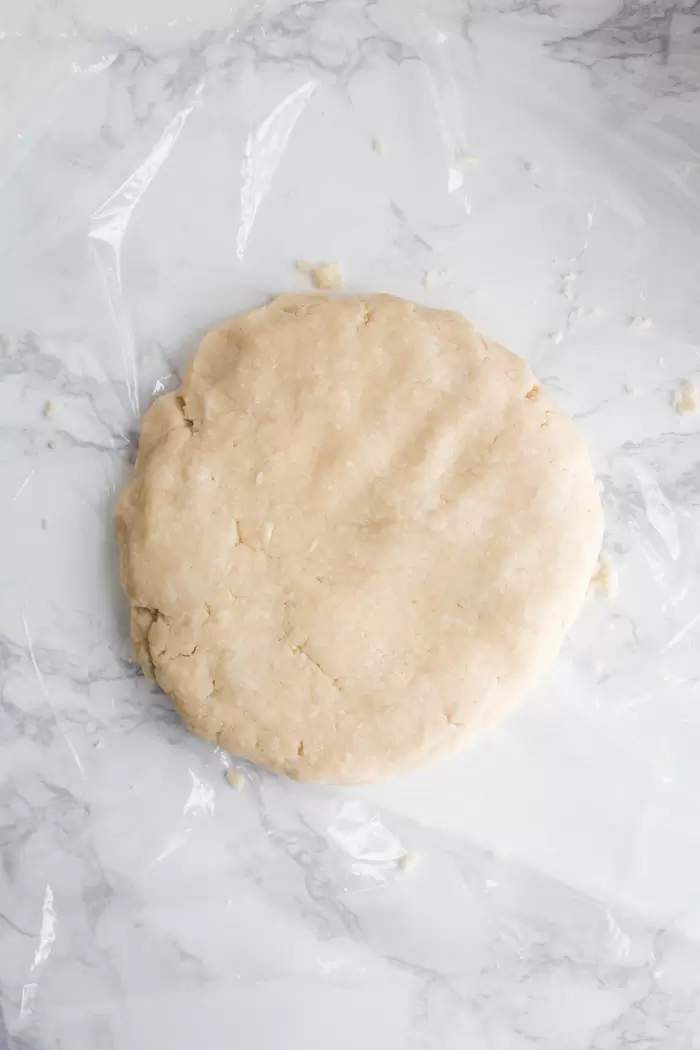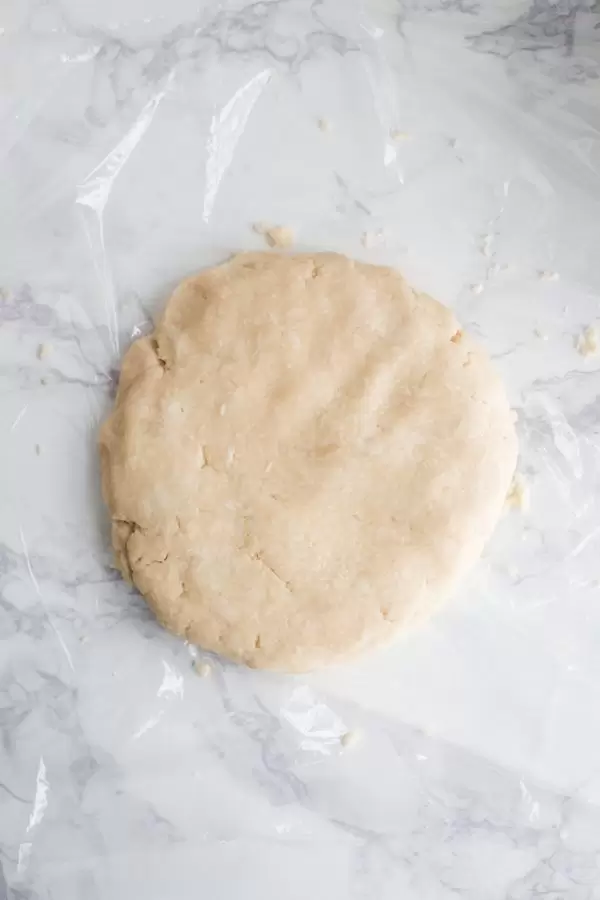 At this point, the crust should not be sticky at all but should easily gather together when pressed together. If there's any confusion here at all, please refer to the video!
Split the crust into 2 equal parts, roll into a disc, and place in the fridge for just about 20 minutes. You don't want the crust dough to get too hard but you do want it to firm up a bit which will make it much easier to roll out and work with.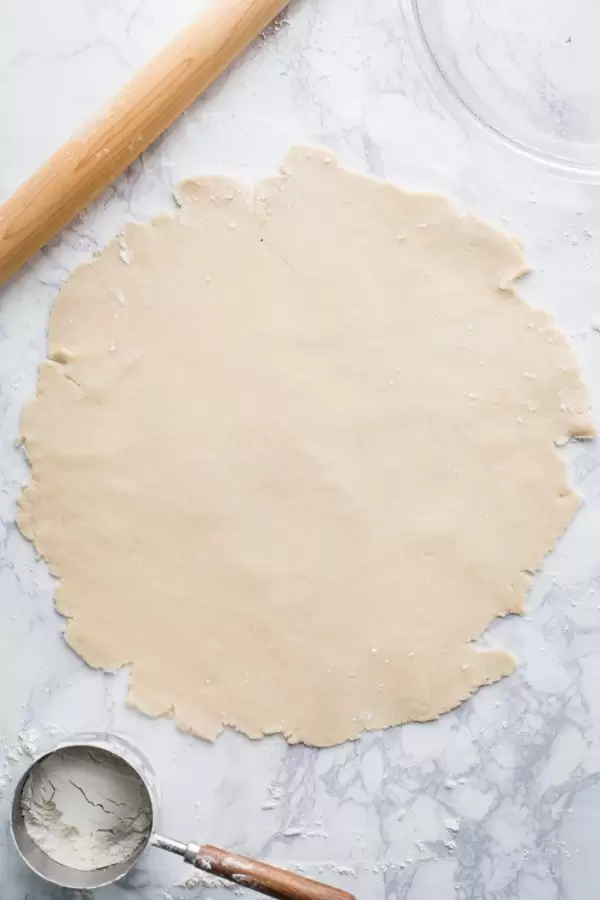 From there, you can use it as you would a regular pie crust!
How to make a Perfectly Crimped Pie Crust
When cutting the excess dough from around your crust, leave about 2/3 of an inch to 1 full inch hanging over the edge. You can then tuck this under creating a thicker edge all around the pie. This thicker edge makes it much easier and neater to crimp. if this is confusing at all, watch the video below.
I've also found THIS particular pie pan to be great for an easy to crimp crust. It has a flat lip all the way around which provides a kind of shelf for the crust to rest on throughout the baking process.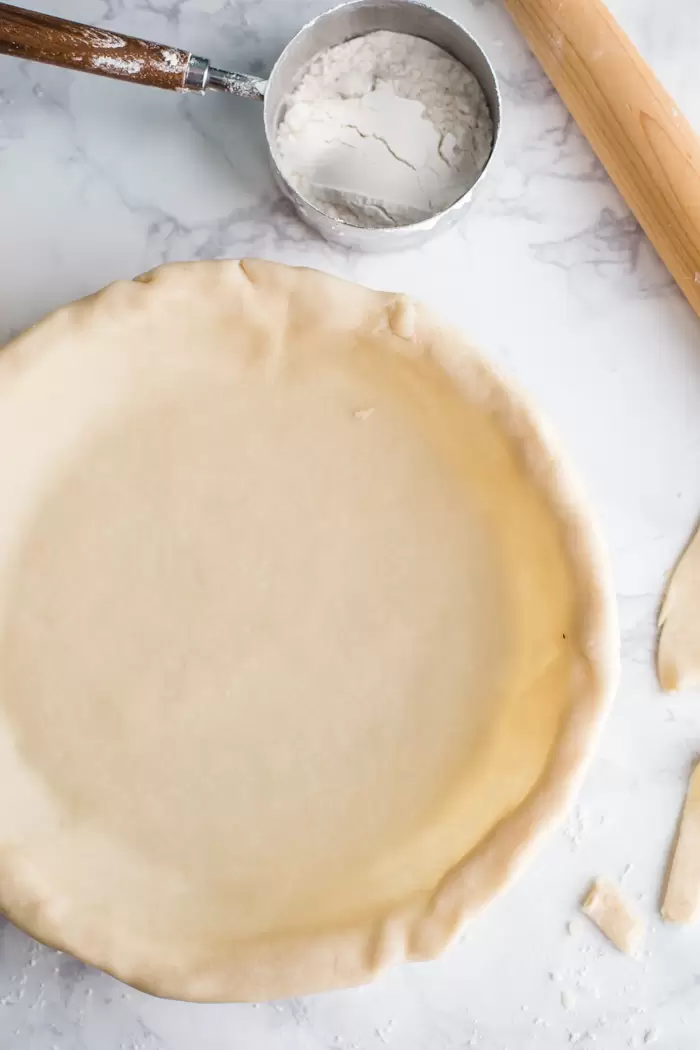 I bake this particular crust at 425 degrees. I've made a few different kinds of pies with this crust and they've all turned out PERFECT! Needless to say (although I always do), I'm a huge fan.
***A NOTE ABOUT THE COCONUT OIL CONSISTENCY: as I mentioned above, you don't need the coconut oil to be cold like you would with butter. You want it to be in it's solid form without any liquid in it. My jar was mostly solid with a little liquid oil in it so I just avoided the liquid bits and only scooped out the solid coconut oil. Hopefully that makes sense to people :) You can see the precise consistency in my video.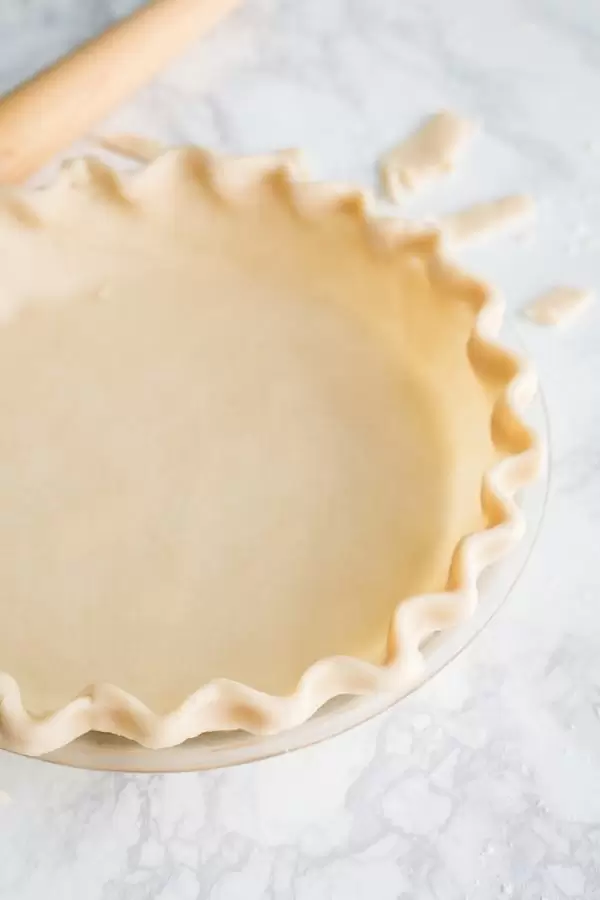 See how to make the Coconut Oil Vegan Pie Crust here:
[adthrive-in-post-video-player video-id="CLuD7hTU" upload-date="2018-10-23T02:43:40.000Z" name="Coconut Oil Pie Crust" description="Coconut Oil Pie Crust"]
Print
Coconut Oil Vegan Pie Crust
---
Author:

Total Time:

20 minutes

Yield:

2

pie crusts

1

x
2 1/2 cups

all purpose flour

1/2 teaspoon

salt

1 1/2 tablespoons

of sugar

1/2 cup

coconut oil, cool enough to be solid

6

–

8

tablespoons of ice water (

6 tablespoons

is typically perfect for me)
---
Instructions
If you're planning to bake it right away, pre-heat the oven to 425 degrees F and grease a standard 9″ pie dish.
In the bowl of a food processor, add in the flour, salt, and sugar. Processor for a few seconds to combine.
Add in the coconut oil and process for about 30 seconds or until it is well combined and no visible chunks are left. This can also be done by hand, it just takes a bit longer. (see notes above)
Starting with 4 tablespoons, add in the ice water and process to combine. Add in 1-2 more tablespoons at a time until the dough gently sticks together when bunched up in your hand. See video above for specifics. At no point should the dough be sticky!
Separate the dough into 2 balls, wrap in plastic wrap, and place in the fridge for 20 minutes.
On a well floured surface with floured hands and a floured rolling pin, roll out the dough into a disk large enough to fit your pie pan.
If not ready to bake immediately*, put the dough in the fridge for up to an hour. When ready, fill your crust and bake for 5 minutes with tin foil around the edges of the crust. Take the tin foil off and bake for an additional 8-10 minutes.
ENJOY!
Notes
**UPDATE: I have received a lot of questions about this crust. If you want to see me make and trouble shoot this, step by step on my Instagram Stories, click HERE.**
If you don't need both balls of dough, the other one can be stored in a ball in the fridge for a few days or in the freezer for a few months.
Prep Time:

10 minutes

Cook Time:

10 minutes
Keywords: crust, vegan, dairy free, coconut oil
This post may contain affiliate links. Please read my disclosure policy.