Coconut Oil Vegan Pie Crust
Oh, hey. I'm back today as promised with this Coconut Oil Vegan Pie Crust! I got a lot of questions on facebook about the crust after posting the video for the vegan pumpkin pie. Quite a few people were amazed and excited about the prospect of a coconut oil pie crust and let me tell you, it's AMAZING! It's significantly easier to make then traditional butter pie crust since you don't have to bother with making and keeping the butter super cold.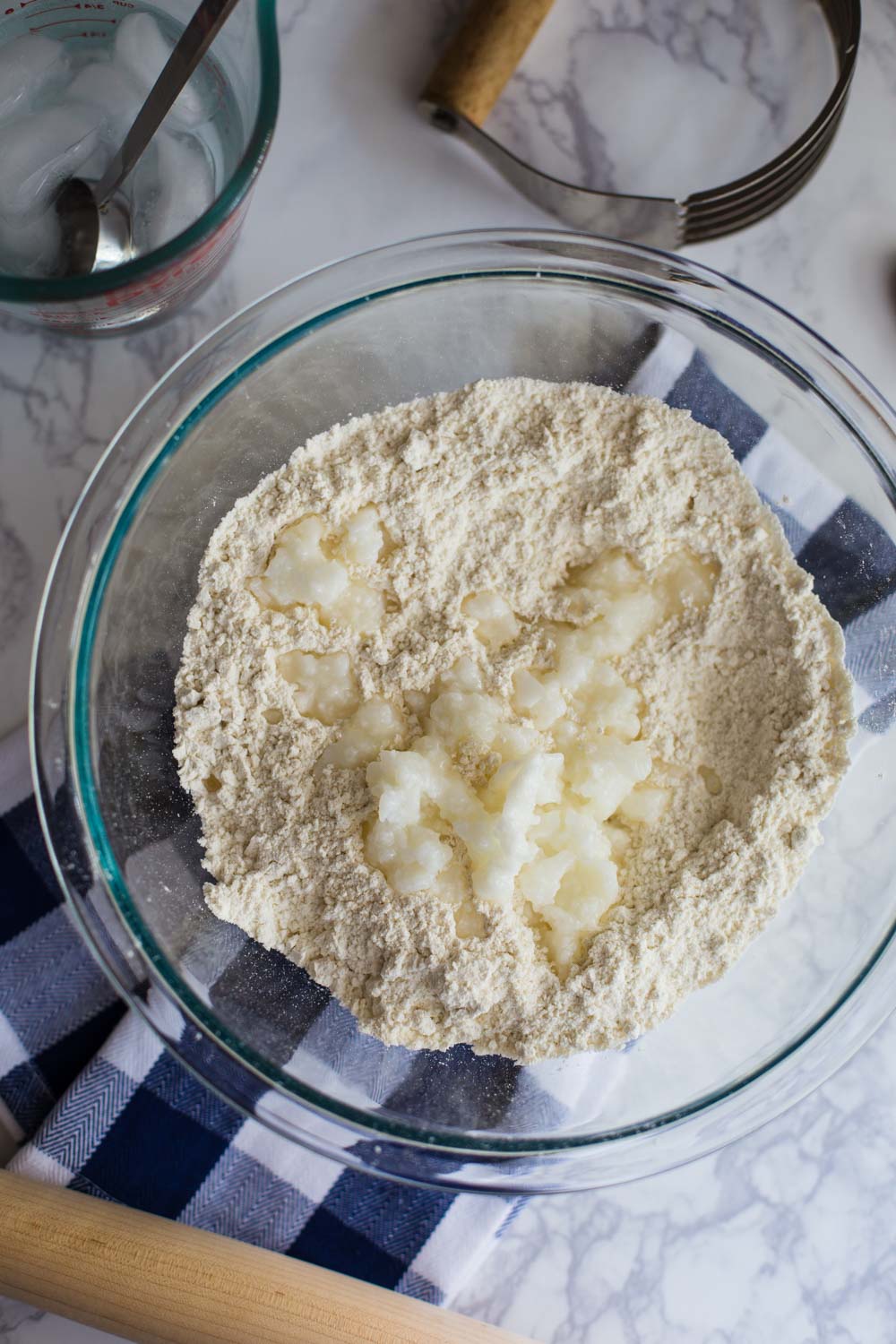 Up until rather recently, I've always just been super intimidated by homemade pie crusts. It just always seemed like too much work for something that I could buy at the store. But, then I started cutting dairy out of my diet and those store bought pie crusts weren't quite as convenient.
I've seen around the internet that the butter in crust recipes can easily be replaced with vegetable shortening or coconut oil but I was skeptical. Very skeptical. But THEN I tried it and here we are.
I've made this crust ~6 times over the past 2 weeks in order to make sure that I had perfected the method. I'm REALLY happy with it (and also maybe in a crust coma) so I hope that you like it as well!
In the past, I've typically mixed my crusted by hand and using a pastry cutter. HOWEVER ***I find that this particular crust is much easier in a food processor. I tried making it where there were still little pea size chunks of coconut oil (like you would do with butter) but I didn't like it that way. The coconut oil melted and ended up leaving little holes in the crust in a way that butter doesn't do.
If you do cut in the coconut oil by hand, just make sure to get it all nice and mixed in as opposed to leave small chunks. I usually accomplish this by cutting the oil in and then using my hands to rub the oil in the flour and make sure that it's well incorporated.
Now just split the dough into 2 balls and roll them out into flat, round disks like you would with any pie crust. EASY. If you're only using half of the crust (as you typically would with a pumpkin pie), then the other ball of dough can go into the fridge for a few days or in the freezer for a few months.
Next, you'll gently move the crust to your pie dish, cut the excess dough off, crimp the sides under all the way around, and then do what you wish with the edges of the crust. I'm a big fan of the classic crimped look. But, if you're in a hurry or just don't want to bother with it, you can always just press the edges with a fork or even just leave them plain.
You can see how to do the crimped edges in this video of mine:
I bake this particular crust at 425 degrees. I've made a few different kinds of pies with this crust and they've all turned out PERFECT! Needless to say (although I always do), I'm a huge fan.
***A NOTE ABOUT THE COCONUT OIL CONSISTENCY: as I mentioned above, you don't need the coconut oil to be cold like you would with butter. You want it to be in it's solid form without any liquid in it. My jar was mostly solid with a little liquid oil in it so I just avoided the liquid bits and only scooped out the solid coconut oil. Hopefully that makes sense to people :)
B. Britnell

Coconut Oil Vegan Pie Crust

10 minPrep Time

10 minCook Time

20 minTotal Time

Ingredients
2 1/4 cups all purpose flour
1/2 teaspoon salt
1 1/2 tablespoons of sugar
1/2 cup coconut oil, cool enough to be solid
6-8 tablespoons of ice water
Instructions
If you're planning to bake it right away, pre-heat the oven to 425 degrees F.
In the bowl of a food processor (or a large bowl), add in the flour, salt, and sugar. Processor for a few seconds to combine.
Add in the coconut oil and process for about 30 seconds or until it is well combined and no visible chunks are left. This can also be done by hand, it just takes a bit longer.
Starting with 4 tablespoons, add in the ice water and process to combine. Add in 1-2 more tablespoons at a time until the dough gently sticks together when bunched up in your hand. See video above for specifics. At no point should the dough be sticky!
Separate the dough into 2 balls.
On a well floured surface with floured hands and a floured rolling pin, roll out the dough into a disk large enough to fit your pie pan.
If not ready to bake immediately*, put the dough in the fridge for up to an hour. When ready, fill your crust and bake for 5 minutes with tin foil around the edges of the crust. Take the tin foil off and bake for an additional 8-10 minutes.
ENJOY!
Notes

If you don't need both balls of dough, the other one can be stored in a ball in the fridge for a few days or in the freezer for a few months.

7.6.7

239

https://foodwithfeeling.com/coconut-oil-vegan-pie-crust/