Vegan Pie Crust Recipe
This post may contain affiliate links. Please read my disclosure policy.
Oh HELLO Flaky, Delicious Dairy Free Pie Crust of my DREAMS! I thought that making vegan baked goods would mean compromising on texture and taste but NOT with this recipe. It takes just about 20 minutes of active work and comes together with just 5 ingredients!
I've been teasing this recipe on my Instagram for a while now. I've made it so many times over the past 6 months because I wanted it to be PERFECT!
This recipe is similar to my Coconut Oil Pie Crust recipe (which is great if you've never tried it!). But, honestly, nothing beats a good flaky and buttery pie crust. This recipe 1000% hits the SPOT!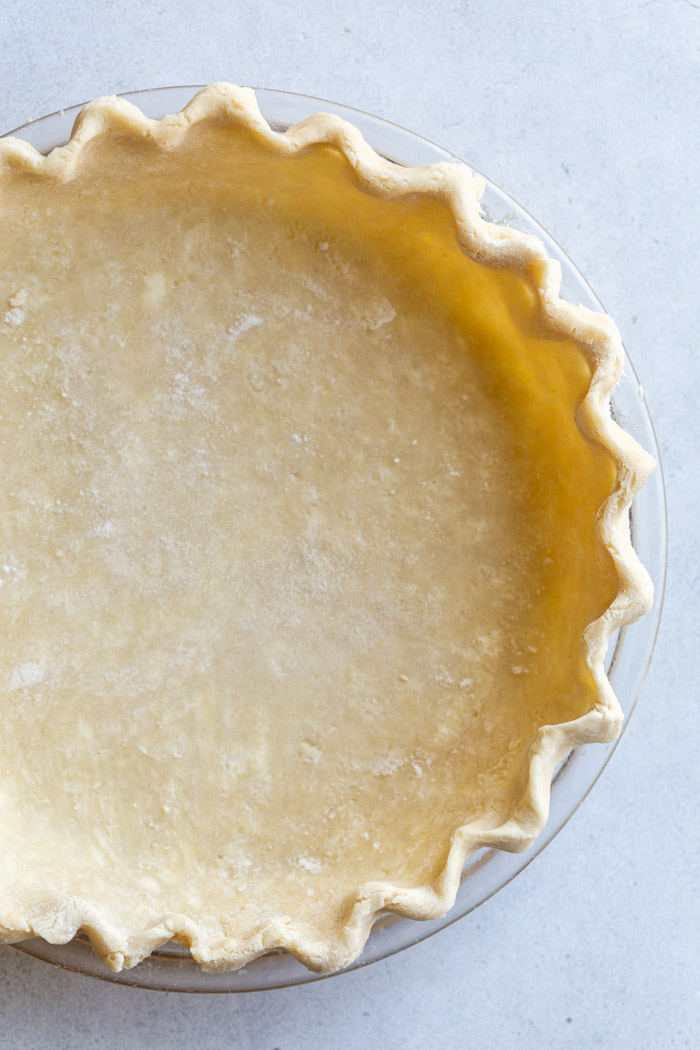 As the plant based lifestyle has grown in popularity recently, SO MANY great butter alternatives have popped up on the market and I am HERE for it. I feel like most stores used to have just one vegan butter option but now, many of them have 3-4 different brands to choose from and I love it. I'll discuss my favorites in a moment but first let's go over all of the ingredients in this pie crust:
All purpose flour– this is the only kind of flour that I have tested this recipe with. If you would like to make it gluten free, the only thing I can suggest for this recipe is to simply use a gluten free 1-1 flour.
Salt & sugar– just a *little* bit!
Vegan Butter- I tried out quite a few different brands with this recipe. See below for my recommendation!
Ice water
If you're familiar with traditional pie crust then you'll see that this is exactly that…..just with vegan/ plant based butter instead!
The best vegan butter for this pie crust:
I've tested this recipe with quite a few different vegan butters. I'm going to list them out and tell you my thoughts on each. TL;DR—->> my favorite so far for this crust is Earth Balance.
Country Crock Plant Butter: this has been a favorite of mine over the past year! It's also the least expensive plant based butter that I've found on the market. It can typically be found in 2 different forms: one made with olive oil and another made with avocado oil. I've also seen a new one out that's made with almond oil but I haven't tried that one yet. Honestly, they original 2 taste about the same to me and cook/ bake the same as well. BOTH work great in this pie. One thing to note: I've noticed that this particular butter melts much quicker than others so you'll want to work quickly.
Earth Balance: This one is my FAVORITE for making this pie crust. It's extra salty (which sometimes I don't prefer) but it works well in this recipe! It just bakes like a charm and I highly recommend this one.
Melt Butter: this is a new to me butter! I think it might only be available in certain areas (compared to the others that are more nationwide). I've only used this butter to make this pie crust (which turned out delicious!) AND my Vegan Skillet Cookie which was also great!
Miyokos: this was one of the very first vegan butters that I ever tried. I LOVE this butter on it's own, spread on toast etc. But I'm not a huge fan of it in baking. It just doesn't seem to work as well as the others. it also typically ends up being the most expensive of all the vegan butters that I have tried.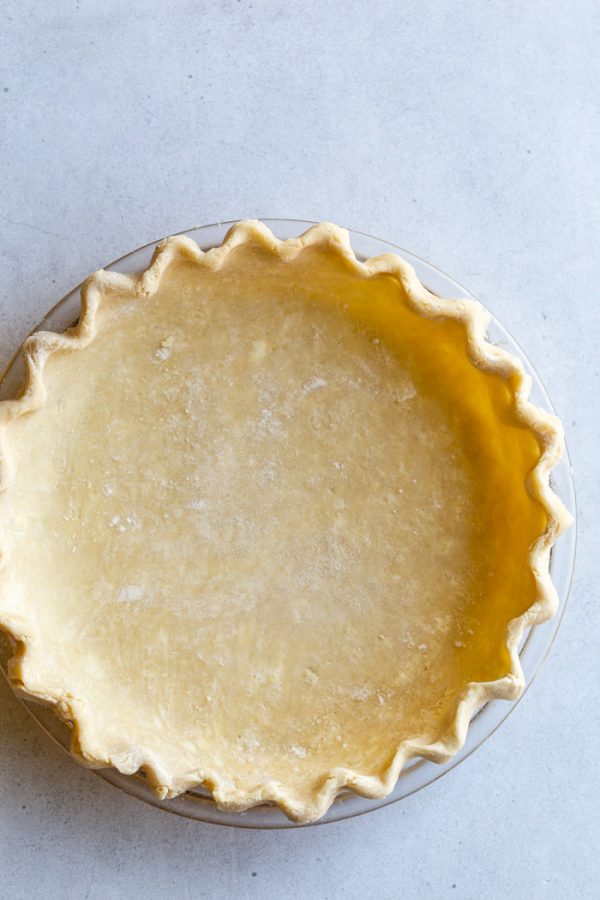 Tips for making this pie crust:
After you add the water and pulse it all together, it will be VERY crumbly (see the video below!). As long as it holds together when you press it between your fingers then it's good to go.
When you go to roll it out, it will likely be very crumbly and may even crack apart a bit. If it does that, I simple gather it all together and work the disk in my hands for a minute to warm up the dough a bit until it's at the point that it can easily be rolled out.
To make the rolling process a lot easier, you can place the dough in between 2 large pieces of parchment paper and roll it out that way. This avoids any sticking to the counters or the rolling pin.
If you're making a double crust pie, I like to roll out the bottom crust, position it in the pie pan, and let it sit in the fridge chilling while I roll out the top crust.
Can you Freeze Pie Crust?
Why YES, you can!
Make sure that your discs of dough are tightly wrapped up and then they can keep in the freezer for about 6 months. When you're ready to use them, let them thaw in the fridge about 1 day before you're ready to roll it out and use it.
Print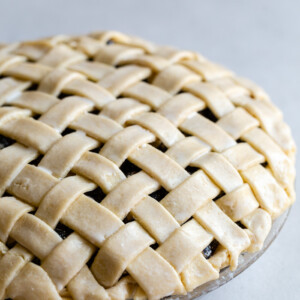 Vegan Pie Crust Recipe
---
Author:

Total Time:

55 minutes

Yield:

2

pie crusts

1

x

Diet:

Vegan
Description
This is just like a classic pie crust but made with dairy free butter. It's still flaky and delicious and easy to make!
---
2 1/2

cups

of flour*

1

cup

of vegan butter, diced into 1/2 inch cubes and chilled*

1 teaspoon

of salt

1 teaspoon

of sugar

6 tablespoons

of ice water, plus more as needed
---
Instructions
In the bowl of a food processor*, combine the flour, salt, and sugar. Pulse a few times to combine.
Add in HALF of the cold butter cubes and pulse a few more times. Add in remaining butter and pulse a few additional times so that the butter is roughly the size of peas.
Add in the cold water, starting with just 4 tablespoons, and pulse 2 times. Add in 2 more and pulse a couple more times. Test out the dough by pressing some together between your fingers. If it holds together then it's ready. If it's still really crumbly then add in more water, 1 tablespoon at a time. Mine is always perfect with 6 total tablespoons but you may need a little more less. SEE VIDEO ABOVE FOR REFERENCE ON DONENESS.
On a lightly floured surface, pour out the dough and work it so that's it's mostly pressed together. Split it in half evenly and form 2 discs with the dough. Wrap the discs individually in plastic wrap and CHILL for 1 hour or up to 2 days.
When ready to use the dough, let it sit on the counter for about 10 minutes to warm up a bit. If you're making a double crust pie, I like to roll out the bottom crust and let it sit in the fridge chilling while I roll out the top crust.
To make things easier, roll the dough out on a floured piece of parchment paper using a floured rolling pin. It will likely be very crumbly at first but work it with your hands a few times so that it's pliable and easy to roll out. Roll it out so that it will fit in your pie dish with about 1/2 an inch hanging over. Place it in your greased pie dish (a standard 9″ pie dish is perfect) and proceed with your pie recipe!
Notes
*I have never tried this with any other kind of flour. If you would like to make it gluten free, the only thing I can suggest for this recipe is to simply use a gluten free 1-1 flour.
*I like to dice the butter and then place it in the freeze for a few minutes while I prep the rest of the ingredients.
*You can also make this crust in a large bowl using a pastry cutter
Prep Time:

10 minutes

Cook Time:

45 minutes

Category:

baking

Method:

baking

Cuisine:

american
Nutrition
Serving Size:
Calories:

278

Sugar:

0.5 g

Sodium:

236.4 mg

Fat:

18.7 g

Carbohydrates:

24.3 g

Protein:

3.4 g

Cholesterol:

48.8 mg
Keywords: vegan pie crust, dairy free pie crust, vegan pies
This post may contain affiliate links. Please read my disclosure policy.