Vegan Apple Pie
I didn't have "Vegan Apple Pie" on my list of recipes to post on the blog this fall. However, as I previously mentioned, I made my coconut oil pie crust about 100 times and each time, felt like I needed to actually bake a pie to go with the crust. And to me, nothing's really easier than throwing together an apple pie. I mean, once the crust is actually made. So after making this apple pie quite a few times, I figured that I might as well snap a few photos and share the simple recipe.
ALSO, in case you haven't heard me mention it already 1,000 times, we planted some apple trees on our property earlier this year. They aren't actually producing apples yet, and they don't really look like they've grown all that much in the 9 months that we've had them BUT the lady promised me I'd get some apples in 2017. So, I guess we'll see. I wanted to start perfecting my apple pie recipe for the many years that we have fresh apples coming out of our ears.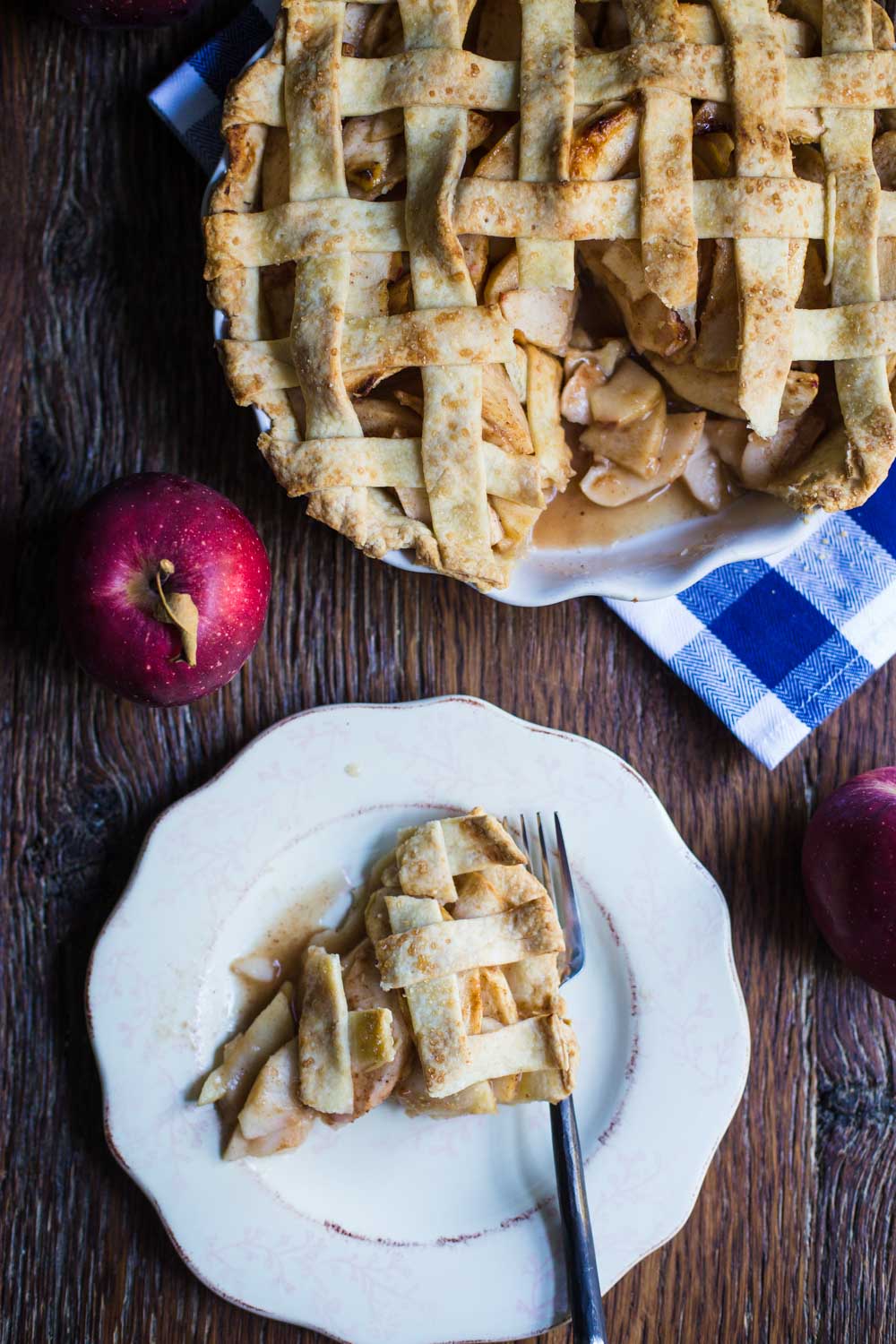 Another thing that I want to get good at is doing some of those fancy schmancy pie crust designs! The fanciest thing that I've ever attempted was a simple braided crust and that made me feel pretty cool. Next year, I'm going to try taking it to the next level!
To make this pie, once the crust is already made, we simple mix together the filling ingredients in a big bowl and then dump them into our crust.
The top crust can be as simple or as fancy as you want to make it. If you're in a hurry or just can't be bothered, you can simply lay the crust over top of the pie, crimp the edges, and then cut a few slits in the top to let the pie breathe.
Alternatively, you can do a lattice or maybe try for some of those fancy apple or leaf cutouts. Have fun with it!
But also, make it quickly so that you can hurry up and eat it! :D At least, that's my motto.
If you haven't made a homemade apple pie yet this fall, you really need to get on that! ;)
Alternatively, come on over to my house, I'll give you a slice (plus send you home with all the leftovers that I've found myself with lately after starting to make recipe videos for 5 different clients- please help me with all this extra food!!).
B. Britnell
Yields 1 pie
Vegan Apple Pie
10 minPrep Time
1 hr, 20 Cook Time
1 hr, 30 Total Time
Ingredients
1 pie crust (top and bottom)
6 apples (I typically use a mix of several varieties), about 3 pounds, peeled and thinly sliced
2 tablespoons of fresh lemon juice
1/4 cup of white sugar
1/4 cup of light brown sugar, tightly packed
1 teaspoon of cinnamon
1/4 teaspoon of nutmeg
1/4 teaspoon of salt
3 tablespoons of all purpose flour
Turbinado sugar, for sprinkling
optional: vegan butter for topping, melted
Instructions
Pre-heat oven to 400 degrees F.
Prepare the crust if you haven't already done so. Place in the fridge while you make the filling.
In a large bowl, mix together the sliced apples, lemon juice, sugars, cinnamon, nutmeg, salt, and flour. Stir until fully combined.
Pour the apple mixture into your pie crust and even it out so that none of the apples are sticking up much higher than any other.
Now is the time for the top crust. I did a simple lattice crust for the top. You can also cover the top with the entire second half of the crust but just be sure to make a few slits in the top for the pie to breath.
Brush the top of the pie with the melted vegan butter OR you can simply use water here. Optional: sprinkle the turbinado sugar over the top of the pie. You can use as little or as much as you want here.
Bake for 20 minutes, lower the temperature of the oven to 350 degrees F and then bake fo ran additional 50-60 minutes or until the pie is a nice deep golden brown color.
Let cool completely before enjoying (although this is not 100% necessary!).
Have a slice for me :D
7.6.7
241
https://foodwithfeeling.com/vegan-apple-pie/