Easy Vegan Sushi
This post may contain affiliate links. Please read my disclosure policy.
Who knew that making vegetarian sushi at home is SO EASY!? This Easy Vegetable Roll Sushi recipe is perfect for beginners, is made with simple ingredients and tastes SO so good. You're going to find yourself craving this recipe ALL of the time.
UPDATE*** Many people have comment on social media that this is not sushi and is more directly similar to the Korean dish Gimbap. I totally understand that and appreciate the comments. My goal here was to recreate the sushi dish that I always get from a Japanese restaurant but simply swapping the fish with tofu to make it vegetarian. That same restaurant also serves something called tofu sushi so I was basing it off of that. In doing my research online (I have never been to Japan or Korea) this recipe made sense to call it sushi although I see how it is also very similar to gimbap. I will work harded to educate myself further.
---
I can't tell you HOW excited I have been about this recipe! I've loved sushi for a long time but I'm relatively new to making it myself at home. Honestly, it's SO MUCH easier than I originally thought (especially this vegetarian version that doesn't require you to deal with raw fish!).
If, like me, you're new to homemade sushi, then I'm very excited to show you how easy this easy and walk you through how to make it.
We made this for quite a while with just rice and veggies (I also tried it once with vegan cream cheese which was great!). However, I always felt like I really wanted some protein and more substance to this recipe. So, I added some simple sautéed tofu into the mix and OMG it really takes this sushi up a notch.
First of all, I think you all know how much I LOVE TOFU. But also, I added a super simple but really flavorful sauce to the tofu that adds so much to the tofu rolls.
You could technically slices the tofu and add it to the sushi without cooking it (if you're looking to make this recipe super quick) but if you've go the time, I HIGHLY suggest taking the take to saute it. The crispiness of the tofu + the savory sauce just greatly enhance this sushi recipe!
What's in this simple vegetarian sushi:
Firm/ extra firm tofu- that's pressed (see my guide on pressing tofu HERE) and then cut into thin strips before being sauteed to add a nice crispy crust to it. You could add in uncooked tofu as well if you want to make this extra quick and easy.
Tempeh or other plant-based proteins are also good options here!
Cucumber
Carrot
Rice– I rice that I got from Whole Foods specifically labeled as "sushi rice" which is really just short grain rice. Short grain rice is what is most traditionally used in sushi. I DID give this a try, just for the sake of it, with long grain rice and it did NOT work out well at all. I've even seen people do this with quinoa and cauliflower rice although I have never tried either of those :)
Nori sheets– you can find these at most grocery stores and they're relatively inexpensive! If all else fails, you can most certainly find them on amazon.
Avocado
Optional cream cheese– I didn't use this in the sushi that you see in my photos/ video but I have tried it in place of the tofu and LOVE it. There are lots of delicious store bought vegan cream cheeses on the market now and I love it in sushi.
Other ideas– bell pepper, tempeh, radish, sprouts, sesame seeds, pickled onions and cucumber, red onion, jalapeno and so much more! If you have a favorite sushi filling, please let me know!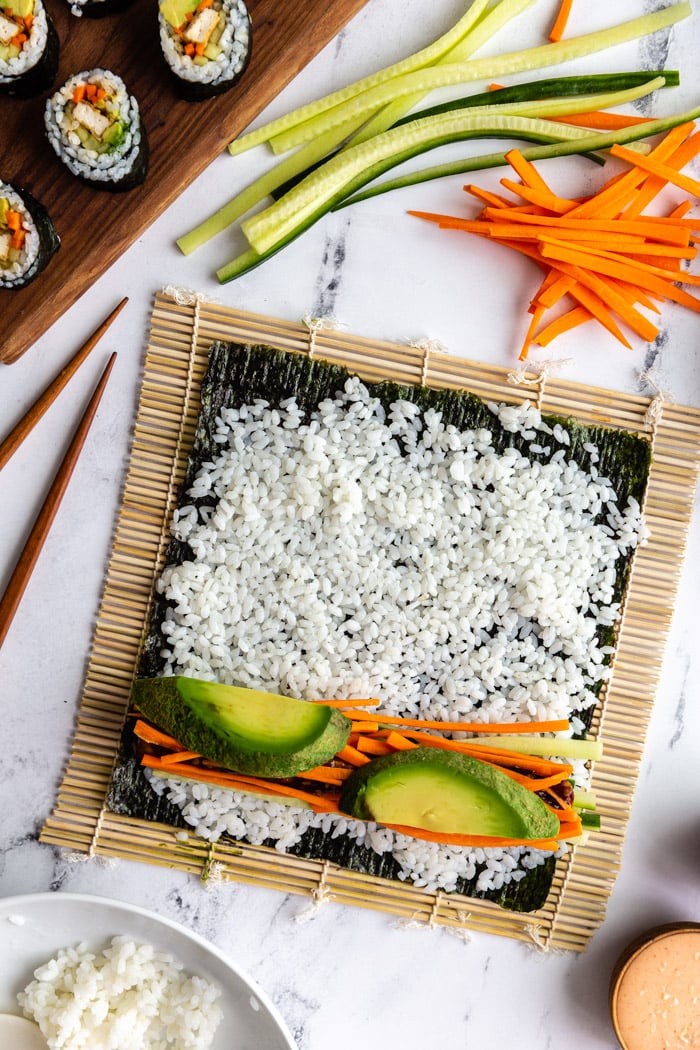 How to make veggie sushi rolls at home:
Besides the ingredients above, the only thing that you need is a sushi mat. You can get one on Amazon for just $4 (affiliate link) and I highly recommend it if you plan to make sushi at home regularly. I've also seen them at Target and World Market.
Honestly, you can still roll the sushi WITHOUT the mat but I've found that it's much harder to get a tight sushi roll.
To make the vegan sushi, start out by cooking your rice according to the packaging instructions. I really like to cook mine in the instant pot but really any method works. Once it's cooked, place it in a bowl and put it in the fridge to cool down while you prep the rest of the ingredients.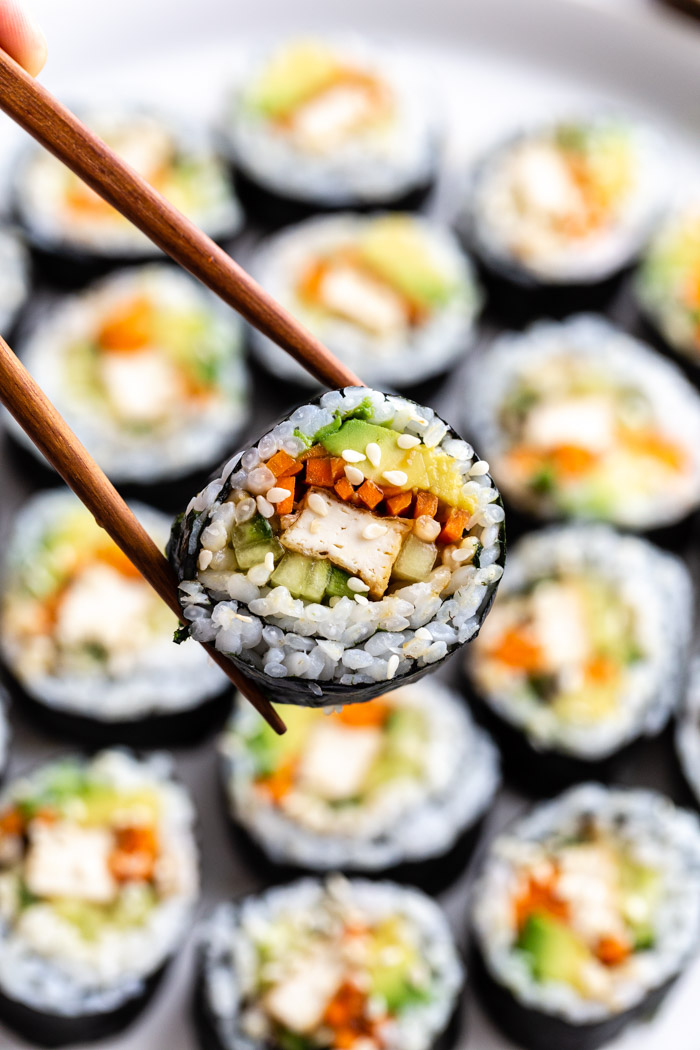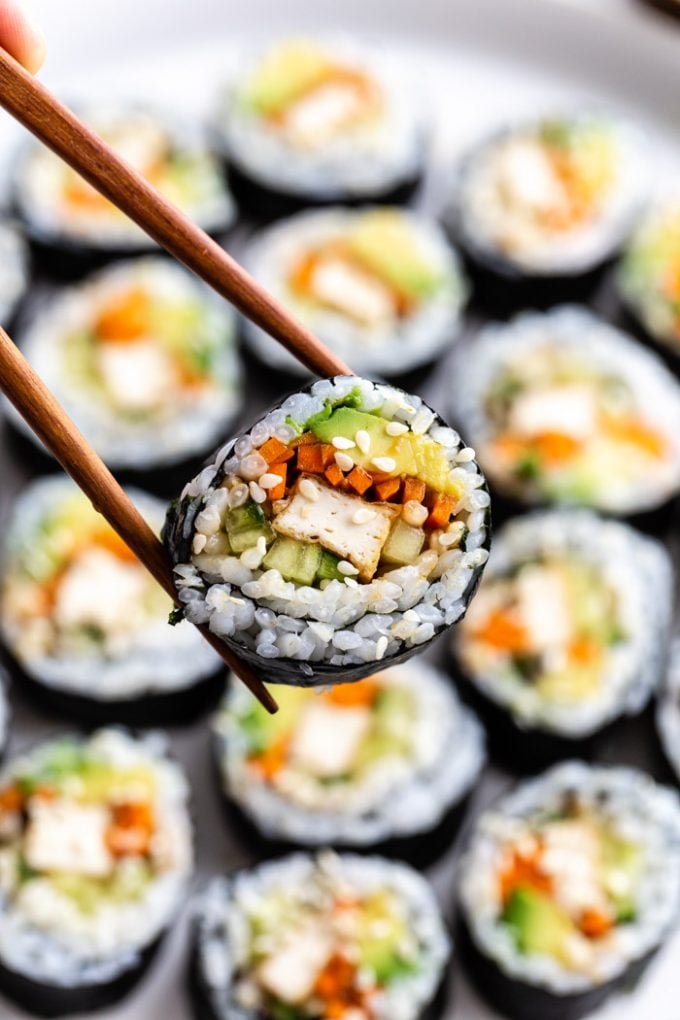 Next up we're going to press our tofu (see HERE for my guide on pressing tofu), slice it into thin strips, and then saute it in just a little bit of oil. Once it has a crispy crust all around, we'll add a simple sauce to the skillet and cook it just long enough to thicken. I LOVE the added flavor that the sauce adds to the sushi!
While all of that is cooking, I use the free time to slice up my veggies.
Once everything is ready, it's time to assemble the sushi. See my video for exact specifics but let's walk through it briefly. Ley your nori sheet on the sushi mat and cover it with a thin layer of rice leaving about an inch on ONE end clean. I usually use about 2/3 cup of cooked rice per nori sheet.
Next, neatly stack all of the toppings onto the rice. I put everything on the opposite end from the inch of clean nori that I didn't put rice on. Next up, using the mat, fold the nori sheet over top of the fillings, pressing firmly down on the mat as you roll. The mat helps you get a nice and tight roll. Continue to roll until it's rolled all of the way.
Now all that's left to do is slice the roll into ~1 inch strips and ENJOY!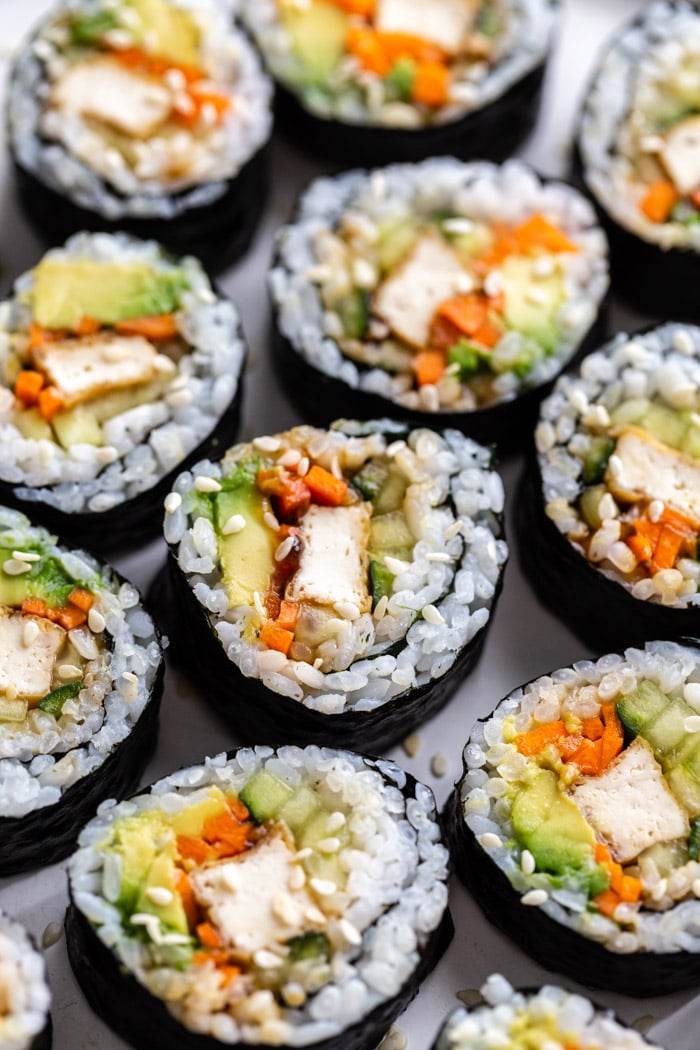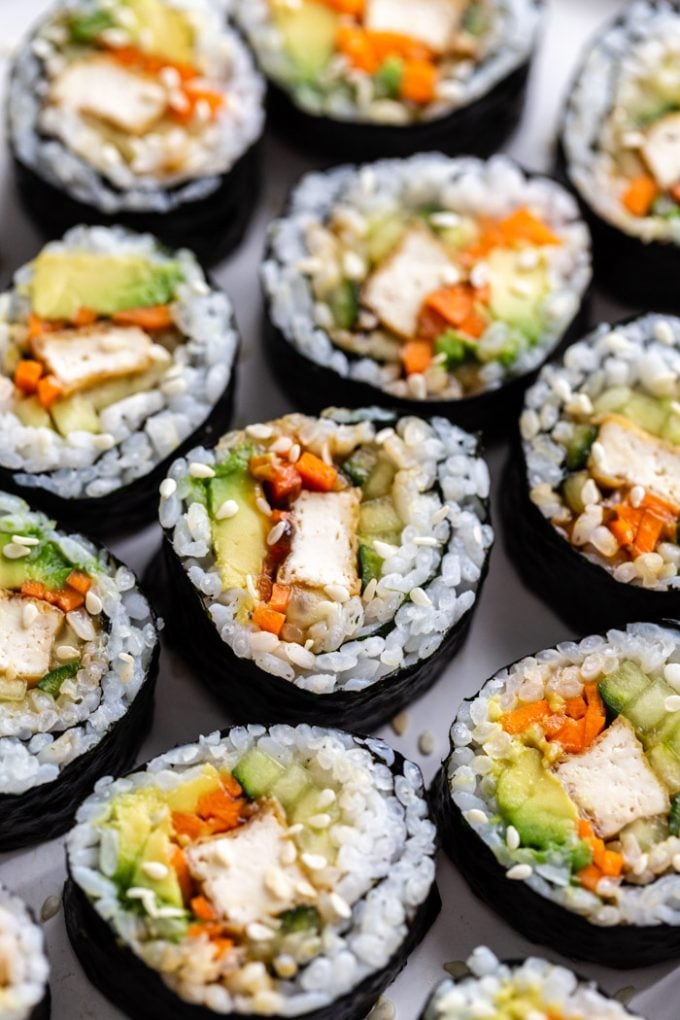 AND that's it for today! As usual, if you end up making this recipe, PLEASE please snap a photo and tag me on Instagram @foodwithfeeling! I always love to see what you're making and how you like it!
See how to make the Vegan Sushi here:
Print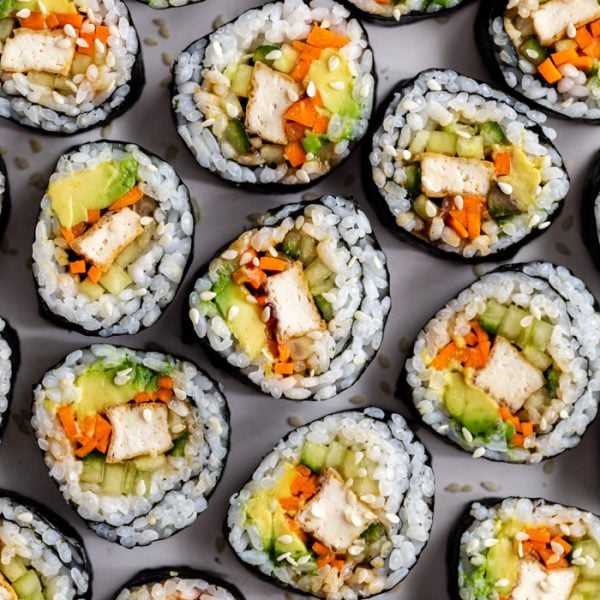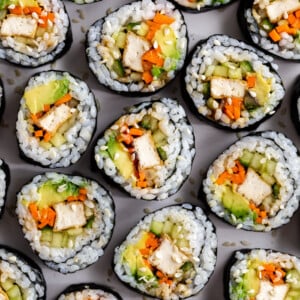 Easy Vegan Sushi
---
Author:

Total Time:

35 minutes

Yield:

4

servings

1

x

Diet:

Vegan
Description
This Vegan sushi is made with simple ingredients and great for those new to making sushi at home! So easy and so delicious!
---
2 cup

of uncooked sushi rice*

¼ cup

of soy sauce

2 tablespoons

of maple syrup

1 tablespoon

of cornstarch

½ tablespoons

of grated ginger

1

clove of garlic, minced

2 tablespoons

of water

1 tablespoon

of oil (love toasted sesame oil in this recipe!)

1/2

block (~8 ounces) of extra firm tofu, pressed and cut into 1/2 inch long strips (see photos and video for reference)*

1

large (or

2

small) carrot, thinly sliced

½

of a cucumber, thinly sliced

1

Avocado, thinly sliced

2 tablespoons

of rice vinegar

2 tablespoons

of white wine vinegar

5

–

6

Nori sheets
---
Instructions
Cook your rice according to package instructions. Once done, place in a large bowl in the fridge to cool down.
Make the sauce by whisking together the soy sauce, maple syrup, cornstarch, ginger, garlic, and water. Set aside.
In a large non-stick skillet, heat 1 tablespoon of oil over medium heat. Once hot, add in the tofu and saute for 5 minutes untouched. Once it has formed a nice crust, flip and cook for a few more minutes on each side, about 12 minutes total. Add in the sauce and cook for a few more minutes, tossing often, so that the sauce can thicken. Stir to ensure the tofu is evenly coated in the sauce. Remove from heat and set aside.
Once rice is cooled down, mix in the rice vinegar and white wine vinegar and set aside.
Assemble the sushi by placing a nori sheet on a sushi mat*. Spread 2/3 cup of the cooked rice over the nori sheet, leaving about 2/3 of an inch clean on one end (see video). Top with some of the cucumber, 2 pieces of the tofu, carrots, and 2 slices of avocado. Roll the nori sheet over top of the fillings and continue to gently and *tightly* roll the sheet until it's all the way rolled up. Repeat will the remaining ingredients (I end up with 5-6 rolls depending on how I filled them).
Slice into 1 inch pieces and ENJOY! I LOVE mine with a little sliced ginger and a touch of soy sauce.
Notes
*You want Japanese SHORT GRAIN rice. It has a distinctly sticky texture to it that is essential for making sushi. Long grain rice, such as basmati, will not work in this recipe (I've tried it!).
*firm tofu will also work well
*this can be done without a sushi mat as well!
Prep Time:

15 minutes

Cook Time:

20 minutes

Category:

dinner

Method:

cooking

Cuisine:

american
Nutrition
Serving Size:
Calories:

553

Sugar:

8.3 g

Sodium:

441.2 mg

Fat:

12 g

Carbohydrates:

96.7 g

Protein:

13.9 g

Cholesterol:

0 mg
Keywords: vegan sushi, vegetarian sushi, tofu sushi
This post may contain affiliate links. Please read my disclosure policy.