Healthy Peanut Butter Cup Smoothie
This post may contain affiliate links. Please read my disclosure policy.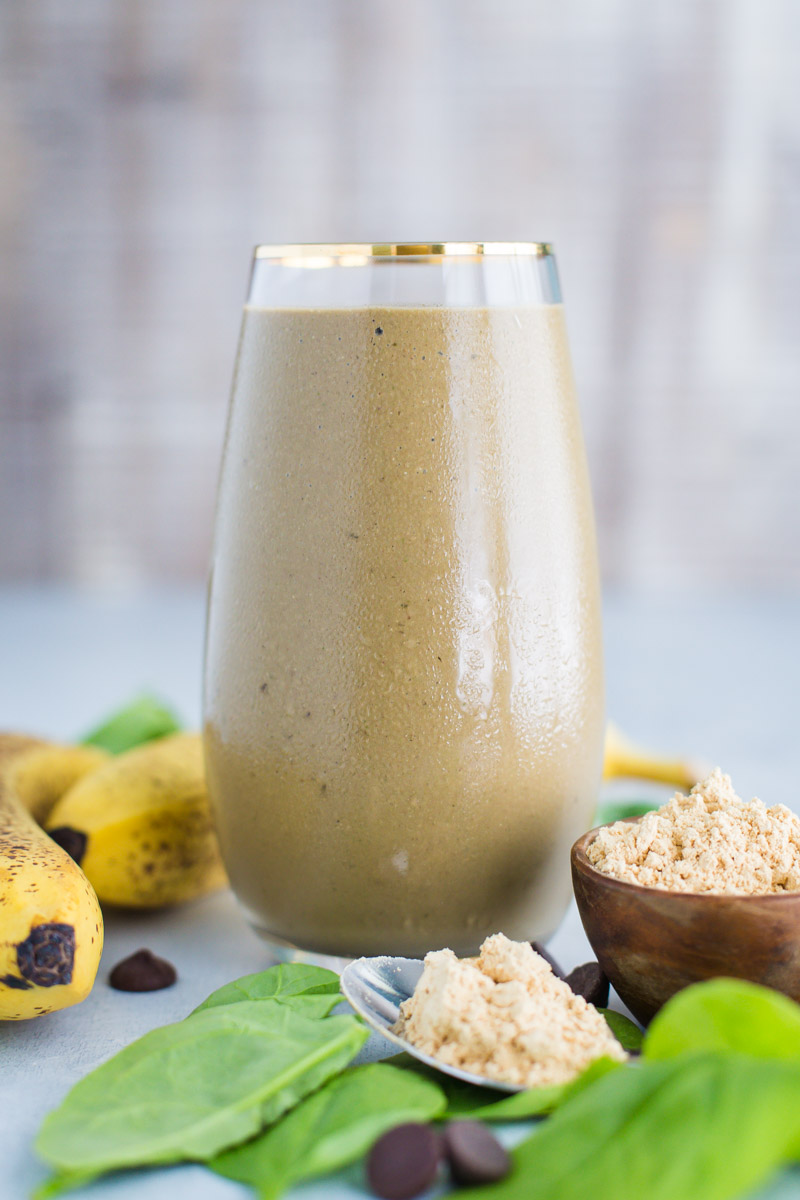 One of THE most common questions I get from family and friends is "what have you been cooking in the kitchen lately?". Then I go through the long list of client videos and food blog testing that I've been doing. I'm currently shooting around 10 recipe videos for clients, trying to shoot 1-2 per week for myself as well as recipe testing and photographing for my blog. So, needless to say, my kitchen stays PRETTY busy (and my sink CONSTANTLY full!).
There is one thing that I've been consuming nearly daily lately, especially now that it's getting warmer outside (which is an understatement since Nashville has seen temps in the 90s several times already this year): THIS Healthy Peanut Butter Cup Smoothie. I got the concept for the smoothie from a vegan youtube that I've watched for the past couple years. She was making something similar in one of her videos and it sounded SO good that I had to make my own version of it THAT DAY.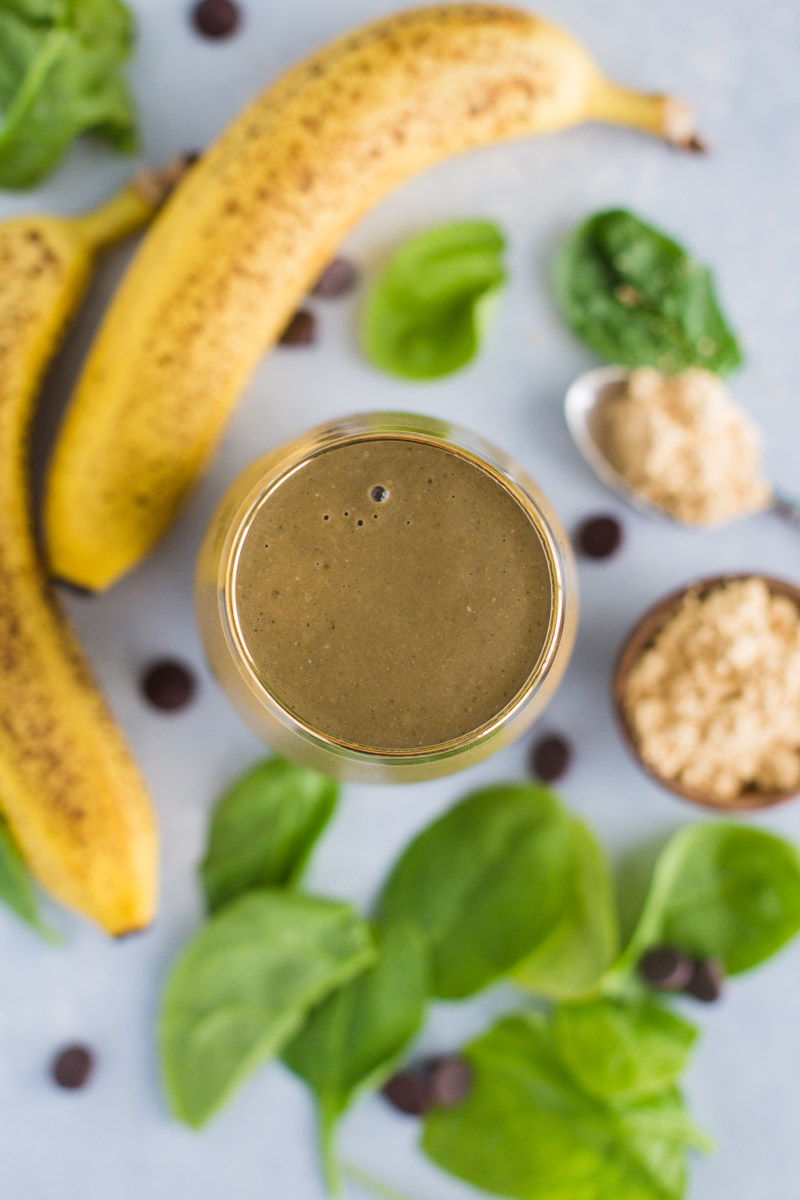 Mine is a bit different and I change it up nearly every time that I make it (totally depends on my mood) but this recipe is the general base of it. We start with frozen bananas. Always frozen because I like my smoothies extra cold and creamy. If you don't keep ~10 frozen bananas in your freezer at all times, you're doing it wrong. The other essential for this smoothie is peanut butter powder. If you've never tried it, it's essentially peanut butter but with ALL of the oil (aka most of the fat) removed. When you're wanting a pb sandwich or just a spoonful of peanut butter, peanut butter powder is not for you. BUT, when you're wanting a peanut butter flavored smoothie, ice cream, brownies, etc etc, peanut butter powder is EVERYTHING! It 100% mimics the taste of peanut butter (because it IS peanut butter) and it cuts out a lot of the extra calories and fat. When I'm feeling extra peanut buttery, I add in the butter AND the powder :)
I buy my peanut butter powder by the tub at Costco because I use so much of it. But, you can start with a small container to try it out first. At this point, it can be found at pretty much any grocery store and is usually in the health foods section.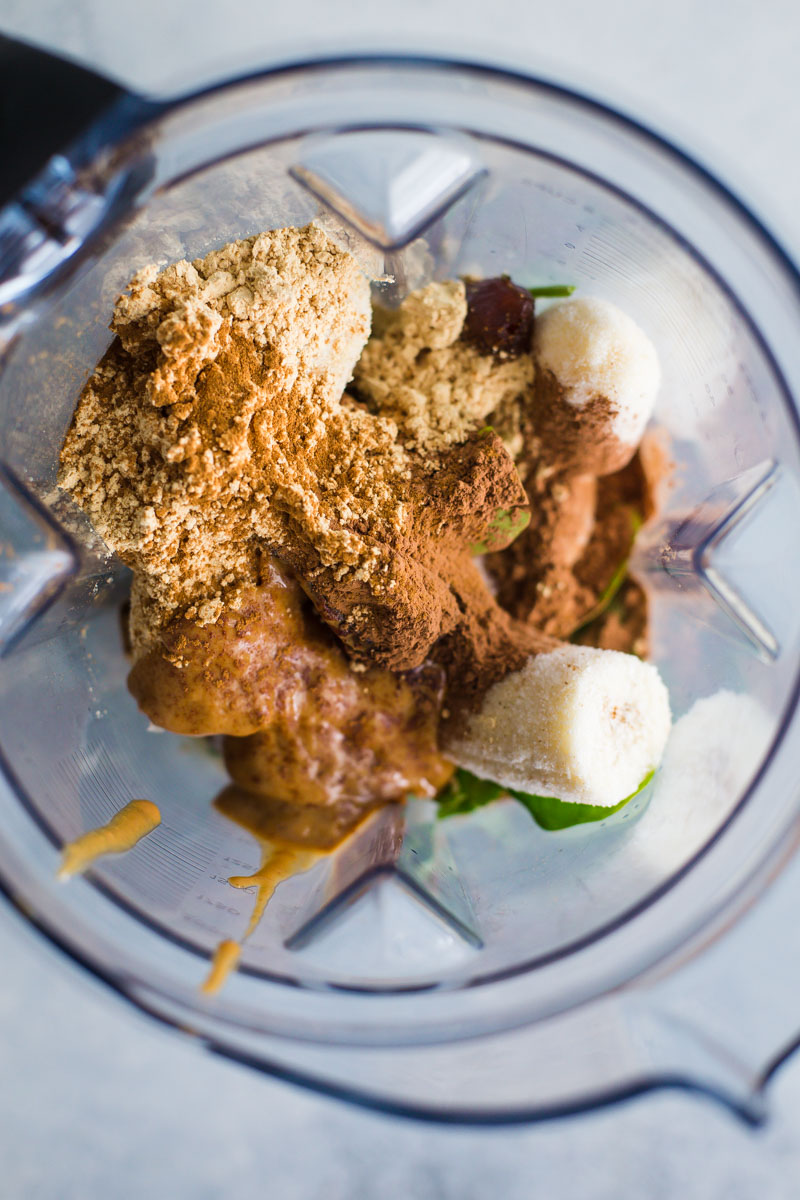 For me, greens go into the smoothie about half of the time. Again, it depends on my mood and what we have in the fridge on a given day.
Besides the bananas, peanut butter, and greens, the only other thing needed to make this smoothie a dream is cocoa powder. To sweeten things up a bit, I typically add in a few dates as well but they're totally not necessary.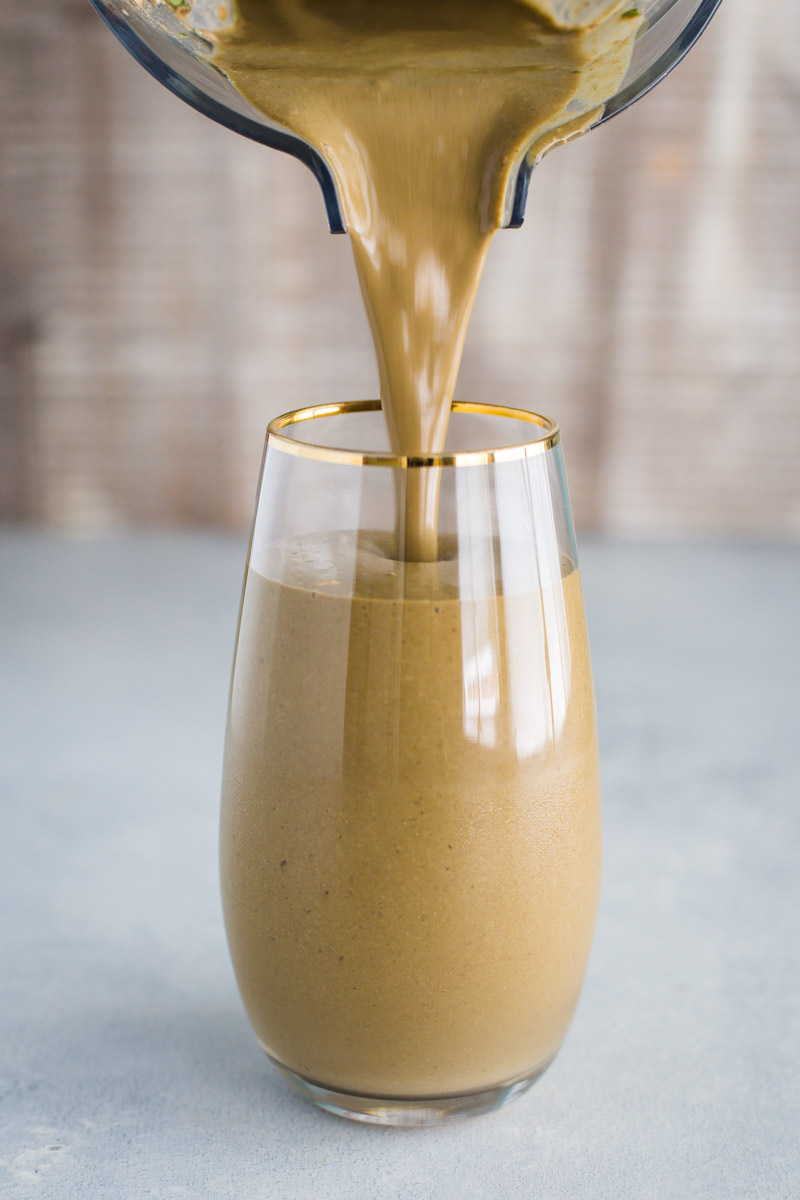 SERIOUSLY obsessed with this smoothie! It's been my pregnancy fix when my sweet tooth kicks in and all I can think about is ice cream. This smoothie is SO cream, and sweet and just overall DELICIOUS! Peanut butter and chocolate are just a match made in heaven and I want all of it.
Print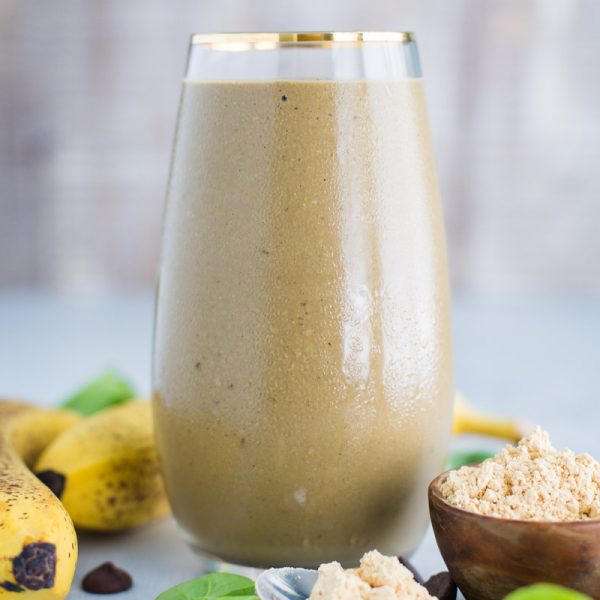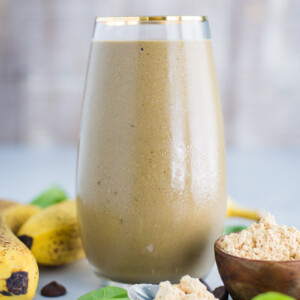 Healthy Peanut Butter Cup Smoothie
---
Author:

Total Time:

5 minutes

Yield:

1

large smoothie, 2 snack size smoothies

1

x
2 frozen bananas

2 heaping tablespoons of peanut butter powder (regular peanut butter also works well but you might need a bit more of it)

1 heaping tablespoon of cocoa powder

2 medjool dates, pitted

optional: handful of greens, tablespoon of hemp seeds, additional peanut butter
---
Instructions
Combine all ingredients in a high speed blender and blend until creamy and smooth.
ENJOY!!
This post may contain affiliate links. Please read my disclosure policy.