Peanut Butter Banana Smoothie
This Peanut Butter & Banana Smoothie is my go to healthy breakfast that takes just a few minutes to throw together and tastes like ice cream :D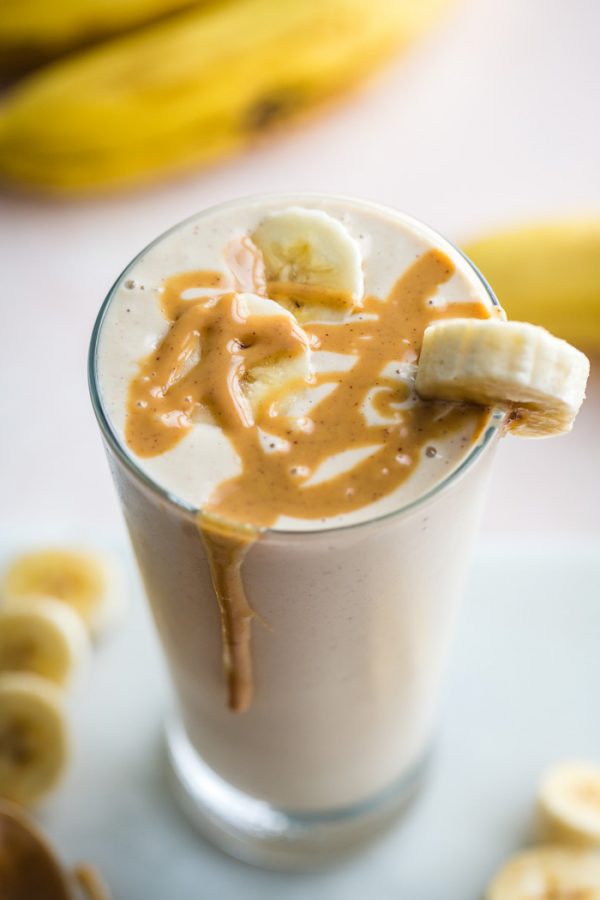 Considering I have a ridiculous amount of smoothie recipes on my blog at this point, it's a little crazy that I don't already have a peanut butter banana recipe. I make a version of this smoothie ALL of the time so I figured that I would document my go to recipe for you.
As the weather starts to warm up in the spring (it's not really spring yet but I like to pretend), I always find myself reaching for smoothies more often in the mornings. I'm not sad about that one little bit since most of my smoothies (while still healthy) just taste like a big cup of creamy ice cream. Ice cream for breakfast on the reg is the kind of life that I want to live.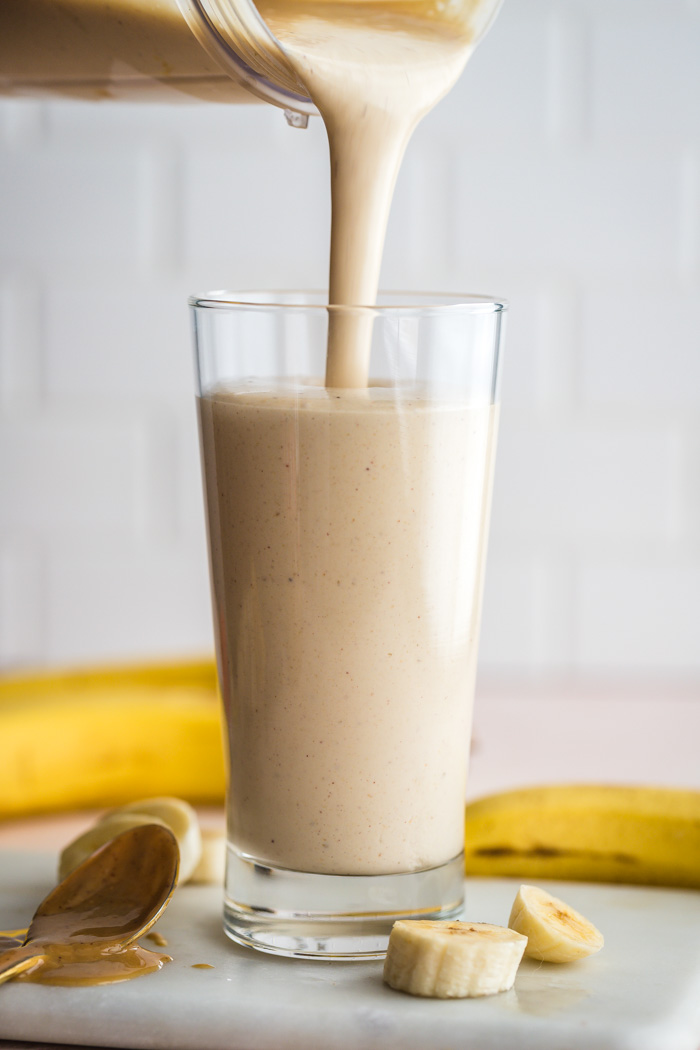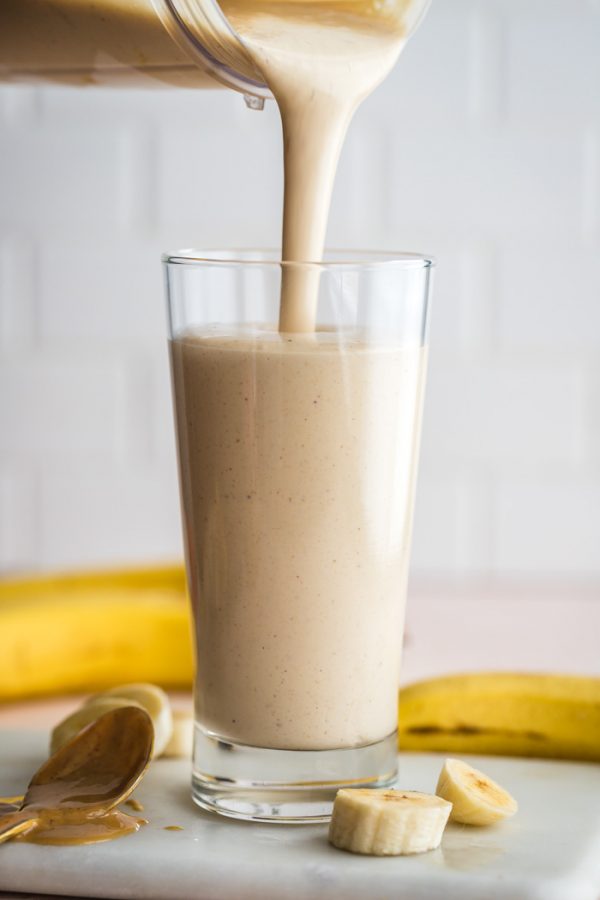 As with most of my smoothies, I tried to make this one flexible. I often offer an alternative for bananas (it's crazy how many people can't/ don't want to eat bananas). But since it's a star ingredient in this peanut butter smoothie, I'll refrain :)
The kinds of yogurt and the milk that you use are completely up to you. I used almond milk and greek yogurt but if desired, you can use regular milk or a dairy free alternative yogurt. Whatever works best for your diet.
I've made this several times with frozen cauliflower in it as well. This is a GREAT way to squeeze in some extra nutrients without even knowing it's there. Works particularly great when making this smoothie for small children (who will TOTALLY know if you try and put kale in there….don't even try that, mmkay!).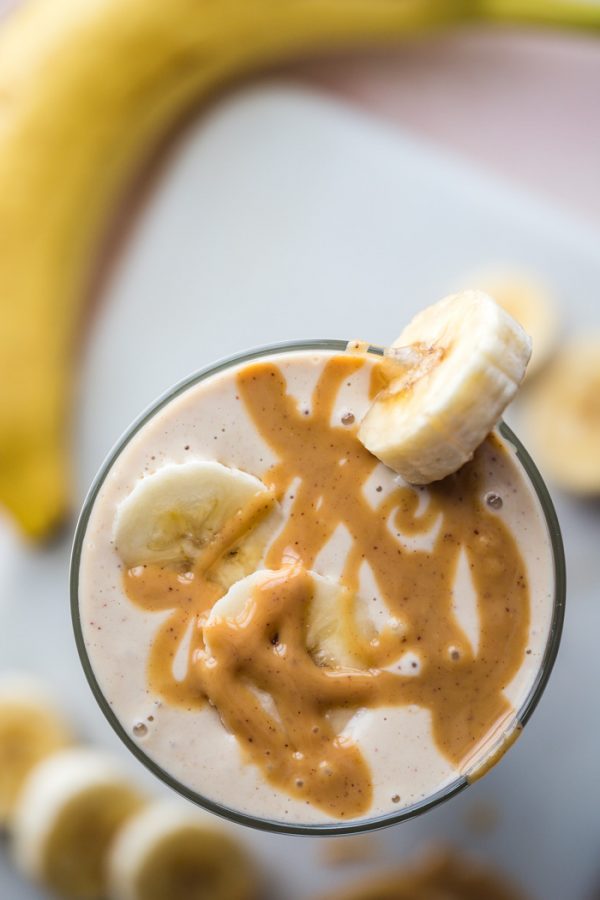 How to make this easy peanut butter smoothie:
As far as smoothie making goes, this one is pretty par for the course. Add all of the ingredients into a blender and blend until creamy and smooth! Sometimes I need to add a little extra milk or water to get the blender going and make the smoothie a bit thinner.
Simple. Delicious!
I could have this for breakfast every single day.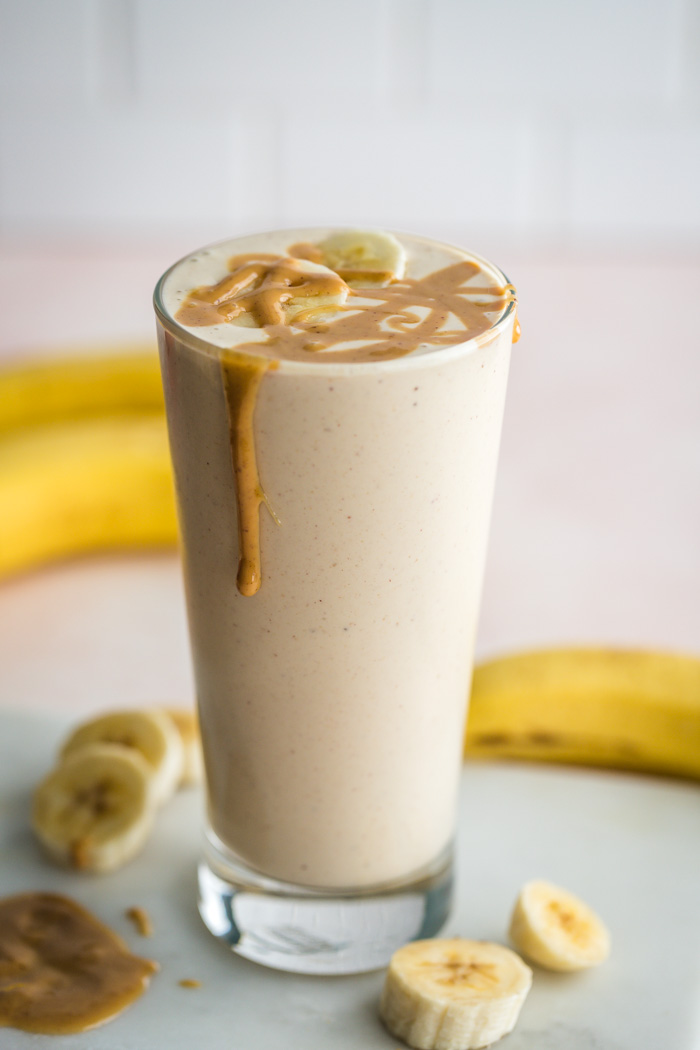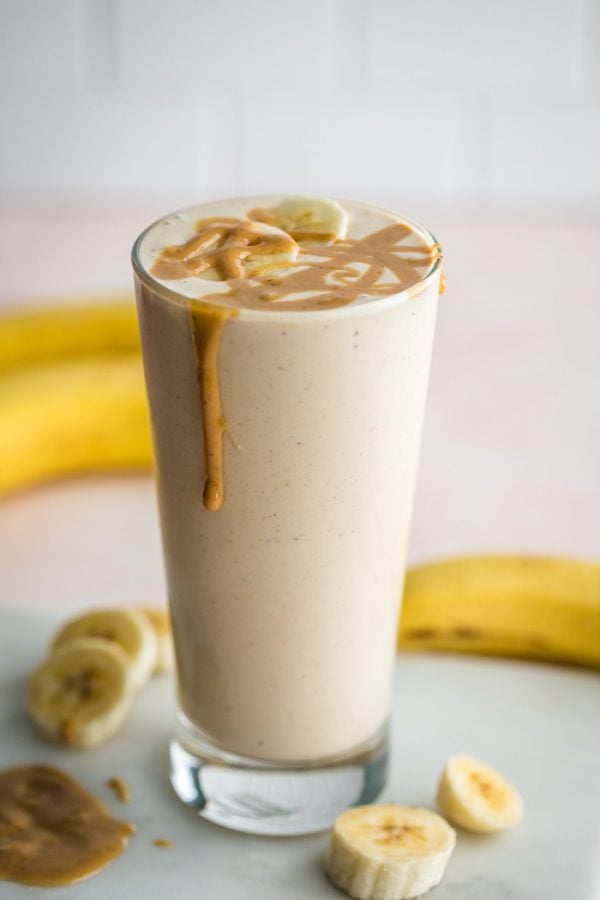 More smoothie recipes you might like:
See how to make this Banana Peanut Butter Smoothie here:
Print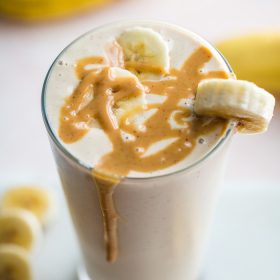 Peanut Butter Banana Smoothie
---
Author:
Prep Time: 5 minutes
Cook Time: 0 minutes
Total Time: 5 minutes
Yield: 1 large or 2 small 1x
Description
This Peanut Butter & Banana Smoothie is my go to healthy breakfast that takes just a few minutes to throw together and tastes like ice cream :D
---
Scale
Ingredients
1 frozen banana*
½ cup of milk (any kind you desire)
½ cup of yogurt (you could leave this out if desired or swap it for an equal amount of frozen cauliflower)
3 tablespoons of peanut butter (can also swap out for 2 tablespoons of peanut butter powder)
---
Instructions
Combine all of the ingredients in a blender and blend until smoothie. If needed, add a little more liquid (even just water works okay) to get the blender going a bit more.
ENJOY!
---
Notes
*your banana doesn't *have* to be frozen but the smoothie won't be as thick and creamy. It WILL still be very tasty with a non-frozen banana though!
Category: smoothie
Method: blender
Cuisine: american
Keywords: banana smoothie, peanut butter smoothie, healthy smoothie recipe