Heart Shaped Raspberry Pies
Last week I took the classic "I'm just going into Target for a few things" trip and OF COURSE walked out a million items later. Damn you Target. I even commented to the cash register "I only came in for face wash and eye liner and look at everything I got!". He said he'd be rich if he had a quarter for every time he heard that. hah.
Anyways, one of the random items I picked up was this lovely little $5 plastic device used for making heart shaped mini pocket pies. Seeing as this was an item that I couldn't leave homeless on the shelf, I took it home with me. And hence, this lovely little recipe for you.
I'll link at the end of this post where you can buy one of these. If the thought of baking terrifies you as much as it does me, I highly recommend buying one. That being said, you could easily get the job done without it. I mean, hearts aren't that hard to cut out. Alternatively, you could use large heart shaped cookie cutters.
You only need 5 ingredients:
Pie Crust*
1 package (or 1 cup) of raspberries**
1/2 cup sugar, plus a bit more for sprinkling
2 1/2 teaspoons cornstarch
1 large egg, beaten
* You can obviously make your own crust but I opted for the quick and easy store brand for this one.
** Other fruit can also be used for this. I actually made a couple that had apples in them.
Pre-heat the oven to 400º.
Roll out the dough and careful cut out as many pairs of hearts as you can.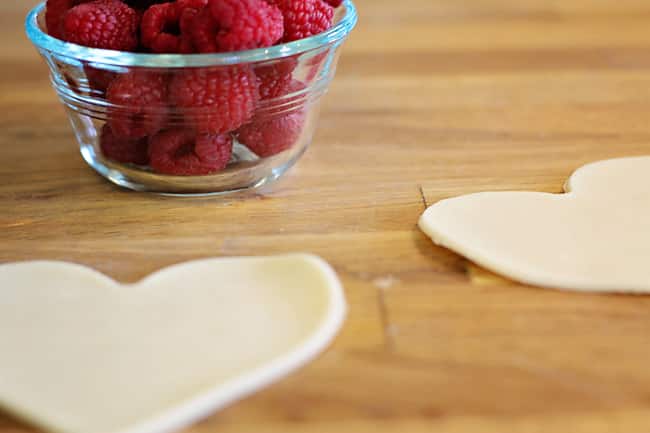 In a small bowl, mix together the sugar and the cornstarch. Set aside.
Cut the raspberries in half so they fit in the pies easier.
Next, place a dough heart on each side of your little device. While holding down the sides, press down on the center of each heart a bit so as to make room for the fruit.
Fill one side of the pocket pie with 2 tablespoons of raspberries.
Next, cover the raspberries with 1 tablespoon of the sugar mixture.
Brush the edges of both dough hearts with the beaten egg.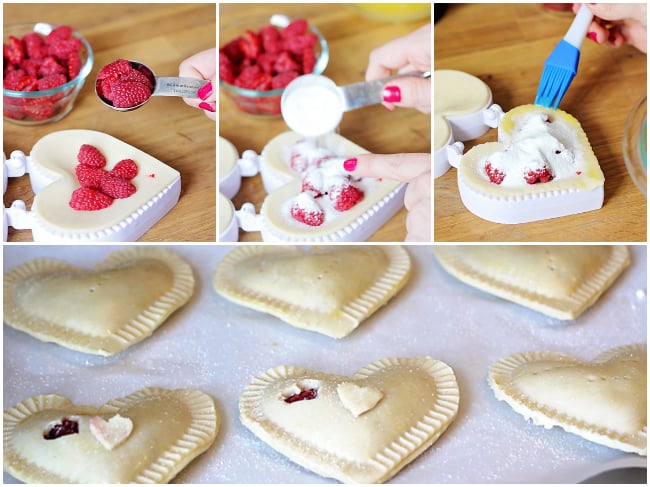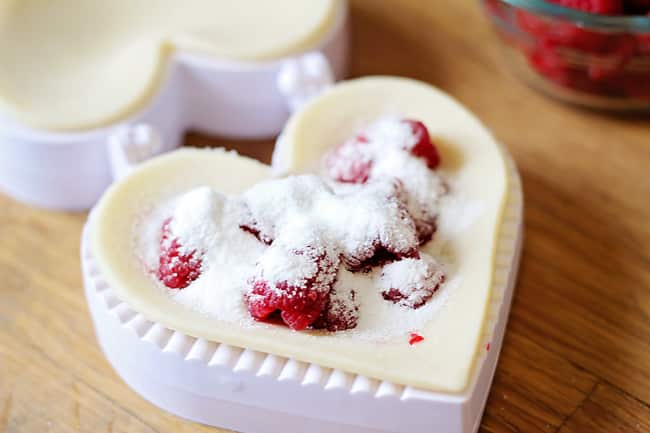 Fold the two sides together making sure that it sealed nicely. If you don't have a pie press, you can seal around the outside of your pie pockets with a fork.
An optional step is to do as I did and carefully cut out small hearts from the side of the pies.
If you don't cut out the hearts, you'll want to poke a few holes in the tops of the pies with a fork.
Place all of the pies on a parchment paper lined baking sheet. Lightly coat the tops of each pie with the beaten egg and sprinkle with a bit of sugar.
Bake for 15-20 minutes or until they look about goldeny brown enough for your liking.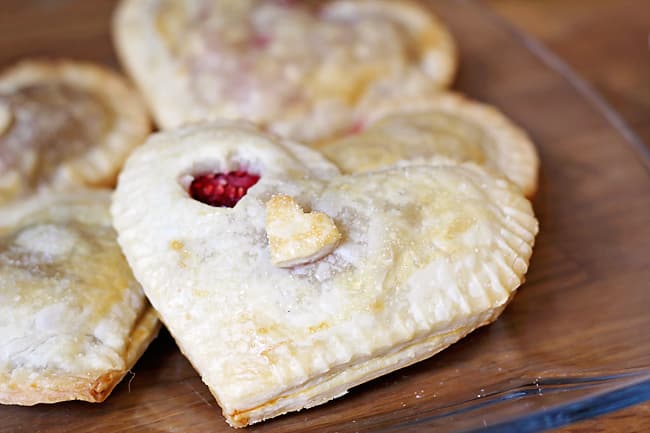 I made this last one filled with apples and, obviously, not heart shaped. My husband thought the hearts weren't manly enough for him so we compromised :)