Holiday Wreath Taco Ring (V)
This post may contain affiliate links. Please read my disclosure policy.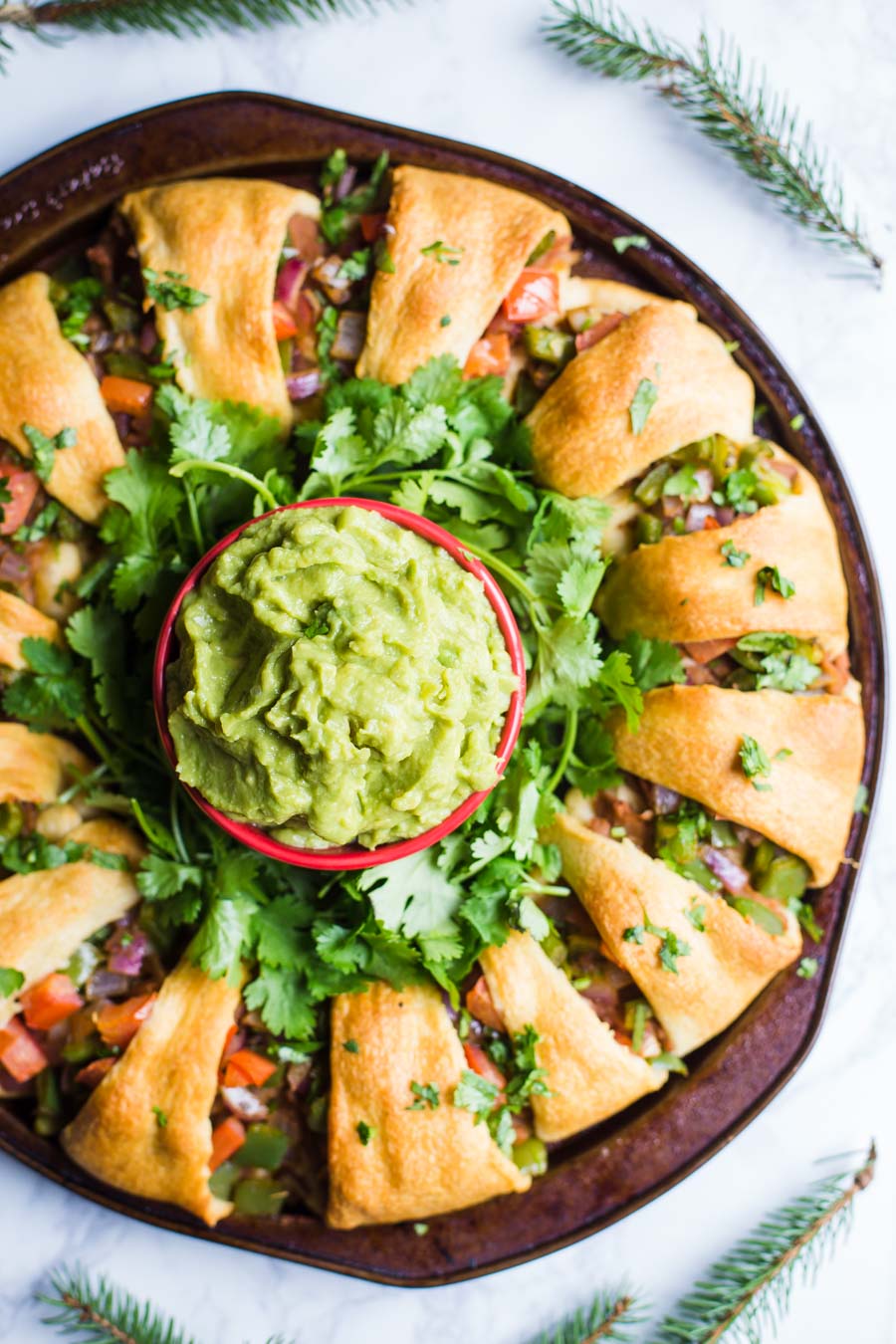 Thanks to Wholly Guacamole for sponsoring this post and partnering with me to bring you this delicious vegan Holiday Wreath Taco Ring!
Happy day after Thanksgiving weekend. It's SO hard to convince myself to do much more than drink coffee this morning. Coming off of a very lovely 4 day weekend is never easy. But, we're making it all better by diving head first into holiday cheer with sugar cookies, gingerbread, hot chocolate, AND this vegan Holiday Wreath Taco Ring with loads of Wholly Guacamole! (!!!)
This taco ring is partially because of how cute it is and partially just an excuse to eat loads of guacamole!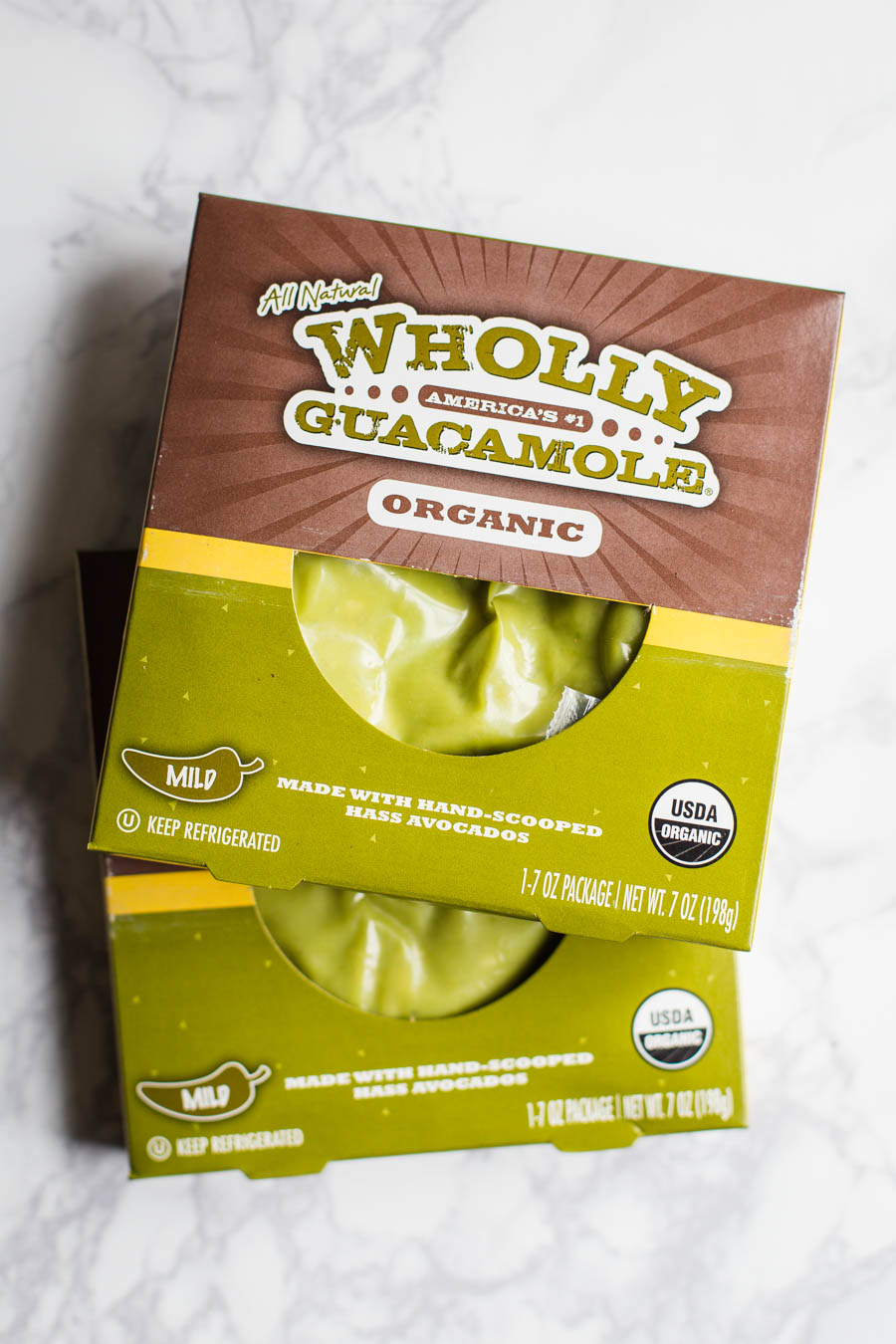 While I love a good homemade guacamole, I'm almost always incredibly rushed when it comes to making party dishes for get togethers and family events. And by almost always I mean every. single. time. Case in point: I took the apple pie out of the oven 10 minutes after we were supposed to have left for our family thanksgiving dinner.
SO, Wholly Guacamole is here to make that all a bit easier (SO thankful for that!). They also have some great new flavors including Chipotle Lime, Margarita, and Sriracha. Literally all of those sound amazing to me!
What I have for you today is an easy appetizer (which could also double as your dinner if so desired). Did you know that most store bought crescent rolls are vegan?? Because I didn't! So that's what we're using today. The holidays are about comfort and ease which is exactly what this taco wreath is.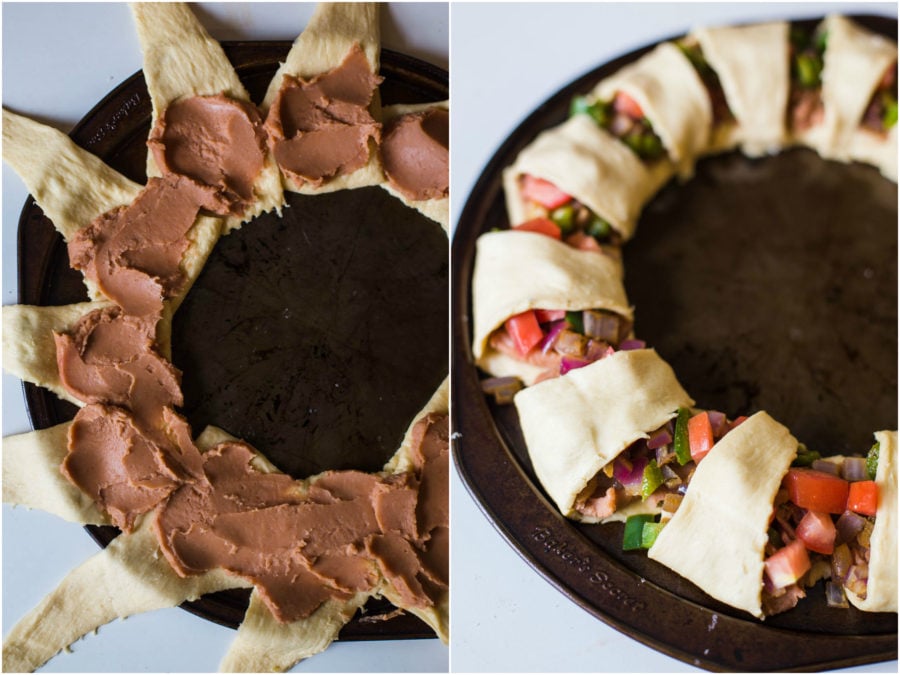 The rolls are laid out in a ring and then topped with whatever taco fixings that you desire. I originally planned to use black beans but then I figured they would all want to fall out when you picked each piece up. So, we're using refried beans instead. The beans are then topped with some sautéed and spiced veggies. Then you just fold the rolls over top of the veggies and tuck the edges under the bottom of the wreath. Ta-da. You're basically done with the hard part.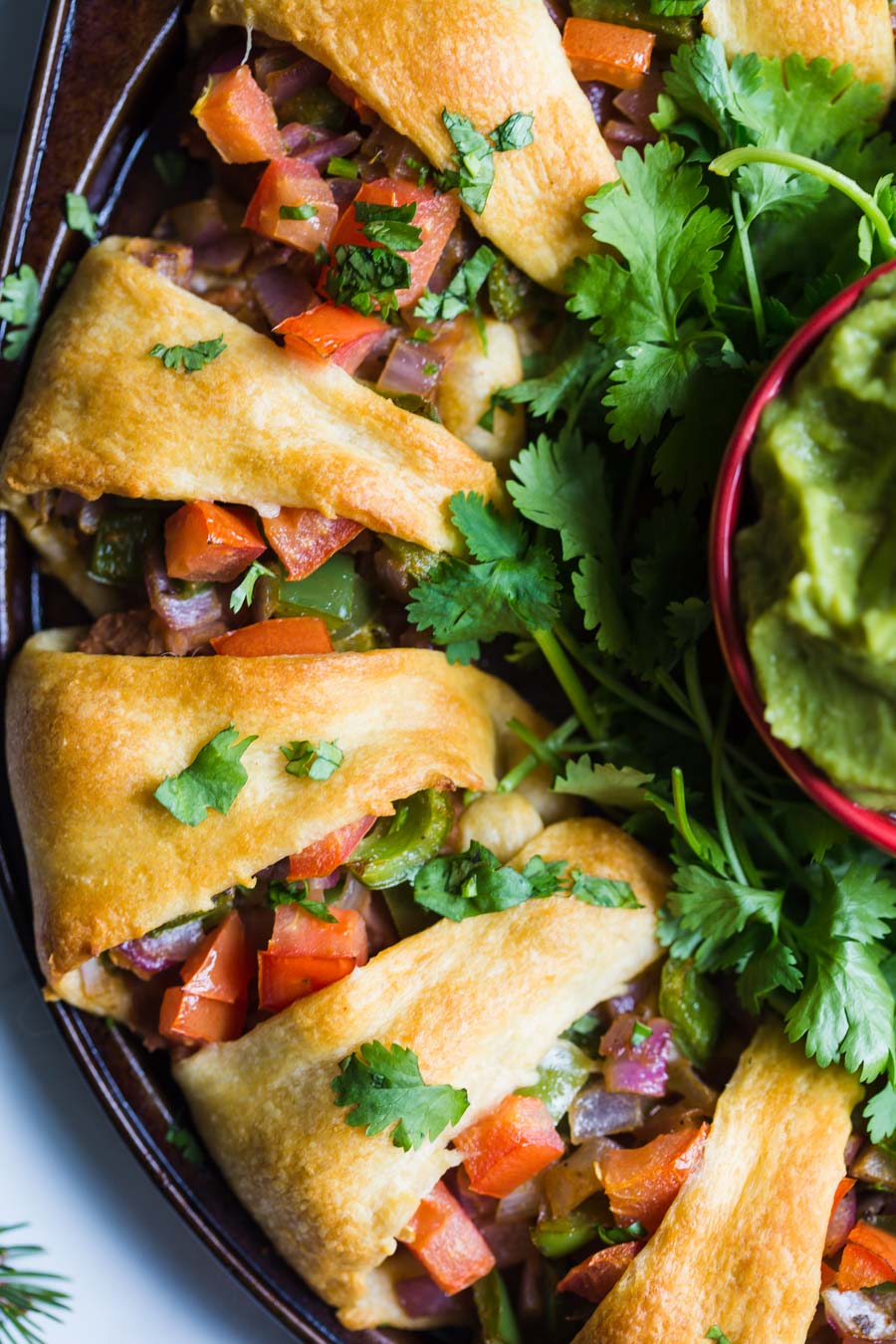 I thought for a while about putting a little non-dairy cheese into the rolls (which would be really good obviously). But then decided to keep it simple: rolls, beans, veggies, GUACAMOLE!! I love how cute the wreath turned out and can't wait to take this to an upcoming holiday party.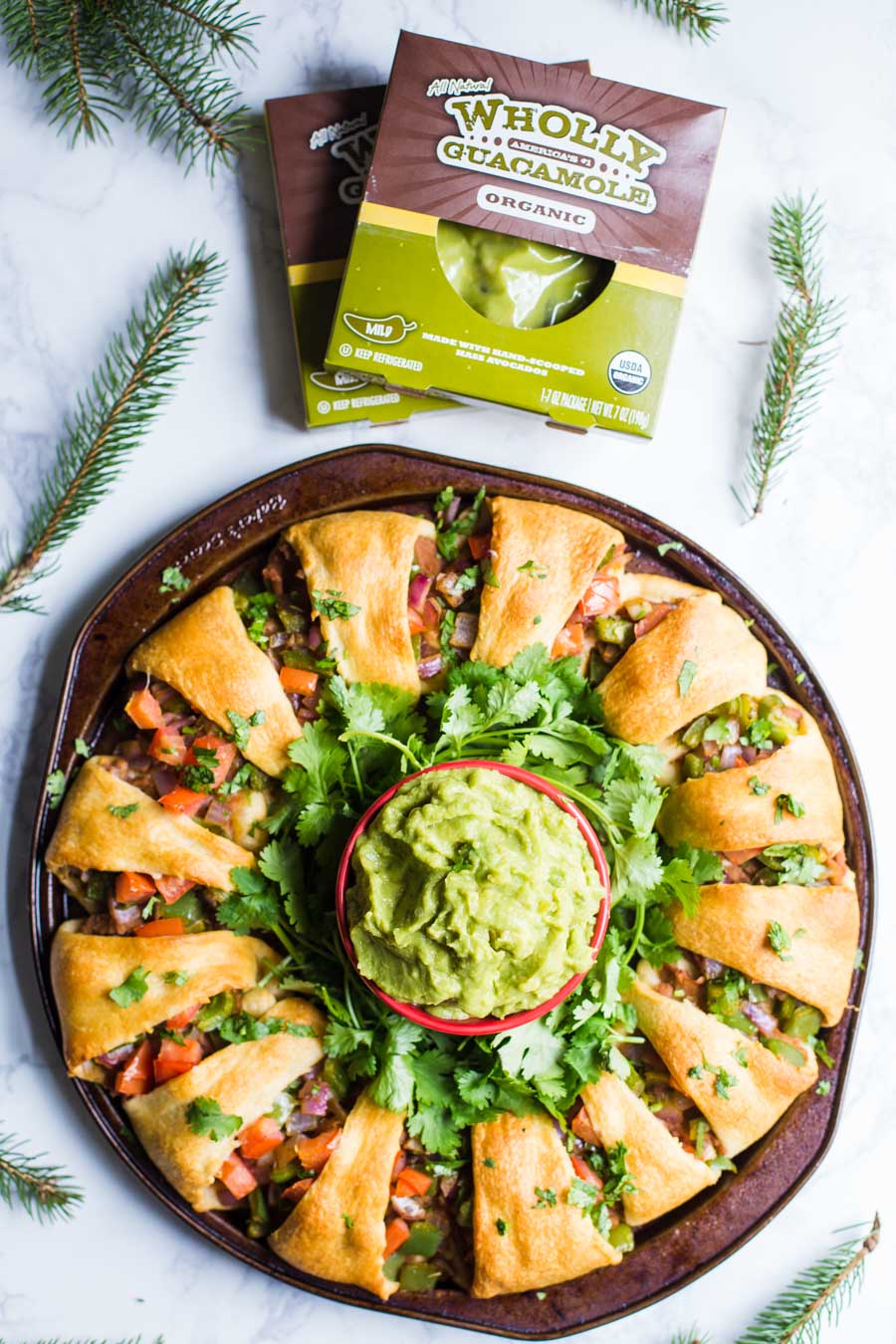 So, a bit more about Wholly Guacamole®: it's available nationwide in the produce or deli section of grocery stores and features NINE tasty varieties including Classic, Spicy, Homestyle, Three Chile, Hatch Chili, Organic, and the 3 new flavors I mentioned earlier and am SO excited about: Chipotle Lime, Margarita, and Sriracha. Wholly Guacamole® products are offered in 8-ounce, 12-ounce, and 16-ounce packages and some are even available in snack-ready 2 ounce minis (hello, work day snack!).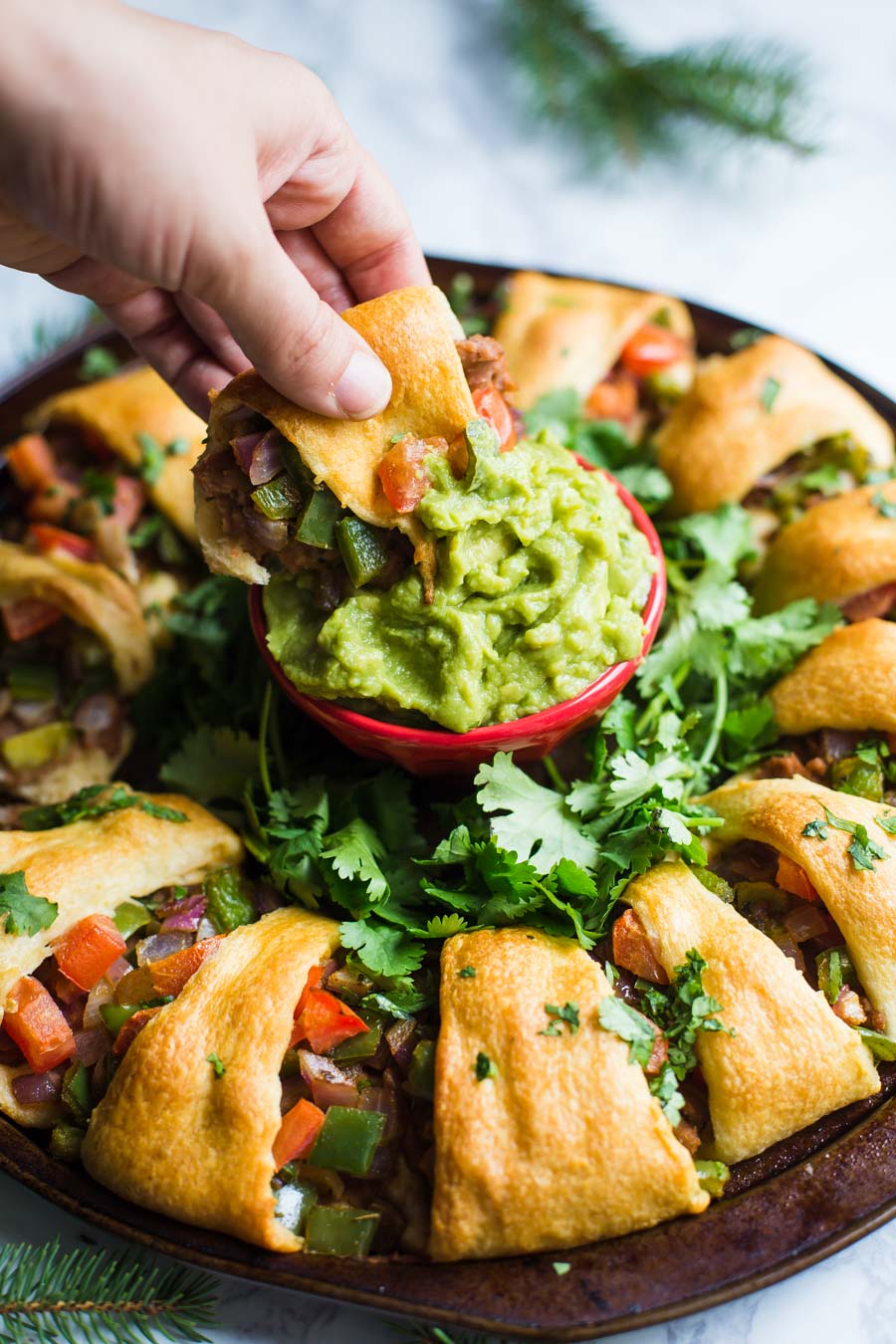 Print
Holiday Wreath Taco Ring (V)
---
Author:

Prep Time:

15 minutes

Cook Time:

25 minutes

Total Time:

40 minutes
Scale
Ingredients
2

cans of crescent rolls (you need roughly

16

crescent rolls…check to make sure they're vegan!)

1 tablespoon

of olive oil

1

green bell pepper, finely chopped

1/2

of a red onion, finely chopped

1 teaspoon

of cumin

1/4 teaspoon

of paprika (or more if you can take the heat :))

1/2 teaspoon

of garlic powder

1/2 teaspoon

of oregano

1

15 ounce can of refried beans (check can to make sure they're vegan!)

1

medium tomato, finely diced
optional: sprinkle with nutritional yeast before baking
optional: vegan butter for brushing the rolls

2

7 ounce boxes of Wholly Guacamole for serving!
Cilantro for serving
---
Instructions
Pre-heat oven to 375 degrees F and lightly grease a baking tray (preferably a round pizza tray).
In a medium skillet, heat your oil over medium heat and add in the onion, pepper, and spices. Stirring frequently, sauté until the onion becomes translucent, about 8 minutes. Once done, take off of heat and set aside.
Unroll the rolls and lay them flat on the pizza tray with the shortest edge facing the center of the pan (see photos if this is confusing.) You want the rolls to overlap each other by about 2/3 of an inch as they go around the pan. Leave about a 6-8 inch circle in the middle of the crescent roll ring.
Spread the refried beans out evenly across the inner half of each crescent roll (again, see photo above).
Top the beans with the sautéed veggies and then top it all off with the tomatoes (plus the nutritional yeast if you're adding it).
Taking the outer tip of each roll, fold it over the bean and veggie mixture and tuck it under the inner part of your ring.
Optional: brush the tops of the rolls with a bit of melted vegan butter.
Bake for 25-30 minutes until the top is a nice deep golden brown color and the bottom of the wreath is cooked (I check this by simply using a fork to lift up the wreath a little).
Serve with the Wholly Guacamole in a cute bowl in the middle of the wreath and sprinkled with a touch of freshly chopped cilantro.
ENJOY!!!
---
This post may contain affiliate links. Please read my disclosure policy.