Homemade Hot Chocolate Mix
This post may contain affiliate links. Please read my disclosure policy.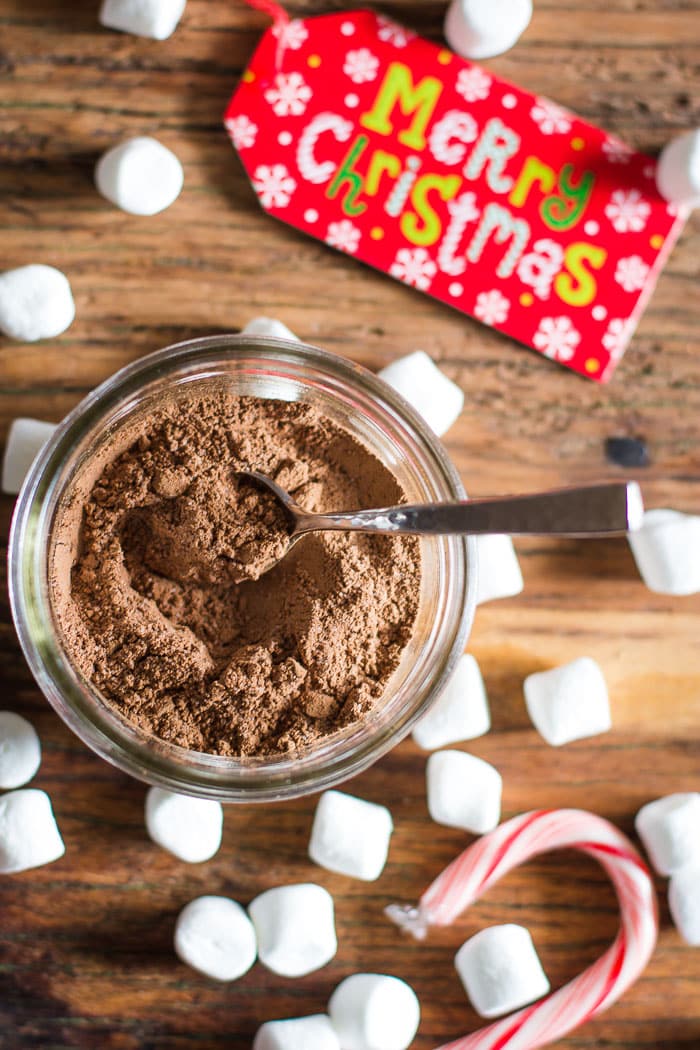 It's christmas week!!! I thought it would be very difficult to get out of bed this morning but it fact, the thought of just a 2 1/2 day work week got me super excited and pumped to get it started.
In other news, we went to see the new Star Wars last night. I had actually never seen ANY of the Star Wars movies up until a month ago when I got Stephen the complete set for his birthday. I was skeptical at first. I mean, I've lived with the incredibly high hype my WHOLE life and what if it didn't live up to all the expectation? I can't say it's my absolute favorite movie ever but I'm into it. I can't tell you the last time I went to a movie on it's opening weekend so if that says anything.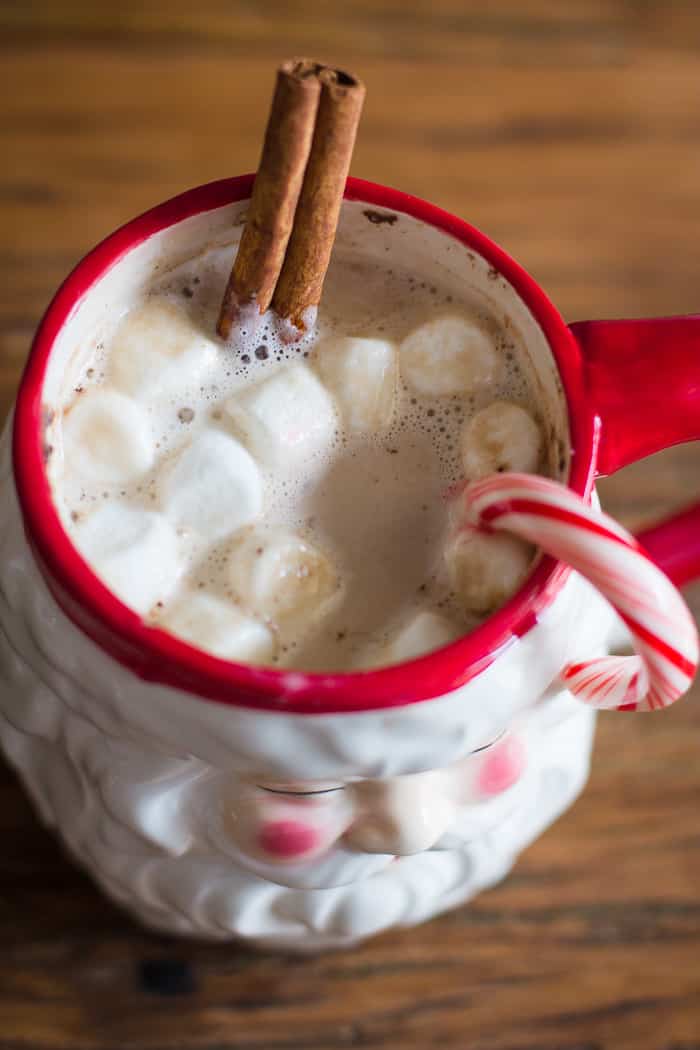 I made this Homemade Hot Chocolate mix a few weeks ago and have been drinking it on a more regular basis than I should actually admit. I've since taken to leaving out the marshmallows and instead substituting in a hefty portion of Gingerbread Whipped Cream. It's magical and everything that December should be. Hot Chocolate in an adorable (and maybe kind of creepy?) Santa mug.
Side note: lately, whenever I make Stephen any kind of hot drink, I serve it to him in this glass just to get a laugh out of him drinking out of it. I'm not sure he knows how much it amuses me :D
I make the Hot Chocolate Mix in a big batch which turns out to be just enough to get me through the holidays. Although, with my nice long break coming up, I might need a little extra. Although although, it's supposed to be nearly 70 in Nashville all week so I'm not sure how much I'll really need hot chocolate.
All it requires is throwing all of your ingredients into a food processor and letting it run for a few minutes.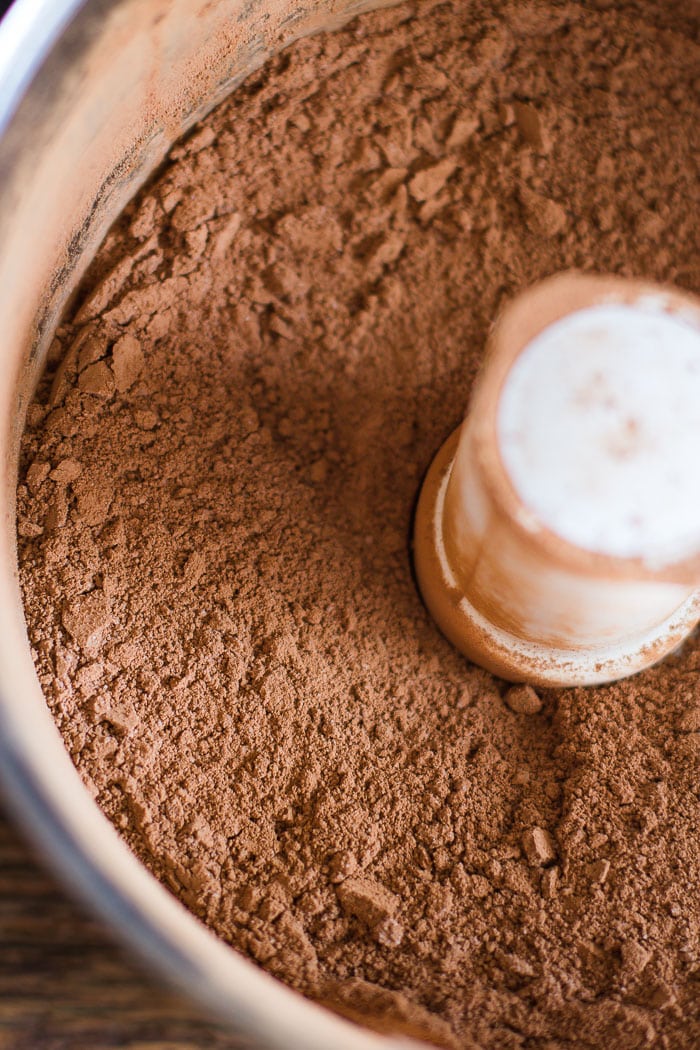 The hot chocolate mix is then mixed with a cup of steaming hot liquid (preferably milk, almond milk works great!!) and stirred nicely.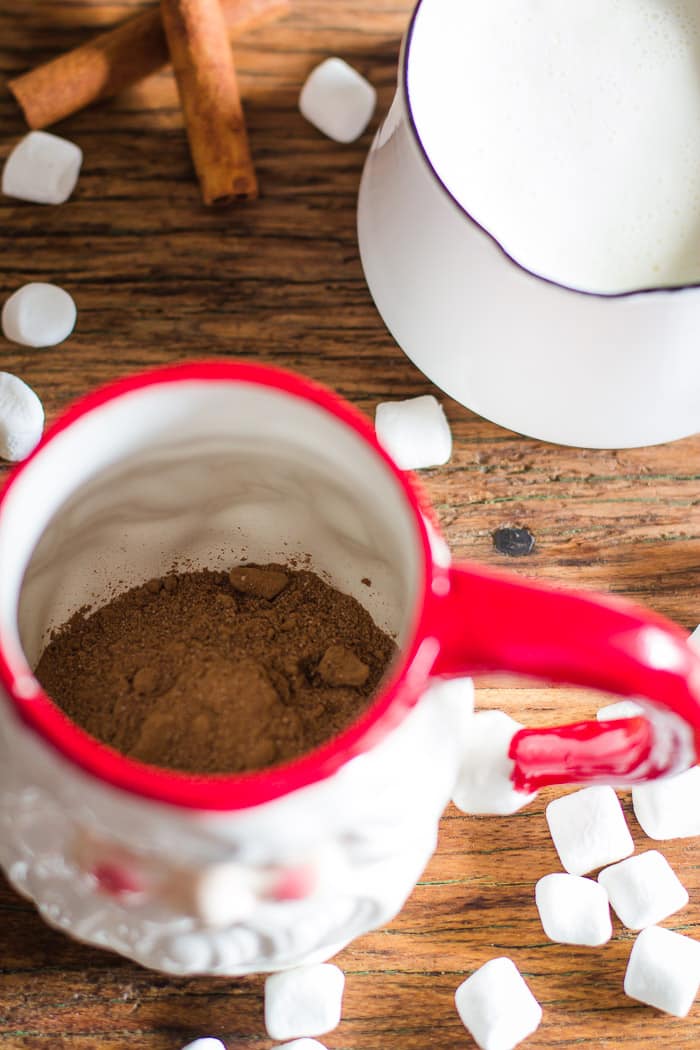 I love it too because you can put so many wonderful variations on the original. You can add peppermint, cinnamon, nutmeg, gingerbread spice, pumpkin spice, a bit of chili powder. I mean, the options are endless and delicious! :D My personal favorite is just a simple candy cane sticking out the side that melts slowly in the cup and adds a lovely peppermint flavor.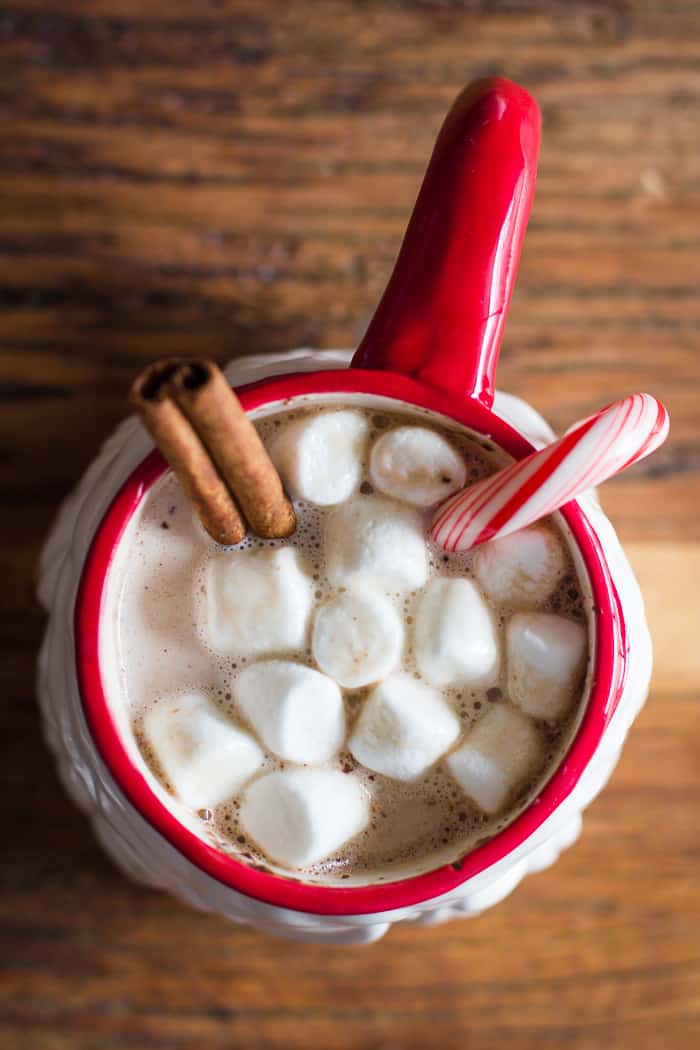 Happy Monday friends!! A nice break and CHRISTMAS are so so near.
Print
Homemade Hot Chocolate Mix
---
1 cup

of cocoa powder

1 cup

of sugar

1/2 cup

of powdered milk

6 ounces

of good chocolate, roughly chopped

1/4 teaspoon

of sea salt
---
Instructions
Place all of the ingredients in a food processor or high powered blender.
Process for a few minutes or until the chocolate is completely broken down and you have a good powder (picture above).
To make hot chocolate: combine 2 tablespoons of powder with 1 cup of hot liquid. Milk is best but hot water will also work. Stir for about 20-30 seconds. ENJOY!!
Prep Time:

5 minutes

Cook Time:

3 minutes
This post may contain affiliate links. Please read my disclosure policy.