Eggnog Waffles w/ Gingerbread Whipped Cream
This post may contain affiliate links. Please read my disclosure policy.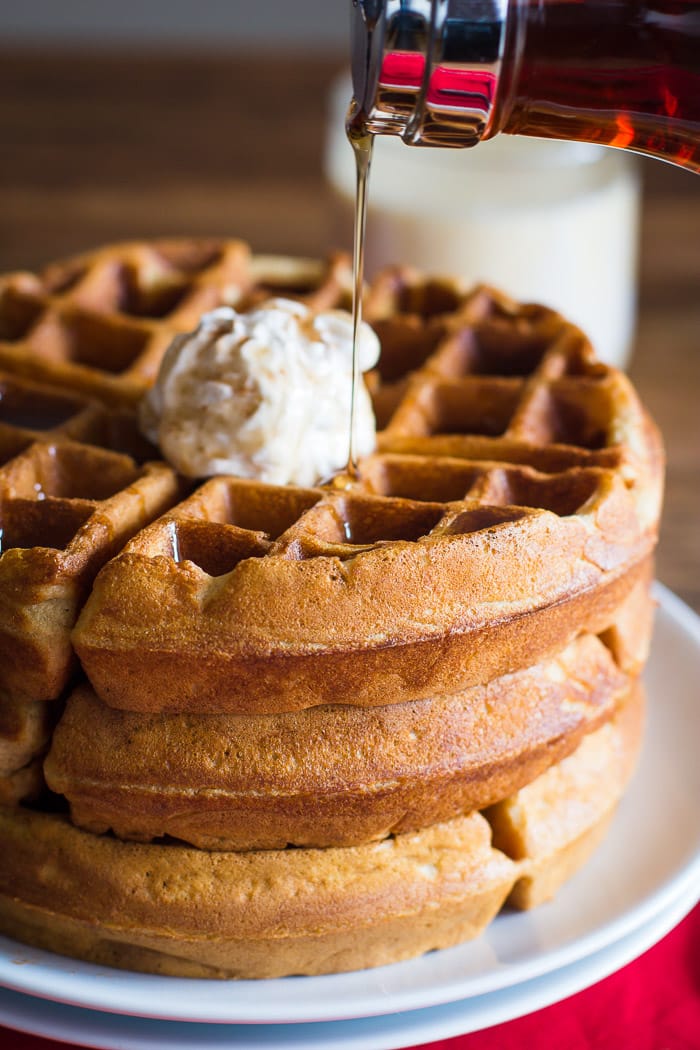 GUYS. These waffles! Eggnog Waffles. It's a think and it's brilliant (if I do say so myself).
Whenever we make waffles, we always make a big batch of them and then freeze all of the extras. They re-heat super well and THUS we will be eating these on Christmas morning and I can hardly wait. It's like a gourmet breakfast that's as easy as popping frozen waffles in the toaster. MMmmmmm.
Bonus: I made a big batch of Gingerbread Whipped Cream to go with it because 1) YUMMMM 2) I have extra gingerbread spice laying around and figured, why not? Sometimes, I make really good decisions.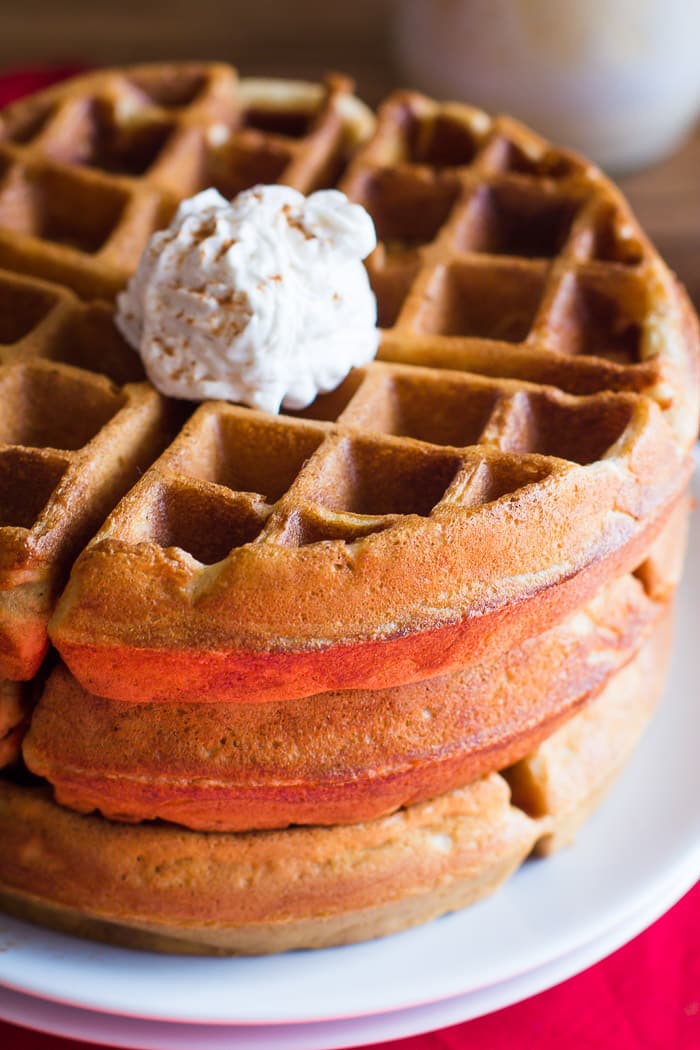 Stephen is actually the waffle maker in our house. I mean, he is the waffle maker operator. The first time I tested this recipe, Stephen wasn't home and I had to work the waffle maker on my own and somehow I managed to do it wrong. I think I just undercooked them. There's really no telling.
So the next time I tried this recipe, I made sure that it was at a time when Stephen was home to help out so that I could produce these amazing, delicious, and fluffy Belgium Eggnog Waffles.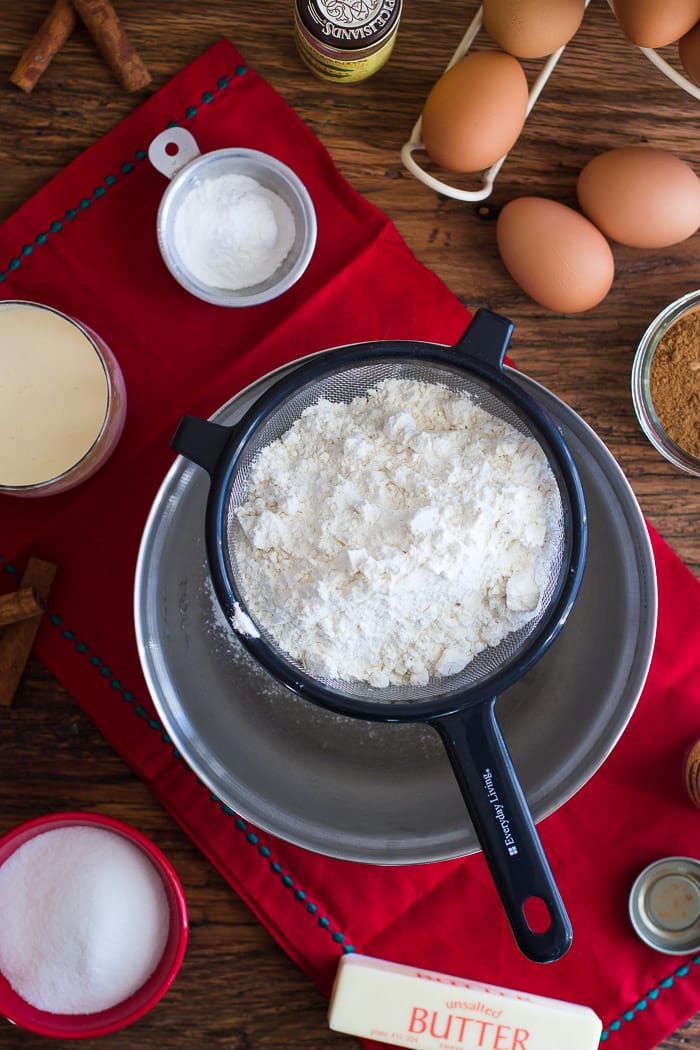 Here's how these waffles go….
The dry ingredients are sifted together.
The egg whites are set aside and the remaining wet ingredients are mixed together (including EGGNOG!).
THEN the wet ingredients and the dry ingredients are mixed all together and you're almost there.
To enhance the fluffy-ness of these already delicious waffles, the egg whites are whisked separately until stiff peaks form (to see what stiff peaks look like, see THIS post). The egg whites are then folded in and you're basically ready to make waffles.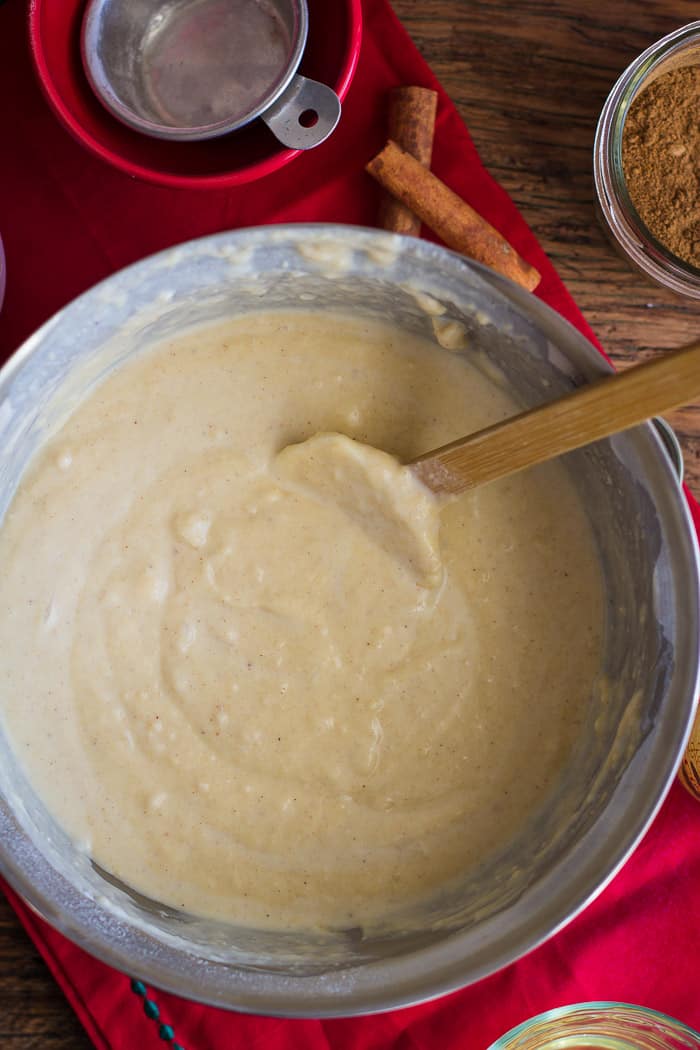 Now all you have to do is kick your feet up while your husband operates the waffle maker.
Or, go make the whipped cream and dump loads of Gingerbread Spice into it.
I highly recommend that you make these waffles THIS weekend and then freeze the extras to eat on Christmas morning! Do it!!
Happy weekend before Christmas week, friends!! I hope you're eating lots of waffles, drinking lots of egg nog and hot chocolate, and not stressing too much about the presents.
Print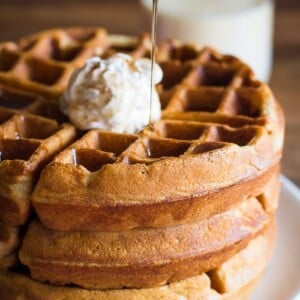 Eggnog Waffles w/ Gingerbread Whipped Cream
---
Total Time:

30 minutes

Yield:

6

1

x
For the waffles:
2 cups

of all purpose flour

1/2 cup

of sugar

3 1/2 teaspoons

of baking powder

2

eggs, SEPARATED

1 cup

of eggnog

1 1/2

sticks of butter (

3/4 cup

), melted

1/2 cup

of water

1 teaspoon

of cinnamon

1/2 teaspoon

of nutmeg
For the Gingerbread Whipped Cream:
---
Instructions
For the waffles:
In a large bowl, sift together the flour, sugar, and baking powder.
In a separate bowl, lightly beat the egg yolks and then mix in the egg nog, butter, and water. Mix thoroughly.
Stir the wet ingredients into the dry ingredients until fully combined. Set aside.
Beat the egg whites until stiff peaks form. Fold the egg whites into the batter.
Bake the waffles in a pre-heated waffle iron according to manufacturer's directions until golden brown. For our waffle maker, it's best of we vigorously bang the waffle maker back and forth a few times to evenly distribute the batter. Then cook for about 3 minutes on one side, flip the waffle make and cook for an additional 2 minutes.
Prep Time:

10 minutes

Cook Time:

20 minutes
This post may contain affiliate links. Please read my disclosure policy.