Homemade Peanut Butter
This post may contain affiliate links. Please read my disclosure policy.
I've found myself making a lot of recipes with peanut butter lately and I wanted to share with you how I make my own peanut butter and why I prefer it to store bought nut butters (that aren't a million dollars a jar).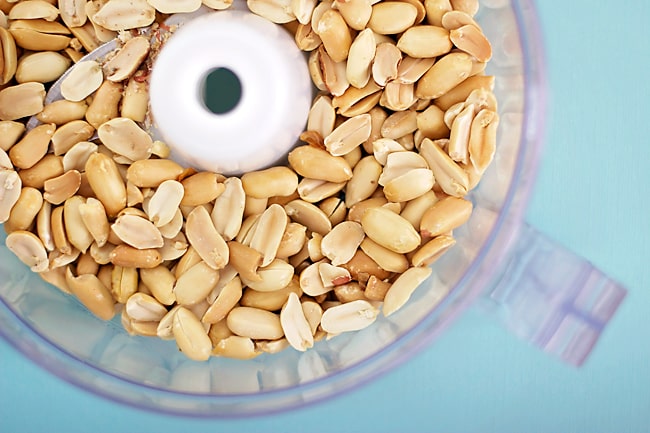 I never make peanut butter the same way and I don't have a precise recipe that I use. It really all depends on how I feel on that day. I started making homemade peanut butter for my dogs. I don't give it to them often but they LOVE peanut butter and I wanted to make sure that they aren't getting a bunch of extra stuff in there that they don't need.
I loved the simplicity and the taste of it so much though that I started making big batches of it so I had some for myself too.
I keep it simple with just roasted peanuts and sometimes a tad bit of oil. For myself, I almost always end up putting a nice big spoonful of honey in there as well. I love me some honey peanut butter!
It's really as simple as that. Place your roasted peanuts in a food processor and process until they get creamy.
It takes a while in the processor to get to the consistency of peanut butter. So be patient. Mine typically takes a good 10-15 minutes.
I also stop the processor every few minutes to scrap the sides, let the processor cool, and add a touch of oil or honey if necessary.
After a bit, your peanuts will be butter! It's really that simple.
Have you made any homemade nut butters before??
This post may contain affiliate links. Please read my disclosure policy.