BBQ Jackfruit
This post may contain affiliate links. Please read my disclosure policy.
Jackfruit BBQ- this EASY and delicious recipe is going to be your new favorite way to enjoy summer bbq!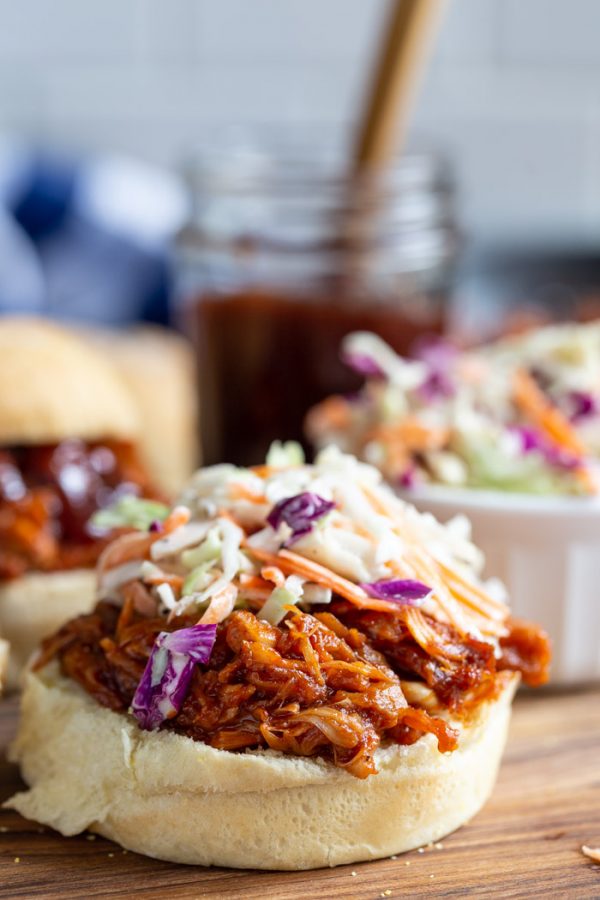 GUYS! I've been so excited to share this Jackfruit BBQ recipe with you! Have you tried jackfruit? It's relatively new to me and I'm loving it. I haven't tried it raw and directly from the fruit but the young, canned jackfruit is my new bff 😍
I've had Jackfruit pulled pork at vegan restaurants a few times and was so excited to try it at home. I found the cans of young jackfruit at Trader Joe's but if you don't have one in your area and aren't able to find it anywhere else, you can get it HERE on Amazon (Amazon for the win!).
I bought a ridiculous amount of jackfruit recently and have so many recipe ideas that I can't wait to work on! So, be on the lookout for quite a few more jackfruit recipes in the near future 😋
This recipes requires less than 10 ingredients and is surprisingly easy to make. Let's jump in!
But wait, what is jackfruit anyways?
Jackfruit is a large tropical fruit that's relatively inexpensive to buy whole. You can eat it raw, like other fruits. The jackfruit that we're using in this particular recipe (and that is typically used in meat replacement recipes like this) is young GREEN jackfruit.
I won't pretend to be an expert on Jackfruit but if you want to learn more, HERE is a more detailed description!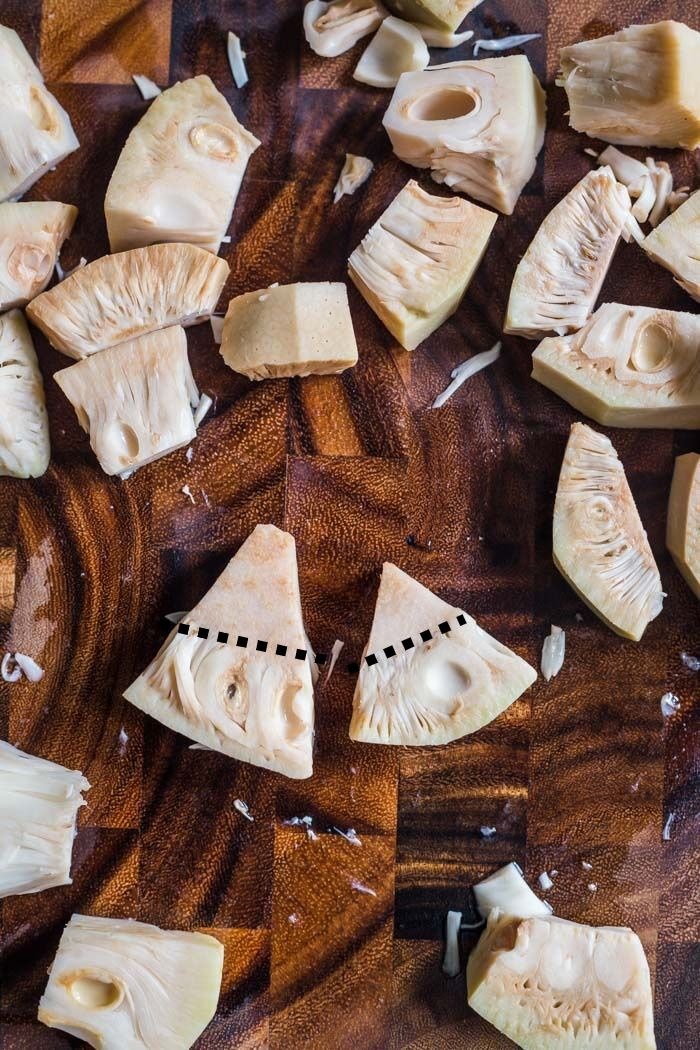 How to make this BBQ Jackfruit Recipe:
Start out by draining, rinsing, and lightly patting dry the canned jackfruit. Cut off the core of the jackfruit pieces (the pointed part) as they don't taste or shred well (it's similar to the core of a pineapple). See photo above for reference.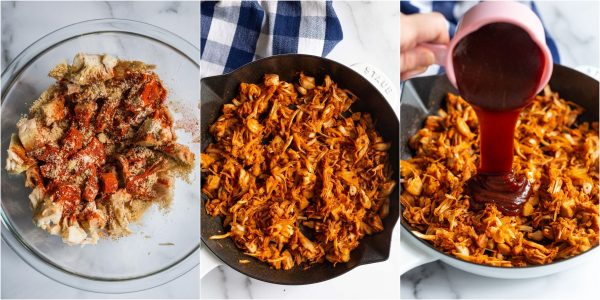 The jackfruit is placed in a large bowl along with the remaining ingredients minus the oil and bbq sauce. It's then cooked in a large skillet oven medium heat until warmed through.
The bbq sauce is then poured into the skillet and mixed thoroughly so that the jackfruit is fully coated.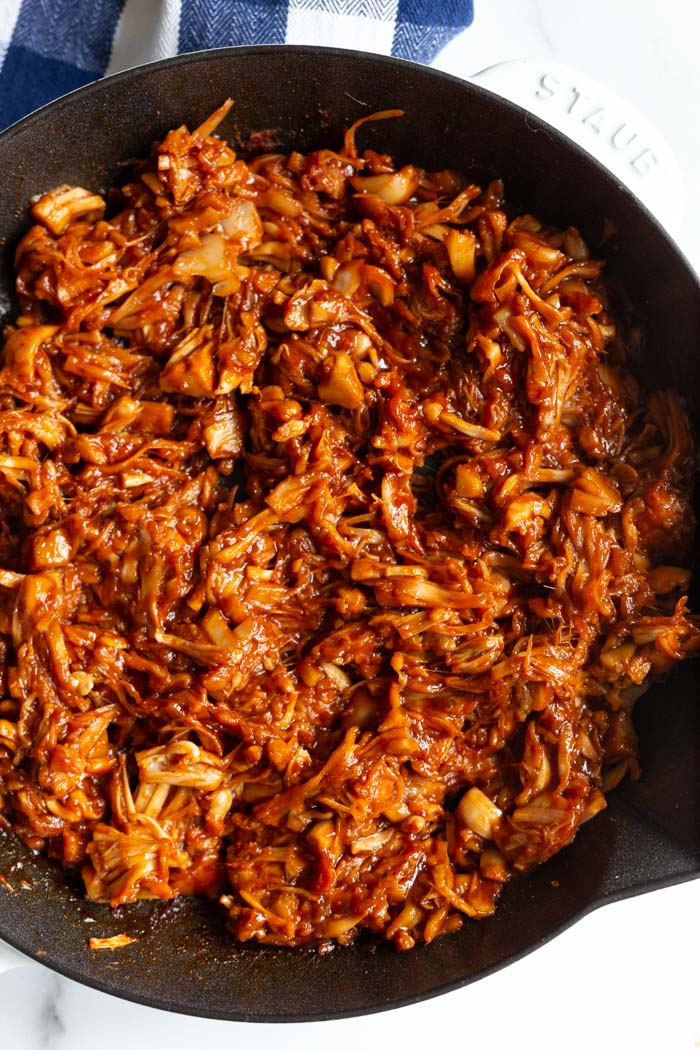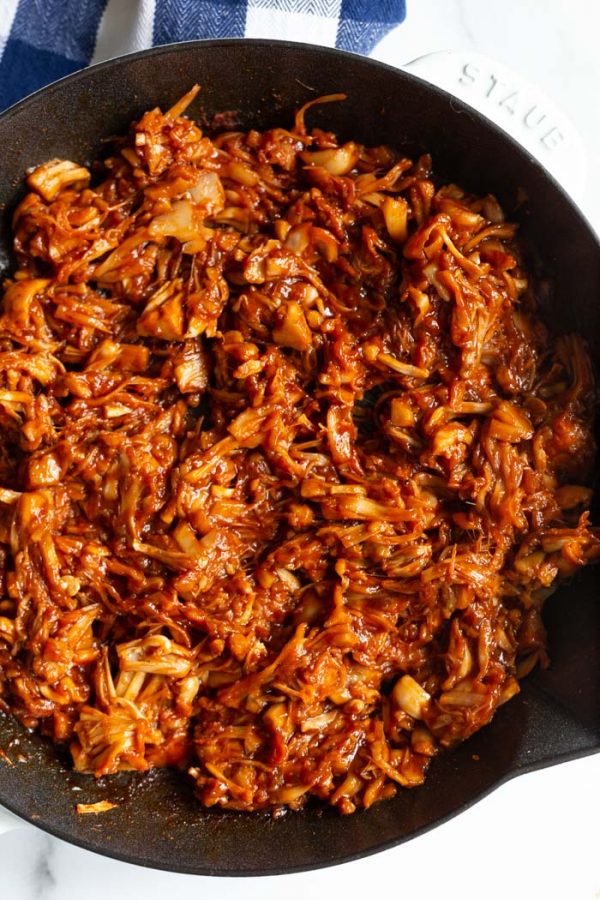 Now just serve it up and ENJOY! Surprisingly easy, right?
Guys, even my mom liked this jackfruit recipe and she's one of those people that is instantly turned off by any faux meat or any recipe with the word "vegan" in it. lol. So what I'm saying is: you need it in your life!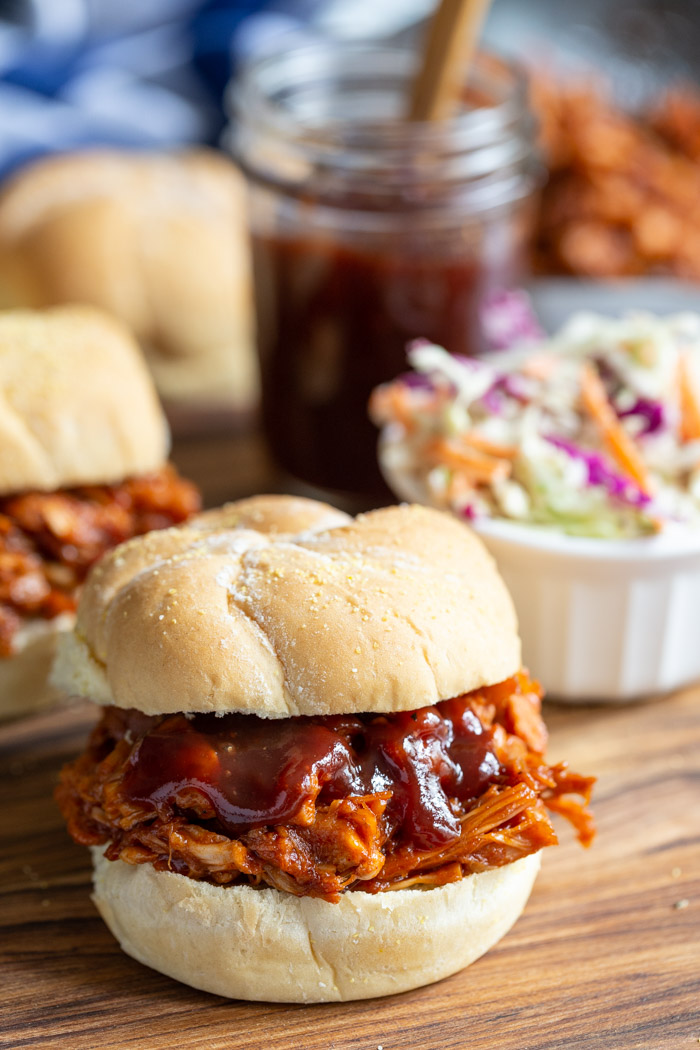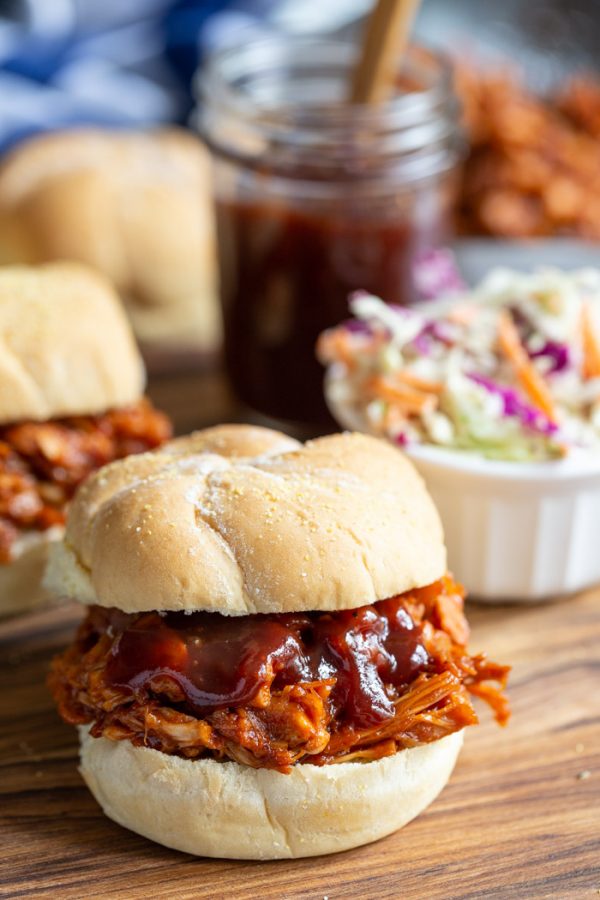 I highly recommend serving this with the Homemade Vegan Coleslaw that I posted last week ;)
SO good and the whole thing is just so easy to throw together! I plan on making this QUITE a few times this summer.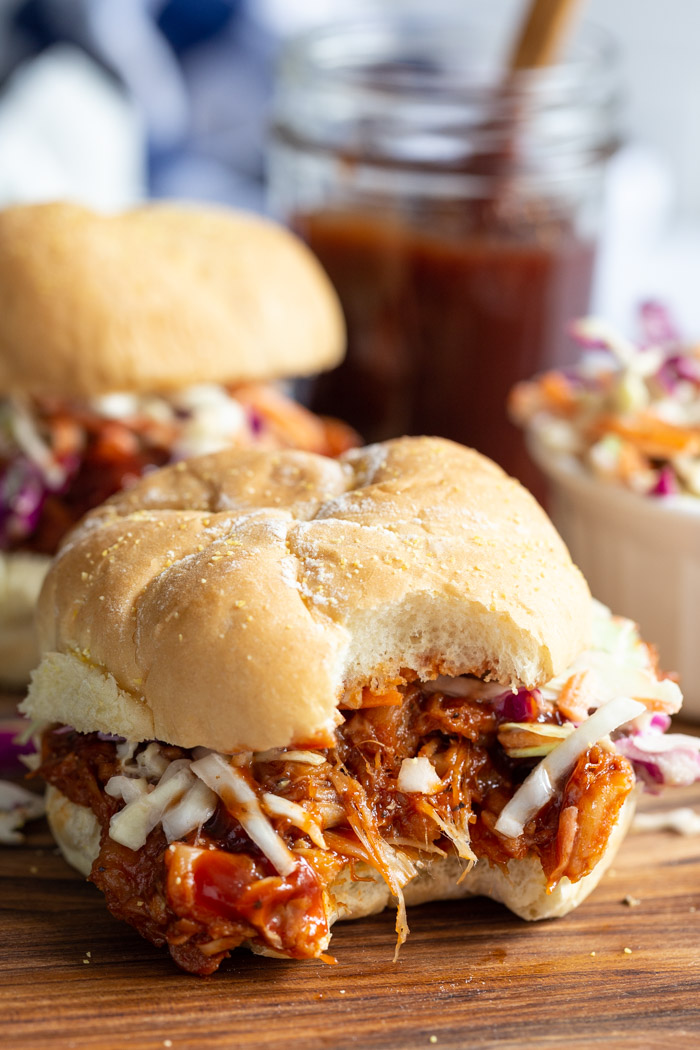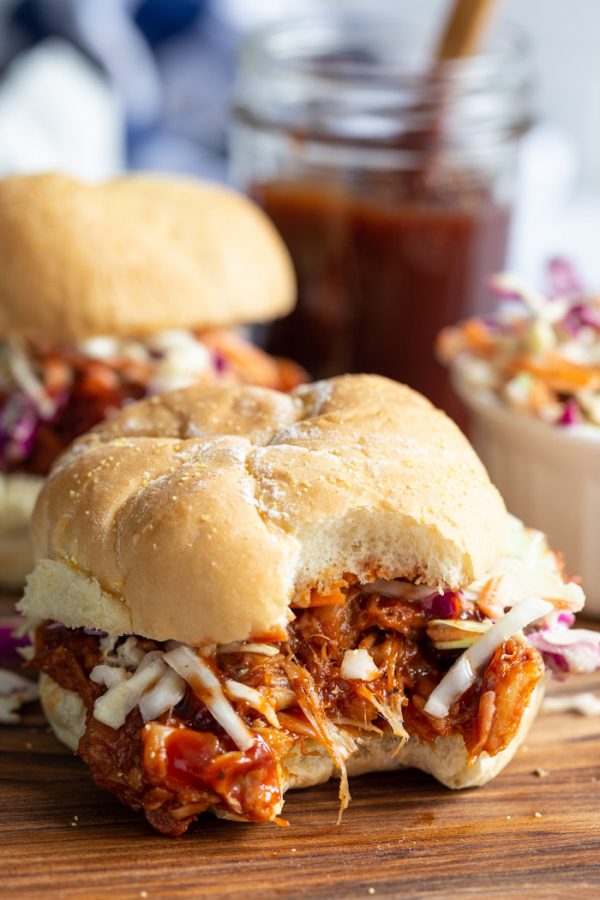 As usual, PLEASE let me know if you make this recipe and how you like it! You can come back here and leave a comment or tag me on instagram (@foodwithfeeling).
More jackfruit recipes are coming your way very soon! :)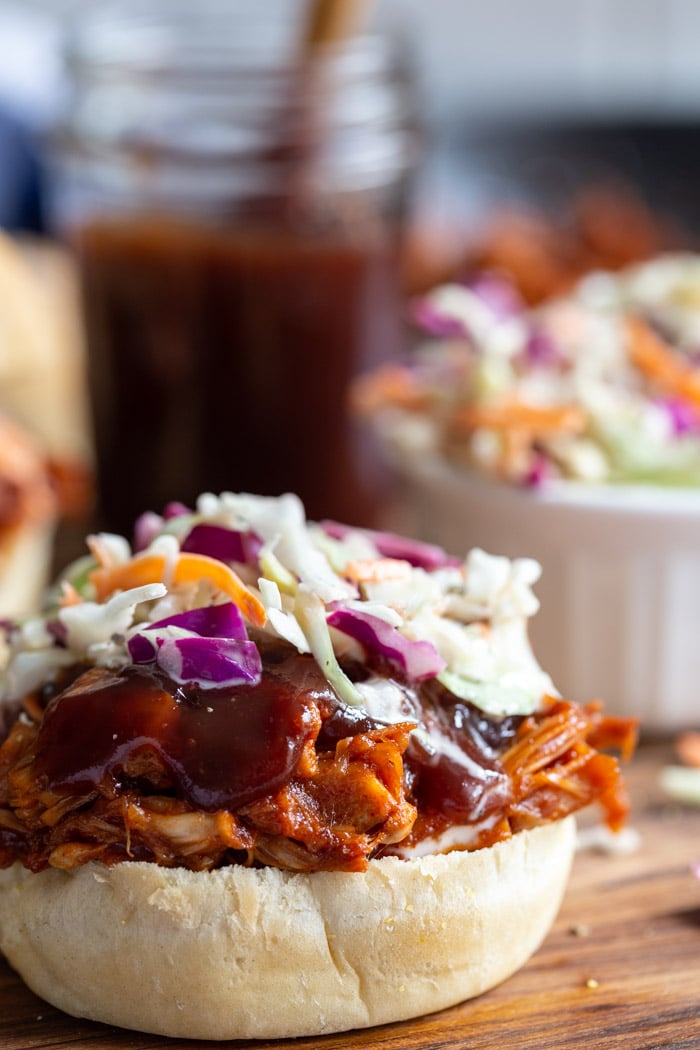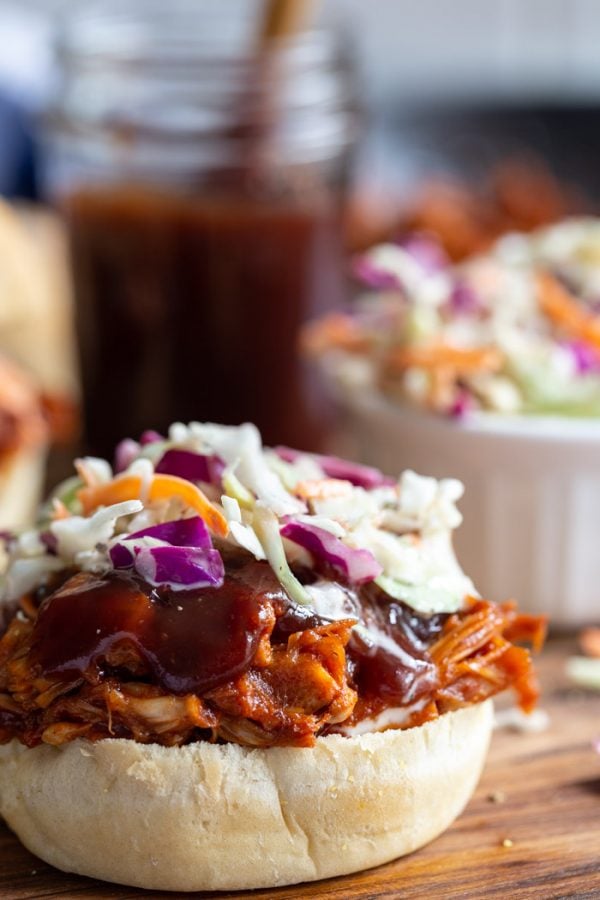 Some great vegan side dishes:
See how to make the BBQ Jackfruit:
Print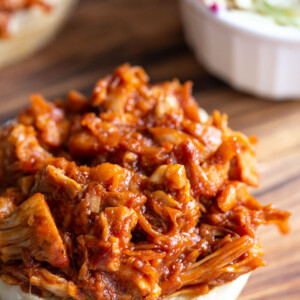 Easy BBQ Jackfruit
---
Description
Easy BBQ Jackfruit that is easy to make and a delicious meatless meal!
---
Scale
Ingredients
40 oz

of jackfruit (roughly 2 large cans), in water or brine

1 teaspoon

of garlic powder

1 teaspoon

of chili powder

½ teaspoon

of salt

1 teaspoon

of liquid smoke (optional)

1 tablespoon

of paprika

2 tablespoons

of brown sugar

1 tablespoon

of olive oil

1 cup

of bbq sauce
---
Instructions
Drain and rinse the jackfruit and then lightly pat it dry. Cut off the core so that you're only left with the outer parts that are the ones easy to shred. The core is the part that comes to a point (see photo above).
Place the jackfruit in a large bowl and lightly shred with 2 forks (we'll shred it a bit more while it cooks). Mix in the garlic powder, chili powder, salt, liquid smoke, paprika, and brown sugar. Toss to fully coat the jackfruit.
Heat the oil in a large skillet over medium heat and once hot, add in the jackfruit. Cook for about 5 minutes to heat through, stirring often. As it cooks, break up the jackfruit more with the back of a wooden spoon or using the same forks.
Remove from the heat and stir in the bbq sauce.
Serve and ENJOY!
---
This post may contain affiliate links. Please read my disclosure policy.