Kale and Brussels Sprouts Salad
This post may contain affiliate links. Please read my disclosure policy.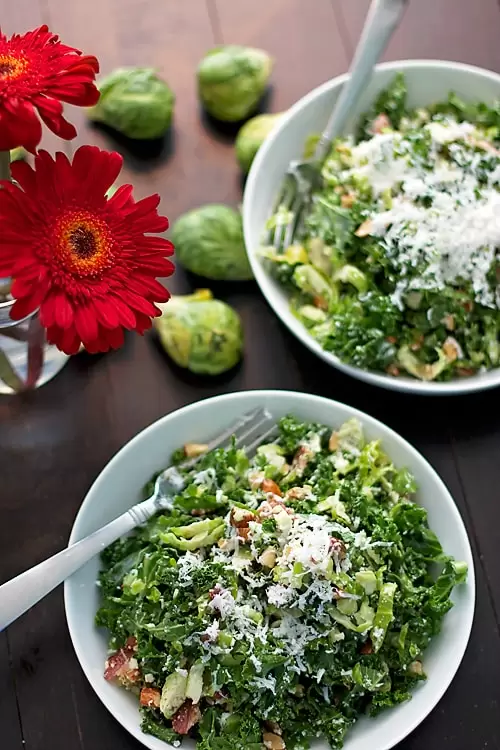 I did an engagement shoot this past weekend and, as usual, went home immediately to upload the photos and have a look through all of them (all 947 of them). In the middle of the upload, I got a scary message from my iMac informing me that it had next to no space left. I guess that has something to do with the 15 thousand+ raw files I've uploaded onto it just this year.
I'm pretty sure I've never maxed out the available space on a computer before. But then again, I've never been in the habit of uploading this magnitude of raw pictures before either. Luckily Stephen knew what to do and promptly ordered me my first ever external hard drive. Which is something I've been meaning to get around to anyways. Pretty soon I'll have 2 more terabytes or storage to fill up and that makes me very happy.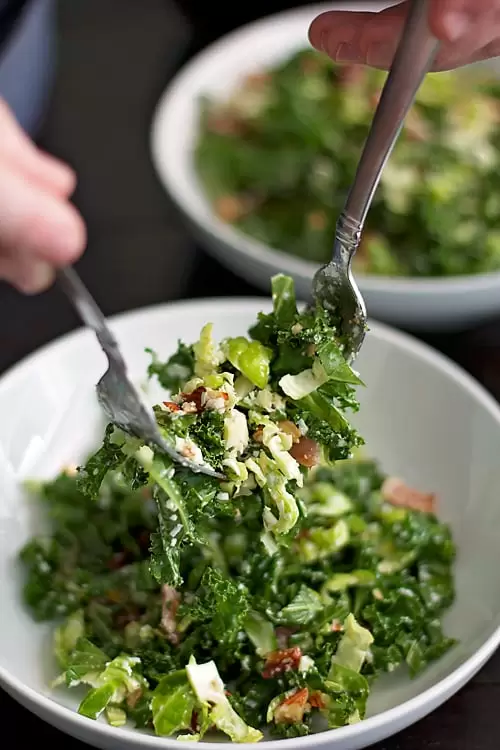 Also, this salad. This salad makes me very happy. It has in it all of the goodness in life: greens, bacon, and cheese. If only I could find a way to work dark chocolate into this recipe, my life would be complete.
Growing up, brussels sprouts always had negative connotations in my mind. I avoided them throughout most of my life because of this. Until one day I randomly decided to try them at a relatives house and LOVED them. That could have had something to do with the fact that they were covered in butter and garlic; who's to say. But now I love them any which way: buttered, baked, fried, raw.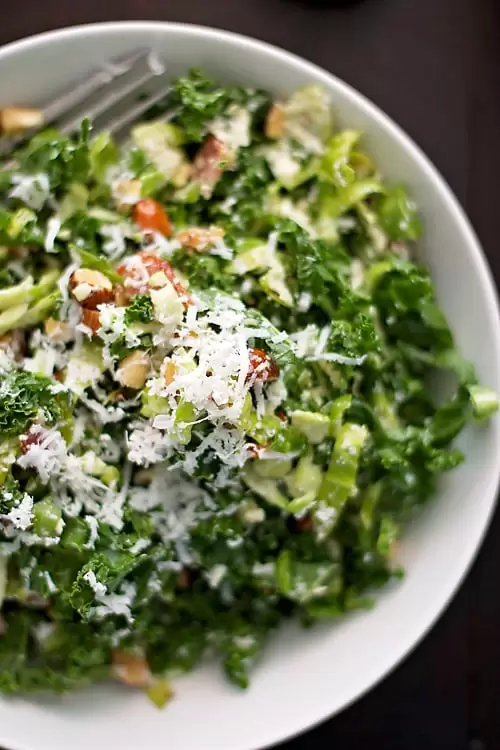 Today we're going light and raw. The dressing for this is very similar to this dressing that we made before.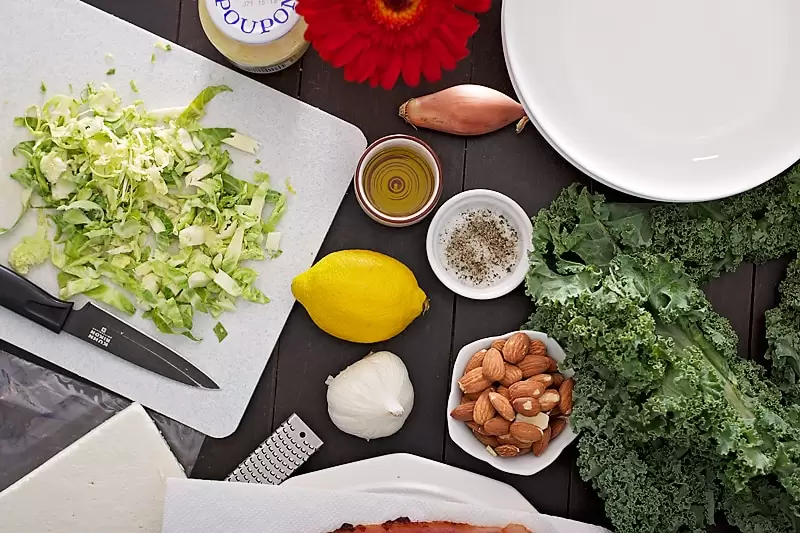 First lets make the dressing. It's super easy and better than anything you'll buy at the store! Simply mix the olive oil, lemon juice, garlic, mustard, and S&P in a bowl until they are well combined.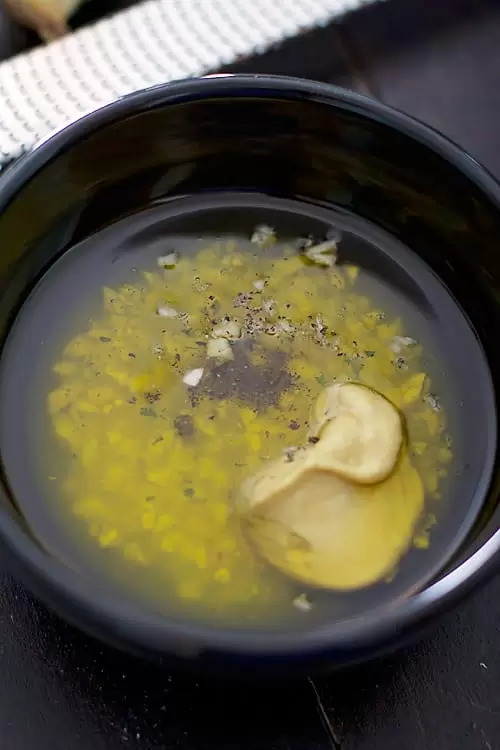 Unrelated. I'm one of those people that is a HUGE SUCKER for advertising. The Grey Poupon commercials still ring in my head from my childhood and clearly Grey Poupon is better than it's alternatives, right? Pardon me, would you happen to have any Grey Poupon?? #thisistotallynotabranddeal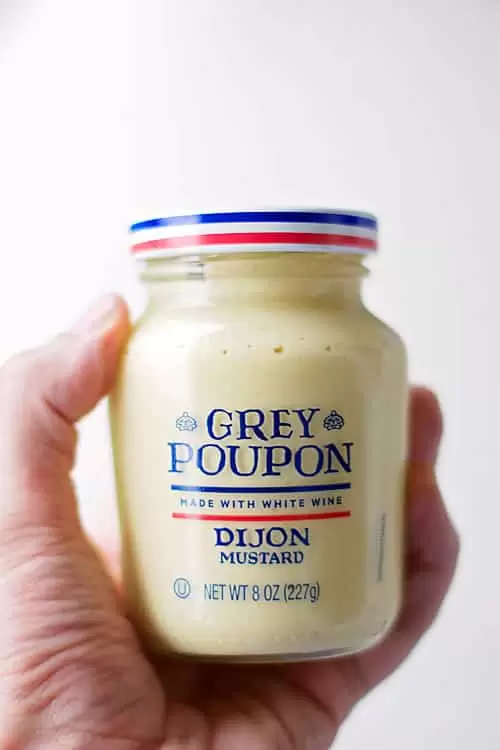 Onto the salad: start by thinly slicing your kale and adding it to a large bowl.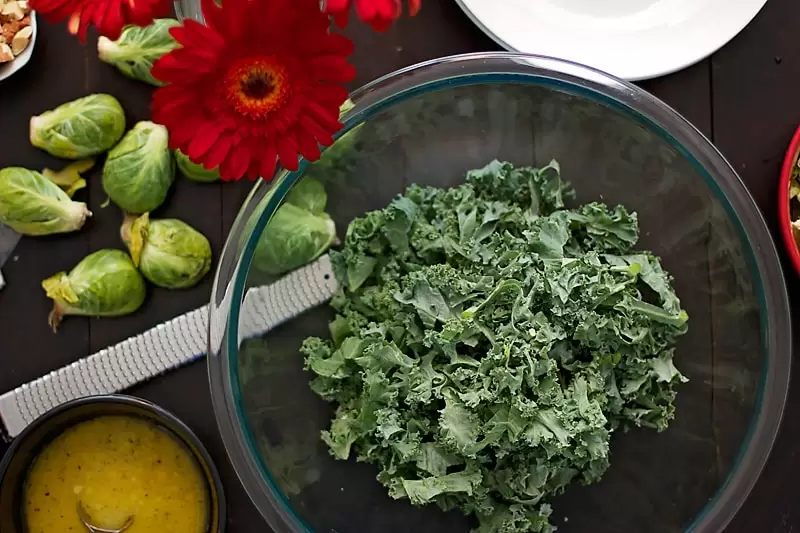 Then you'll do the same with your brussels sprouts. You can use a grater for these or, as I did, you can just use a knife to cut them into thin slices. Throw it all into the bowl with the kale to let them mingle.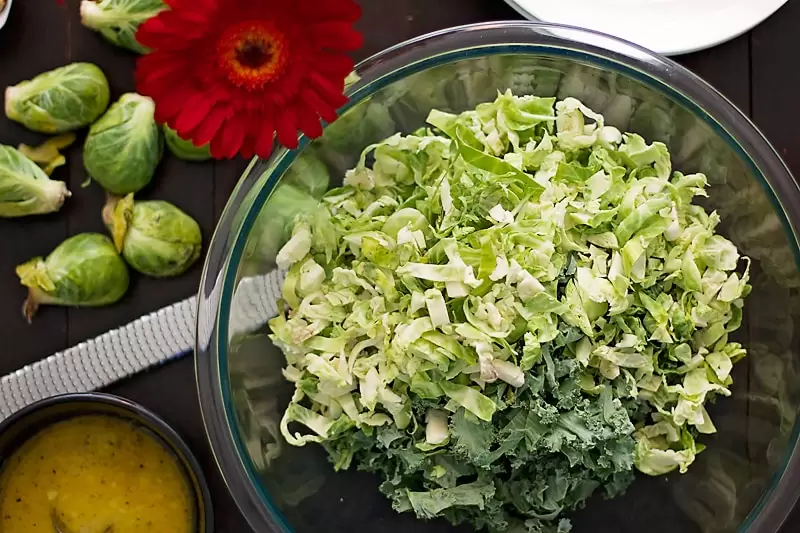 Throw in your chopped almonds and give it a good toss.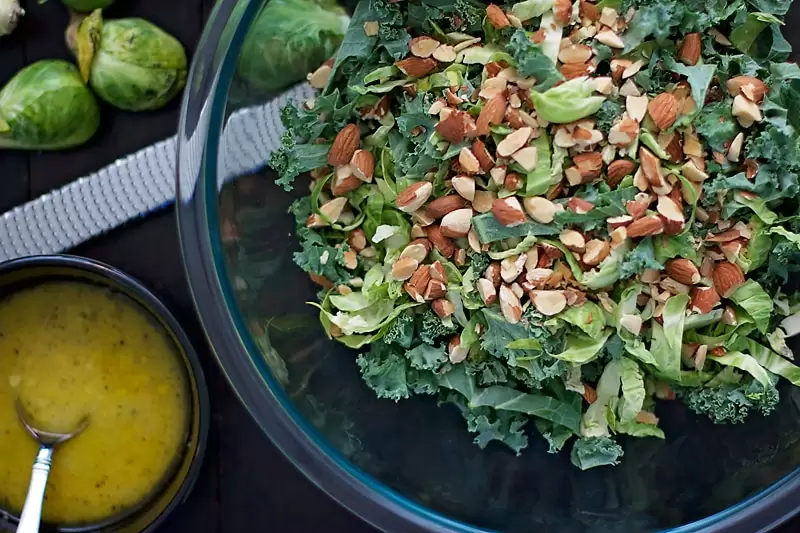 Finally, add in all the goodness that is the dressing, cheese, and bacon.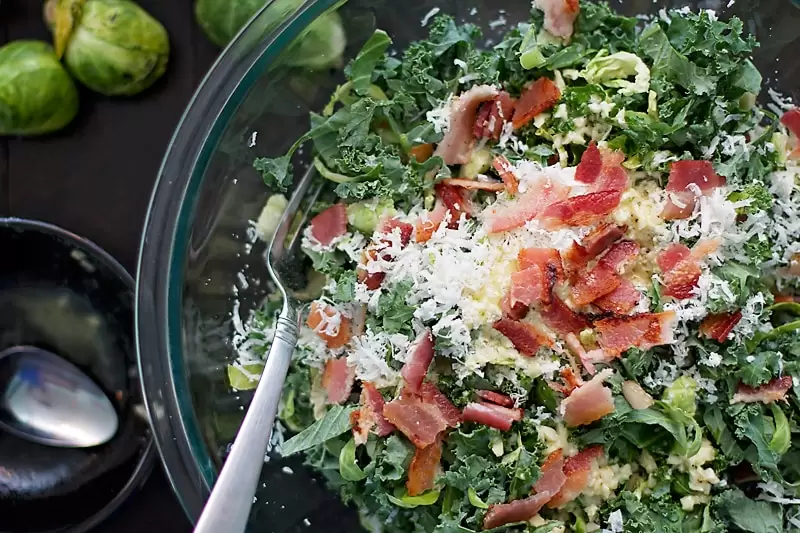 Once again, give that a good toss.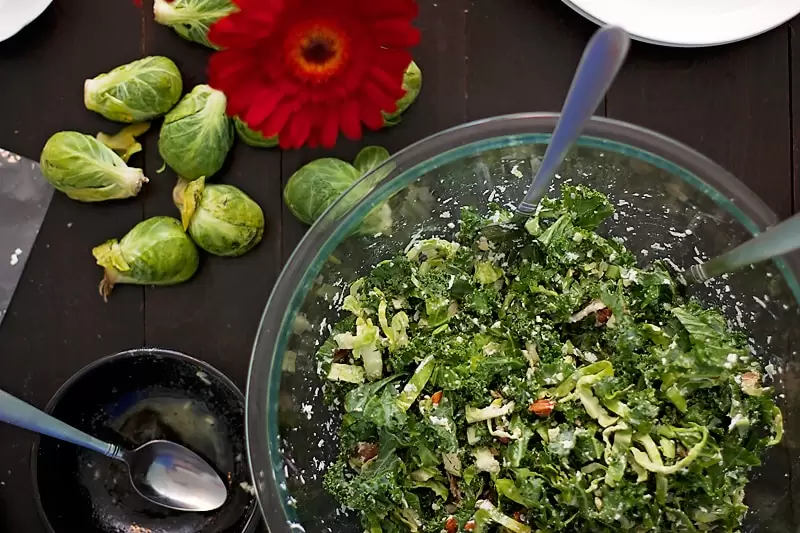 All that's left now is to serve it up, grate a touch more cheese on top, and ENJOY!!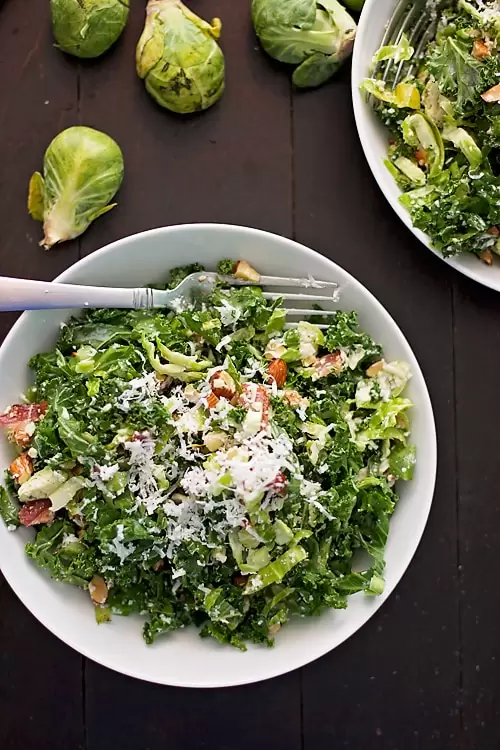 Print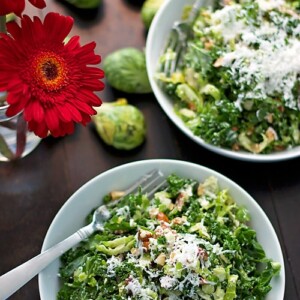 Kale and Brussels Sprout Salad
---
Dressing:
1/4 cup

of extra virgin olive oil

1 tablespoon

of dijon mustard

2 tablespoons

of lemon juice

2

cloves of garlic, minced

1/4 tablespoon

of sea salt
Pepper to taste
Salad:
~8 brussels sprouts, thinly sliced with a knife or box shredder

3 cups

of kale, thinly sliced

1/4 cup

raw almonds, chopped

1/3 cup

parmesan cheese, grated

4

slices of bacon, any kind, cooked and chopped
---
Instructions
Start by combine all of your dressing ingredients (olive oil, mustard, lemon juice, garlic, S&P) and whisk until thoroughly combined.
In a large bowl, combine kale, brussels sprouts, almonds, cheese, bacon, and dressing.
Stir until greens are well coated.
Serve immediately and enjoy!
Happy Tuesday to you!
This post may contain affiliate links. Please read my disclosure policy.