Kale & Quinoa Patties (old)
This post may contain affiliate links. Please read my disclosure policy.
**I have posted an updated version of this recipe that can be found HERE!**
FOOD FRIDAY!: Kale and Quinoa Patties (recipe adapted from
Yummy Supper
)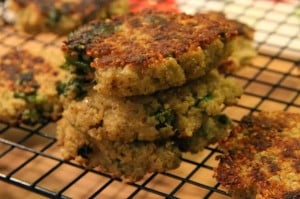 I'm going to start a little thing called food Friday and we'll see how long I can keep it up. I learned many things in the process of trying to document a recipe that I have made 100 times. The most important being that I REALLY need a new lens for my camera if I want to take pretty, up-close pictures of food. Good thing Christmas is coming up :) So, yea, the pictures aren't nearly as pretty as I would have liked and at a certain point, I gave up. But, I'm still going to share the recipes and the few pictures that I got. Hey, I'm learning here.
I have a TON of fresh kale growing in my garden so I wanted to make something that incorporated that. I've made this recipe a LOT over the past year or more. It makes quite a few patties so I like to make it for dinner on a Sunday night so that I have the leftovers to take to work for lunch a few days. I would think of my recipes more as suggestions rather than "follow what I say exactly". Everyone likes different things. For example, I almost always triple the garlic in most recipes.
You'll need:
1 cup uncooked quinoa
4-6 stems of kale, steamed (about 1-2 cups chopped up)
1 cup breadcrumbs (I use Italian)
4 eggs, whisked
2-5 spring onions, thinly sliced (or 1 small whatever onion you prefer)
1/3 cup Parmesan cheese*
2-6 cloves garlic (your preference), minced
1 teaspoon salt
fresh ground pepper
olive oil (or coconut oil)
*I've made it without the Parmesan cheese and it turns out okay. It tastes best with it for sure and holds everything together a bit better.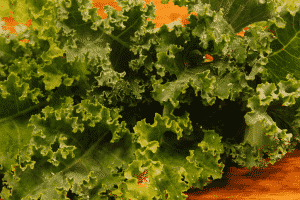 Get cooking:
Cook the quinoa and then let it cool down for a bit
Steam kale by placing chopped up pieces in about 1/2 cup of water over medium heat
Thinly slice your onion(s)
In large bowl, mix together quinoa, kale, eggs, breadcrumbs, onion, garlic, parmesan cheese, and salt.
Form mixture into small balls (usually makes about 12-15 depending on size. I've found that they cook best when you keep them small.)
With a little oil, cook patties (about 4 at a time depending on the size of your pan). About 5 minutes on each side should do it but keep an eye on them. Once they get about medium brown, I know that side is done.
EAT: these are great by themselves but I almost always top them with a few things. The first time I made them I tried them with some lime juice, avocado, and cilantro. Now, I almost always eat them with just avocado and cottage cheese on top. I have no idea what possessed me to ever try cottage cheese on top but I really like it.
Enjoy!!
This post may contain affiliate links. Please read my disclosure policy.