Peach Pie Smoothie Bowl
Peaches are in season which means that you need to make this Peach Pie Smoothie Bowl ASAP!! I wasn't lying when I said that I cannot get enough peaches in my life these days :)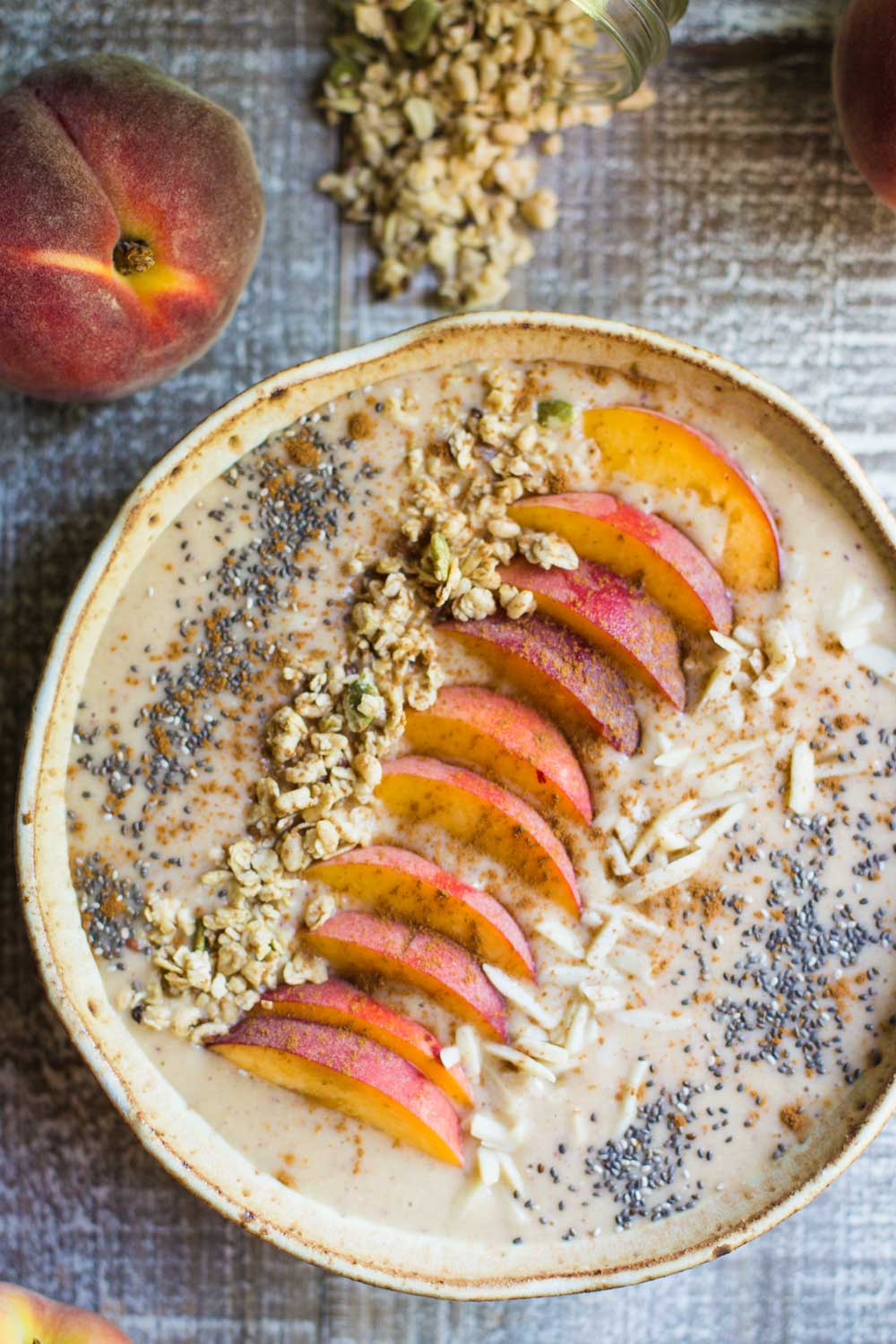 This is one of those weeks that I'm more happy than usual to welcome the weekend. Not for any particular reason, really. I'm just really happy to see you, Friday.
In completely unrelated news, one of my chickens laid an egg while I was holding her this morning. <<<there's a first time for everything, right? There was a bit of a traffic jam in the coop this morning and one of the chickens was blocking the door to the coop (for no apparent reason). So, I picked up the chicken (the one that I could tell wanted to get in to lay her egg) with the intention of placing her in the nesting box from the door that I usually open to take the eggs out. Before I could get her in there, the egg popped out, bounced off of my foot, and rolled away. Luckily, it didn't break (which is convenient since I had already accidentally broken an egg earlier this morning). The life of a farm girl :)
Alright, as per usual, I'm going to keep it brief this Friday AM. Lets all make our smoothie bowls, sit outside in the surprisingly cool weather (by cool I mean that it's only 80 degrees here in Nashville instead of the usual 95), and delight in the weekend.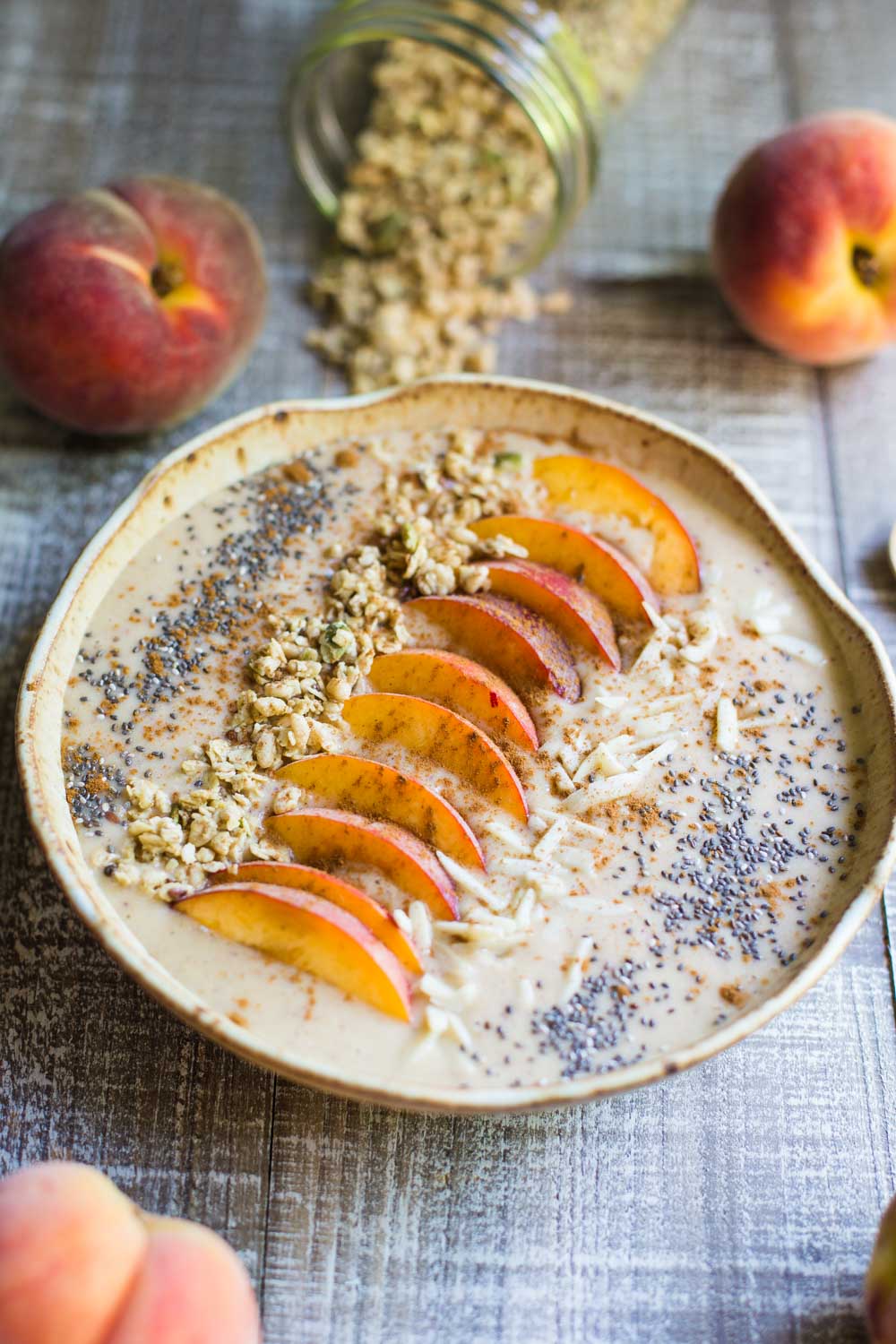 I CAN'T get enough peaches in my life these days and since they're still ripe, in season, and conveniently accessed from the Farmer's Market that I pass on my way home every evening, I've been consuming loads of them. <<< You will never hear me complain about that.
I hope you have a very lovely weekend that's filled with sunshine, long walks, and at least one large smoothie bowl.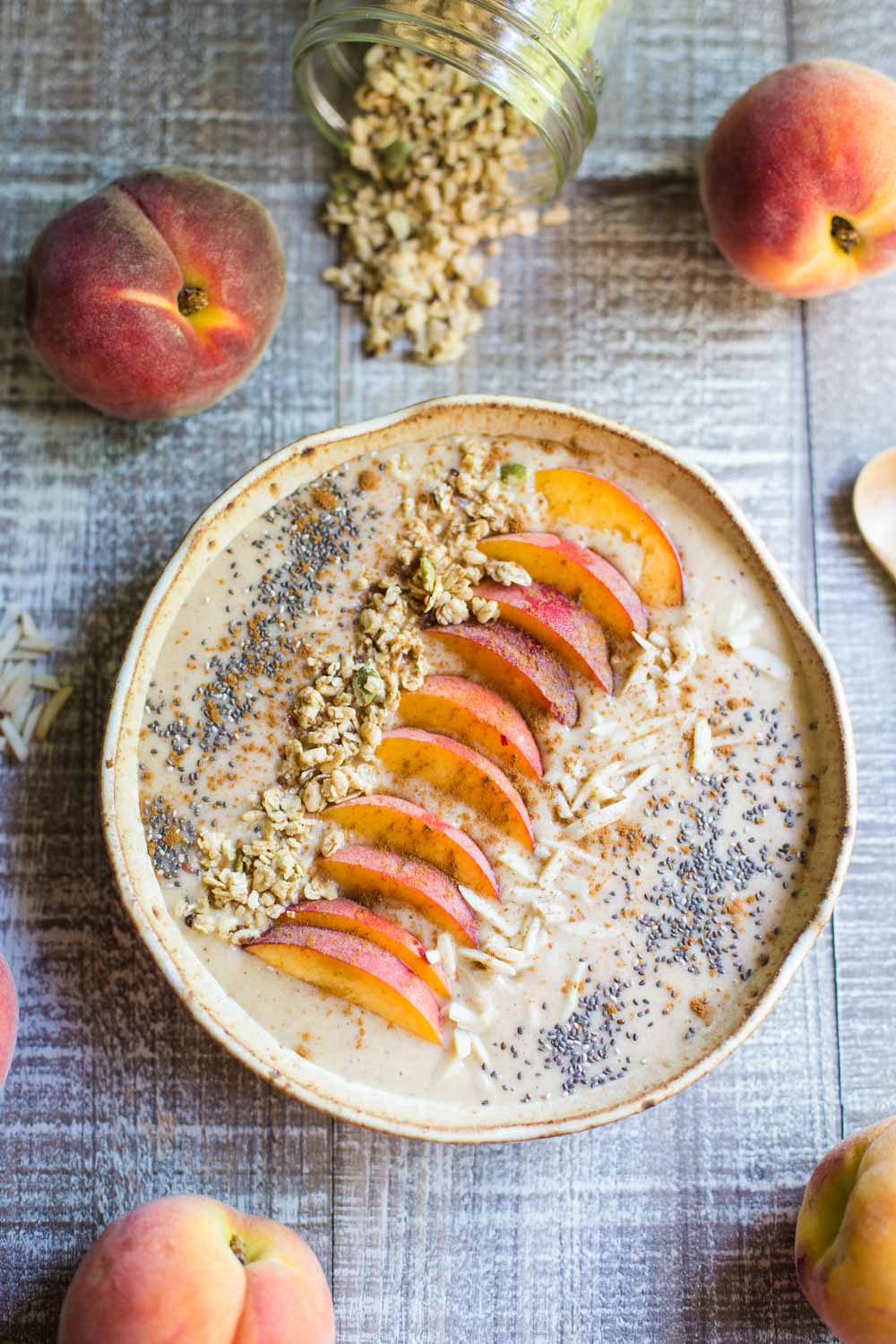 Print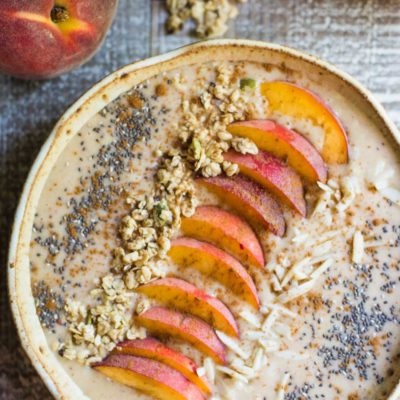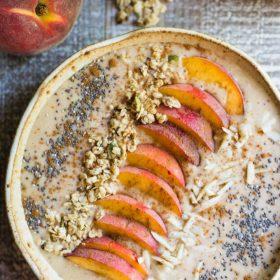 Peach Pie Smoothie Bowl
---
Author:
Prep Time: 5 minutes
Total Time: 5 minutes
Yield: 1 smoothie 1x
Scale
Ingredients
2 ripe peaches, pit removed
1/2 cup of almond milk
dash of cinnamon and nutmeg
1 banana frozen
1 small container of non dairy yogurt, preferably vanilla or unflavored (about 6–8 ounces)
1/4 cup of your favorite granola
optional: 1 scoop of protein powder
optional for topping: teaspoon of hemp seeds, additional granola, peach slices, almond slivers, chia seeds, dash of cinnamon
---
Instructions
Place all of the ingredients (minus the toppings) in a blender and process until smooth and creamy.
If needed, you can add in additional milk or water to reach your desired consistency.
Top with your toppings and ENJOY!! Easy enough, huh? :D
---