Pumpkin Spice Chocolate Chip Vegan Pancakes
This post may contain affiliate links. Please read my disclosure policy.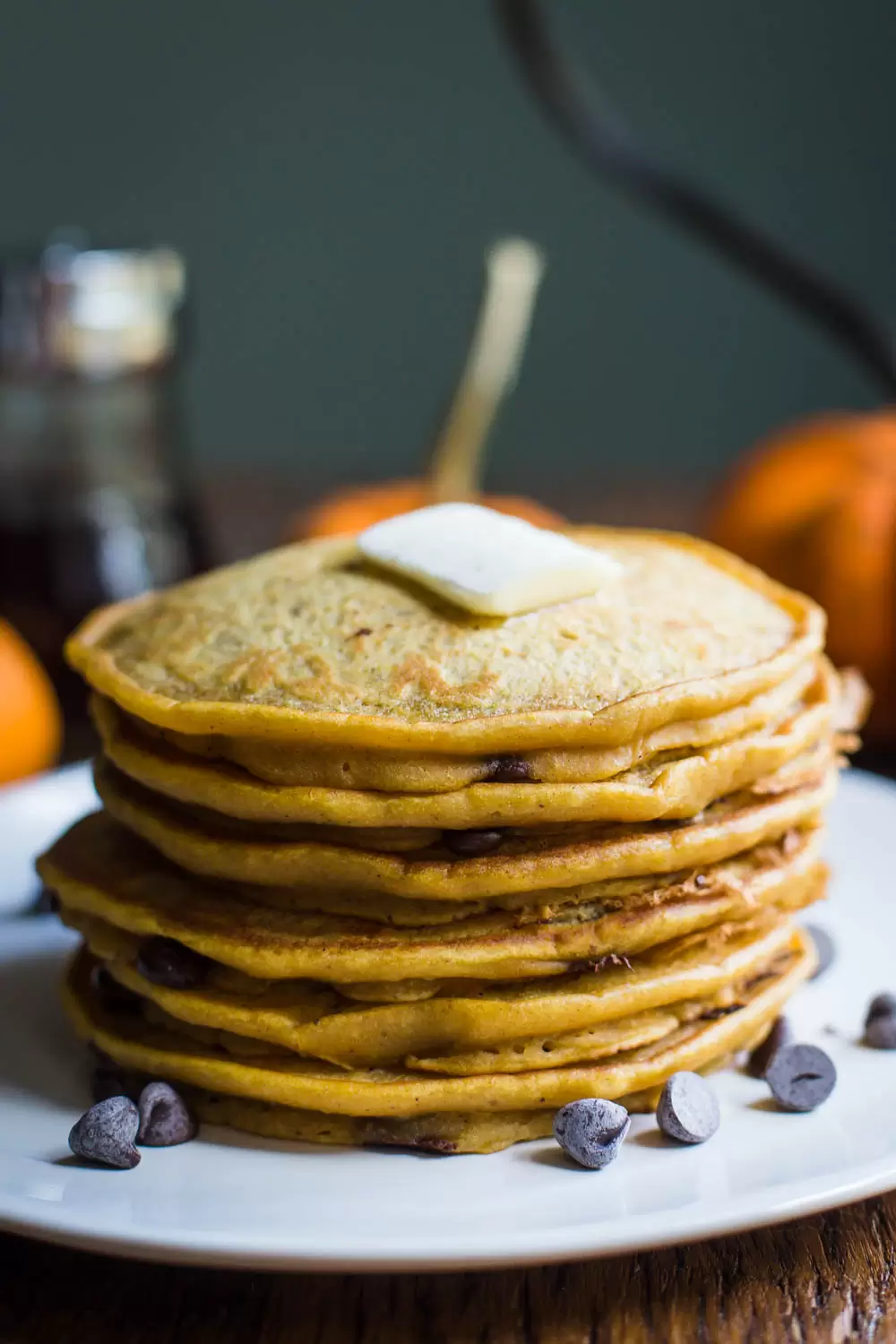 This Monday morning has hit me EXTRA hard today. It's hard coming off of a 3 day weekend where you worked pretty much the entire time while fighting off a cold/sinus infection/ something that made my head feel like it was going to explode. I'm happy to report that I'm mostly over the sickness but I can't say the same thing for the Monday morning blues.
Leftover pumpkin pie brownies that are a result of a client video always make a Monday morning a little brighter though :) Thanks goodness for the breakfast brownies! (fyi- huge bonus about working on client videos all weekend= loads of leftover yummy food!).
The mere thought of these Pumpkin Spice Chocolate Chip Vegan Pancakes also make me pretty happy. I've been buying pumpkin puree by the case full these days because this time of year, everything requires a little pumpkin added in (such as this pumpkin spice smoothie). Why not add a little into your pancakes? Hint: it's delicious!
Last minute, the chocolate chips were also thrown in and deemed to be an absolutely vital part of this recipe. I mean, they could be left out…..but then your pancakes are only about half as good. Still delicious, but seriously, just add in the chocolate!
I like to make my pancakes into mini pancakes (about 4 inches wide) so that I can stack them up really high and feel like I'm eating a MOUNTAIN of pancakes even though it's really just a normal portion of pancakes. It's certainly the little things in life.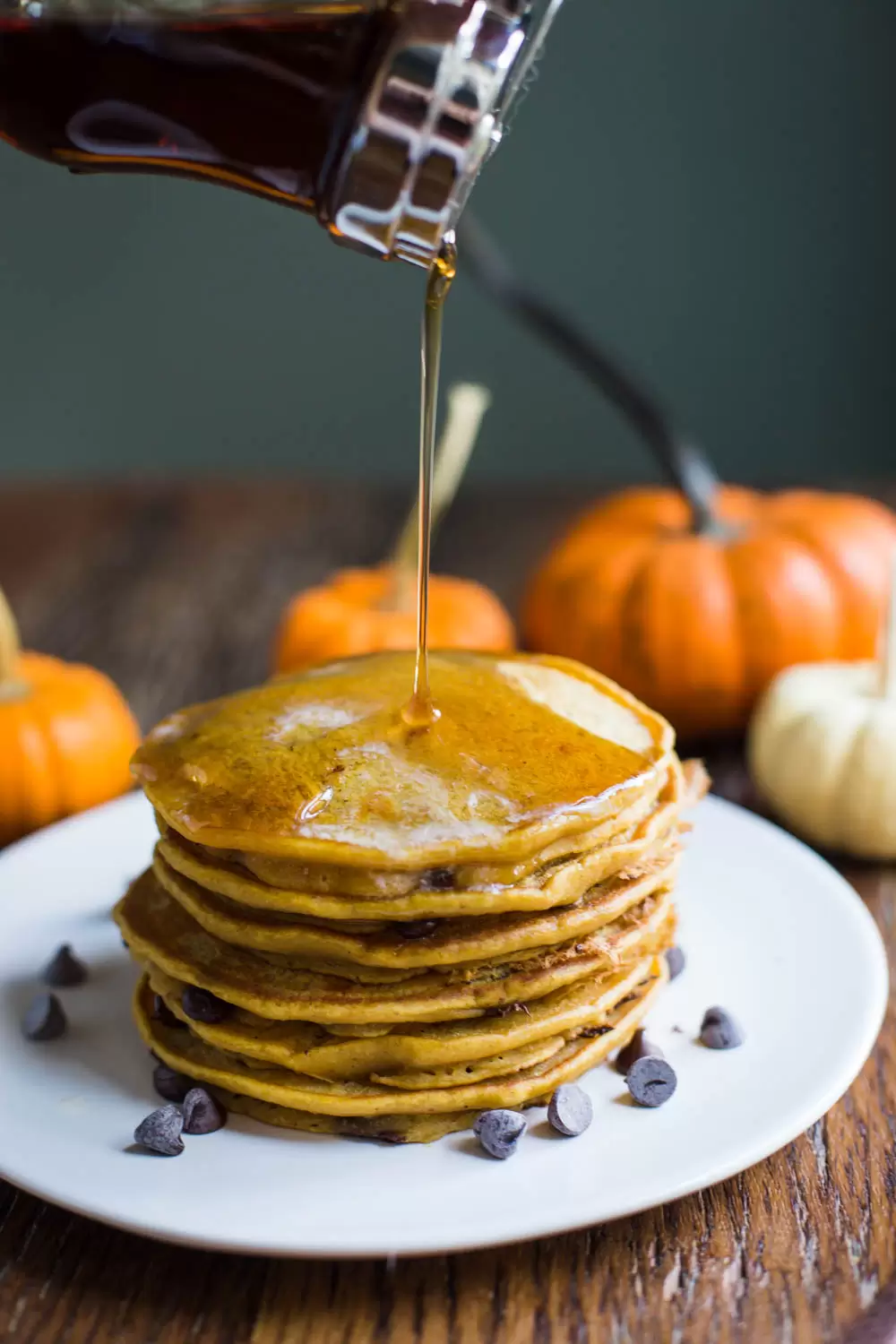 These pancakes are a remake on my original vegan pancake recipe which I'm a huge fan of.
The key for these pancakes is to cook them a bit longer than you would regular pancakes. Not too much longer but maybe a couple more minutes on each side.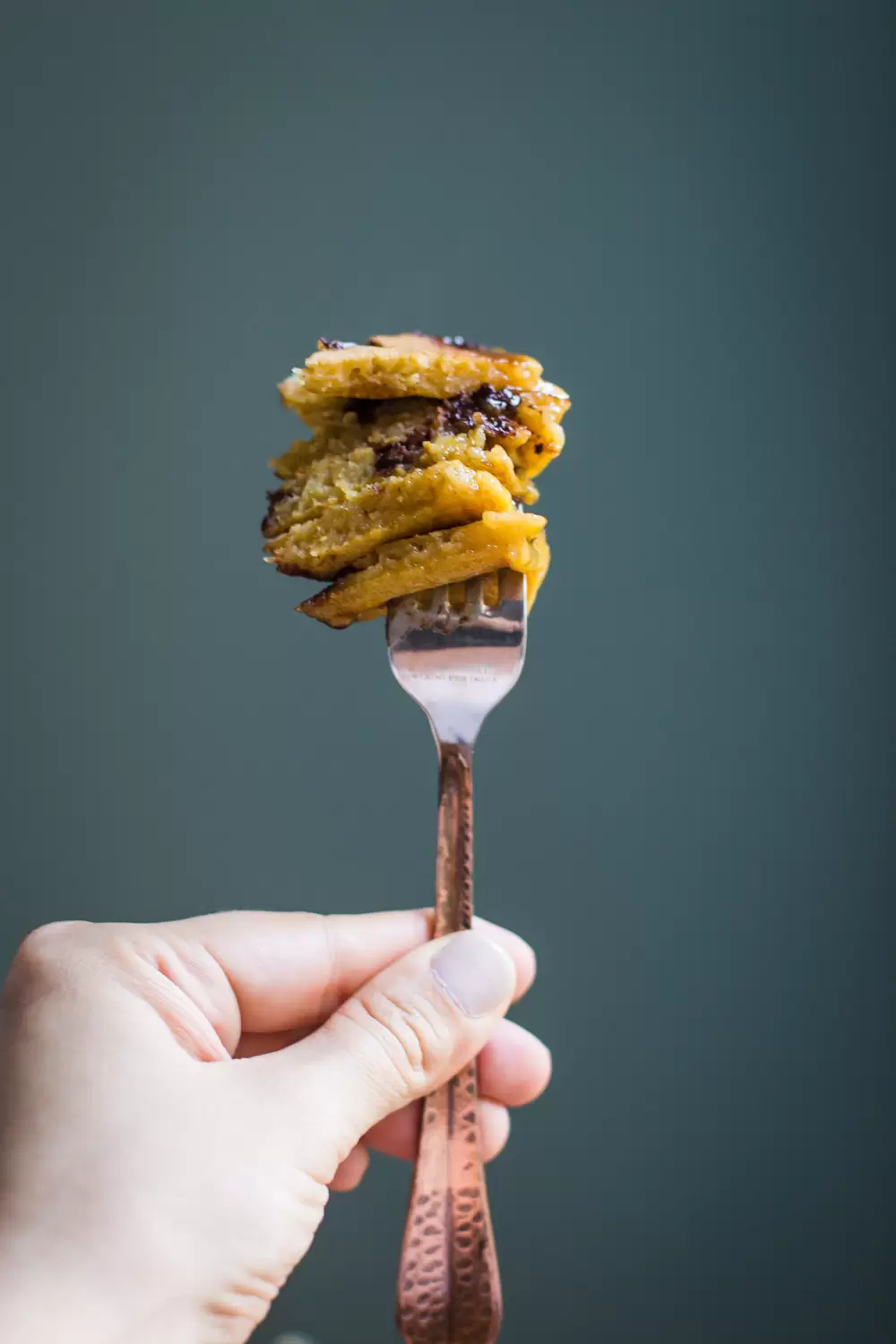 So yea. Go make some pancakes and your Monday morning will instantly be a little bit better :) Have a lovely start to your week!
Print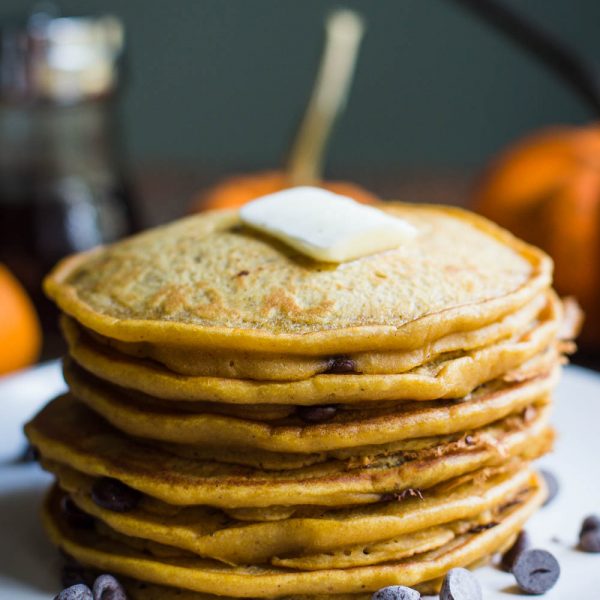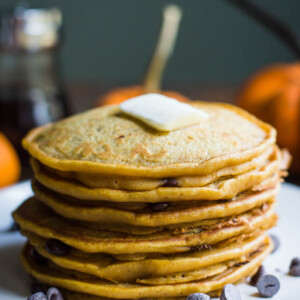 Pumpkin Spice Chocolate Chip Vegan Pancakes
---
1 1/4 cup

of all-purpose flour

2 tablespoons

of sugar

1 1/2 teaspoons

of baking powder

1/2 teaspoon

of salt

1/2 teaspoon

of pumpkin pie spice

1 1/4 cup

of non dairy milk

1 tablespoon

of coconut oil, melted

1/2 cup

of pumpkin puree

1/2

–

1

cup of chocolate chips (optional)
Cooking spray for griddle
Pure maple syrup or agave for topping
---
Instructions
1.In a large mixing bowl, sift together the flour, sugar, baking powder, salt, and pumpkin spice.
2.In a medium bowl, mix together the almond milk, coconut oil, and pumpkin puree.
3.Make a well in the middle of the dry ingredients and pour in the wet ingredients. Gently stir to combine.
4.Gently fold in the chocolate chips.
5.Heat a griddle or skillet to medium heat. The trick with these pancakes is to cook them over a medium-low heat for a longer period of time. Mine took about 4-5 minutes on each side.
6.For large-ish pancakes, pour 1/2 cup of the batter onto the griddle. For smaller pancakes, go with 1/4 to 1/3 of a cup of the batter at a time. Once the bottom and sides have firmed up (about 2-3 minutes) flip the pancake. Cook for 4-5 minutes on the other side until a nice golden brown. Flip again and cook for an additional 1-2 minutes on the original side.
7.Once all done, drizzle with syrup and ENJOY!!
This post may contain affiliate links. Please read my disclosure policy.