Pumpkin Spice Green Smoothie
This post may contain affiliate links. Please read my disclosure policy.
As I was working on this post (editing the photos and putting the video together), I did think to myself "is it too early for this? Should I be waiting a few more weeks before diving head first into the pumpkin spice?" Clearly, I'm doing it anyways!
But today, the pumpkin spice comes in the healthy form of a big ole GREEN SMOOTHIE! I haven't posted a green smoothie in a hot minute but fear not: my love for these ugly green drinks has not waivered. I'm still just as smoothie obsessed as I was before. However, I find myself drinking the same ONE smoothie recipe over and over again and there's only so many times I can shove my boring peanut butter and blueberry green smoothie in your face.
But today….today it's this Pumpkin Spice Green Smoothie.
In other news, you may notice that the photos for this post are a little weird. When I make recipes videos, I almost always photograph the recipe one weekend and then shoot the video the following weekend. Since this is such a simple recipe, I figured I would just shoot the video and then snap a few photos of the smoothie afterwards. Well, apparently I never did that although I have memories of doing so. Therefore, the photos you see are actually just screenshots of the video. I suppose it'll do for now. Lesson learned for the future.
We're going to take a short break from all things pumpkin next week and dive into the wonderful world of apples! You may recall that I bought 3 apple trees earlier this year and planted them on our new property. I'm not really sure how well they're doing. They're definitely alive but I think I need do some work on them. Needless to say, we won't be getting any apples from this year. BUT, hopefully in 2017!
Happy weekending, friends!
Print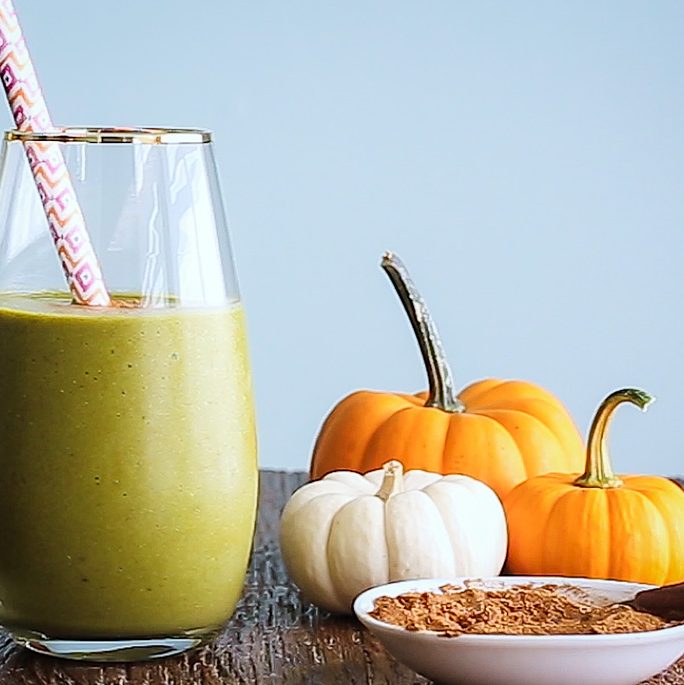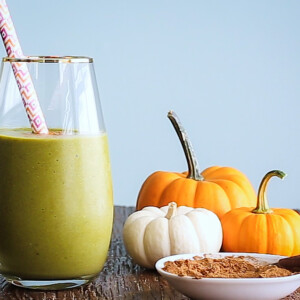 Pumpkin Spice Green Smoothie
---
Author:

Total Time:

5 minutes
1/2 cup

of frozen pumpkin (can be unfrozen but you might want to also include a few ice cubes)

1

frozen banana

2

large handfuls of kale + spinach (or whatever greens you so desire!)

1 teaspoon

of Pumpkin pie spice mix

1 cup

of almond milk (or other non dairy milk)

2

pitted dates (can be substitutes for

2 tablespoon

of agave or maple syrup)
optional extras: 2 tablespoons of hemp hearts
---
Instructions
Place the almond milk and greens in your blend and blend until the greens are fully broken down. Add in the remaining ingredients and blend until creamy and smooth. Add a splash more almond milk if needed to reach your desired consistency.
Sprinkle with a touch more pumpkin pie spice and ENJOY!
This post may contain affiliate links. Please read my disclosure policy.