Roasted Acorn Squash Soup
This post may contain affiliate links. Please read my disclosure policy.
Creamy and DELICIOUS Roasted Acorn Squash Soup– this vegan soup is simple to make and perfect for colder winter months :) It's a family favorite of ours for sure.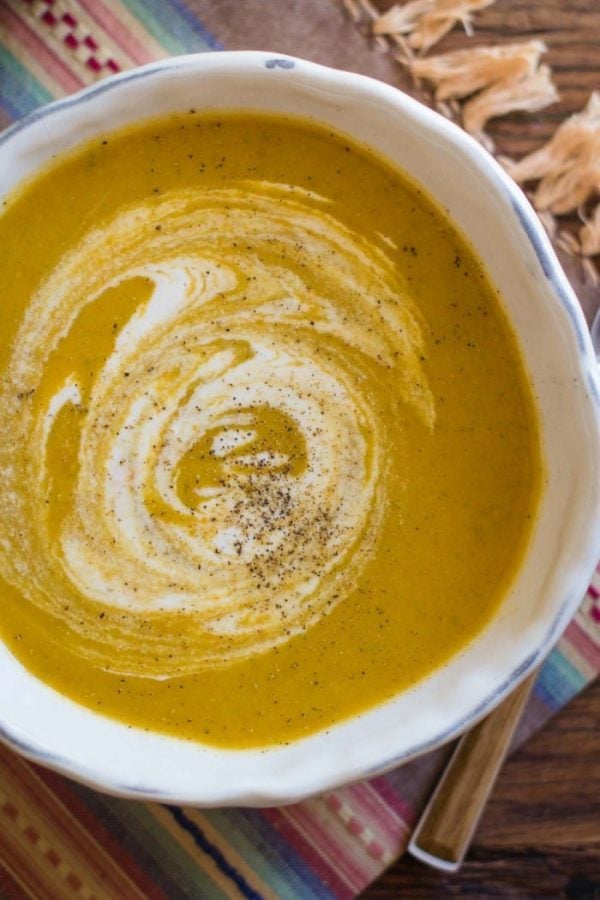 I promised pictures of the kitten (still haven't decided on a name) yesterday and then I got too busy with life things to post at all. And now I'm going to further break the promise. I decided I'm going to begin my crazy cat lady adventures by doing a whole post about her that will likely go up on either Saturday or Sunday. So, be watching for that!
Ok, how about I share just one picture and then you can see more over the weekend???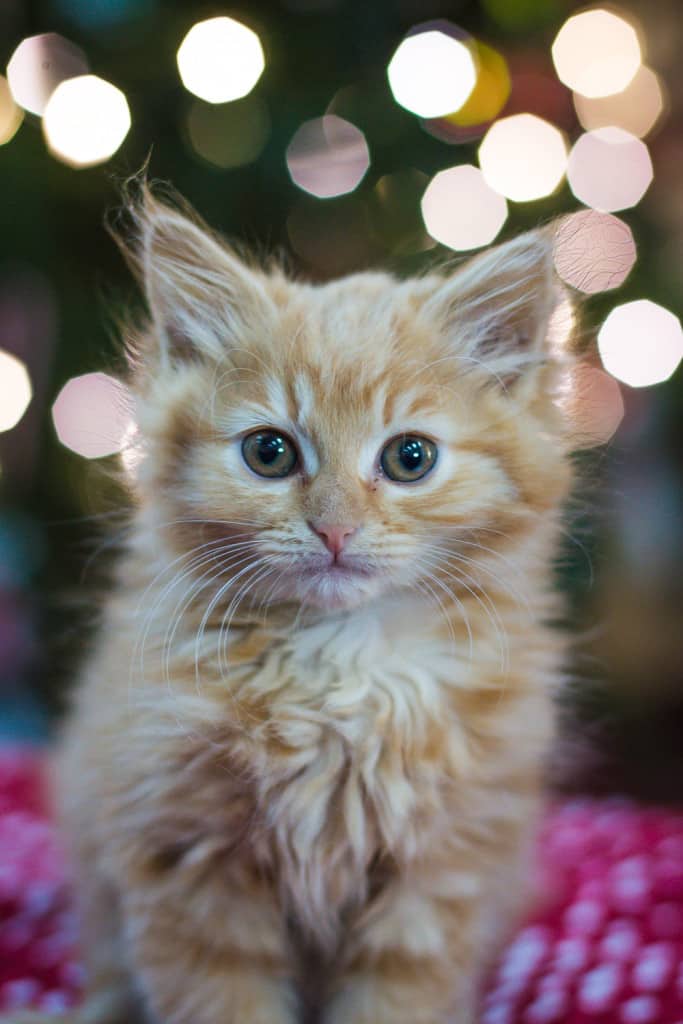 I KNOW. I can hardly handle the cuteness and can hardly refrain from talking about her now. BUT I have self control, kind of.
Because!! I really want to talk about this soup today. This soup is a recipe that I developed as part of a partnership with Almond Breeze Almondmilk to promote their new blend of Almond Cashew Milk. Seeing as I'm thoroughly obsessed with cashews, I'm very excited about this!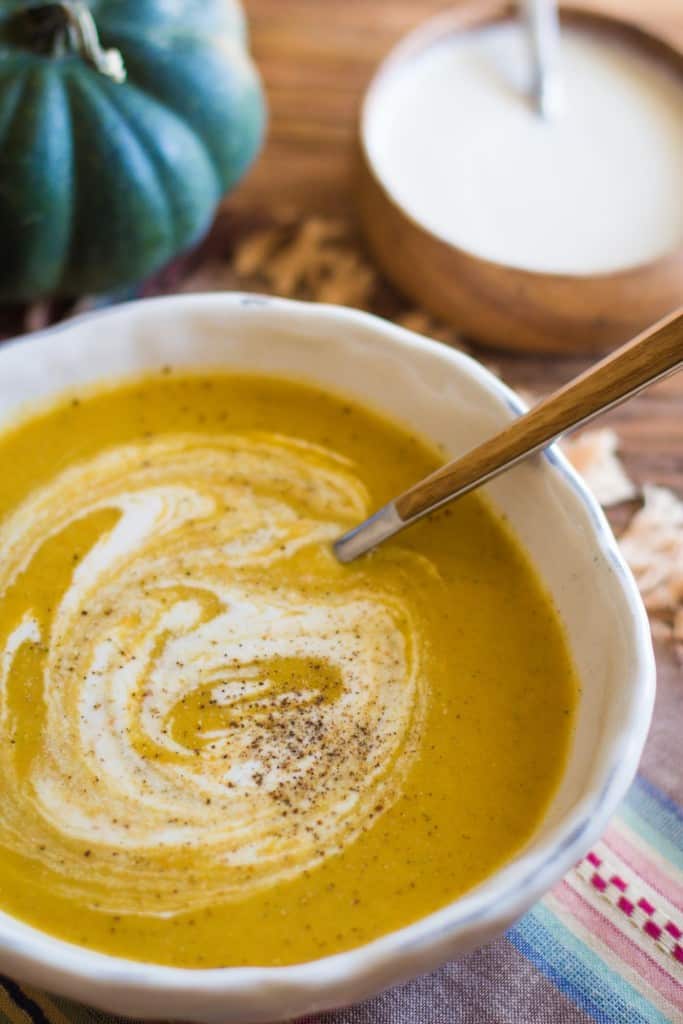 I'm also thoroughly obsessed with soups in general at this time of the year. I basically don't want to eat anything else because I'm a huge baby about the cold and soup makes it a little bit better.
The almond milk in this soup makes it SO creamy and delicious and FILLING. Seriously, between the almond milk, and squash, and the other veggies, this soup really fills you up in the way that last for quite a while. I love that about it.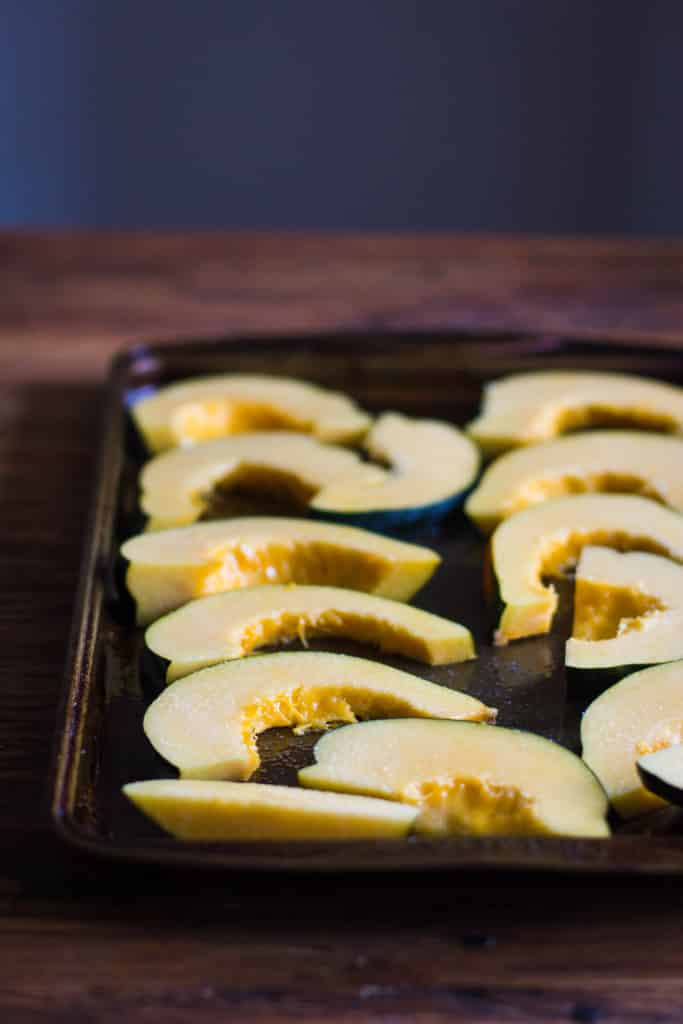 I've made similar soups to this where I cooked the squash in the pot with the other veggies. However, for this one I decided it would be easier to roast the squash in the oven while the the soup is cooking and then add it into the soup mixture towards the end.
How to make Acorn Squash Soup:
The veggies are chopped up and sautéed in a bit of oil before the broth is added in.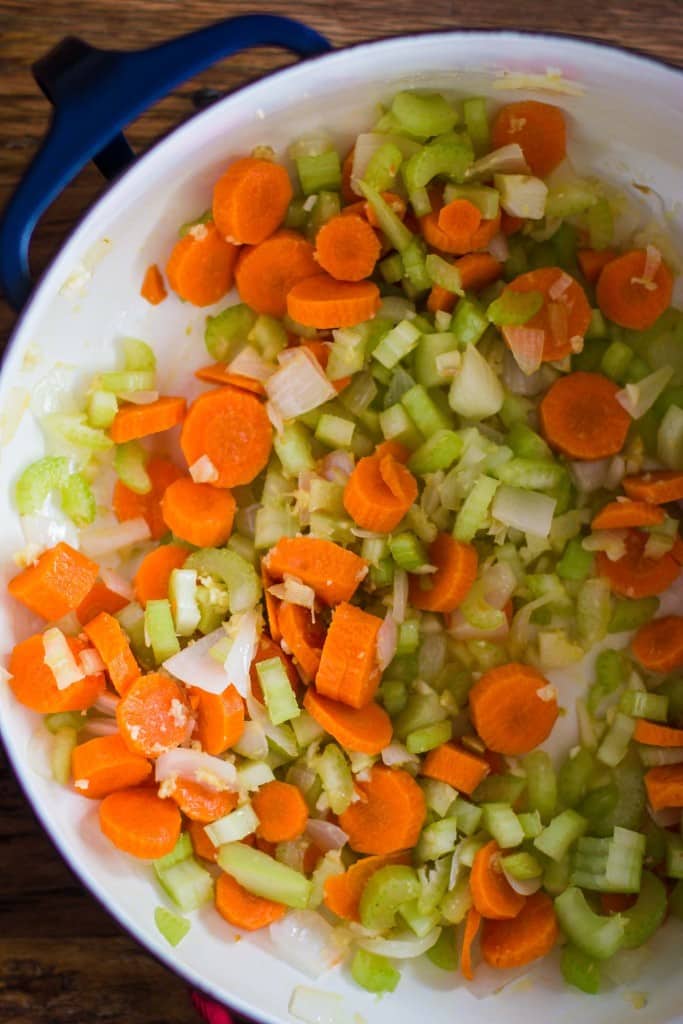 Veggie broth is added and the soup simmers for a bit while the squash roasts.
Once the veggies are tender and the squash is out of the oven and cooling, there's not much left before the soup is done.
The Almond Milk is stirred in. You can be as generous or as conservative with the milk as you like. I typically add in a little extra :)
Next, the peeled squash is added in.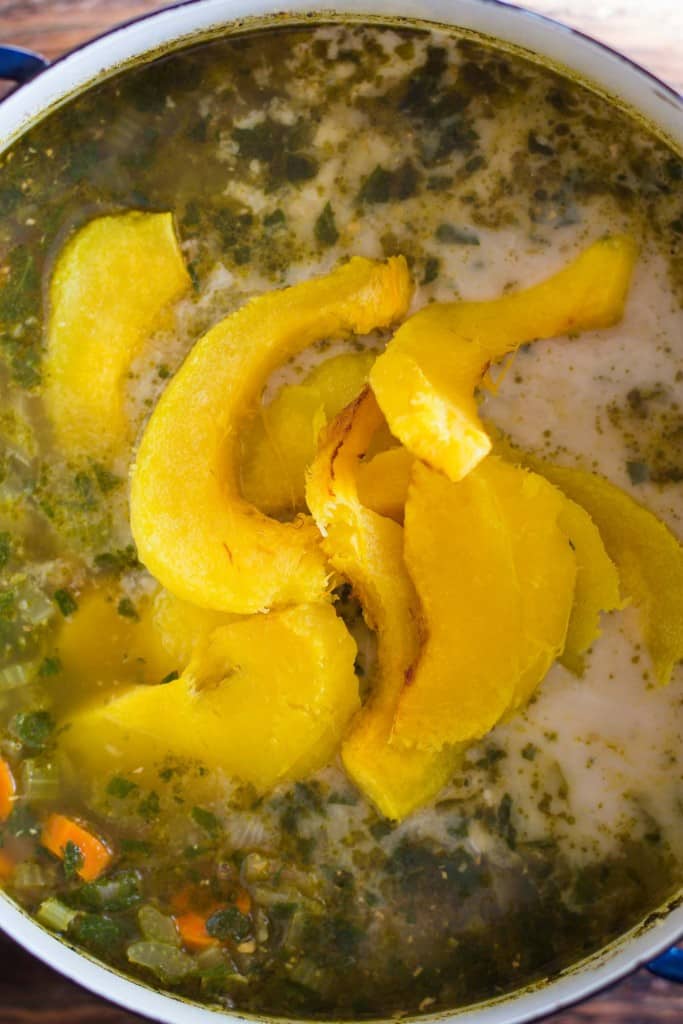 I don't bother chopping the squash since it's all going in the food process anyways.
For creamy soup, we run it all through a blender or food processor. I do this in 2 batches so that my food processor doesn't freak out on me.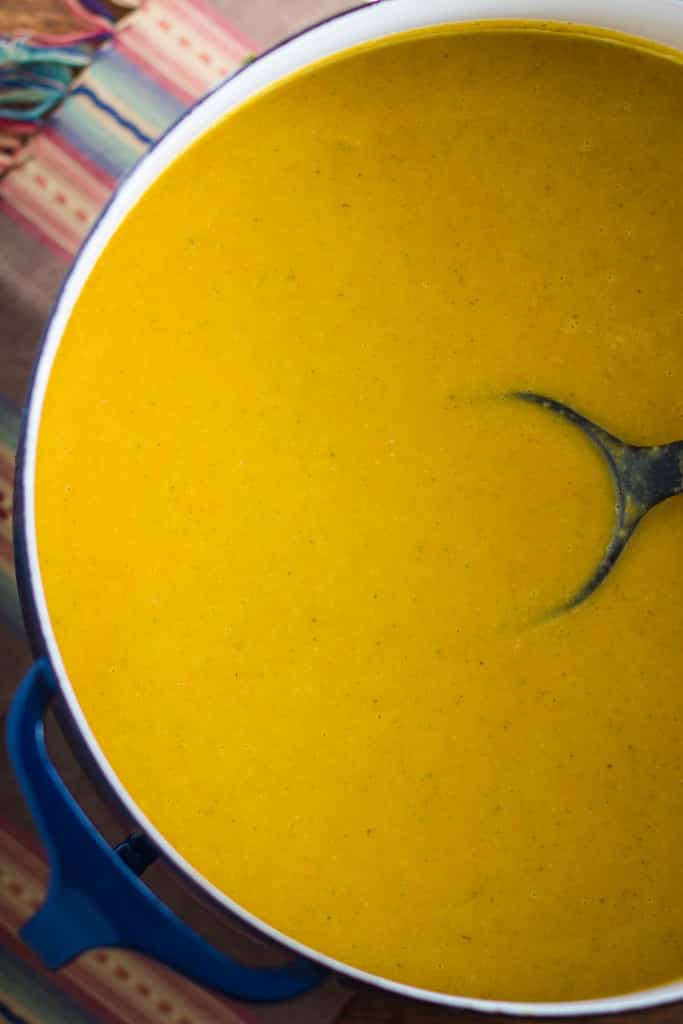 Once it's fully blended and smooth, you're done! You can put it back over the stove for a few minutes if you want to reheat it but typically this isn't necessary.
I made the cashew sauce using this SUPER SIMPLE recipe from Pinch of Yum and then drizzled it over the top for an added kick of flavor and yummy creaminess. I highly recommend making this sauce to go along with the soup AND to have extras for later.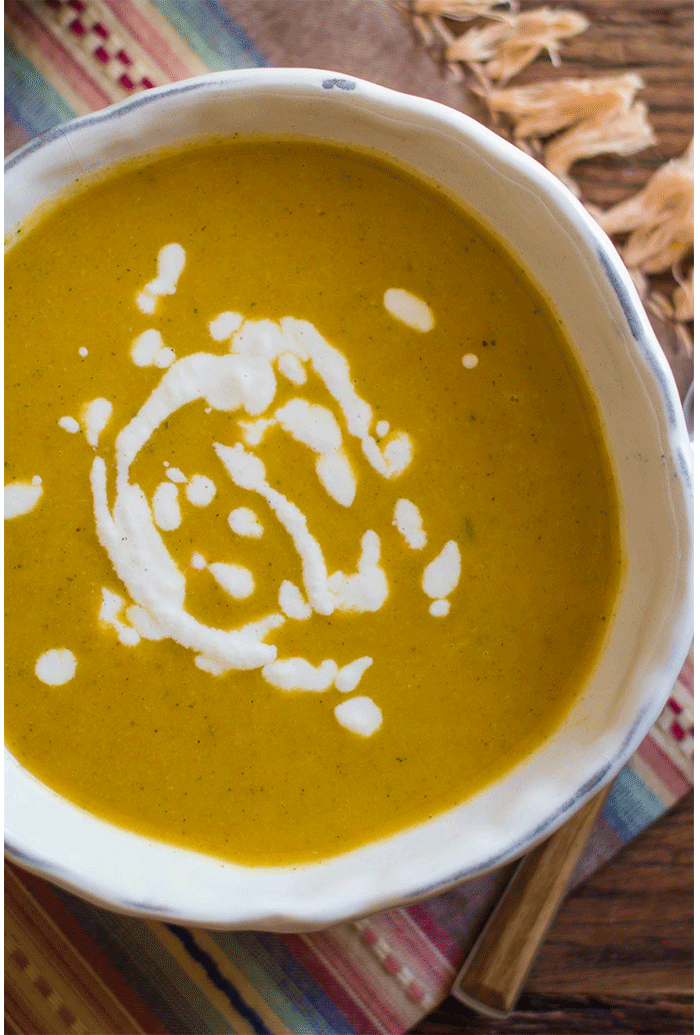 You should most certainly add this soup to your list of winter recipes to try! It's just so creamy and delicious and I want to eat it until Spring finally comes back around.
Don't forget to visit AlmondBreezeBlendabilities.com to enter for a chance to win the Ultimate Kitchen Prize Pack and to learn all about their awesome new Almond Cashew blend!
Print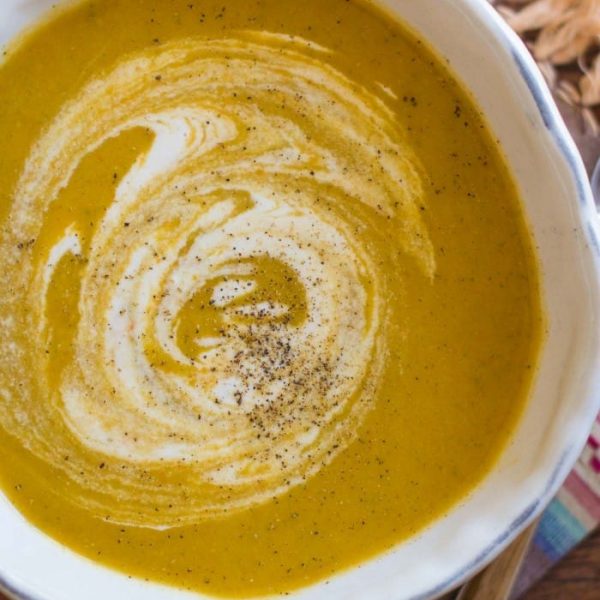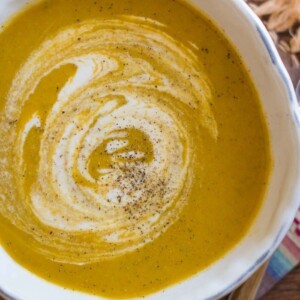 Roasted Acorn Squash Soup
---
Prep Time:

10 minutes

Cook Time:

35 minutes

Total Time:

45 minutes

Yield:

8

1

x
1

medium acorn squash

1/2

white onion, chopped

1 tablespoon

of olive oil

4

cloves of garlic, minced

4

carrots, peeled and chopped

3

stalks of celery, chopped

2 teaspoons

of dried sage

1 teaspoon

of onion powder

1/2 teaspoon

of ground black pepper

2 teaspoons

of fresh ginger, grated

4 cups

of veggie broth

1/2 cup

of loosely packed parsley, chopped

1 1/2

–

2

cups of Almond Milk
Salt and pepper to taste
---
Instructions
Pre-heat oven to 350 degrees F.
Slice the acorn squash in strips (see picture above) and place them on a well greased baking sheet. Sprinkle with salt on both sides and roast for 20-25 minutes or until a fork pierces the squash very easily.
In a large pot, heat the oil until hot and saute the onion for 5 minutes. Add in the garlic and let cook for an additional minute.
Add in all of the remaining ingredients minus the almond milk and simmer for 30 minutes or until the carrots are tender. Let cool slightly.
Once the squash is done roasting, let it sit until it's cool enough to touch. Peel the skin off of the squash and throw it away.
Add the squash and the almond milk into the soup and gently stir to combine.
Sectioning the soup out, pour about half of it into a food processor or blender and process until creamy smooth. This might take a couple minutes. You can also do this using an immersion blender.
Add additional S&P if needed.
Top with cashew cream sauce (link to recipe above) and ENJOY!!!
This post may contain affiliate links. Please read my disclosure policy.