Butternut Squash Soup- Vegan & GF
Hello! Who else is absolutely sick of winter?? The first snow day last week was kind of nice. I made this delicious soup and shared it with friends.
Then the wet and cold and me showing up to work to be one of the only ones there got a little old. I guess I enjoyed the quiet though (for one day).
Oh yea, and then I sprained my ankle at the gym. Not enjoying that. I mean, you expect me to actually sit still for more than half an hour? February, you suck. I'm ready for March (and birthday presents!).
Anyways *incessant whining over*, this Butternut Squash soup makes things SO so much better.
I call it Butternut Squash Soup but really it's butternut squash-carrot-onion-garlic-ginger-celery-sage soup. However, Butternut Squash Soup fits in the title better, I think.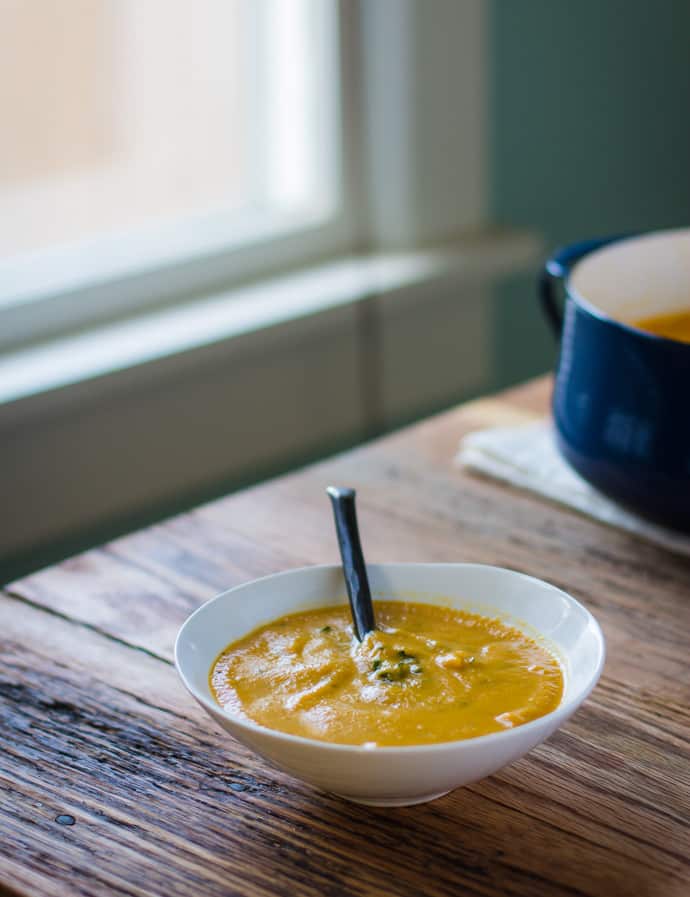 Here's the thing about this soup: you can't really go wrong. You can add to or omit pretty much anything from my original recipe and I'm certain that this soup will still taste pretty darn good. I could see some people not adding the ginger (while this would be sad, it would still taste great!).
In case you so desire to change this recipe up, here's the base: 1 butternut squash, 3-4 cups of broth (depending on how much else you add), garlic, sage, and S&P.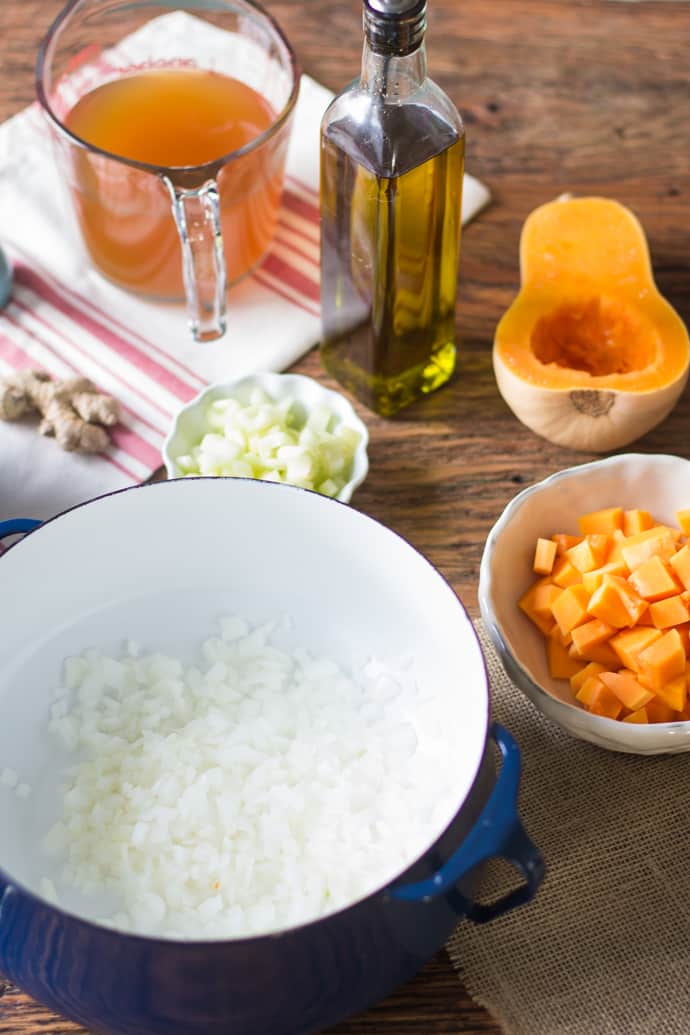 Making it is pretty darn easy too. All it really requires is a big pot and good hands for chopping.
First, onion is sauteed in a dutch oven for a few minutes. Then everything else is added in and simmered for awhile.
After about 30 minutes, all of the veggies have become good friends in the pot.
You could honestly eat the soup chunky just like this. I tried it, it's delicious. But, I think it ultimately tastes better pureed and creamy. So, the soup is added, half at a time, to a food processor (or blender) and pureed up real nice.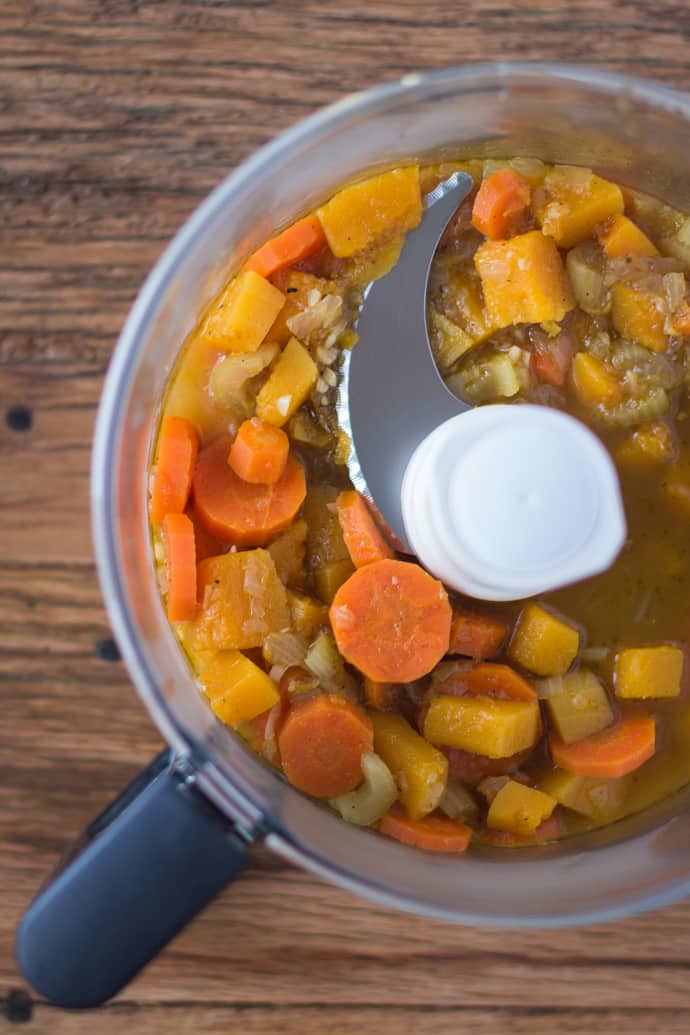 This is totally optional but I highly recommend it: add about 1 cup milk (I used almond) total to the soup before blending it.
Again, you don't have to add the milk but it gives it a very lovely creamy taste that's just SO so good!
My only regret is not making a double batch of this soup. I plan to make it again this week because it's SO so delicious.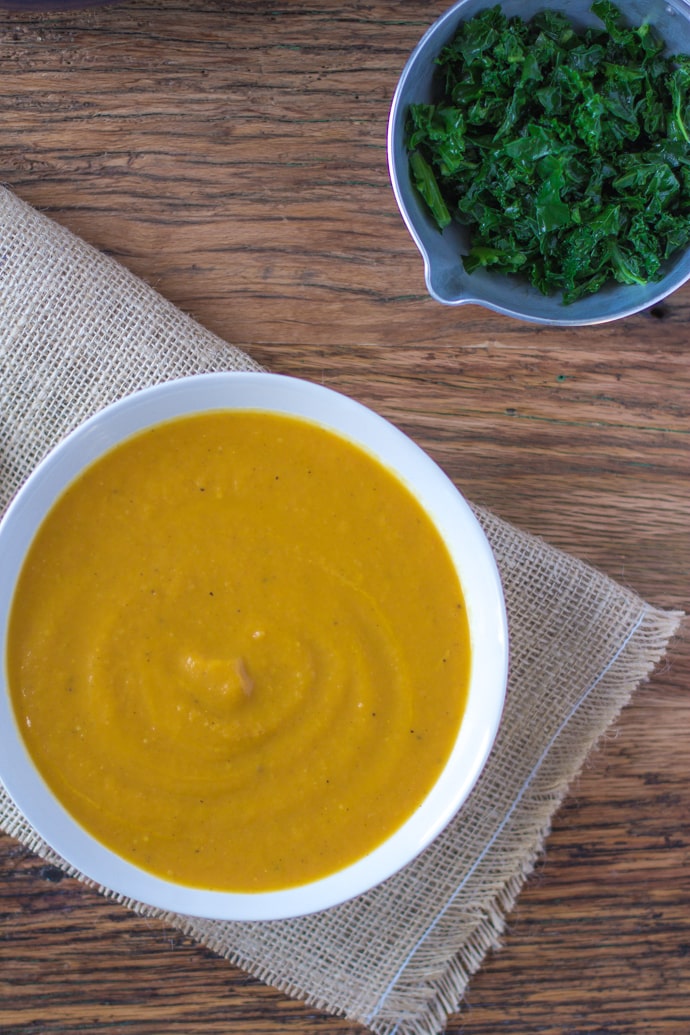 Oh yea, the kale! I steamed a bit of kale to serve with the soup and this too I HIGHLY recommend! It adds a bit of texture to the soup that is very lovely.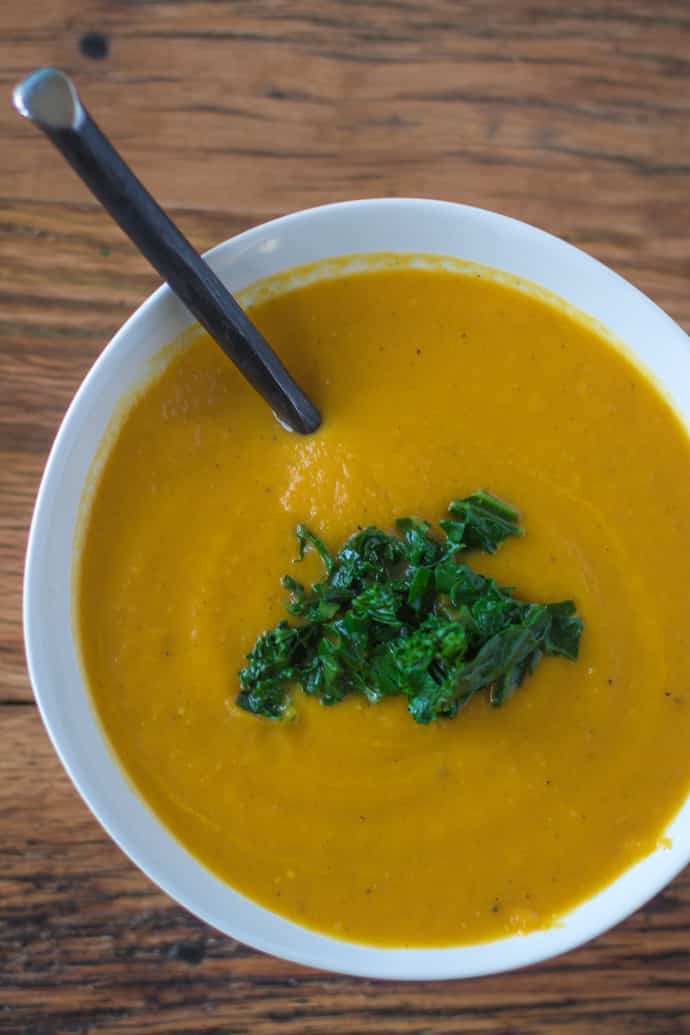 Print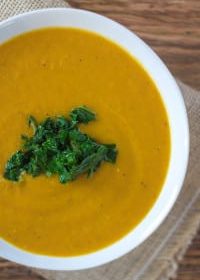 Butternut Squash Soup- Vegan & GF
---
Prep Time: 15 minutes
Cook Time: 35 minutes
Total Time: 50 minutes
Yield: 6 1x
Scale
Ingredients
1/2 of a medium white onion, chopped
1 tablespoon of oil, olive oil or coco oil
1 medium butternut squash, peeled and cubed
4 carrots, peeled and chopped
3 sticks of celery, chopped
4 cups of vegetable broth
4 cloves of garlic, minced
1–2 teaspoons of ginger, grated, depending on preference
1 teaspoon of dried sage
S&P to taste
Optional: 1 cup of milk, any kind
For serving: sauteed kale
---
Instructions
In a large pot, saute the onion in the oil for 5 minutes. Add in the garlic and saute for an additional minute.
Add in all of the remaining ingredients minus the milk and simmer for 30 minutes or until the squash and carrots are tender. Let cool slightly.
Add in the milk to the pot.
Sectioning the soup out, pour about half of it into a food processor or blender and process until creamy smooth. This might take a couple minutes.
Add additional S&P if needed.
Top with sauteed kale and ENJOY!!!
This soup is best served very warm.
---