Rosemary Parmesan Buttermilk Biscuits
This post may contain affiliate links. Please read my disclosure policy.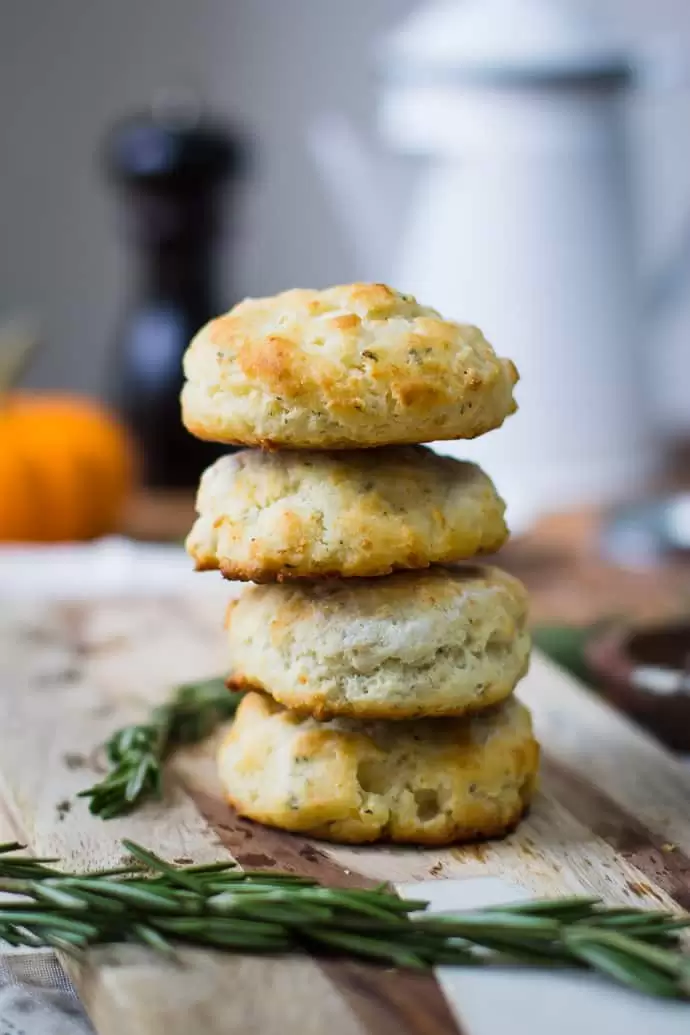 Oh look, here I am with yet another rosemary recipe. Is 3 in a row just too much?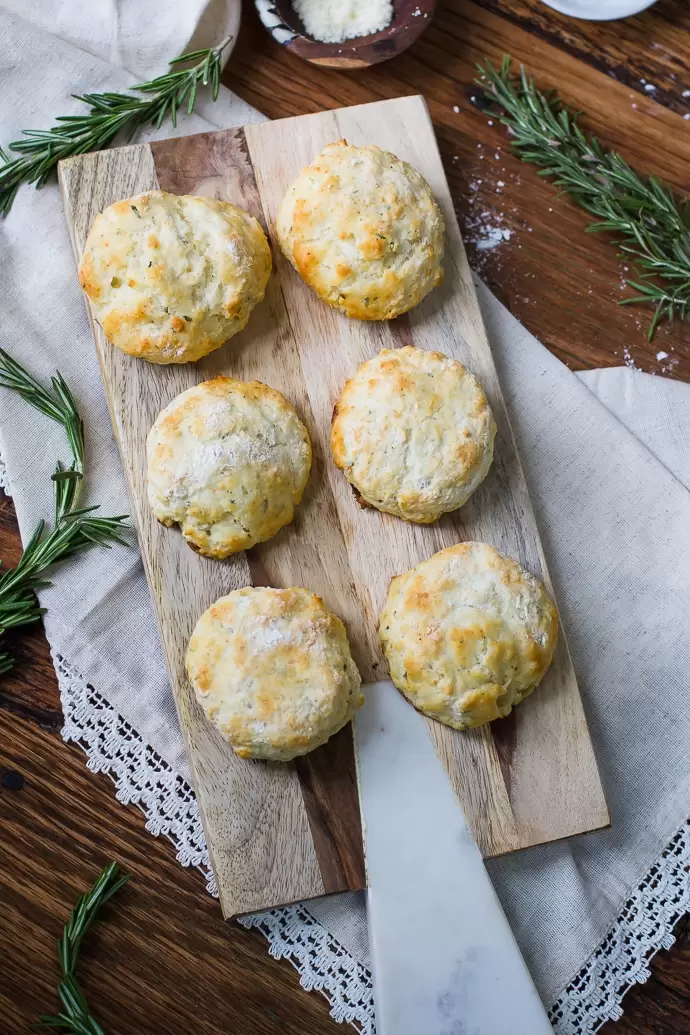 But don't worry. I won't ramble on about my love for rosemary for too long today because it's Monday morning and I didn't get half of the things done over the weekend that I meant to. It was rainy and cold here in Nashville. So cold that Stephen even got out of bed on Saturday morning to turn the heat on. So, we stayed inside for as much of the weekend as possible. I did lots of baking and the puppies did lots of sleeping.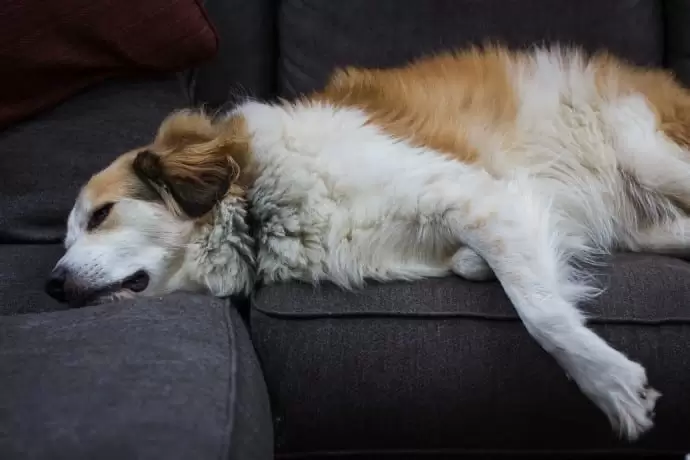 It's really a pretty tough life being a big fluffy dog.
I also spent an abnormally long time this weekend researching the proper ways to plant and care for apple trees. So, all-in-all a productive weekend.
In other news: it took the chickens an entire week to realize that the fence I rigged up to keep them out of the garden is seriously flawed and if they climb through the bush, they can easily escape. So, that's next weekends project.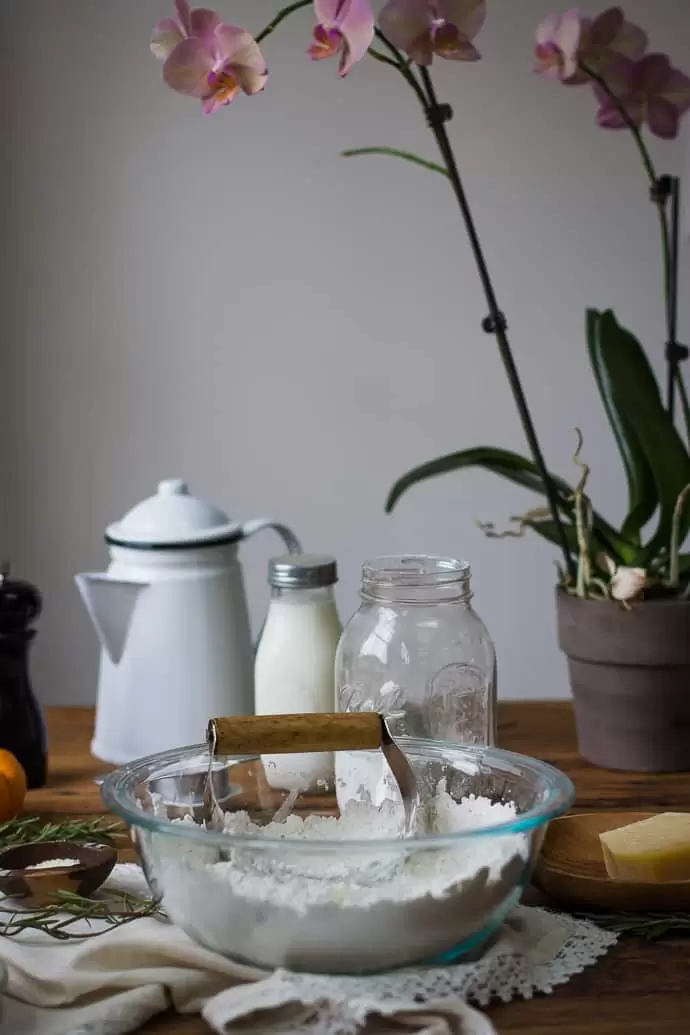 But for now, we have these Rosemary Parmesan Buttermilk Biscuits. These biscuits were inspired by Molly Yeh's Parmesan rosemary biscotti that I've been drooling over for the past year. I've had this recipe saved for so long as a reminder that I wanted to create my own version of rosemary + Parmesan in a baked good. That's what we have today and it's glorious.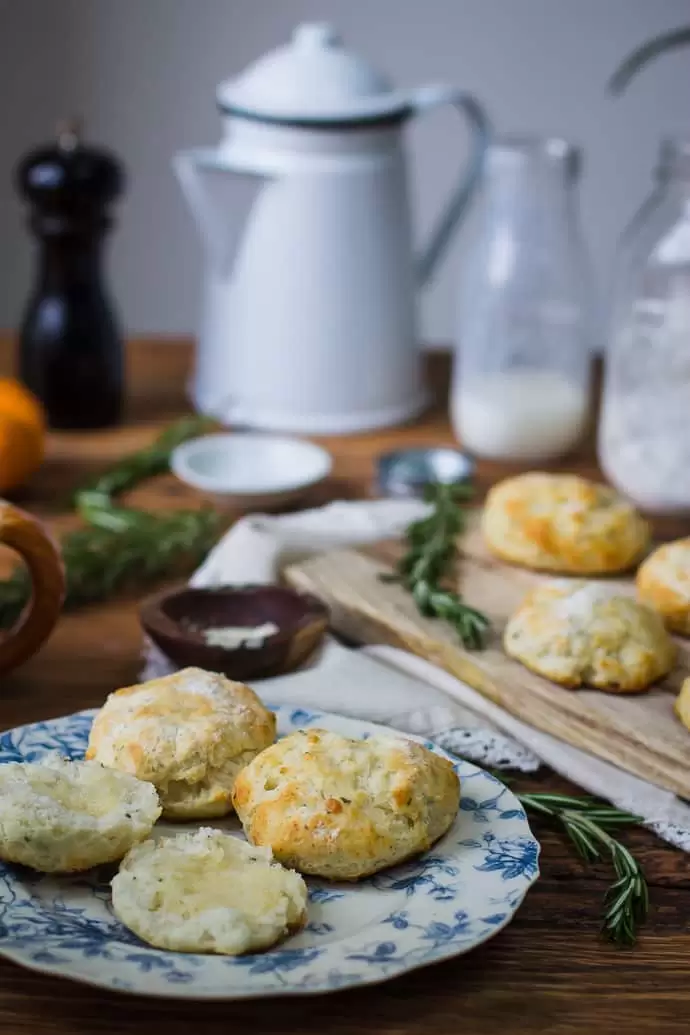 The nice thing about a Saturday morning when you have no where to be is that you can cook breakfast slowly while sipping on cup after cup of some good coffee. I magically enjoy getting up early on the mornings when I don't actually have to be anywhere and the only matter of importance is releasing the squawking chickens from their coop and feeding the hungry dogs.
I'm a big fan of weekend mornings.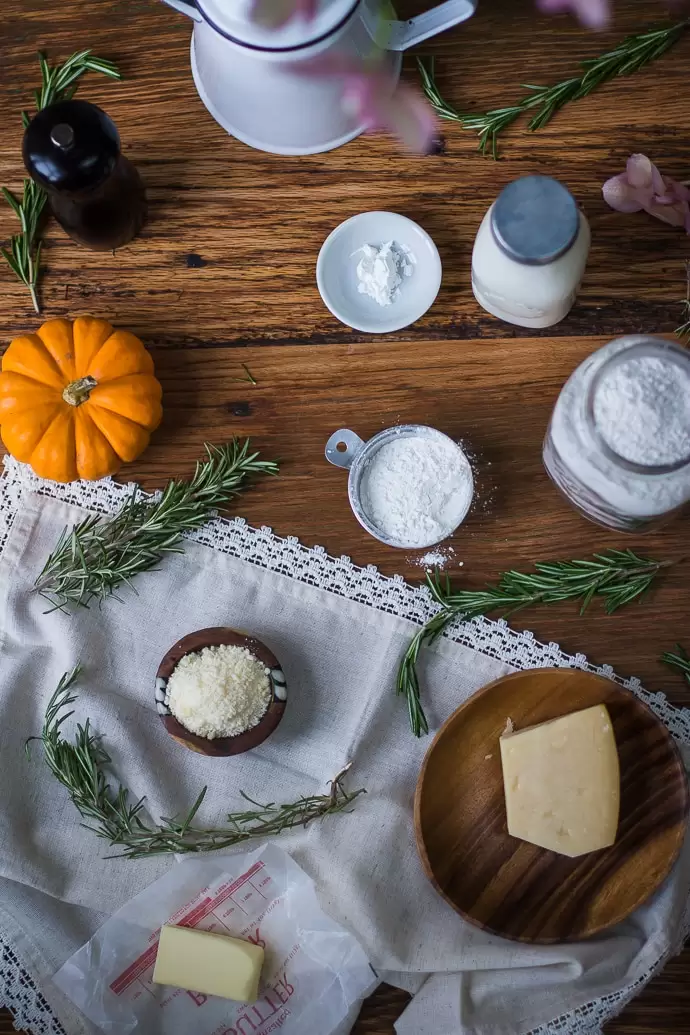 And the coffee tastes a little better when you're drinking it out of an uber cool mug that you got at walmart.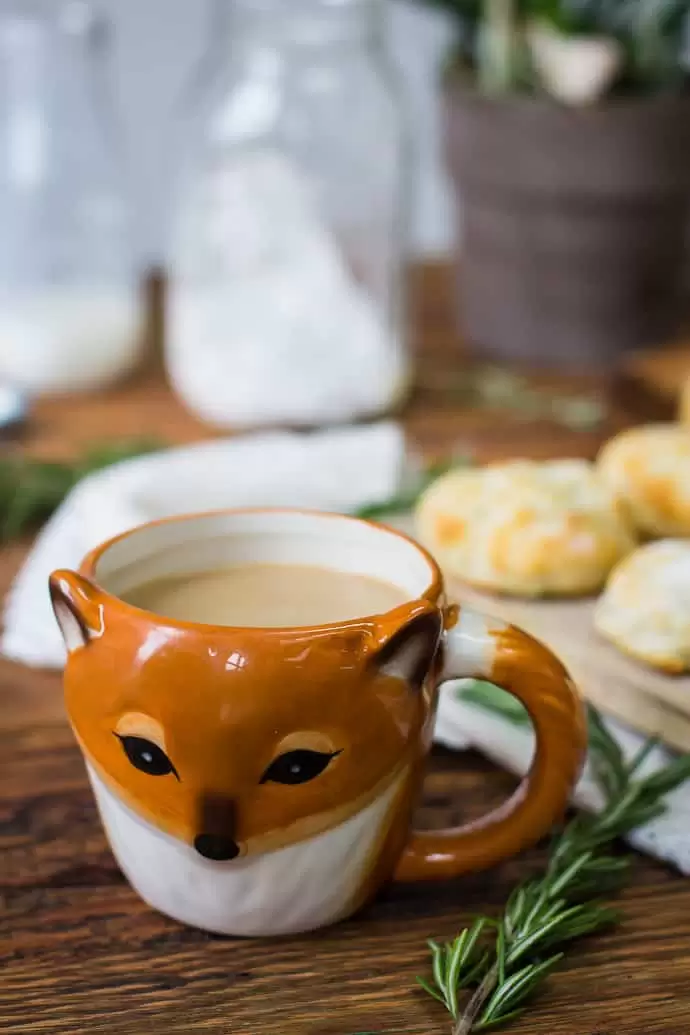 I made these biscuits slowly, not that they take long to make at all.
We start with fresh rosemary. You could use dried rosemary for this but I highly recommend you go and plant yourself a rosemary plant anywhere around your house, let it grow uncontrollably and use it to add fresh rosemary in everything.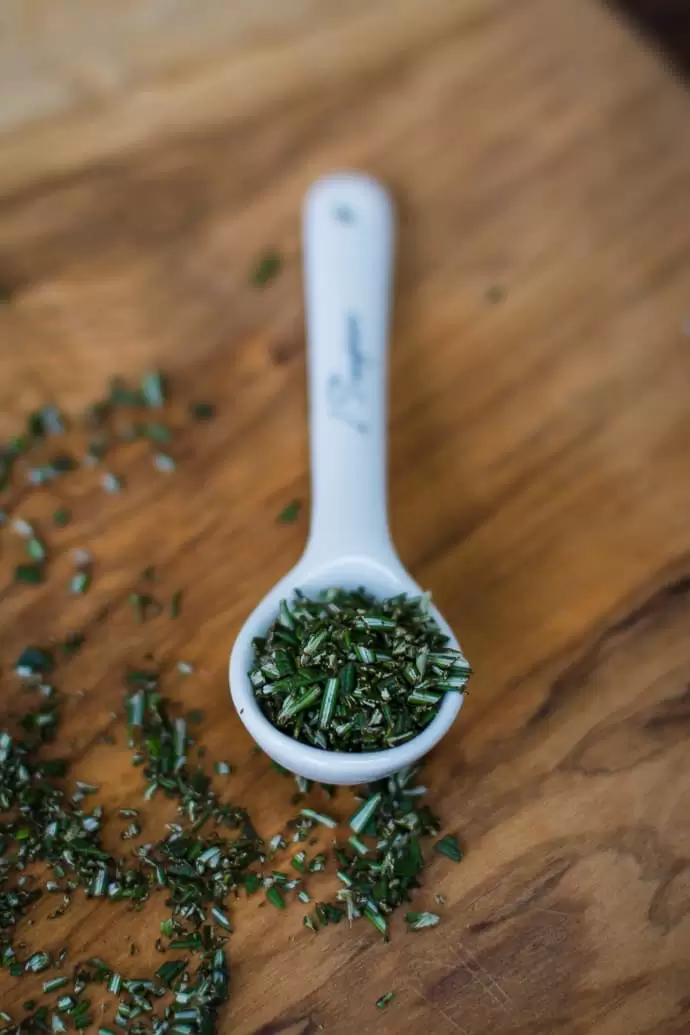 The yummy rosemary is whisked into the flour, baking powder, S&P, and Parmesan CHEESE.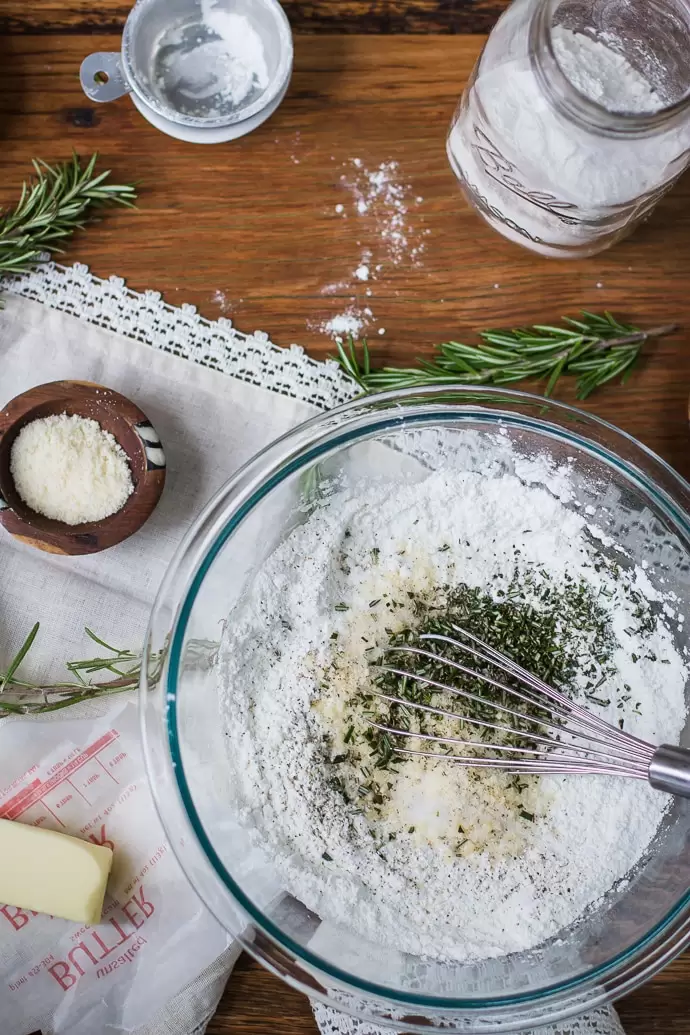 Frozen bits of butter are added into the flour mixture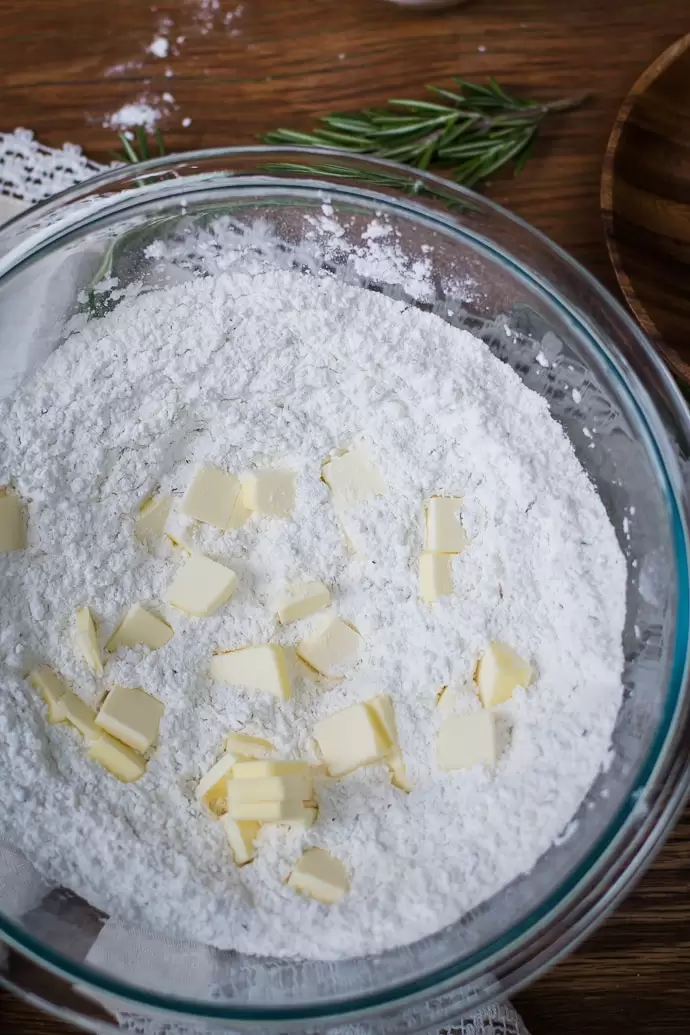 And then incorporated into the dry ingredients. I used a hand blender for this but I'm also a big fan of the food processor method.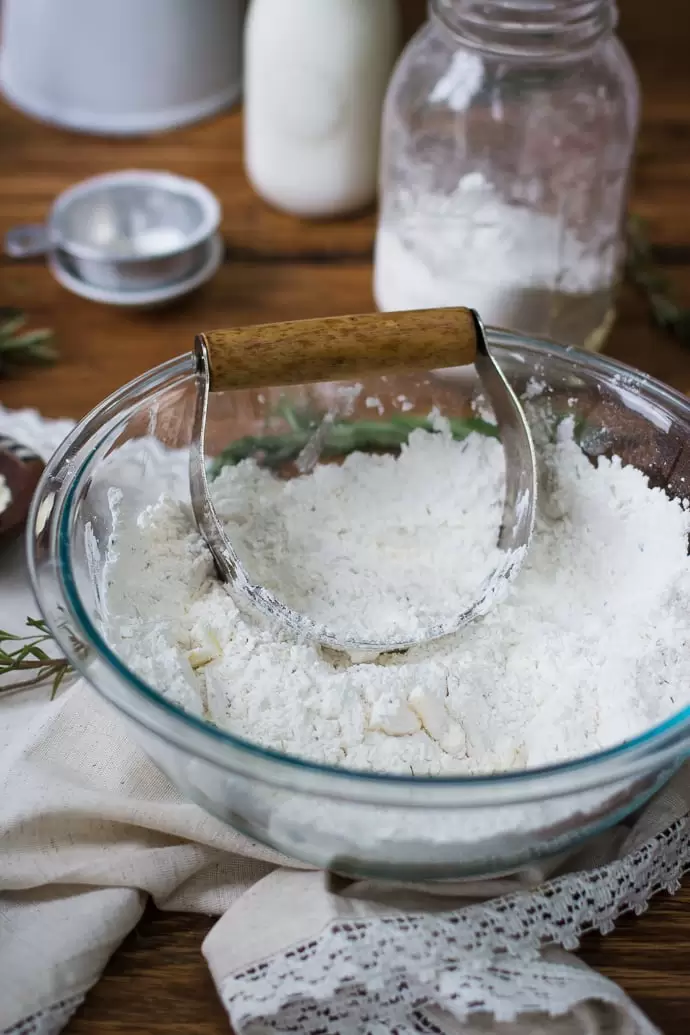 After a short rest in the freezer, some creamy buttermilk is added and gently stirred in.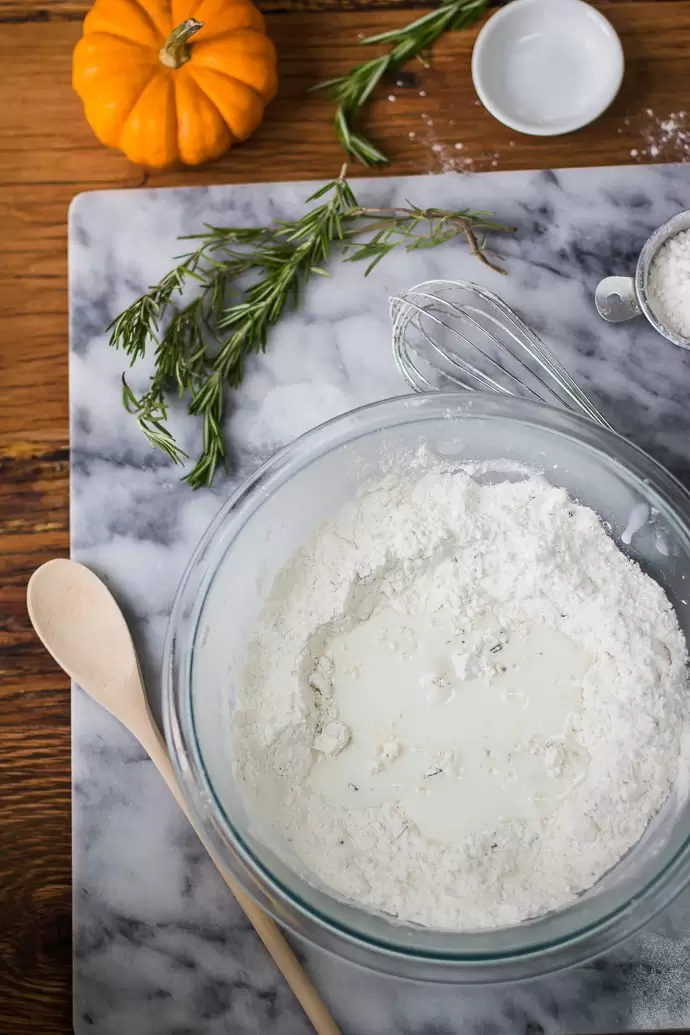 Once a nice ball of dough has formed, it can be patted out to a circle. Don't roll it out, just pat it with your fingers. Be gentle and love the dough.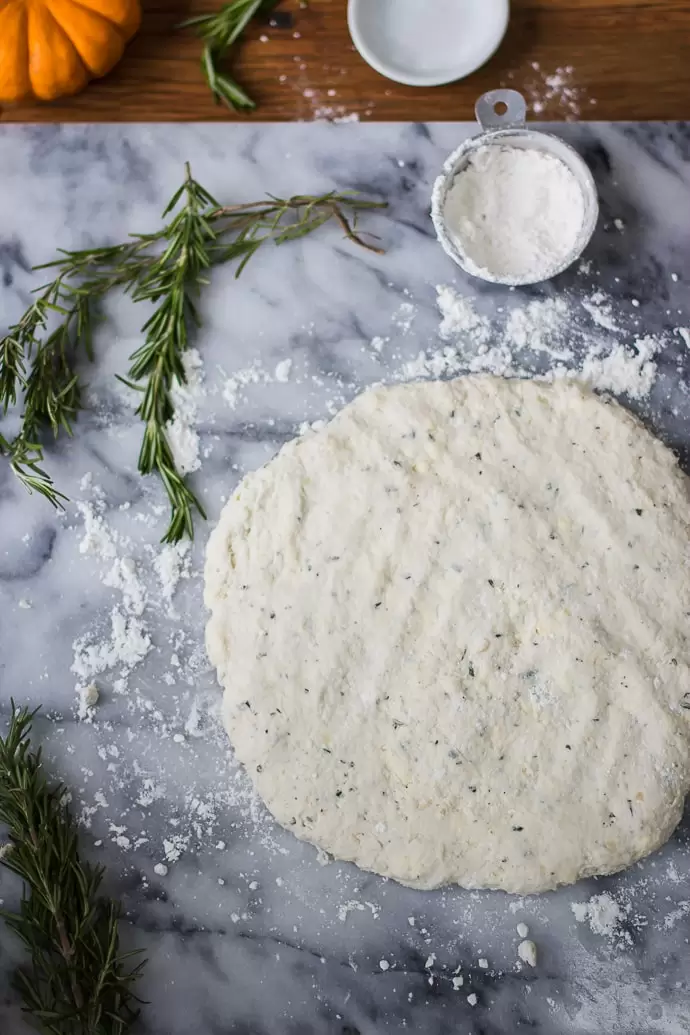 ah, look at those nice flecks of rosemary….
I made mine a little on the thinner side (about 1/2 in thick dough) but more traditional biscuits have the dough at about 3/4 of an inch thick.
I also, apparently, don't own a biscuit cutter. Or, it got lost in the move or something. SO, I improvised. Mason jars aren't ideal but it got the job done and in proper size.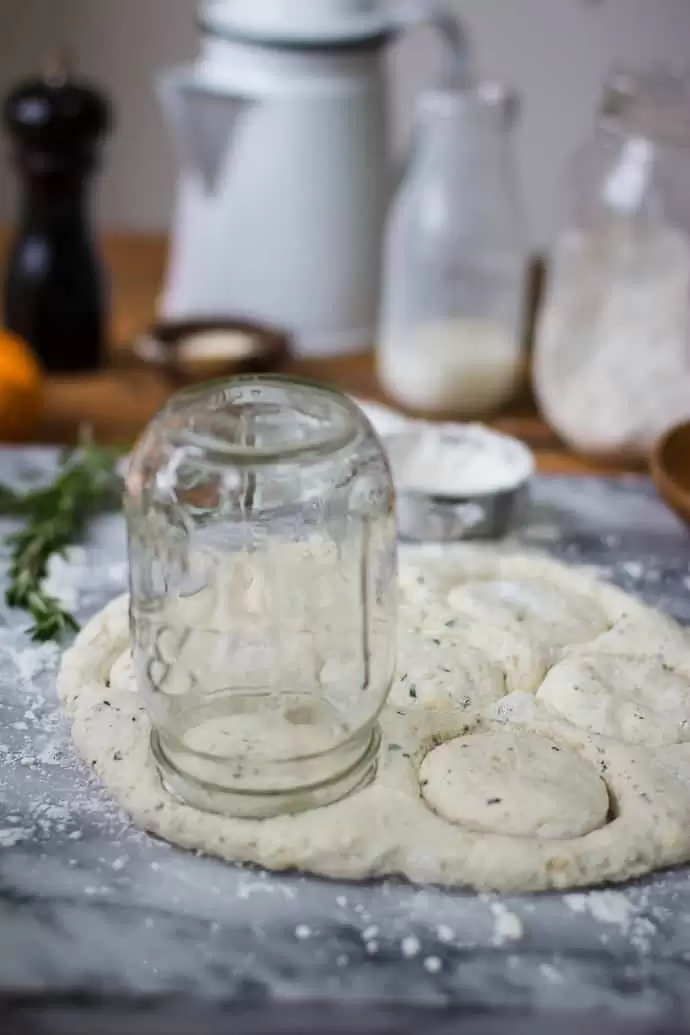 Cut out as many biscuits as possible.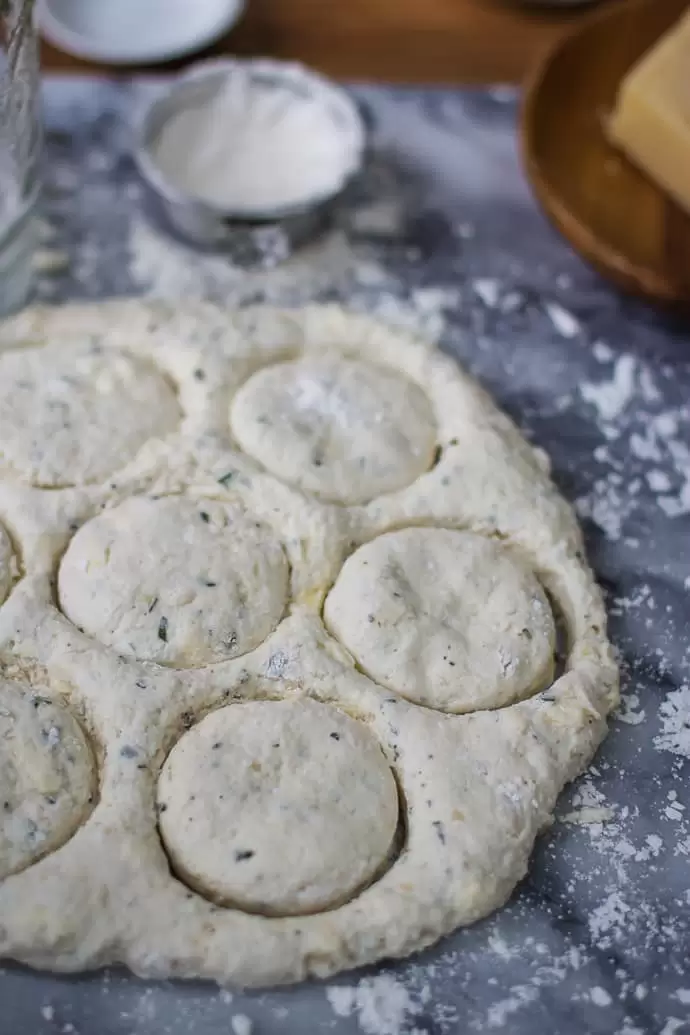 Then roll up the dough and repeat the process again until you're out of dough.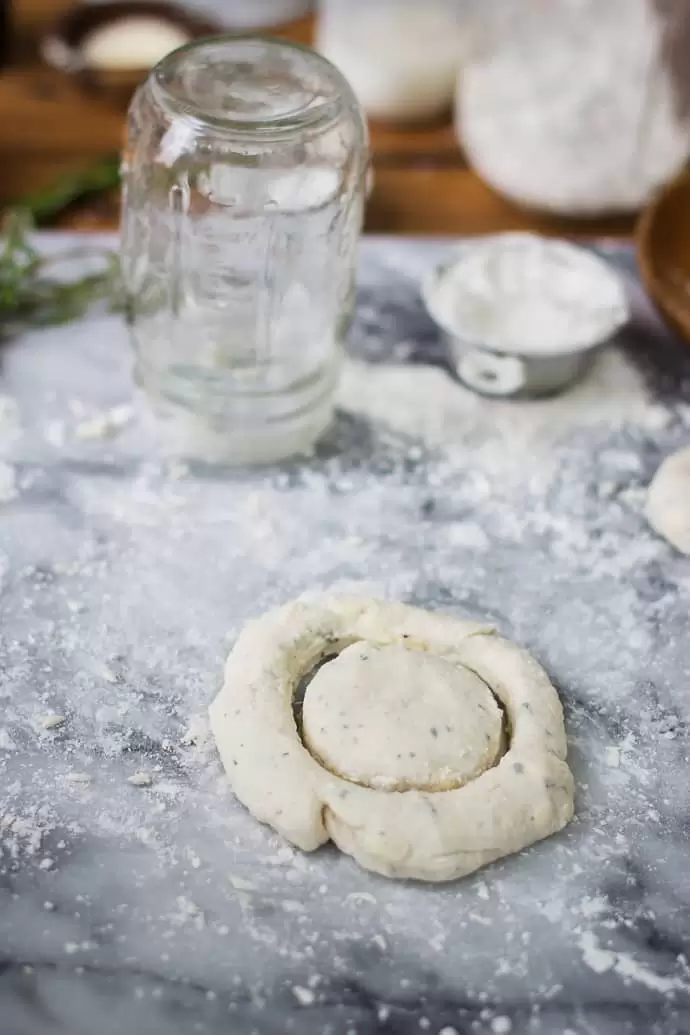 I attempted to make a heart shaped biscuit with the last little bit of dough. It's a special heart.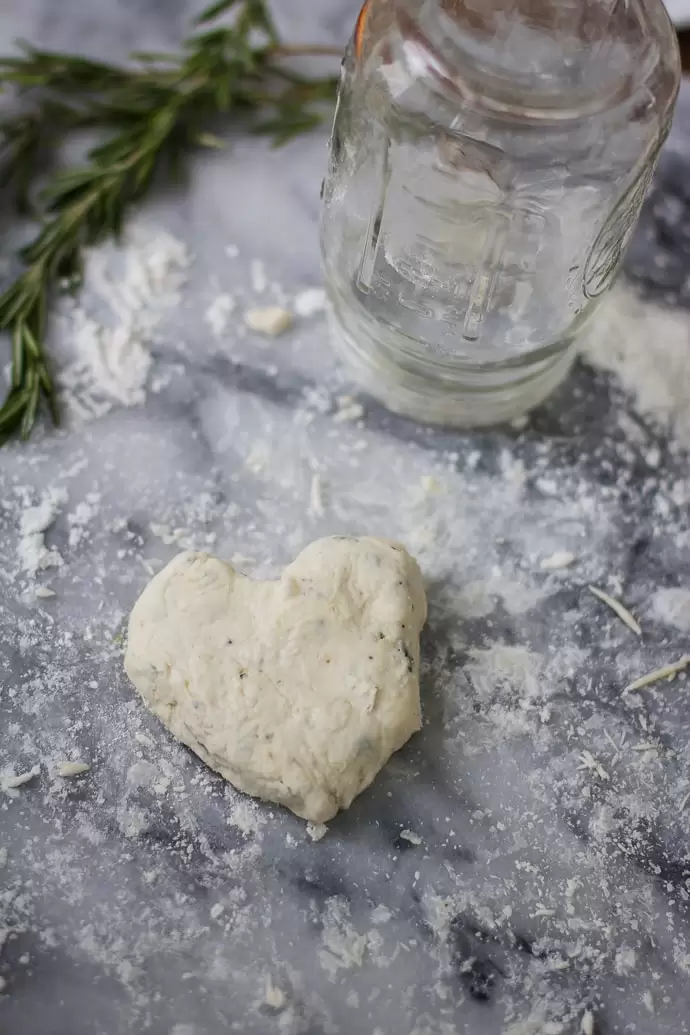 I bake my biscuits at a higher temperature for a shorter time to result in maximum flakiness.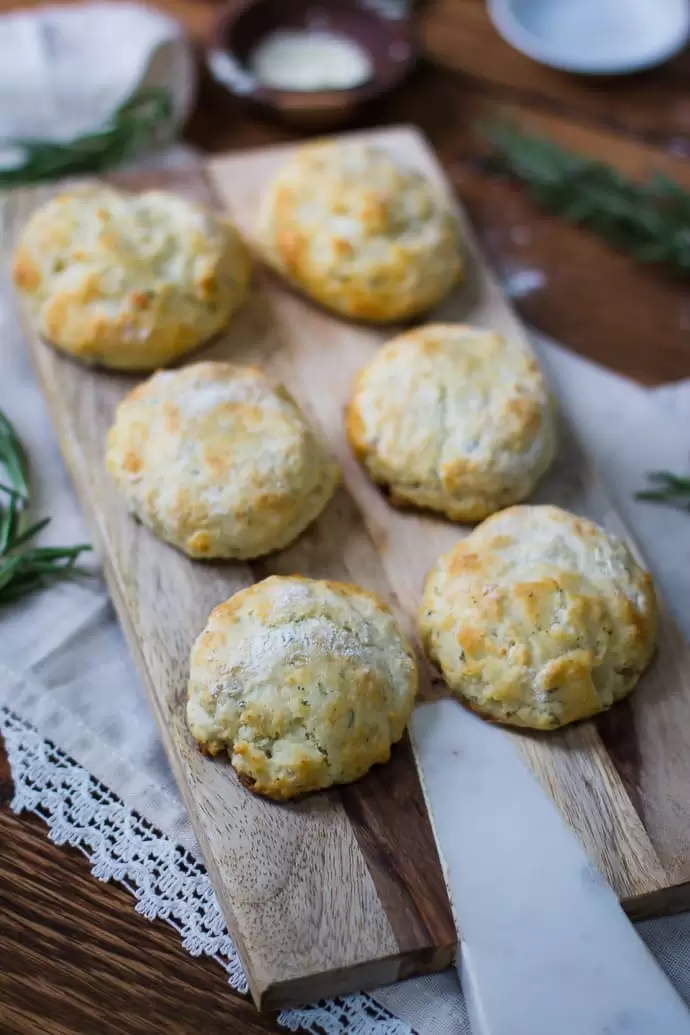 I baked these in 2 batches and for the second bath, I sprinkled a tiny bit more cheese on top of each biscuit as well as a bit more chopped rosemary. I highly recommend this!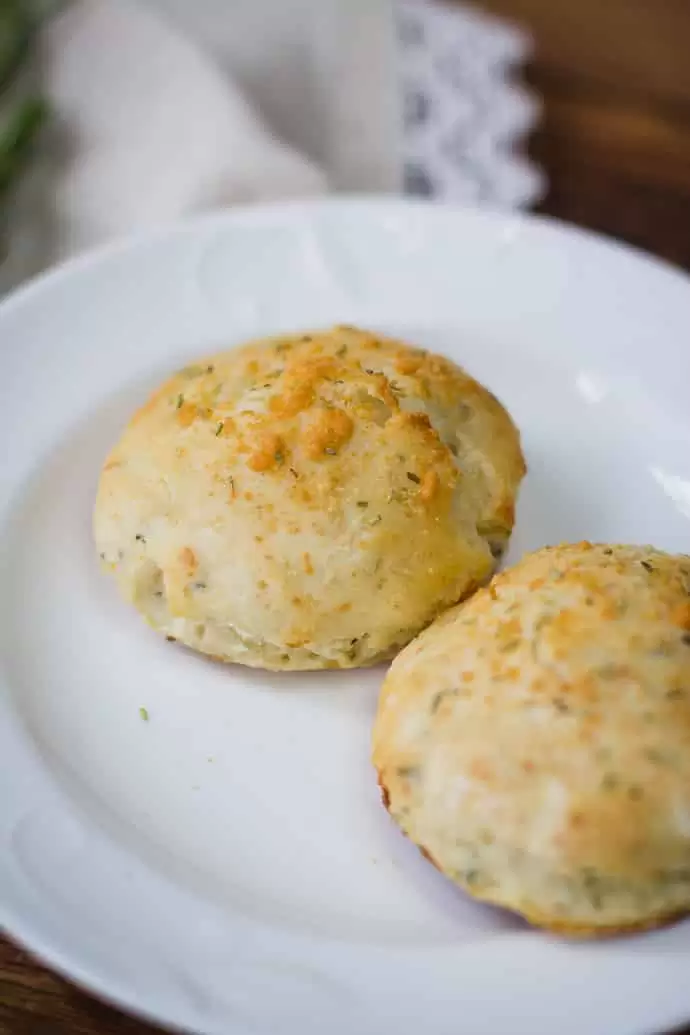 And I'm not typically a fan of salt + sweet together but (I feel like I say that quite often these days) BUT these biscuits taste SO good drizzled with a bit of honey. Just trust me and try it.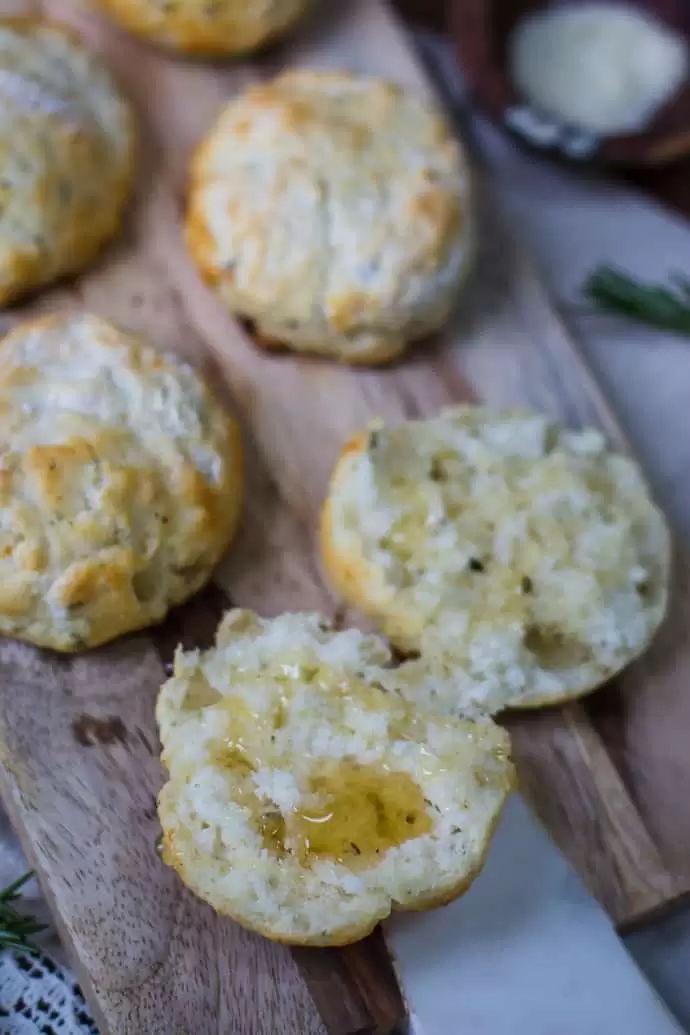 I hope you have a lovely week, friends. So far, mine is off to a good start.
Print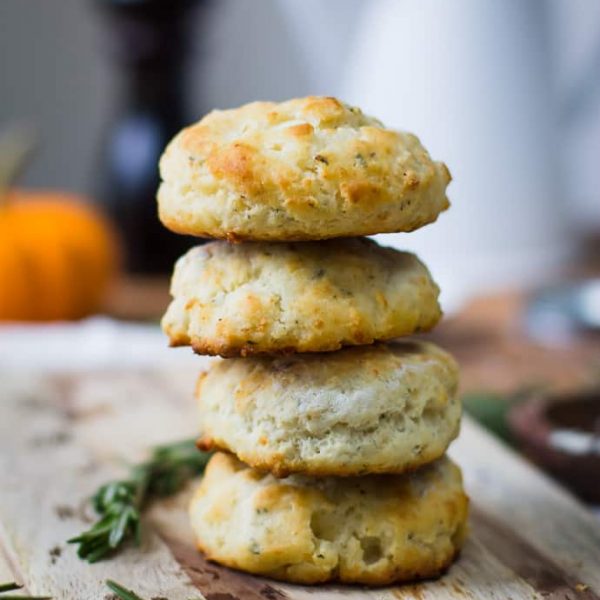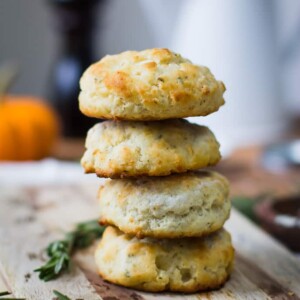 Rosemary Parmesan Buttermilk Biscuits
---
Total Time:

35 minutes

Yield:

1

2

1

x
4 tablespoons

of unsalted butter, cut into half inch chunks

2 cups

of self-rising flour + more for dusting

1/2 teaspoon

of baking powder

1/4 teaspoon

of salt

1/4 teaspoon

of freshly ground black pepper

1/4 cup

of Parmesan cheese, grated (plus more for topping if desired)

1 1/2 teaspoons

of fresh Rosemary, finely chopped (plus more for topping if desired)

3/4 cup

of cold buttermilk + a couple tablespoons more if needed
---
Instructions
Pre-heat the oven to 450 degrees F and generously grease a baking sheet.
Place the cut up pieces of butter in the freezer for about 15 minutes while you prepare the flour mixture.
In a large bowl, whisk together the flour, baking powder, salt, pepper, Parmesan, and rosemary.
Once the butter is done in the freezer, pour it into the flour mixture and incorporate fully using a hand blender. If using a food processor, just processor for a few quick pulses.
Place the whole bowl of flour + butter back into the freezer for 5 minutes.
Flour a work surface and have extra flour nearby for your hands and dusting the dough.
Once out of the freezer, make a well in the middle of the flour mixture and pour in the buttermilk. Using your hands or a wooden spoon, gently stir until the buttermilk is fully incorporated. You want the dough to be rather wet and sticky so add an additional tablespoon of buttermilk if needed.
With floured hands, take the dough out of the bowl and place it on a floured surface. Knead gently a few times to bring it all together.
Using your fingers (not a rolling pin) pat the dough out into a circle until it's about 1/2 an inch thick. For thicker biscuits, you can pat it out to 3/4 inch thick if you desire.
Using a 2 inch round biscuit cutter (or mason jar if you don't have one), cut the biscuits out of the dough. Be careful not to twist your cutter. Just press down firmly and then release. Once you can cut no more out, roll the dough into a ball, pat it out again, and cut out more biscuits. Keep repeating this until all the dough is gone.
Optional: dust the tops of the biscuits with a bit extra parmesan and a bit more rosemary.
Place the biscuits on your baking sheet and bake for 10-12 minutes.
Let cool slightly and ENJOY!!
Prep Time:

25 minutes

Cook Time:

10 minutes
This post may contain affiliate links. Please read my disclosure policy.