Savory Dutch Baby
This post may contain affiliate links. Please read my disclosure policy.
Hi people of the internet. I haven't posted in almost a whole week which is a long time for me these days! I wish that I could say I was off getting some much needed rest but that would be furthest from the truth. However, I'm finally starting to get into the Autumnal spirit and may or may not already have a serious count down to the holidays going.
We're going to dive straight into the recipe today because it's practically a Monday and we're all pretty tired after the long weekend. Delicious Savory Dutch Baby's will do the trick to cheer us right up. Oh, and a video to go along with it:
This Dutch Baby is one of those recipes that I've had in the back of my head for a very long time. You know when you go to a restaurant you've never been to, agonize over what to order, and then spend the whole time you're waiting for your order looking at all the dishes coming out for other people and think "gosh, that looks good! I should have ordered that!". No? Just me? Okay then.
This here Savory Dutch Baby is a result of such an occurrence. I honestly can't remember where I was when I saw this dish first but I knew that I had to try it at home. In the restaurant, the dutch baby's were served in slightly smaller skillets making them single serve dishes. Since I didn't want to go out and buy special cast irons just for this dish, we're using a regular sized cast iron (around 10 inches) and making it enough for 2 people to enjoy. Alternatively, enough for 1 very hungry person (<<<<me all of the time).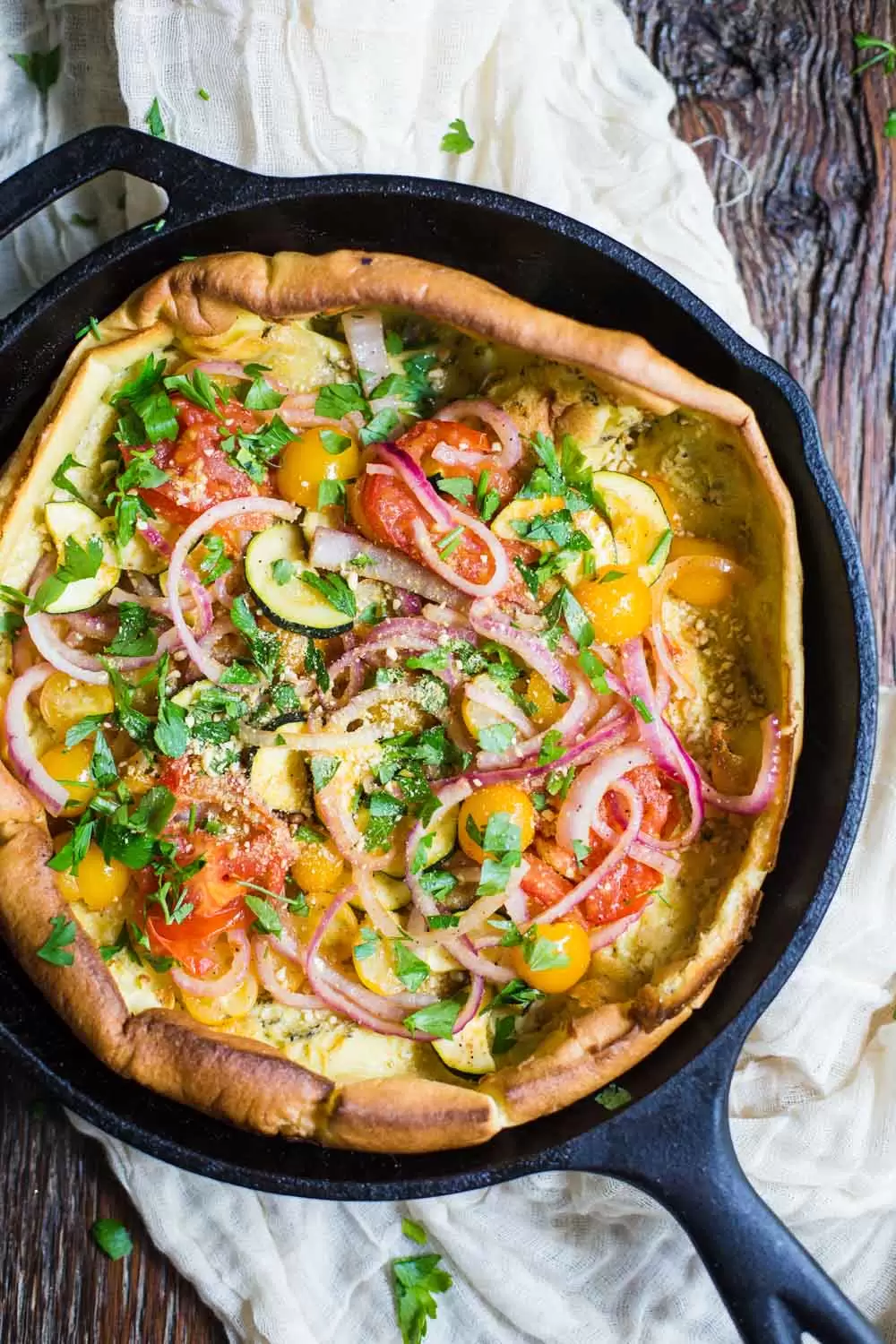 I added thyme to the batter just like I did when we made savory crepes because thyme is an awesome and under-utilized herb that's only bested by rosemary.
The batter itself is simply a matter of blending a few ingredients in a blender and then pouring into the pan of hot butter and sticking the whole thing in the oven. I'm a fan. Then the filling is simply chopping a few veggies and seasoning them to your liking.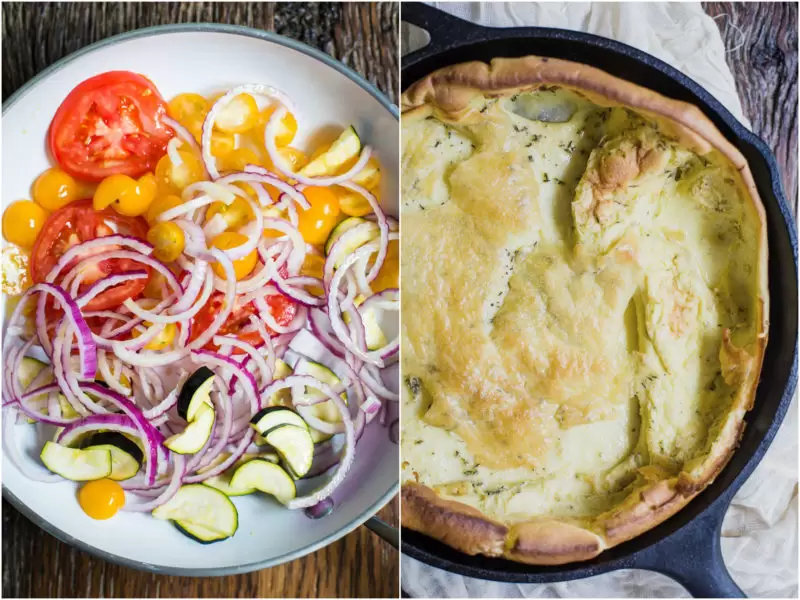 It's also worth noting that in the video, I made the recipe slightly different. I added a clove of garlic in stead of garlic powder and I didn't include the zucchini solely because I forgot :)
Once the dutch baby is made, it's topped with all the yummy sautéed veggies and then with some parlsey, avocado, and a fried egg or two.
The fried egg was a very last minute addition but a very welcomed one at that!
Happy Monday Tuesday, friends! Go make yourself a Savory Dutch Baby ASAP, k?
Print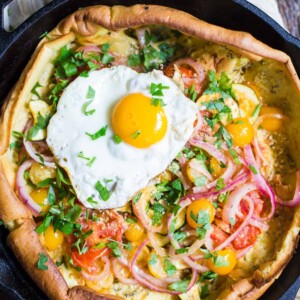 Savory Dutch Baby
---
Author:

Total Time:

35 minutes

Yield:

1

dutch baby

1

x
For the dutch baby:
3

eggs

1/2

cup

all-purpose flour

1/2

cup

almond milk, unflavored

1/2 teaspoon

of salt

1/2 teaspoon

of thyme

4 tablespoons

of vegan butter
For the topping:
1

small tomato, chopped

1/2

of a red onion, thinly sliced

1

cup

of cherry tomatoes (you can also just use a second small tomato if you want)

1

small zucchini, chopped

1/2 teaspoon

of garlic powder

1 tablespoon

of olive oil
salt and pepper to taste
For serving:
handful of fresh parsley, chopped

1/2

of an avocado, chopped
fried egg or 2
---
Instructions
Preheat oven to 425 degrees.
Combine eggs, flour, almond milk, salt, and thyme in a blender and blend until smooth (will only take 30 seconds really). This mixture can also be mixed by hand if desired.
In an average sized skillet (cast iron is preferable), place the 4 tablespoons of butter and put the skillet in the oven to melt the butter. Watch the oven and take the skillet out as soon as the butter is fully melted but before it starts to brown/ burn.
Pour the batter over top of the melted butter and place the skillet back in the oven to bake for 20-25 minutes. It's done with the pancakes is all puffed up around the edges (sometimes in the middle a bit too) and it has a nice golden brown color to it.
While the dutch baby bakes, make the filling by placing the chopped veggies, olive oil, and garlic powder into a skillet. Saute on medium heat for about 10 minutes or until the onions become translucent. Salt and pepper to taste.
Once the dutch baby is done, top it with the sautéed veggies, fresh parsley, avocado, and fried eggs. AND ENJOY!!
Notes
Adapted from http://cooking.nytimes.com/recipes/6648-dutch-baby
Prep Time:

10 minutes

Cook Time:

25 minutes
This post may contain affiliate links. Please read my disclosure policy.