Strawberry Banana Green Smoothie
This post may contain affiliate links. Please read my disclosure policy.
Hi friends!! How was your weekend?
Mine consisted of constantly chasing after escaping chickens and puppies. The chickens (really just one chicken in particular) has MASTERED the art of escaping the very nice fence that we built around their coop. I mean, my chickens are living the good life with way more grass to eat and area to roam than most chickens get. But for some reason my pesky chickens like to fly over the fence and eat the grass on the other side of the fence. I think there's a saying about that…
And we woke up Sunday morning to the sound of our neighbor banging on our front door. I really thought that I was imagining the banging because I figured if someone was really at the front door then the dogs would be barking furiously. Well, as it turns out, our neighbor was banging on the front door to inform us that our dogs were trampling through the neighborhood and were headed towards the busy busy road.
We spent the day Saturday taking the front door off of its hinges to sand it down and re-paint it. In the process, we had one of the side doors open that we don't typically use and I guess we didn't shut/ lock it properly before going to bed on Saturday night. All I can figure is that the wind blew the door open. Of course, my dogs were all over this fact, went outside, jumped the fence, and went on a parade around the neighborhood. Luckily we found them before they reached the highway because my dogs aren't the smartest and I'm pretty sure they would have walked right out into the road. They were very (very) proud of themselves and clearly thoroughly enjoyed their morning walk. I wasn't quite as pleased.
In other news, I have a new culinary addiction: green smoothies!! Like, I keep debating just selling my fancy schmancy juicer and using the money to buy a fancy schmancy blender because smoothies> juice. IMO.
I was first turned on to green smoothies from following Simple Green Smoothies on Instagram where they post all about them. So, about 3 weeks ago I bought myself a GIANT bag of kale, a GIANT bag of spinach, and LOTS of frozen fruit and I've had a green smoothie pretty much every single morning since then.
I absolutely LOVE it and pretty much plan on this being my breakfast forever. I've experimented with quite a few different flavor combos. This Strawberry Banana Green Smoothie has been my go-to lately.
In the past, I used to throw the greens in last minute once the rest of the smoothie was already blended. This worked okay but often resulted in chunks of spinach being left in the smoothie.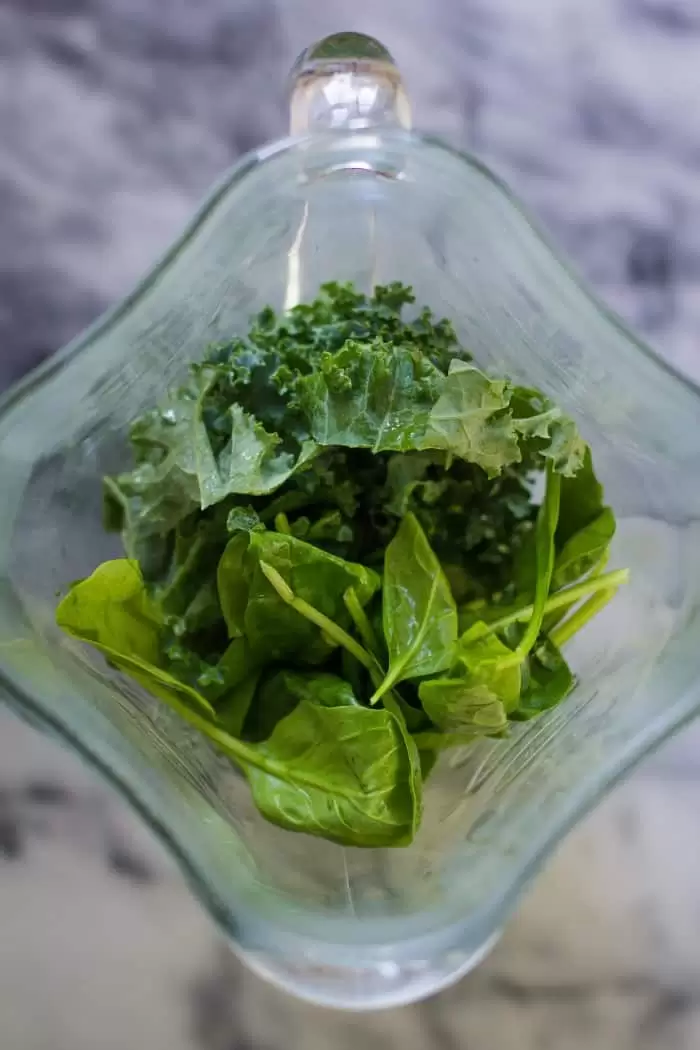 BUT, I figured out the trick!!: before blending anything else, blend the greens with some liquid (typically water or almond milk) until they're completely liquified. Like so: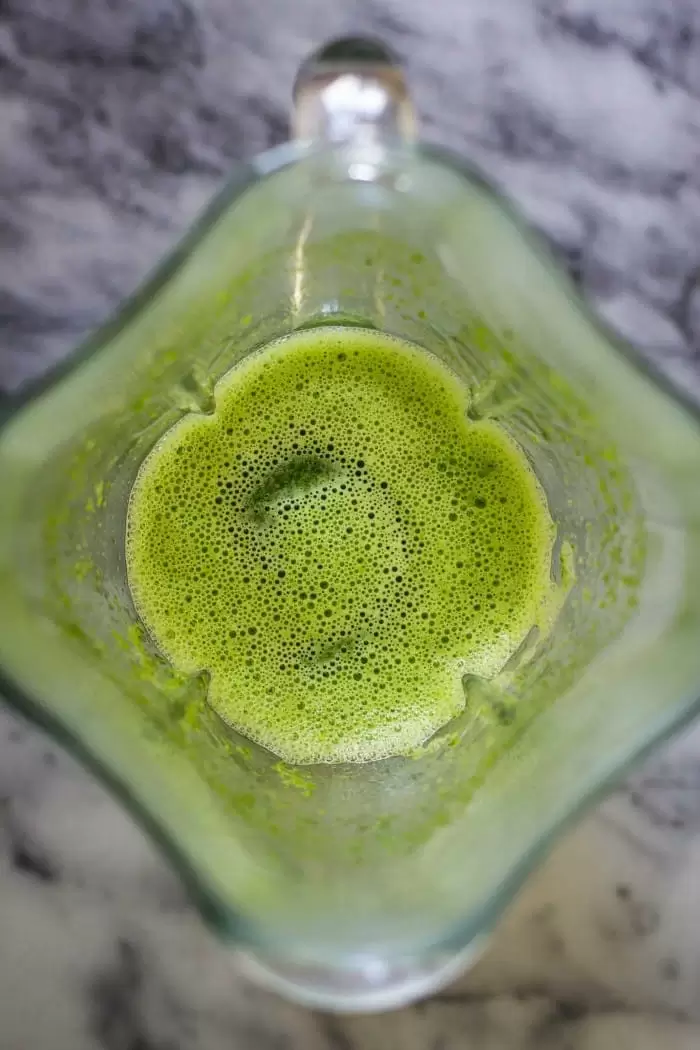 After that, just add in the remaining ingredients and blend it up.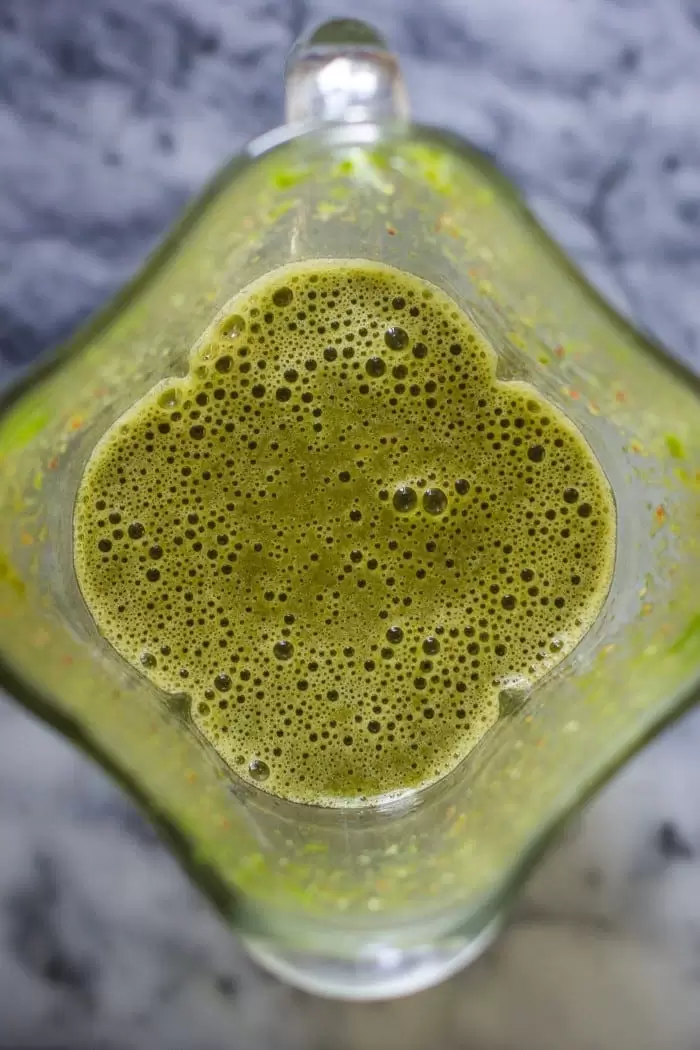 OKAY, so full disclosure: it don't look so pretty. I know. I often take my smoothies on the go and pretty much always get funny looks along the lines of "omg, what are you drinking!?".
HOWEVER, I PROMISE that it tastes super yummy. You really don't taste the greens at all but you still get all the benefits! I also add in a bit more spinach and kale than most other green smoothie recipes that I've seen. I'm not really sure why but it works for me and I figure it couldn't hurt, right?
Not only do these green smoothies taste so super yummy but they genuinely leave me feeling great. It kind of sets the mood for the rest of the day and just overall makes me feel good.
Im planning on posting quite a few more green smoothie recipes as I continue to experiment with different ingredients. I'm also working on some good meal replacement smoothie recipes. So, if you have any flavor suggestions, please please share them in the comments!!
Print
Strawberry Banana Green Smoothie
---
Total Time:

4 minutes

Yield:

1

1

x
One handful of spinach (about 2/3 cup packed)
One handful of kale (about 2/3 cup packed)

1 cup

of water

1

banana (can be fresh or frozen)

5

strawberries, frozen
---
Instructions
In a blender, combine the greens and 1 cup of water. Blend on low-medium speed until the greens are completely liquified. This will take about 1 minute. At first it might seem like the greens aren't going to get blended down into the blender but just wait about 20 seconds and they will.
Once completely liquified, add in the fruit and blend until thoroughly combined. You might need to add a touch more water if it's too thick.
ENJOY immediately! :)
Prep Time:

2 minutes

Cook Time:

2 minutes
***A couple notes on the recipe:
If so desired, you could just use 2 handfuls of spinach or 2 handfuls of kale if you don't have both on hand. I like the variety but it's absolutely not necessary. And that being said, you could really use any leafy green that you have laying around.
The fruit doesn't HAVE to be frozen but if at least some of it isn't frozen, the smoothie won't be quite as creamy and cold. Typically I use all frozen fruit for my smoothies but it could be all fresh fruit.
This post may contain affiliate links. Please read my disclosure policy.