The Equipment I use to Produce Tasty Style Recipe Videos
This post may contain affiliate links. Please read my disclosure policy.
One of the most common emails I get these dates is about my setup and process in creating "Tasty Style" recipe videos. While I'm not expert, I have been creating recipe videos for about the past year and have learned a lot along the way. Since diving in head first, producing recipe videos has become my full time job and one that I ABSOLUTELY love!
I'm going to divide this up into several posts starting with this one on the specific equipment that I use.
ALSO- did you get a chance to listen to my interview with Bjork from the Food Blogger Pro Podcast? I feel SO honored to have been invited on the podcast. We talk about video and my journey in creating my own path towards working from home and being my OWN boss. Super excited to share it with you. You can listen HERE.
And if you're not familiar with my work, here a few of the recent videos that I have done for my blog and for some of my awesome clients! Blender Banana Oatmeal Muffins, Thai Chickpea Curry, and Sweet Potato Quinoa Bowl.
Cameras
I currently shoot with 2 Canon DSLR cameras:
Canon 6D– this is the camera that I use for the bulk of the shooting. I almost always have it fitted with a 50mm 1.4 lens, attached to THIS tripod (mentioned in detail below), and positioned overhead of the action.
Canon 60D– this camera is my older (and first) DSLR camera. I use this camera for the sexy side shots and typically only turn it on when I specifically have a shot in mind that I would like to capture. I almost always have this camera fitted with a 100mm macro lens or occasionally with an 85mm lens (lenses discussed below). I have a second identical tripod to the one mentioned above that I keep this camera on. I also often use this camera for the "hero" shots (think the awesome shot of the finished food that just makes the viewer want to go make the recipe asap).
Lenses
I currently use 3 lenses:
50mm 1.4– as mentioned above, this is the main lens that I use (attached to my 6D) for all overhead shots. It's also the main lens that I use for all of my photography and it's just an all around amazing lens especially for the price.
100mm macro– I invested in this lens last year and I absolutely LOVE it. It allows me to get those super up close shots that just really take recipe videos to the next level. I bought this lens used from amazon and so far it's worked great for me. I also use this lens 90% of the time for the hero shots (the shots of the finished food that are shown at the very beginning and end of my videos). I've found that those up close shots work the best for really catching someone's eye and drawing them in to watching more of the video.
85mm– this is an extra lens that I already had. I used it more before getting the 100mm macro but honestly, I don't touch it too often anymore.
Tripods
I currently have 2 of the same tripod:
Vangard Alt Pro 263AB– I LOVE this tripod so much that I ended up buying myself a second one a few months ago.
Why I love it: first of all, the price. Many of the tripods that were recommended to me were very expensive and I just wasn't willing to make that investment at the time. This tripod, at around $150-200 (price seems to change often on Amazon) was exactly what I was looking for. Sturdy and reliable but nothing too fancy. HUGE bonus: it doesn't require ANYTHING extra. A lot of other tripods require you to buy an extra arm for overhead videos. This tripod adjusts in a way that you can remove and readjust the main arm and get those perfect overhead shots (see picture above). All I do is attach a bungie cord and a half empty paint can to the end as a counterbalance. Like so: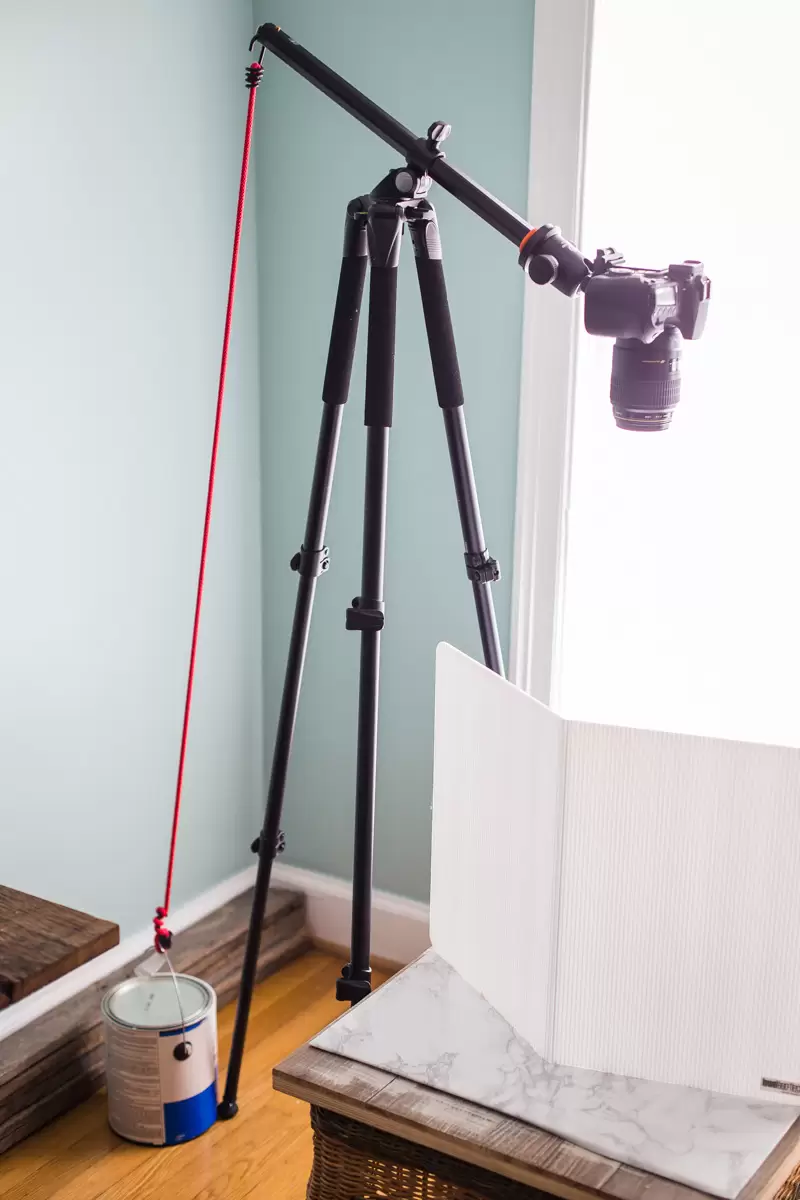 Is it necessary to have 2 tripods?: Not necessarily. I have 2 because when you're shooting upwards of 10 videos per week, it just makes things that much easier. However, if you're just creating recipe videos for yourself and doing (for example) just one video per week, it might not be worth it.
I like having 2 because that way I have 1 for each camera. I can leave the overhead tripod setup at all times and have the other tripod ready for side angle shots. It's also very useful for moments when I want to be recording on BOTH cameras at the same time.
Advice for a one tripod setup: plan ahead. If you're pouring dressing over a salad and you want to get a shot of it both overhead and from the side, I would shoot half of the pouring from one angle, readjust the tripod, and then shoot the pouring the remaining dressing from the other angle.
SD Cards
I'm a big fan of SanDisk. I have several of THESE SD cards and have never had any problems with them.
Editing Software
I currently edit with Adobe Premiere.
I also have Adobe After Effects for adding in fun dancing text at the beginning of videos but I haven't experimented with this a lot.
Where I started: I started with iMovie which is the perfect place to get your feet wet! I highly recommend starting with a free service such as this before diving into premiere or final cut pro.
How I learned to edit: THE BLOG VILLAGE!! I learned so much of what I know from the super detailed tutorials on The Blog Village. Trevor (the creator of TBV) is super helpful and always willing to answer questions.
At the time that I joined the Blog Village, Food Blogger Pro did not yet have any tutorials on video. I know that they have since added a lot of resources for reacting videos and how to edit them so that's another option to check out!
Lights
I bought 2 of THESE at the recommendation of the Blog Village. The thought of being able to create videos at any time of day was SO appeal to me, especially during the winter when daylight hours are so limited. However, after making about 10 videos with the lights, I decided that natural light was just more my style. HERE is a video that I created using those lights.
I do still use these lights on occasion. I used one recently for an in person shoot to fill in the light and it worked well. The natural light is coming from the right side with the artificial light positioned on the left. I took a few clips without the light on and it made a world of difference! I'll post that video once it's live.
Why natural light: really it's just my artistic style. I like the softness that comes with natural light and at the end of the day, it's just a stylistic decision that I've made.
Why artificial light is preferred by many: consistency! You really don't notice HOW STINKIN' MUCH the sun moves until you try and film a recipe video. On a cloudy day, trying to film a video with relatively consistent light can be torture and nearly impossible.Using artificial lights makes it easier to get a consistent look to your videos (light wise). In return, that makes editing MUCH easier as well when you aren't constantly adjusting the color and light so that it matches throughout the video.
Microphone
I don't use it all too often but I do have THIS Rode on camera microphone. It works well for an on camera microphone and is super easy to setup and use. I've just started filming some 'in-person' videos for clients and am likely going to invest in some simple slip on mics soon.
Surfaces
I have a few simple surfaces that I made on my own but by FAR the ones I use the most are the ones I bought from Erickson Woodworks. I have 2 of their surfaces (double sided each, so 4 options). They're small and easy to move around while still fulfilling ALL of my needs. Definitely recommend their surfaces.
I also have a surface that I made out of a white foam board ($2) and THIS faux marble stick on paper that I ordered from Amazon ($20). I LOVE this surface and find it a lot easier to use than an actual marble pastry board which is not quite big enough and super heavy to move around.
Extras
I have a small wicker coffee table that I LOVE using for putting my surfaces on while shooting. It's lower to the ground which typically puts my camera at the perfect level for me to still be able to see it for adjustments etc.
Simple bowls and food props: I buy most of my props from thrift stores and from World Market (<<<<my ALL time favorite place to shop!).
Sharing videos
With client videos and with my own videos, I upload them all to dropbox for easy access. With the app, I can easily access the videos from any device which makes uploading videos to Instagram super easy and convenient!
---
That's all I have for you today! If you have ANY questions, please feel free to ask in the comments or shoot me an email at britabritnell@gmail.com.
And if you have questions or ideas for future videography posts, please let me know!!
***Some of the links above are affiliate links meaning that if you end up buying one of the products, I'll make a teensy profit at no extra cost to you. Don't worry though, I'll put the money to good use perhaps by buying a few more of my favorite Nashville 100 layer donuts ;)
This post may contain affiliate links. Please read my disclosure policy.