Chipotle Inspired Vegan Burrito Bowl
This post may contain affiliate links. Please read my disclosure policy.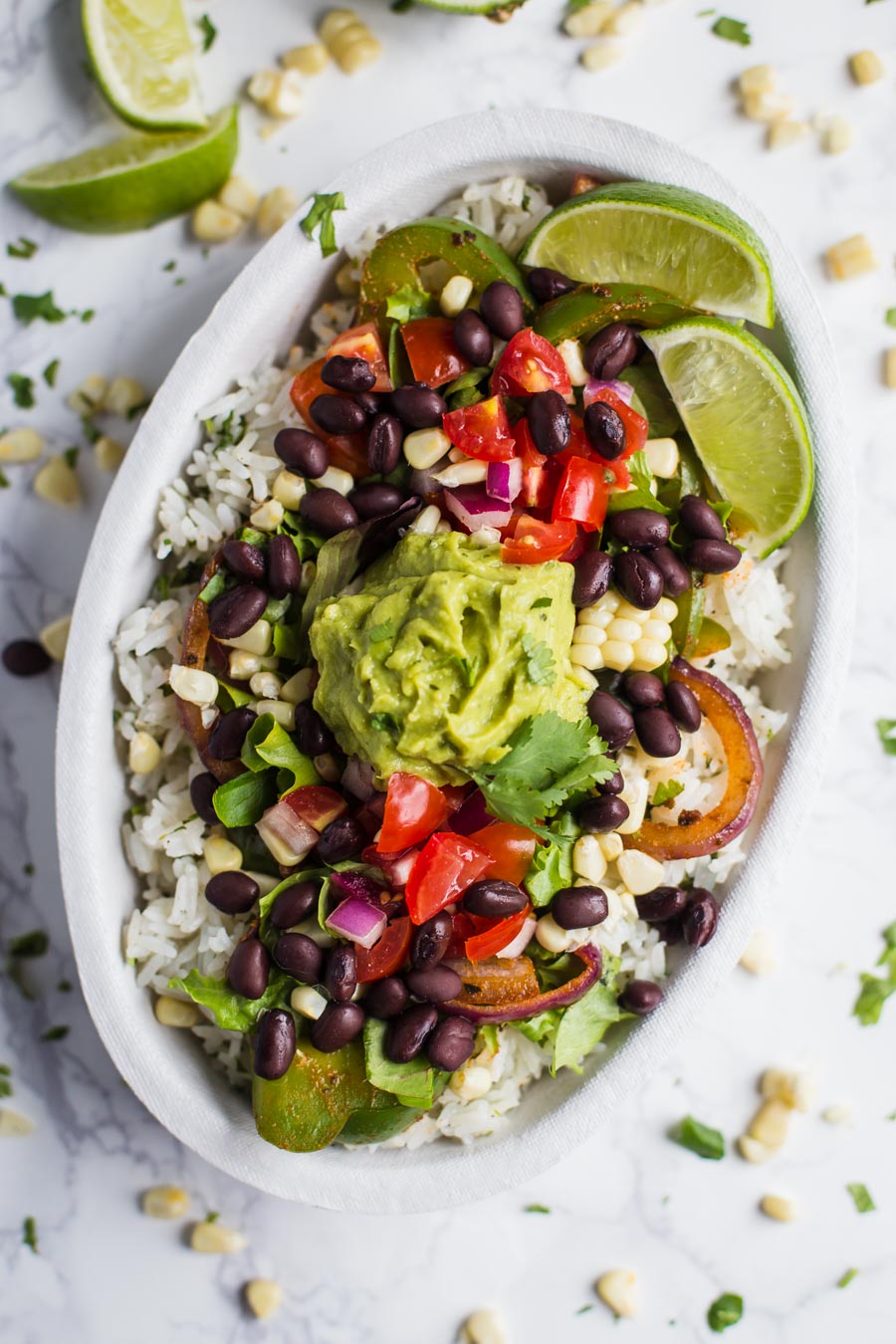 Welcome to my first recipe of 2017 and the first recipe of Plantuary! ALSO, my first post as a self employed woman! I've actually been working on this recipe since APRIL of 2016. I even photographed it once but was just never quite satisfied with the recipe or the photos. Yes, burrito bowls are pretty easy BUT I really wanted this one to very closely mimic a Chipotle burrito bowl. So, I had to test the whole recipe a few times.
I'm finally happy with it! While you could, I didn't add any extra salt to the recipe and I sautéed the veggies in only a tiny bit of oil and simply added water to the pan when it got too dry (instead of adding more oil). I'm working to make small changes like that in order to reduce my daily intake of salt, oil, and sugar.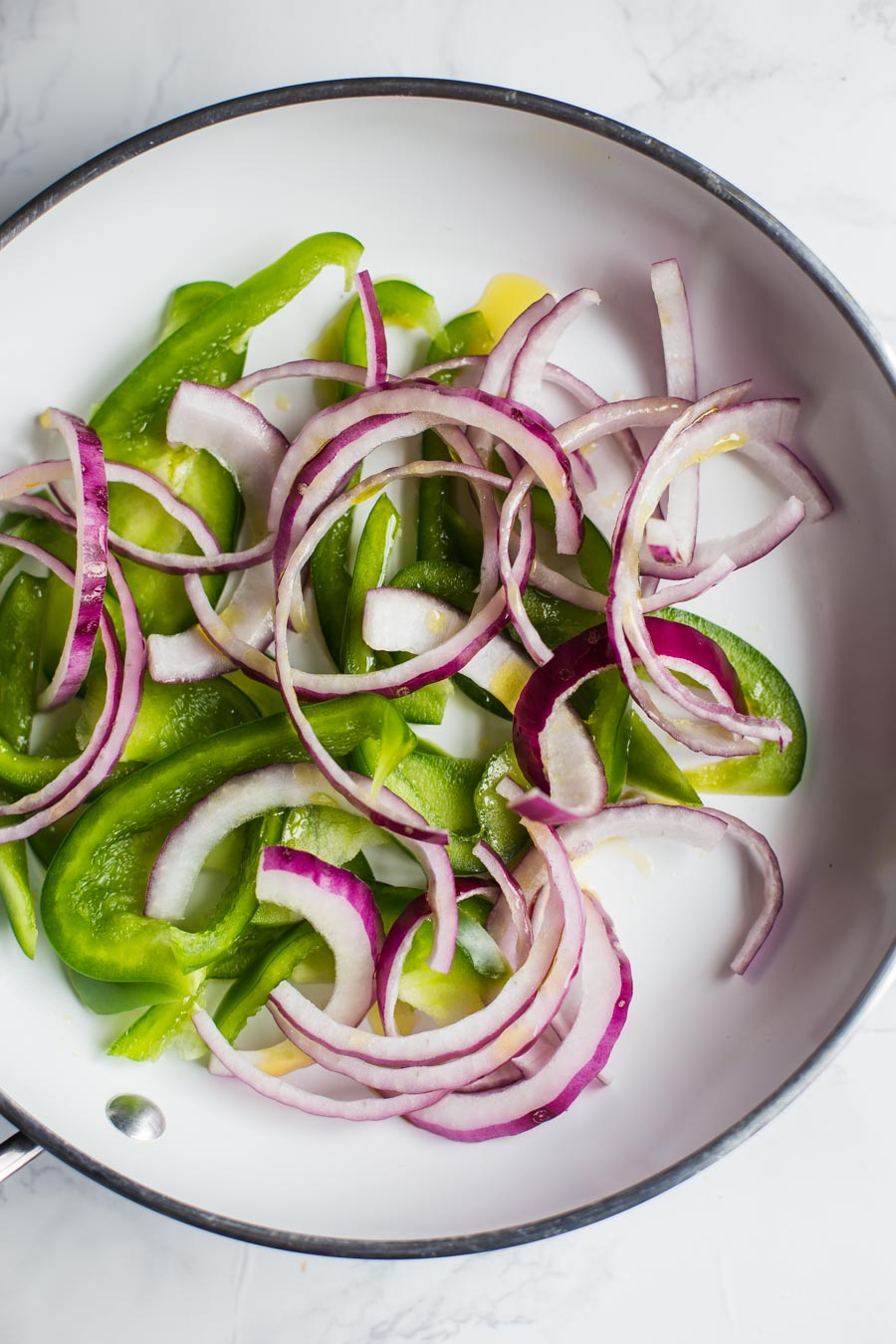 And yes, that is an actual bowl from Chipotle. I went there a "few" times (ya know, for research) and brought home an extra bowl to make things EXTRA legit! I went all out here, guys.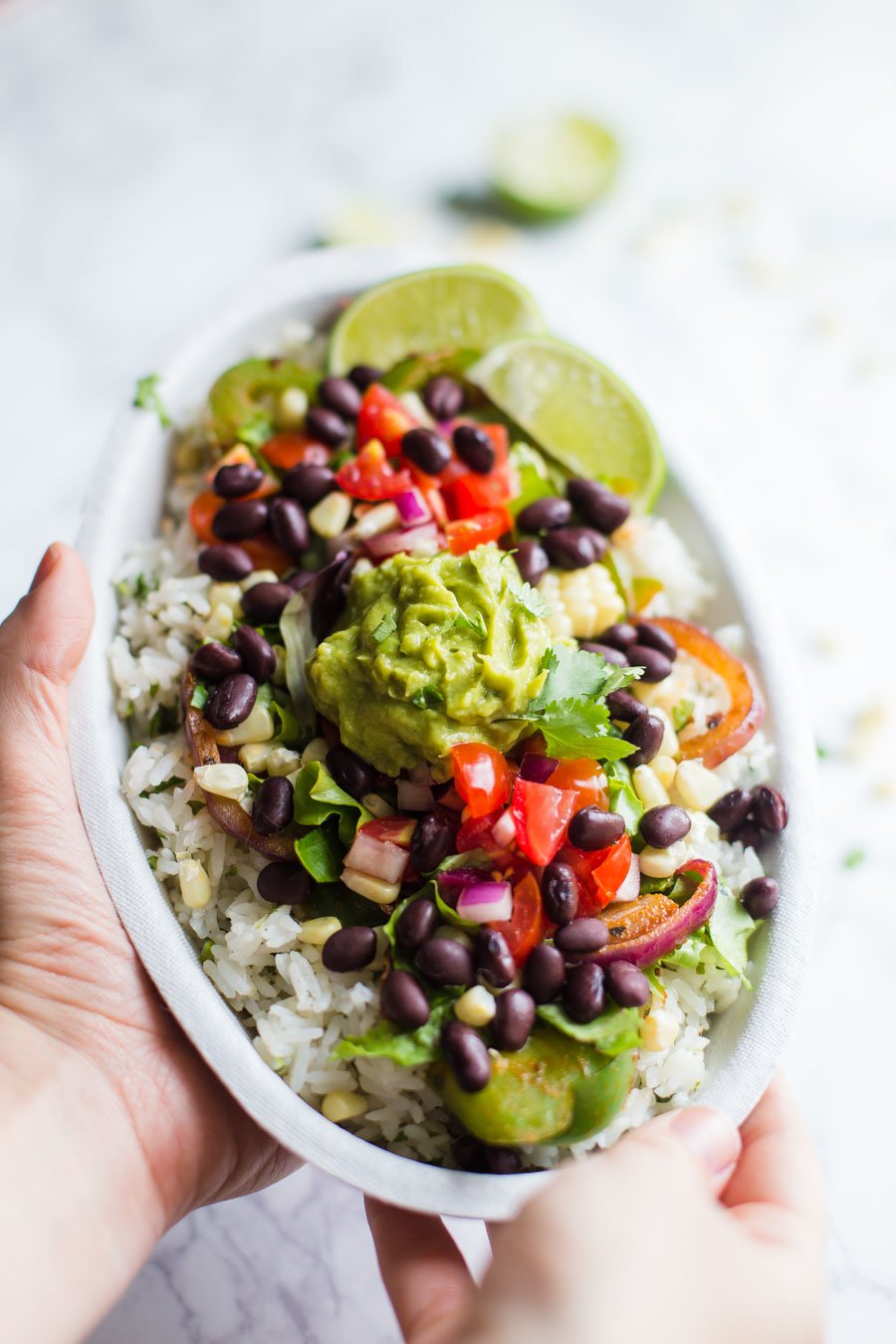 This burrito bowl is fully vegan (obvs). We start with a base of rice. White rice just tastes vastly better to me but if you're a brown rice fan, go for it! You know what else would work well?? Quinoa OR even cauliflower rice! You could skip this step but I don't recommend it: once the rice is cooked, mix in a handful of chopped cilantro, a squeeze of lime juice and if desired, a sprinkle of salt. From my experience, you want to add a little more lime juice in than you think you need. It'll taste a little too limey at first but I've discovered that once it sits for even just 5 minutes, it loses quite a bit of the lime taste. So if at first you think you added too much in, it's probably perfect :)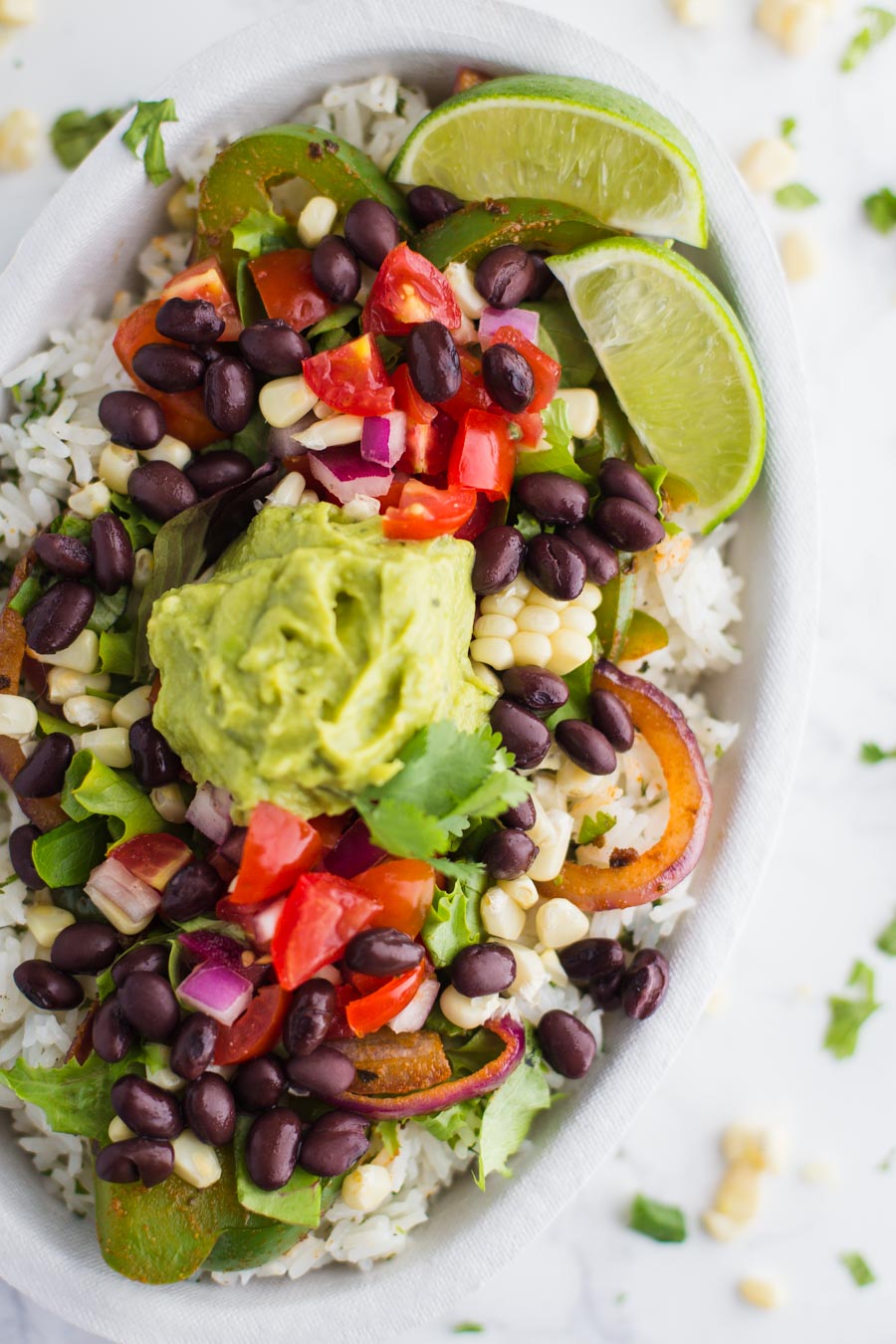 These burrito bowls are obviously pretty versatile. You could add meat to them, different kinds of beans, different peppers, maybe add in some jalapeno, or swap the rice out for quinoa or even cauliflower rice as mentioned before. Have fun with it! My 2 suggestions: don't skip adding in the cilantro and lime juice and don't skip the seasoned and sautéed veggies (bc those are my favorite parts!)!
Print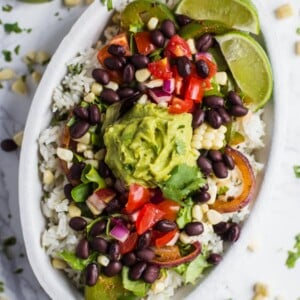 Chipotle Inspired Vegan Burrito Bowl
---
Author:

Total Time:

30 minutes
1

ear of corn, grilled or baked (could also use

1

can of sweet corn instead)

2 cups

of uncooked rice, I use white but brown will also work just fine

1/2 cup

of cilantro, chopped. plus extra for topping
Juice and zest of 1 lime

1

bell pepper, thinly sliced

half of a

red onion, thinly sliced

1 teaspoon

of oil (I typically use olive oil or coconut oil)

1/2 teaspoons

of oregano

1/2 teaspoon

of cumin

1/2 teaspoon

of garlic powder

1/2 teaspoon

of paprika

1

can of black beans, drained and well rinsed

2 cups

of thinly sliced leaf lettuce
optional for topping: guacamole, pico de gayo, vegan sour cream, vegan cheese, wedges of lime,
---
Instructions
If using fresh corn, pre-heat the oven to 350 degrees and bake the cob of corn for 20 minutes. Once it's out of the oven and cooled, cut the corn from the cob.
While the corn bakes, cook the rice according to directions. I cook mine in a rice cooker.
When the rice and corn only have 10 minutes left, begin sautéing the veggies. In a skillet, combine the oil, peppers, and onion. Saute for 5 minutes and then stir in the spices. Cook for an additional 5 minutes. If/ when the pan gets a little dry, you can add in more oil OR simply add in a bit of water (about 1 tablespoon at a time).
Once done, mix into the rice the cilantro, lime juice and zest, and a pinch of salt if desired (can also add a bit more salt). Stir until fully combined.
Assemble the bowls by first dividing the rice among 4 bowls (for 2 people, this makes a great dinner with leftovers for lunch!), top with the veggies then the black beans and then sprinkle on the corn and other toppings.
ENJOY!!
Prep Time:

10 minutes

Cook Time:

20 minutes

This post may contain affiliate links. Please read my disclosure policy.