Vegan Gingerbread Cookies
How stinkin' cute are these guys!!? ^^^^^^^
Gingerbread cookies are by nature adorable but the fact that I made these myself makes me all the more fond of them. Until I'm hungry and then there's absolutely no hesitation in biting their heads off :)
If you've followed my blog for a while then you know that baking is not my first love nor is it my greatest talent. In fact, when I first started my blog, baking kind of scared the crap out of me. I'm not really one to follow recipes to a t which can prove problematic when baking. However, I'm finally in a pretty comfortable place with baking and can even experiment with recipes without totally screwing things up (most of the time). Also, I am enjoying doing lots of baking this holiday season. Mr. Britnell has been taking lots of cookies with him to work lately :)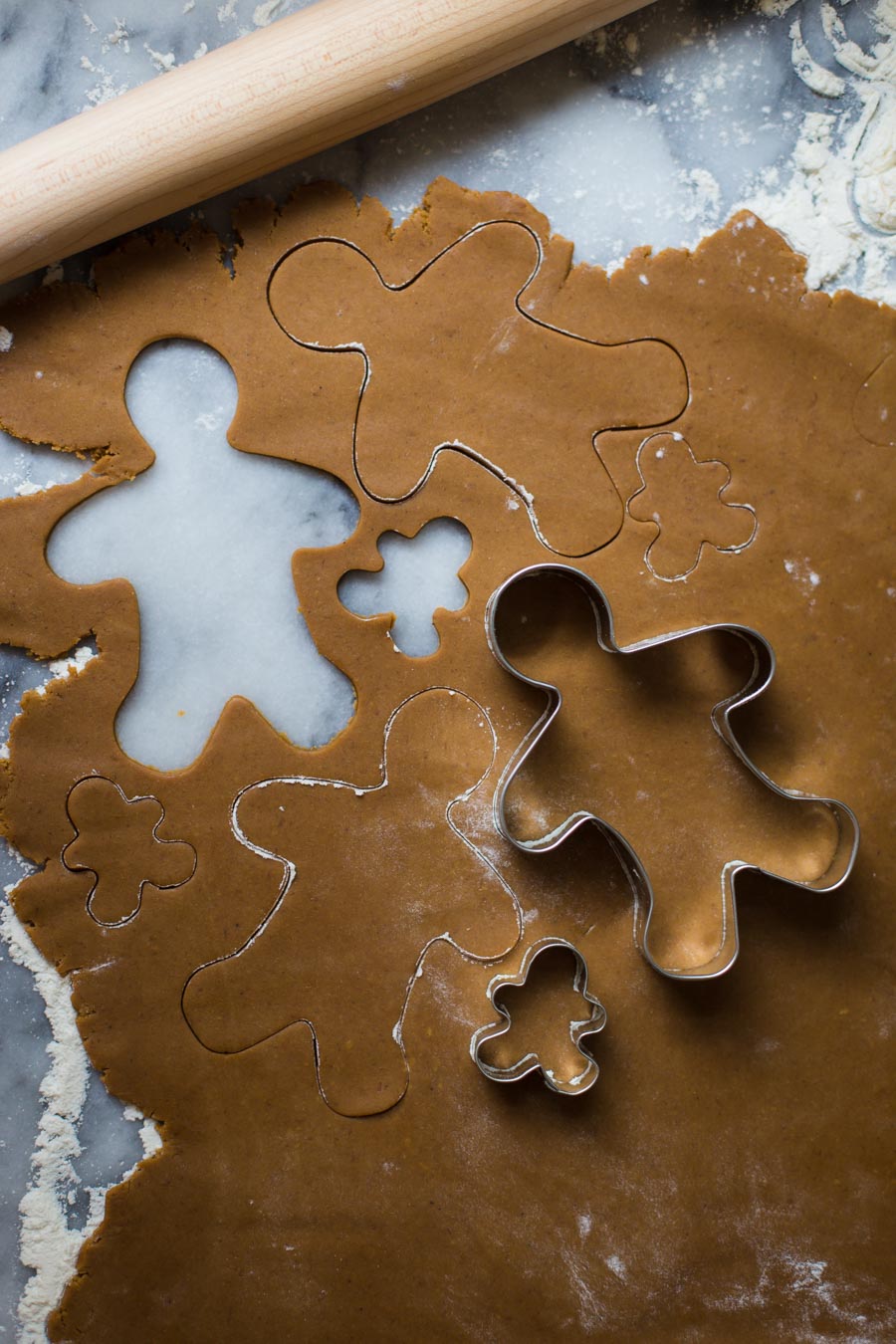 At first I tried out some crazy things to make these gingerbread cookies vegan, but then I decided to keep it super simple. So, we're using a pretty classic gingerbread cookie recipe simply substituting the egg for a flax egg and the butter for vegan butter. Why mess with a good thing, right?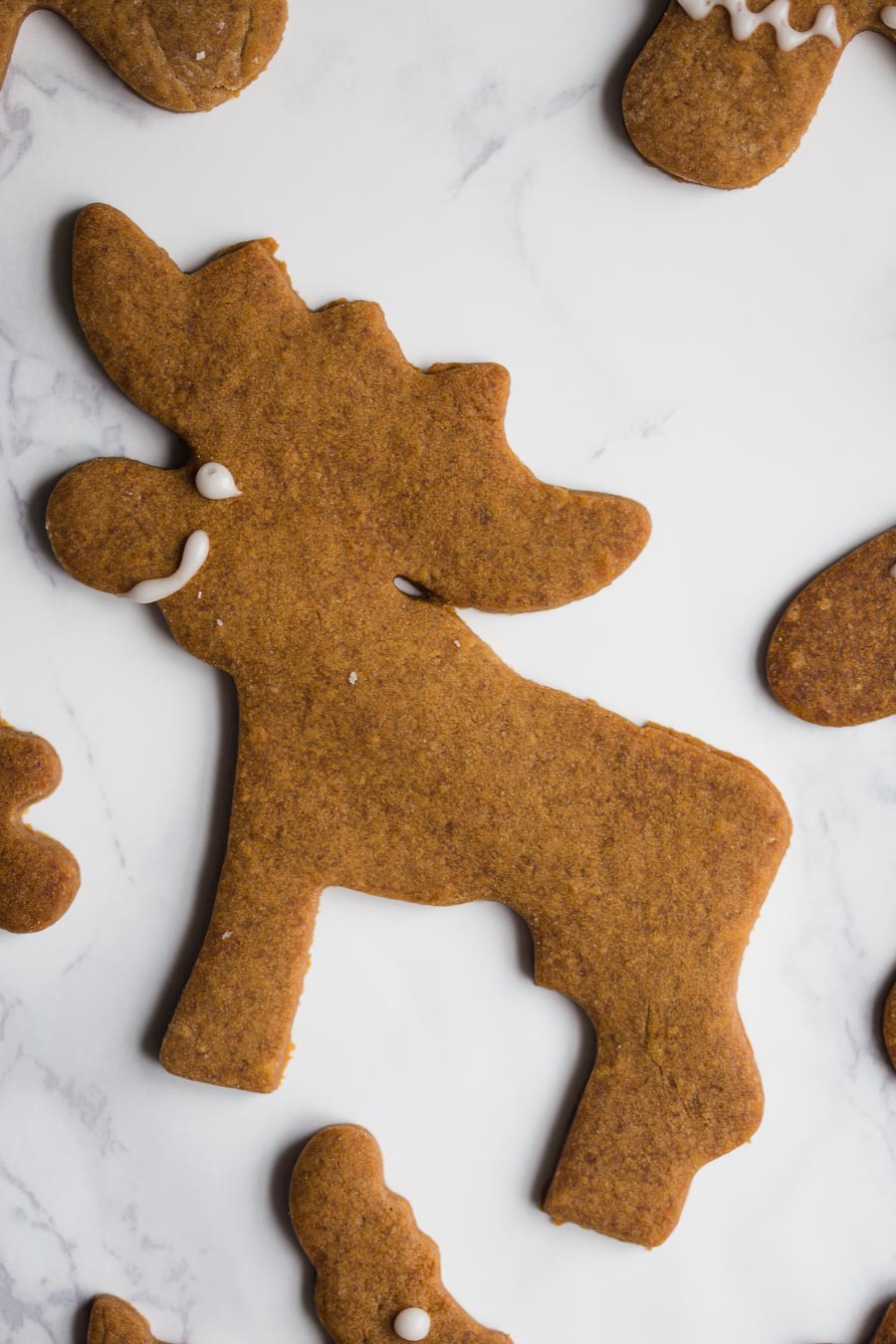 For cookies, these are also pretty easy to make. Everything is mixed together in a stand mixer and then left to chill for a while.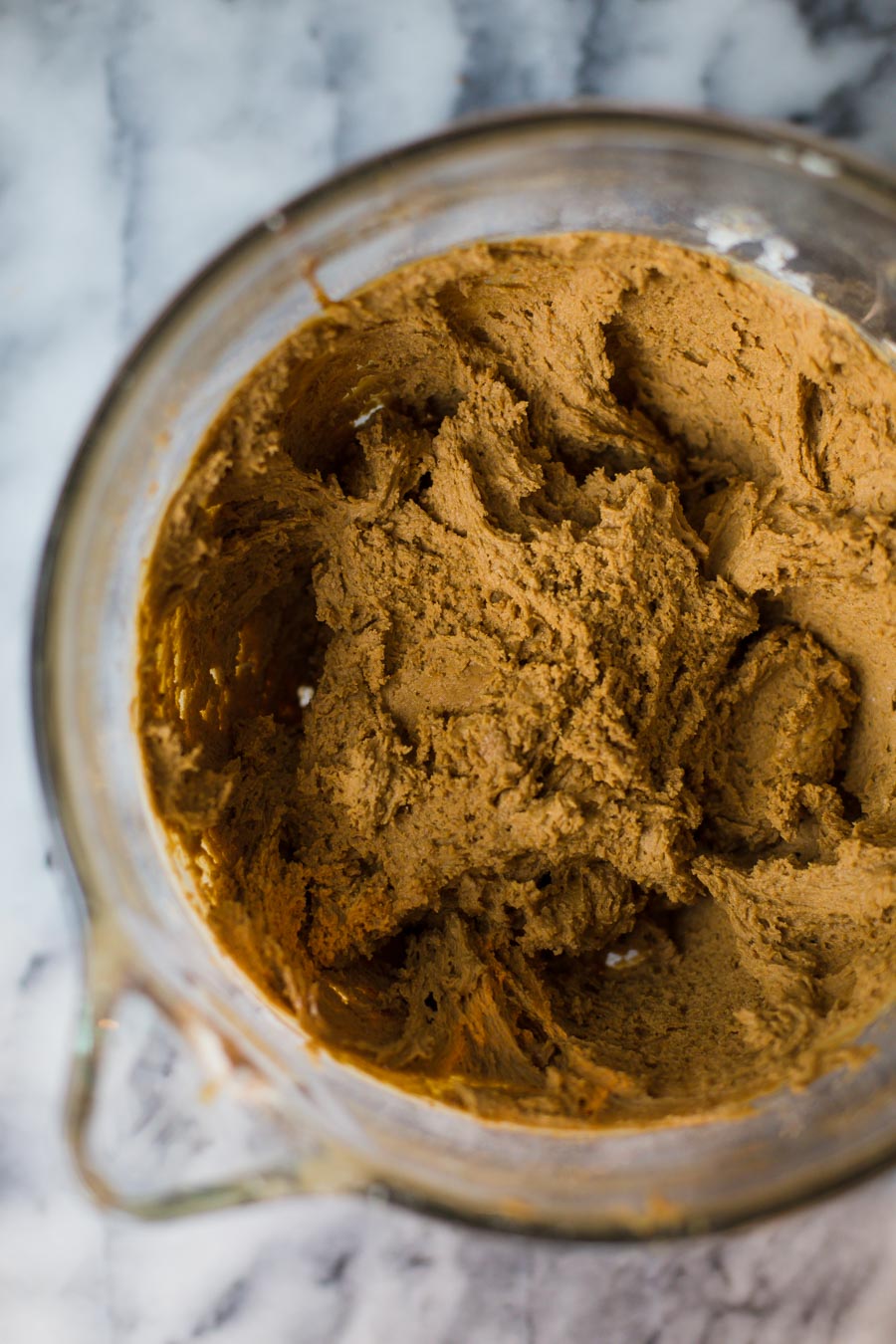 These aren't too sweet which I really like about them. I mean, they're not too sweet unless you add loads of frosting to the top like I did in fact do with many of them.
If you can swing it, it's also a good idea to make the dough the night before you want to actually bake them. This isn't actually necessary but they do require at least a 1 hour chill in the fridge so I always figure, why not just make the dough the night before? Easy.
Coming sometime in the very near future: a gingerbread house using this same gingerbread recipe. I'm VERY excited about that! ;)
Have a lovely weekend, dear friends! I hope it's filled with lots of cookies because tis the season!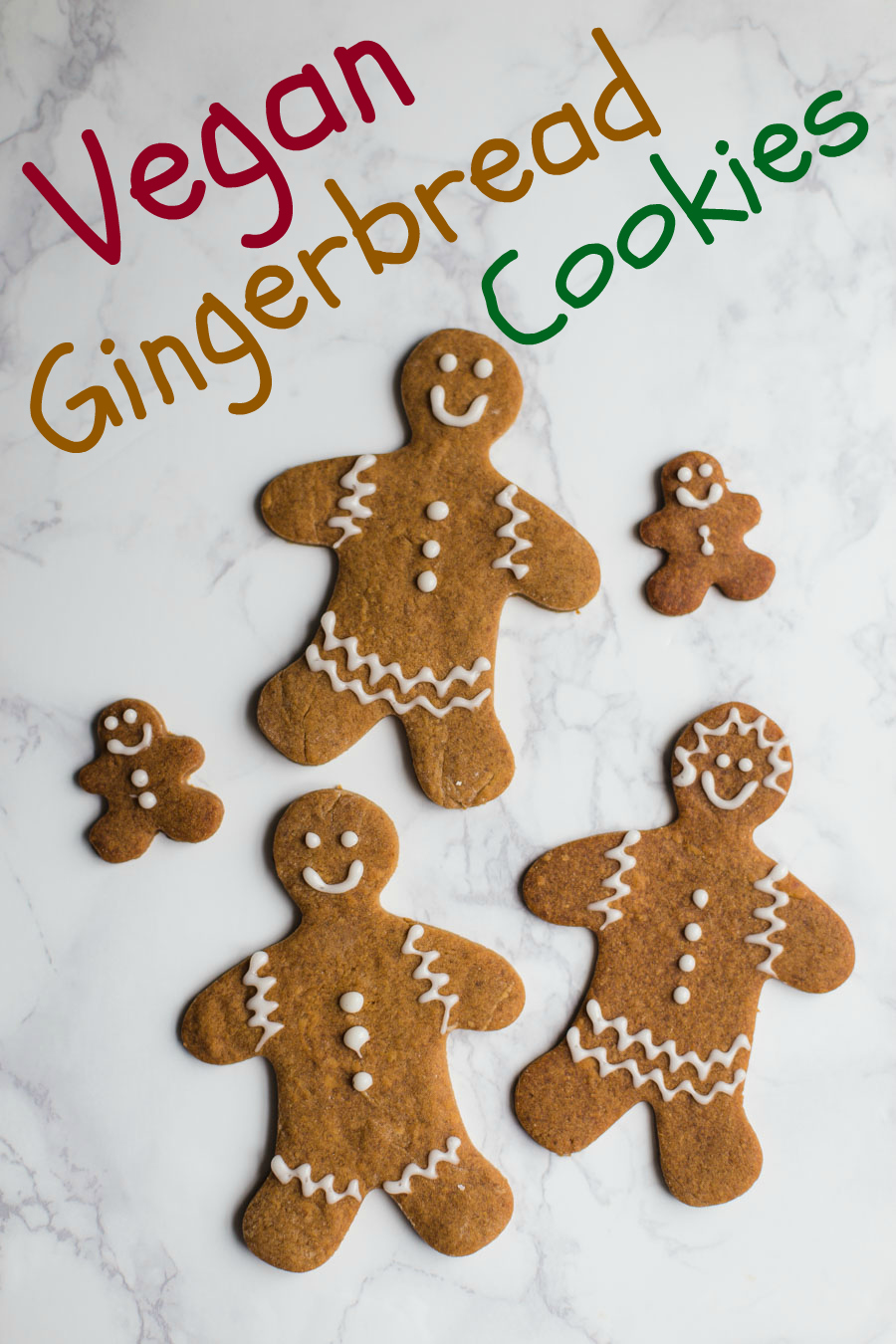 Print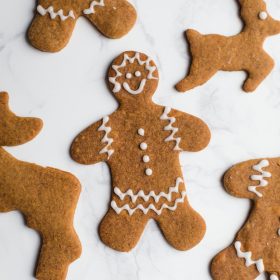 Vegan Gingerbread Cookies
---
Author:
Prep Time: 1 hour 20 minutes
Cook Time: 8 minutes
Total Time: 1 hour 28 minutes
Scale
Ingredients
For the cookies:
•3 1/4 cups of all-purpose flour
•1/2 cup of packed dark-brown sugar
2 1/2 tablespoons of homemade gingerbread spice**
•1/2 teaspoon salt
•3/4 teaspoon of baking soda
•3/4 cup of vegan butter, softened. I typically use Earth Balance butter sticks when making cookies but their butter out of the tub works just the same.
•1 flax egg (1 tablespoon of ground flax seen mixed with 3 tablespoons of water)
•1/2 cup unsulfured molasses
For the icing which is optional but yummy!:
1 cup powdered sugar
1–2 Tablespoons almond milk
1/8 teaspoon vanilla extract
---
Instructions
In a large bowl, whisk together the flour, baking soda, salt and gingerbread spice*. Set aside.
In the bowl of a stand mixer using the paddle attachment, beat together the butter and brown sugar until nice and fluffy, about 2 minutes.
Add in the flax egg and molasses and mix until just combined.
While mixing on low speed, gradually add in the flour mixture until it's all added and the dough is fully mixed.
Divide the dough into thirds and wrap each dough ball in plastic wrap. Place in the fridge to chill for at least an hour but could even chill it overnight.
When ready to roll the dough out, let it sit out on the counter for at least 5 minutes.
Before beginning to roll out, pre-heat oven to 350 degrees F.
On a generously floured surface and with floured hands and rolling pin, roll out one of your thirds of dough. You can make this a bit easier by rolling it out on parchment paper. You want the dough to be about 1/8th of an inch thick before cutting out the shapes.
If you had to work the dough a lot with your hands before rolling it out and cutting the shapes, you might want to put the rolled out dough back in the fridge for a few minutes before cutting your shapes out.
Cut shapes out and place them on a lined baking sheet. You can place these relatively close together since they don't spread much at all.
Bake for 7-9 minutes. Let cool completely.
When ready to decorate, whisk together the frosting ingredients in a small bowl and then transfer the frosting to a small baggie. Cutting a small hole in the corner of the bag and pipe your frosting onto the cookies.
ENJOY!!
---
Notes
**If you don't want to make a whole batch of the spice just for this recipe, you can substitute the 2 1/2 tablespoons of gingerbread spice with 1 tablespoon of cinnamon, 1 tablespoon of ginger, 1/2 teaspoon of clove, 1/2 teaspoon of all spice, 1/2 teaspoon of nutmeg.
Adapted from http://www.simplyrecipes.com/recipes/gingerbread_man_cookies/