Easy Homemade Nutella
This post may contain affiliate links. Please read my disclosure policy.
Who knew that it was so easy to make Nutella at home!? This recipe is just THREE simple ingredients plus it's vegan and dairy free!
Growing up, Nutella was one of those things that we ALWAYS had in the pantry. I have very few memories of eating in any other way besides just by the spoonful. I would get one small spoonful which typically turned into at least 3. I know I'm not the only one with this problem :)
So you might be asking yourself: WHY would I make homemade chocolate hazelnut butter when I can simply buy Nutella at the store!? That's a great question, so I'm glad you asked! 1) it's fun and everyone loves the novelty of homemade, right? 2) it's only THREE super simple ingredients so you know exactly what's in it.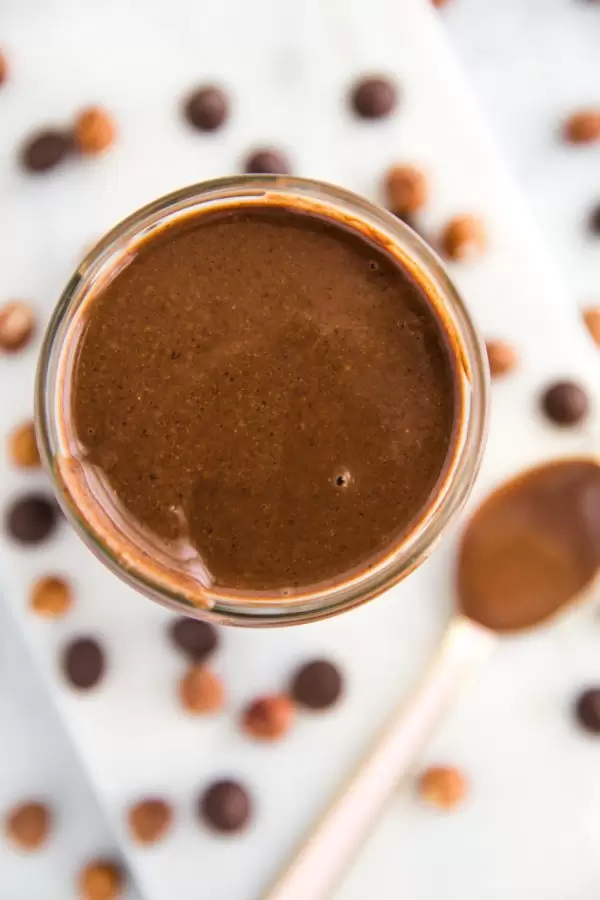 I have plans to make a giant batch of this Easy Homemade Nutella around the holidays to give as gifts in cute little jars. I know I'm thinking ahead a little bit but I'm really excited to share this with…EVERYONE!
Anyways, this homemade nutella is seriously amazing and you're going to want to make you some ASAP! I've found that it can sometimes be a little difficult to find raw hazelnuts. I have good luck finding them at Trader Joe's but Amazon is always a good bet as well. HERE and HERE are good places to buy them (affiliate links).
How to Make this Easy Homemade Nutella
Start by roasting the hazelnuts in the oven for about 8 minutes. After they've cooled a bit, rub them between a dish towel to remove as many of the hazelnut skins as possible. As hard as I try, I'm never able to get all of the skins off of the nuts. I aim for around 60-75% of the skins removed but don't stress it!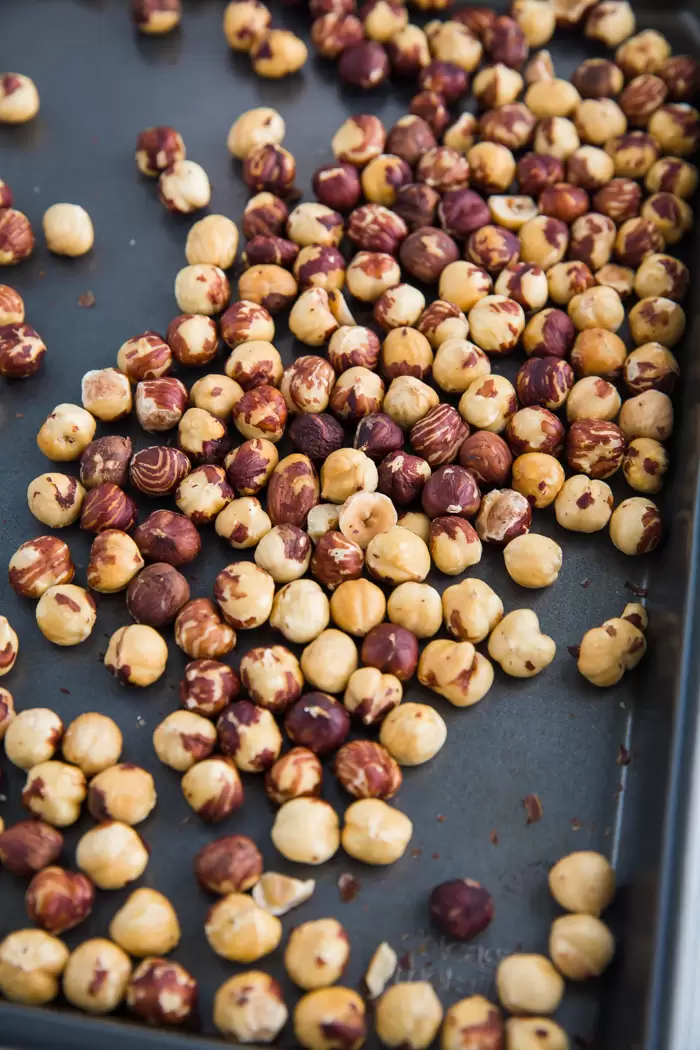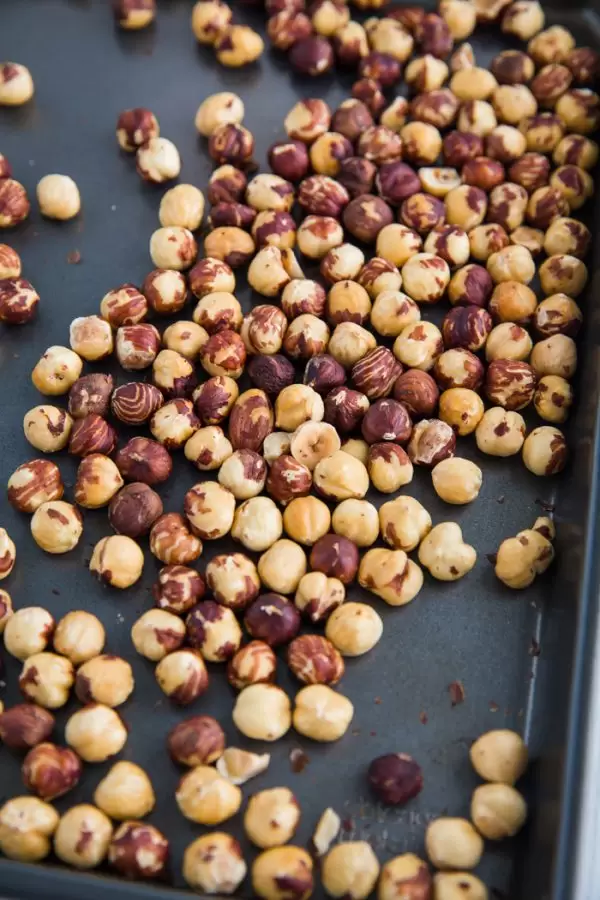 After that, the hazelnuts get blended until CREAMY and smooth. This can take a while so be patient.
You can see in these photos the progression of the blended hazelnuts. After about 1 minute, it turns into a consistency resembling almond meal which is what you see in the first photo. After 2 minutes (which I failed to photograph) it kind of starts to ball up a bit like a bread dough does. 3 total minutes and the hazelnuts turn into a thick paste like you see in the second photo. And after about 4 minutes, you've got a BEAUTIFUL and creamy hazelnut butter that's exactly the consistency of a natural drippy peanut butter!
I only tested this out in my food processor but based on my experience with other recipes, the blend time on this hazelnut butter will be based largely on your blender/ food processor. It could take upwards of about 8 minutes. When needed, just remember to stop and scrape down the sides.
After that, just blend in the melted chocolate and a pinch of salt. You can use any chocolate that you want here. I opted for simple dark chocolate chips but you could use milk chocolate or a fancy chocolate bar. Depending on the sweetness of your chocolate, you could also add in a touch of maple syrup but Mine has never needed that.
I hope you love this recipe! If you give it a try, please remember to tag me on Instagram so I can see how you're using it!
Print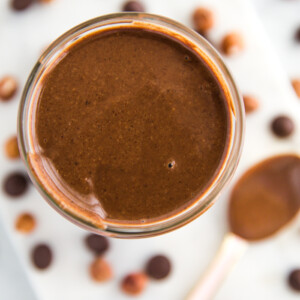 Easy Homemade Nutella
---
Author:

Total Time:

15 minutes

Yield:

1 1/2 cups

1

x
2 cups

of raw hazelnuts

1/2 cup

of chocolate (I prefer dark in this recipe)
pinch of salt
optional: 1-2 tablespoons of maple syrup or coconut sugar (or other sweetener) depending on the sweetness of the chocolate
---
Instructions
In an oven heated to 375 degrees F, roasted the hazelnuts for 8 minutes. Let cool slightly and then place the nuts on a dish towel and rub them between the towel to remove the skins. You likely won't be able to remove the skins completely but I aim for 50-60% removed.
In a high speed blender or food processor, blend the roasted hazelnuts. Depending on your processor, this can take up to about 8 minutes. See photos above. After about 2 minutes, it will turn into a thick paste and eventually it will turn into a creamy butter.
Melt your chocolate either in a double boiler or the microwave (which is what I usually do).
Add in the chocolate and salt and blend until combined.
Prep Time:

5 minutes

Cook Time:

10 minutes

Category:

sauce

Method:

blender

Cuisine:

american
Keywords: nutella, hazelnuts, vegan
This post may contain affiliate links. Please read my disclosure policy.