Easy Summer Rolls
Easy Summer Rolls Recipe– this summer rolls are PACKED full of veggies and great as an appetizer or even as a meal. You can meal prep them the night before and enjoy them for lunch the next day!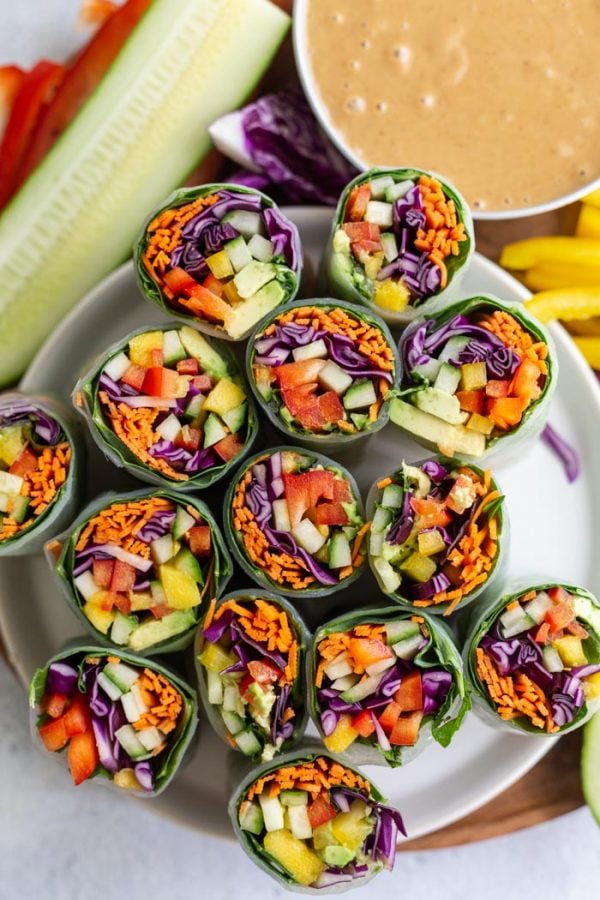 It's officially summer so lets make us some SUMMER ROLLS :D
I like to keep rice paper wraps on hand so that I can whip together these rolls whenever I end up with a ton of extra veggies that I need to get rid of. I typed up a recipe that will work perfectly to make about 8 rolls HOWEVER, feel free to alter it based on when veggies you already have on hand.
I always seem to find myself with extra cabbage and carrots lying around but don't feel like you need to buy all of these things if you don't already have them.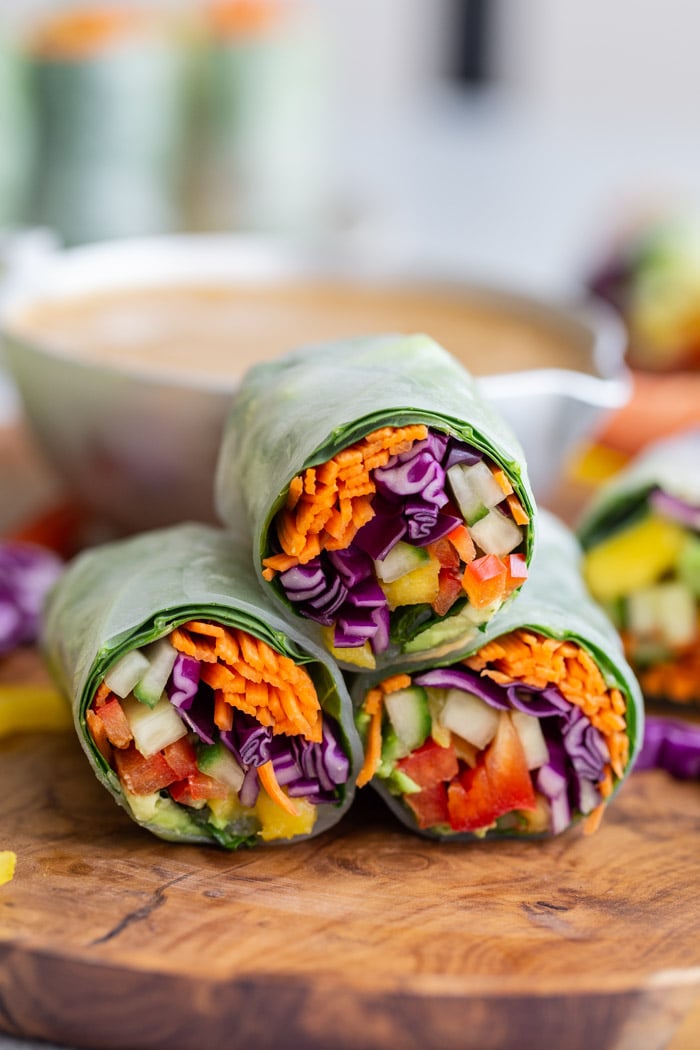 While it takes away some of the pretty look of a summer roll, I LOVE adding fresh greens into my rolls. I pretty much always have extra greens in my fridge and anything will work in these rolls.
If meal prep is your thing, then you'll love these rolls. I wasn't sure how well they would hold up in the fridge but after testing it, they keep extremely well for a couple of days. Even the avocado stays pretty fresh when nestled among all of the other veggies.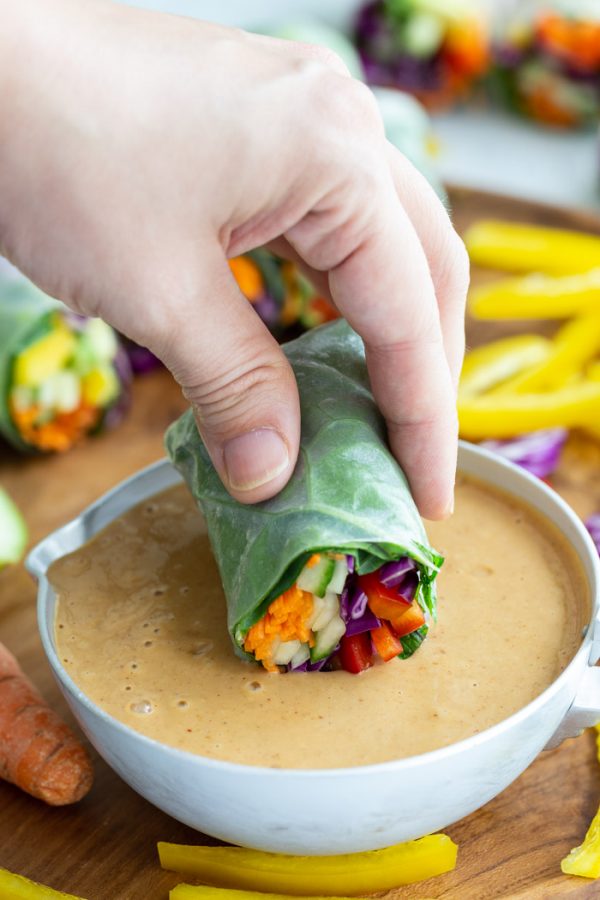 How to Make Summer Rolls:
The hardest part about making these rolls is figuring out how to wrap them up properly without all of the veggies trying to pop out. I made a video (down below) so that you can see how I roll them.
First start by dipping/ running your rice paper wraps under water for 5-10 seconds. You can use just one but I like to double up the wraps so that the rolls hold together better. Lay the wrap on parchment paper and then stack up all of the fillings.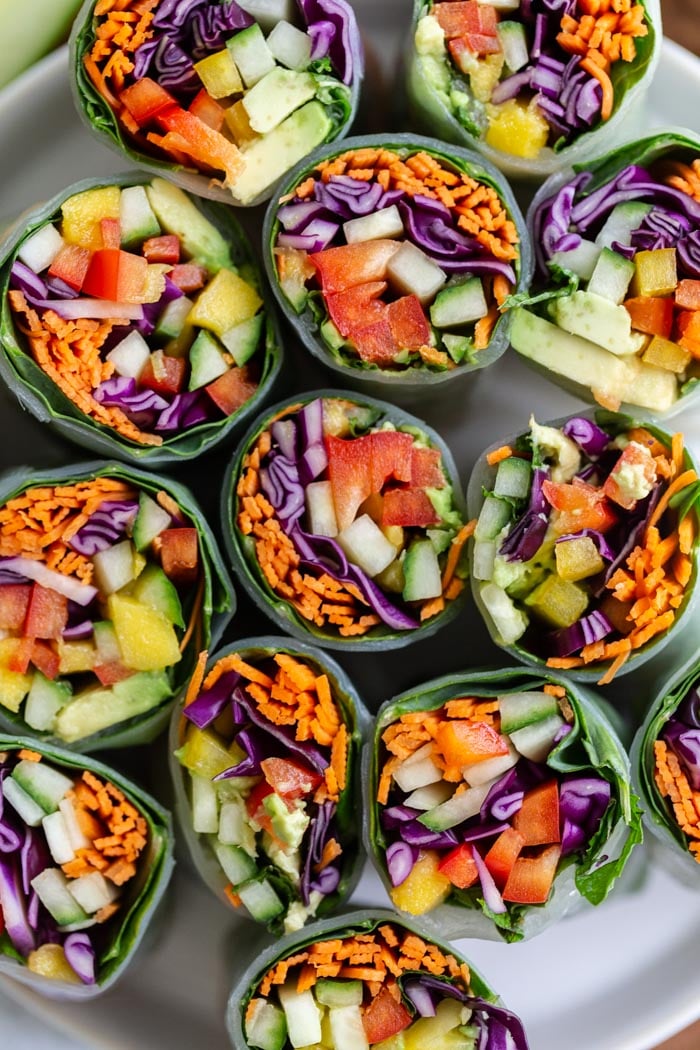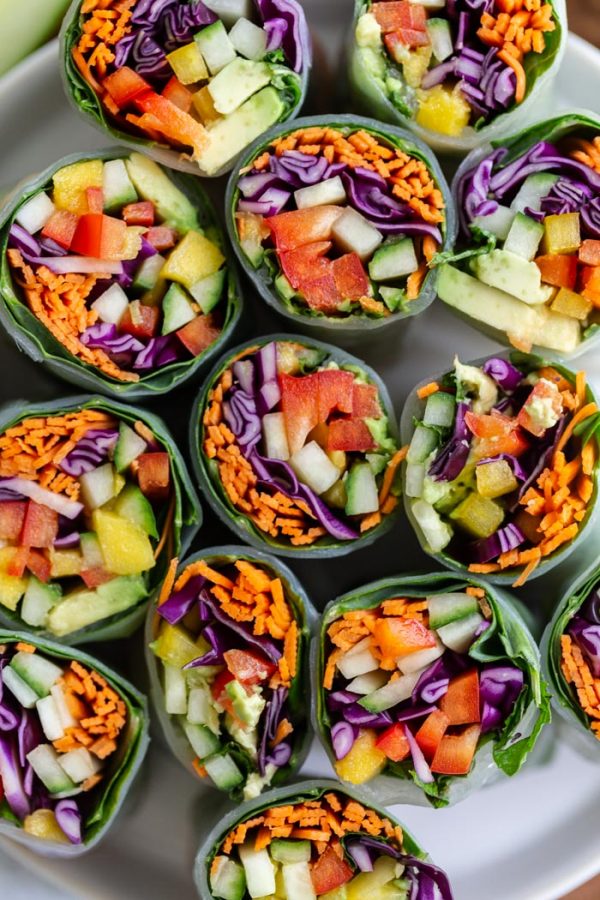 Start rolling the wrap from one end and tuck it gently but tightly over the top of the veggies. Fold over the sides and continue to roll. Again, you can watch my video below to see how I do it. If you've never done this before, the first few will be a little rough and then you'll quickly get the hang of it.
Peanut Sauce for summer rolls: And of course, you NEED to make a bowl of this easy and delicious peanut sauce to go with your vegan summer rolls.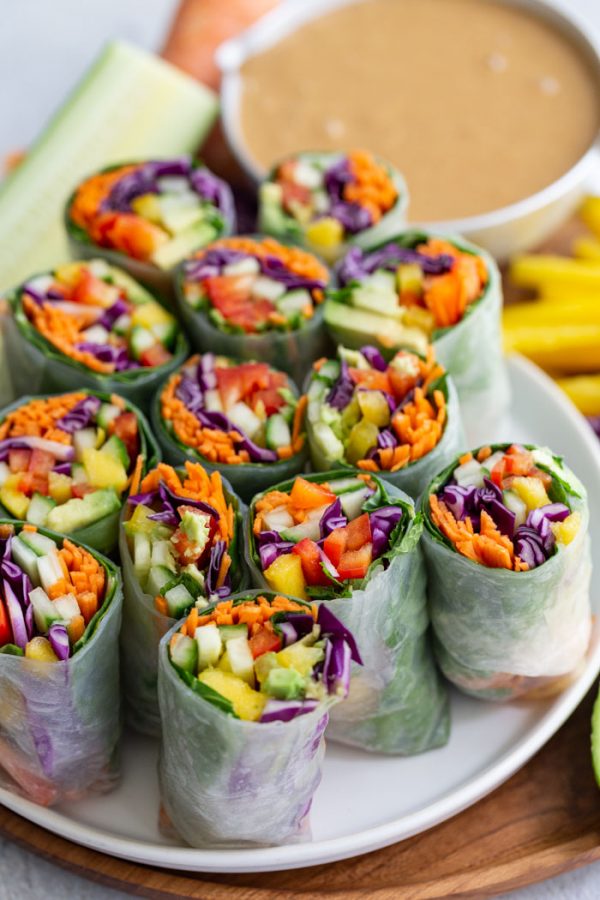 As always, please please let me know if you end up making this summer roll recipe! Tag me on Instagram!
See how to make these Summer Rolls:
Print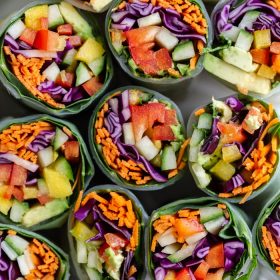 Easy Summer Rolls
---
Author:
Prep Time: 25 minutes
Cook Time: 0 minutes
Total Time: 25 minutes
Yield: 8 summer rolls 1x
Scale
Ingredients
8–16 sheets of rice paper (this makes 8 but you will need 16 if you want to double up the wraps for each roll. More about that below)
1 large carrot, peeled and julienned
1 mango, thinly sliced
1 cup of cabbage, shredded
1 small cucumber, julienned
1 small bell pepper, julienned
Lettuce leaves (you can use any greens here. I used about 4 large pieces of collard greens)
handful of mint (about 4 medium leaves per roll)
1 avocado, thinly sliced
peanut sauce for serving
---
Instructions
Prepare your rice paper wraps as you're ready to roll them but running each wrap under water for 5 seconds each. I like to use 2 wraps per roll and run them under the water at the same time. You can do this with just one wrap if desired. Lay the first wrap down (I find that doing this on parchment paper helps it not stick as much). Lay the second wrap down on top of the first so that there's about an inch over hanging (this just give you more space to work with).
Lay the green leaves down in the center of the rice paper (I split mine into small pieces to make it easier). Stack up all of the veggies, mango, and the mint so that you're using about 1/8 per roll. I usually just eyeball it to try and make them all even. Leave 1/2 of an inch clean on the sides.
Start rolling the wrap from one end and tuck it gently but tightly over the top of the veggies. Fold over the sides and continue to roll. Watch my video above to see how I do it.
Enjoy immediately or the next day with a big bowl of peanut sauce!
---
Category: Appetizer
Method: Rolls
Cuisine: American
Keywords: summer rolls, thai rolls, vegan summer rolls