Fall Harvest Soup
This post may contain affiliate links. Please read my disclosure policy.
We recently experienced the first real dog vs. chicken face off. I'll explain.
See this chicken here? Doesn't her face just have mischief written all over it?
This is Jasmine. From the time she was just a little chick, Jasmine has been the most adventurous of all the chicks and is always the first to go exploring (aka jump the fence to hang out/ poop on the front porch). As a baby, she liked to climb up my arm and perch on my shoulder or head. This stopped after I got poo'd on a few times. Lesson learned.
Jasmine has also taken up a new life mission of asserting dominance over the dogs. Ya know, my two great pyrenees dogs that weigh around 90 pounds each. She is just determined to be at the top of the pecking order.
She likes to sneak up on the dogs when they're laying in the grass, very un-expecting, and peck and pull at their fur. When the dog figures out what she is doing, a flurry of low growling and feather flapping ensues. To date, Jasmine has never been the first to back down.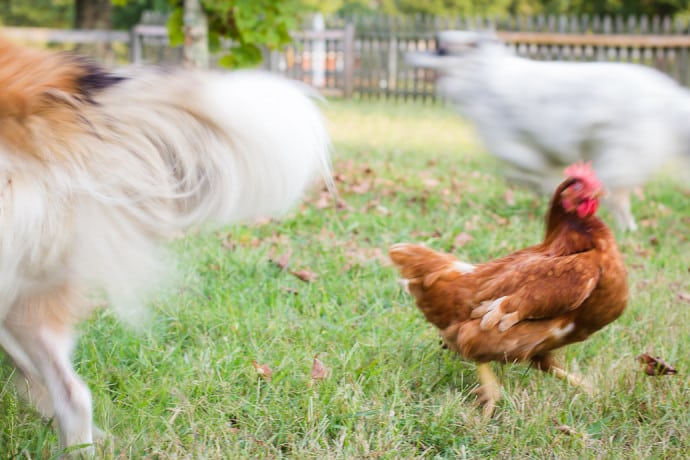 This past weekend, Jasmine tried to bully Lexi but Zorro was having none of it. He jumped in to play the protective big brother. Jasmine got right up in his face and flapped her wings at him. I wonder if she knows that he could kill her with one small bite…? And I was certain that he was going to do it too, seeing as she was being very aggressive with him. He eventually walked away, deciding to let Jasmine live another day. Whew.
Thank goodness I have very patient and gentle pups. We say that Jasmine's eggs contain a bit of liquid courage in them.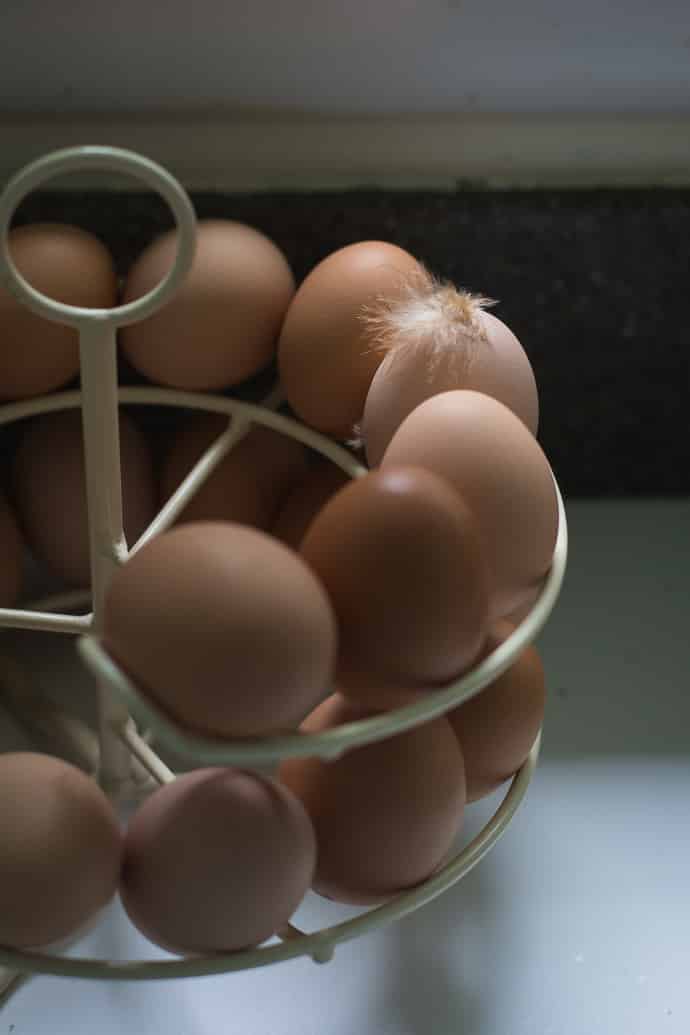 And while we're on the topic of chickens, have you ever seen a chicken take a dust bath?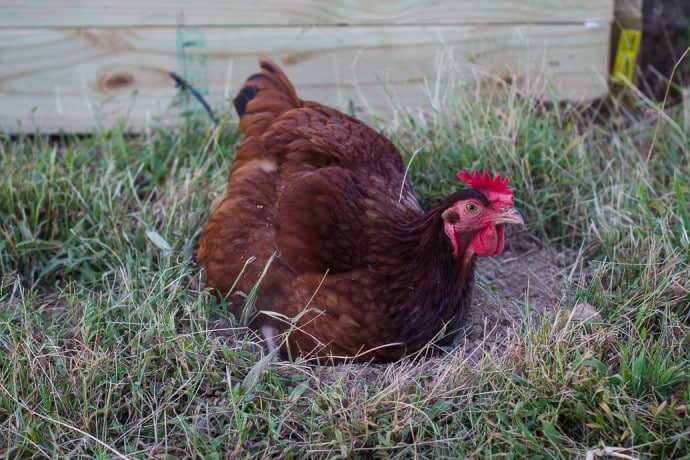 It's basically the best thing ever and I gif'd it for you.
OKAY. This soup. I call it Fall Harvest Soup or 'put everything you bought at the farmers market in a soup' soup.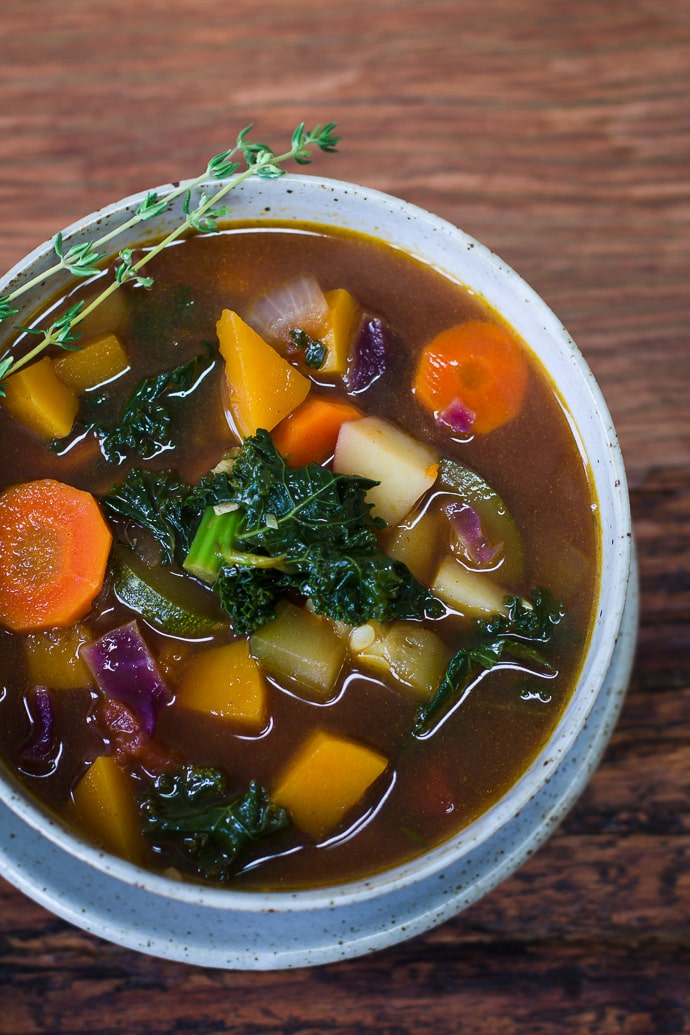 It's basically just veggie stock with lots of veggies in it and a few spices to make it interesting. It's surprisingly filling and so so yummy. In case you didn't know, I'm a huge fan of soup at all times of the year, no matter the weather. However, the cooler temperatures bring lots of soups into our house.
First all of the pumpkin scented candles and now this soup. I'm doing pretty good with this whole Autumn thing.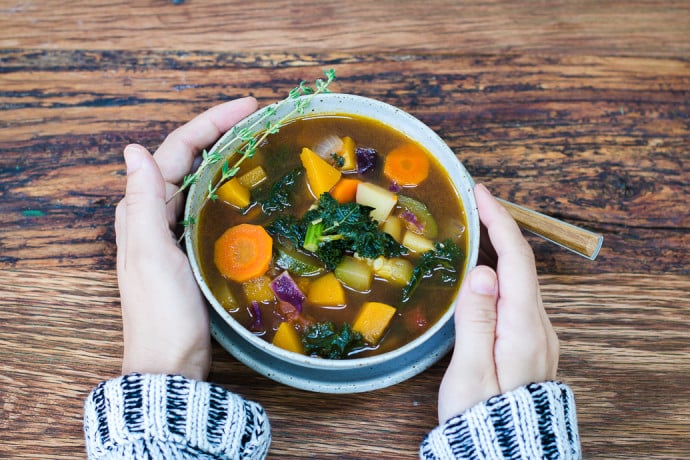 Like I said, the soup is pretty easy.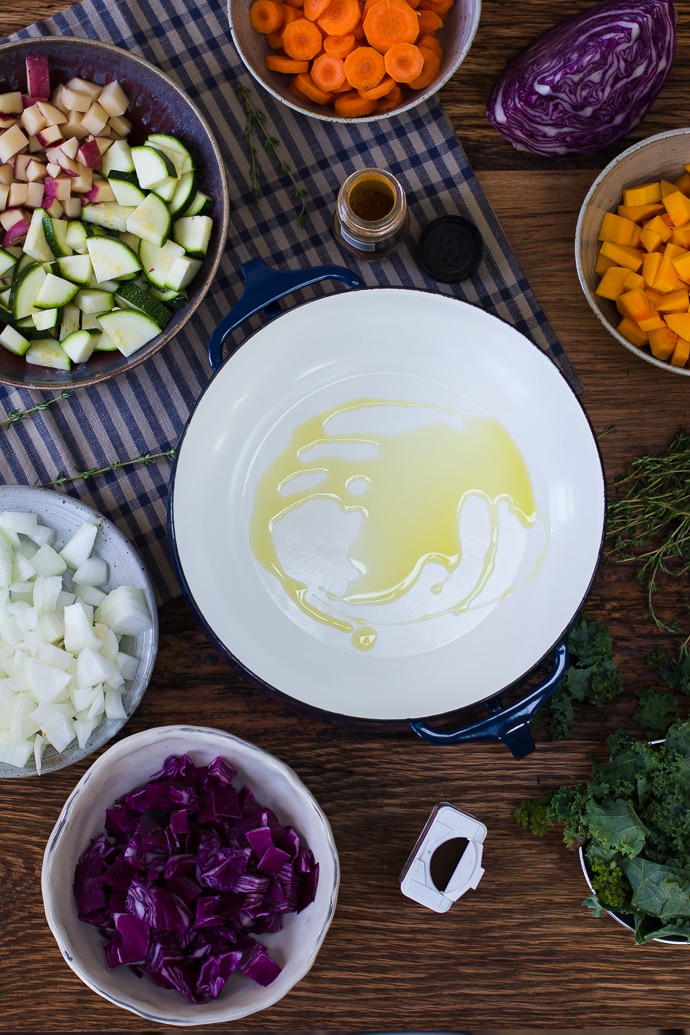 The carrots and onion and garlic are sauteed in a bit of oil to get them tender before adding in the rest of the veggies.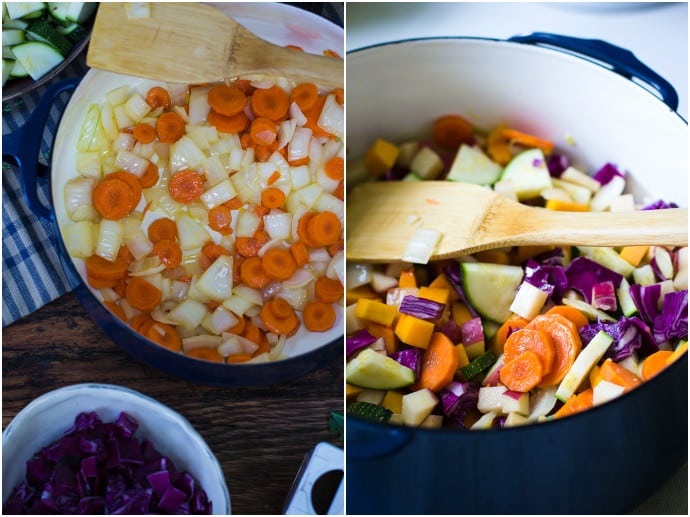 The stock is poured in and left to simmer with the veggies for a while. That's basically all there is to it.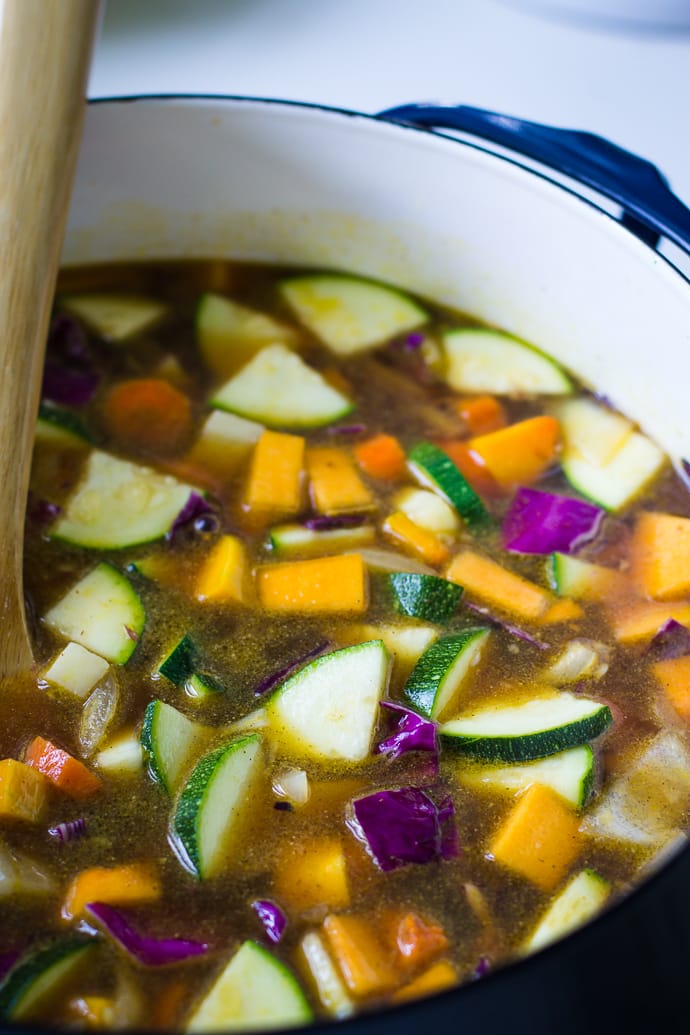 After some time in the pot, the veggies get nice and tender and soak up all the flavors of the stock and spices.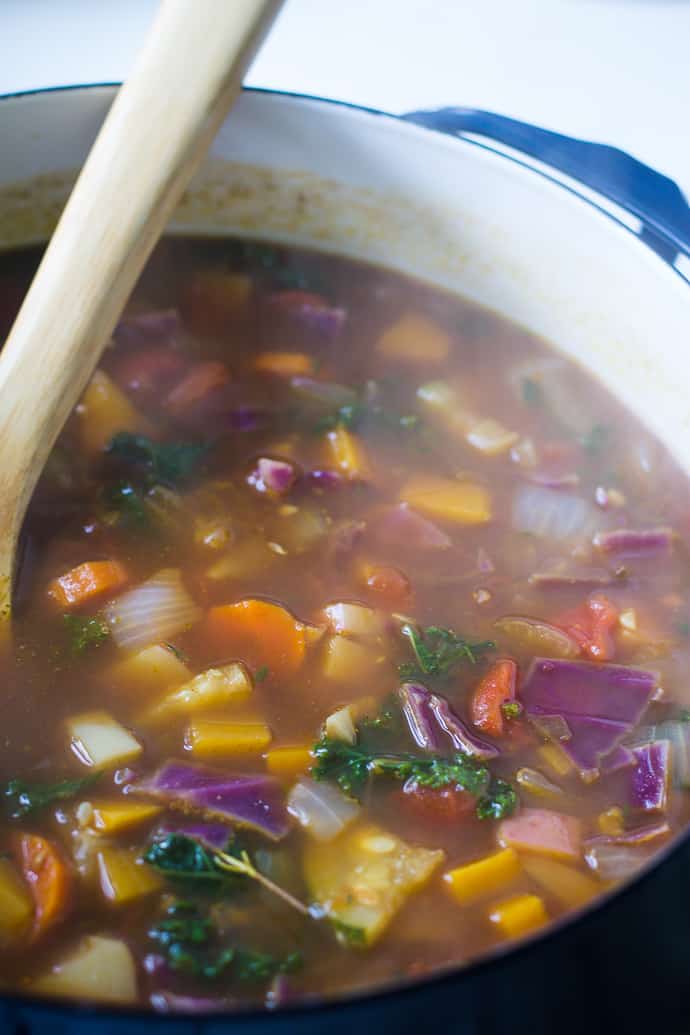 As with most of my soup recipes, this recipe is very easily adapted. You can add in veggies or omit pretty much anything that I include. I do realize that zucchini is more of a summer crop but in Nashville, you can still get it throughout most of Fall. It also adds a nice extra dose of green to the soup.
Happy Fall cooking, friends! I hope you have lots of pumpkin flavored things in your near future!
Print
Fall Harvest Soup
---
Total Time:

40 minutes

Yield:

6

1

x
2 tablespoons

of olive oil

3

medium carrots, chopped

1

medium yellow onion, chopped

4

cloves of garlic, minced

2

heaping cups of butternut squash, chopped

2

medium red potatoes, chopped

1

large zucchini, chopped

1 1/2 cups

of cabbage, chopped

1 teaspoon

of salt

1/2 teaspoon

of ground sage

1/8 teaspoon

of cayenne pepper

1/2 teaspoon

of all-spice

1 quart

+

2 cups

of vegetable stock

6

springs of thyme

1

14.5 ounce can of diced tomatoes, juice included

2 cups

of kale, chopped
---
Instructions
In a large pot over medium heat, heat the oil and then add in the onion and carrot. Saute, stirring occasionally, for 5 minutes or until the veggies begin to soften.
Add in the garlic and saute for another couple minutes.
Add in the butternut squash, potatoes, zucchini, and cabbage as well as the salt and spices. Stir to mix it all up.
Add in the broth, tomatoes (juices and all), and the thyme. Stir and bring to a boil. Reduce heat to medium and simmer for 10 minutes.
Add in the kale, stir, and simmer for an additional 10 minutes. Once the kale is fully wilted, the soup is ready.
Discard the thyme sprigs before serving and add in a bit more salt and pepper if needed.
Let cool slightly and then ENJOY!!
Prep Time:

10 minutes

Cook Time:

30 minutes
Your cook along song for the day:
This post may contain affiliate links. Please read my disclosure policy.