Fruity White Wine Spritzers
This post may contain affiliate links. Please read my disclosure policy.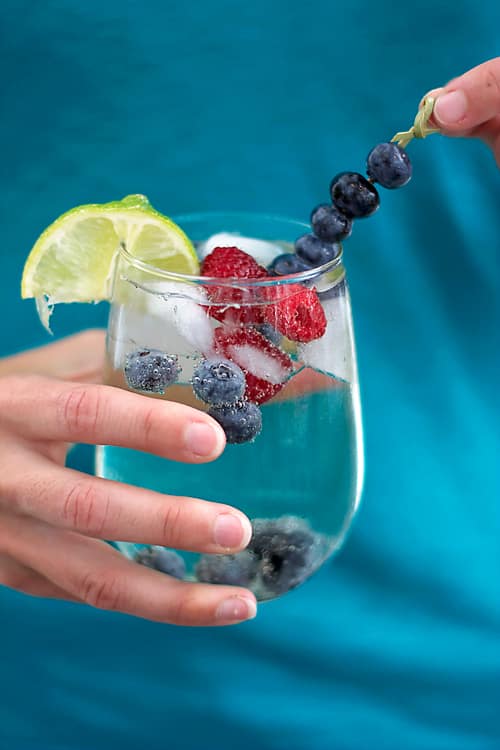 I know, I know. I went on a long rant on Tuesday about being healthy and preparing for playoffs and here I am sharing a cocktail with you. BUT, in my defense, this White Wine Spritzer was made and consumed this past weekend AND it's a pretty light recipe…ya know, for a cocktail.
A dear friend of mine, and teammate, recently started a blog called The Everyday Champion. I really just can't speak highly enough about Erika and the advice that she has to offer. She started her blog as a way to connect with her clients and give them more nutritional, motivational, and fitness advice. I'm just glad that she did because now I get to read all of her wisdom (for free :)).
Erika's post "Say NO to Diets and YES to You" has to be one of my favorites that she has posted thus far. She's all about getting to know your own body and what works best for you when it comes to nutrition and working out. Also, any trainer that tells me not to diet is a keeper!
Anyways, my point behind all of this: Erika and I decided it would be fun to do a little colab, hang out, and cook some great food. She told me that her clients are always looking for new ways to eat chicken and veggies. So, I came up with a couple fun recipe for us to cook together.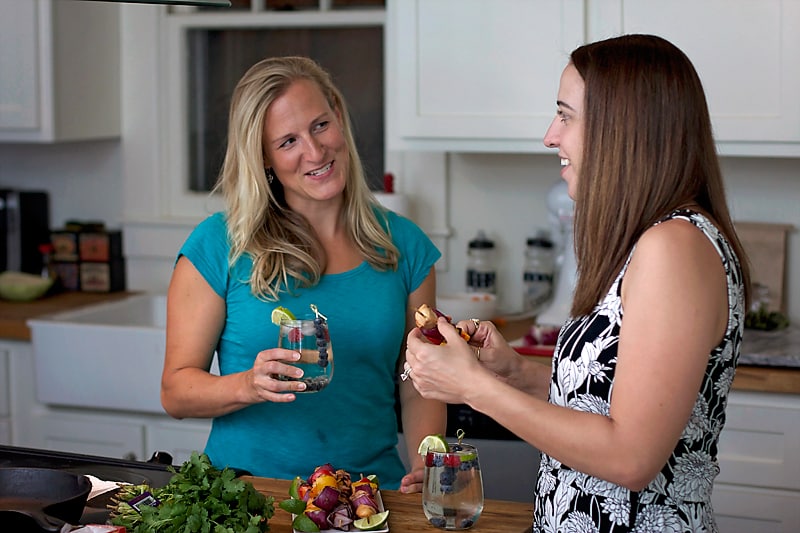 (uhm, do we look like we're trying to host a cheesy cooking show here?? hah!)
And since it was a girls night, we HAD to have at least one cocktail. duh.
But, I kept it super light.
While we waited for the chicken to marinate, I threw these together in a quick minute and we chatted the night away.
These cocktails are equal parts white wine (I used Chardonnay because it's what I had in the house) and sparkling water/ club soda (again, I had it in the house so I went with club soda). Club soda has no calories and no added sugar and it's the perfect way to lighten up a cocktail. Plus it just makes it a bit more sparkly and refreshing.
I added in some fresh fruit with a good squeeze of lime and they were ready!
If you're trying to be good but feel like you just NEED a drink, this is the drink for you!
For the recipe for the Honey-Lime Chicken skewers that were DELISH, check out Erika's blog.
Print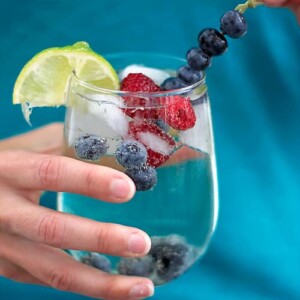 Fruity Wine Spritzers
---
1/2 cup

white wine

1/2 cup

club soda or plain sparkling water
squeeze of lime
optional: fruit
---
Instructions
Put some ice in a glass.
Add in equal parts of club soda and white wine.
Squeeze a wedge of lime into the glass.
Stir and garnish with fruit.
ENJOY!!
This post may contain affiliate links. Please read my disclosure policy.