Gingerbread Cake with Brown Sugar Buttercream Frosting
This post may contain affiliate links. Please read my disclosure policy.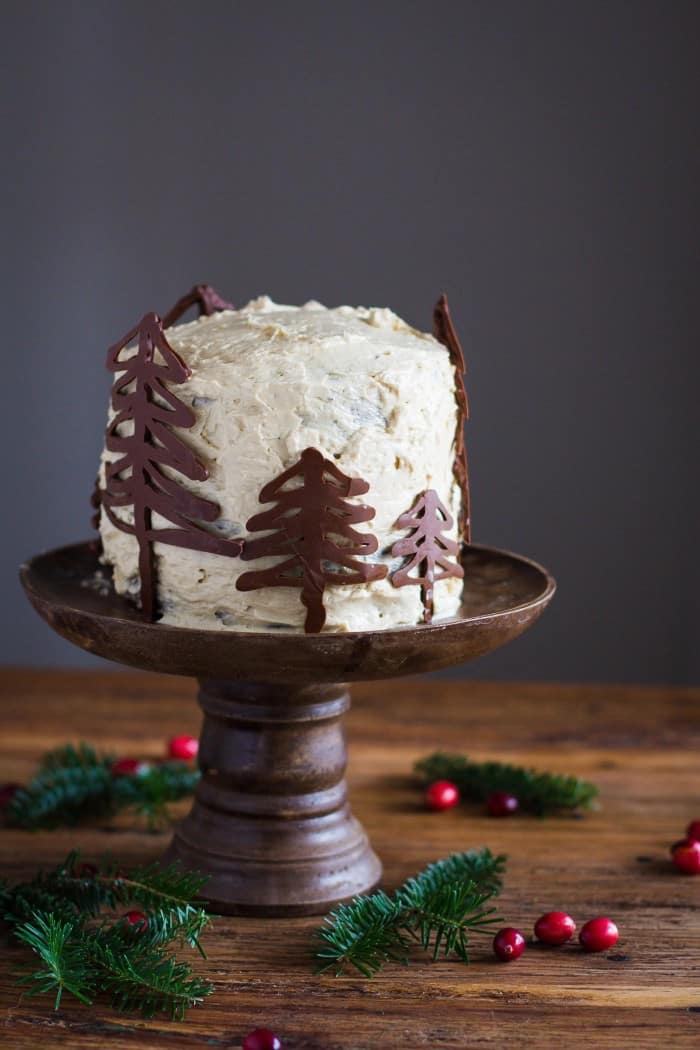 In case you missed it, I wanted to remind you that I was interviewed for a wonderful podcast called "The Dinner Special" It was such a fun experience and solidified my desire to start my own podcast. It also solidified the fact that I talk WAY too fast and really need to work on slowing down a little bit. It's truly indicative of how my brain functions. You can listen to my full interview on the podcast HERE.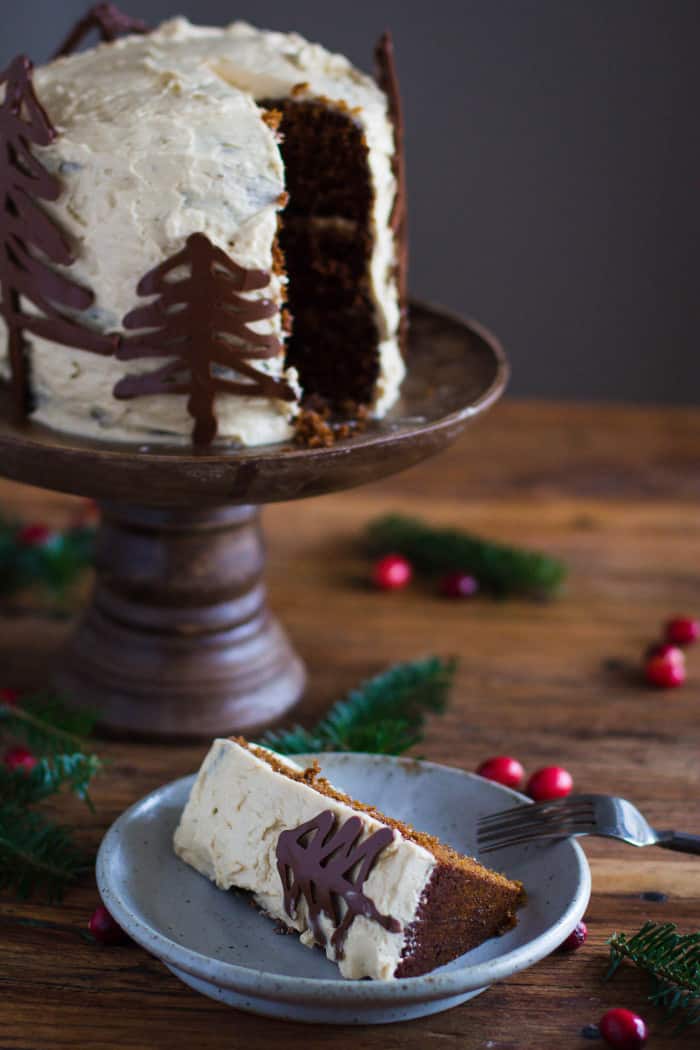 The cake. I dreamed of this cake for a long time before it finally became a reality. Like months and months I dreamed about this cake. I've never been much of a cake baker but I love them and want to make a lot more of them. I think it's the icing that intimidates me most. I'm still not a very good icer (is that a word?) but luckily for me, the rustic cake look is kind of in right now. So, if anyone asks, the cake is chic and rustic (on purpose obviously).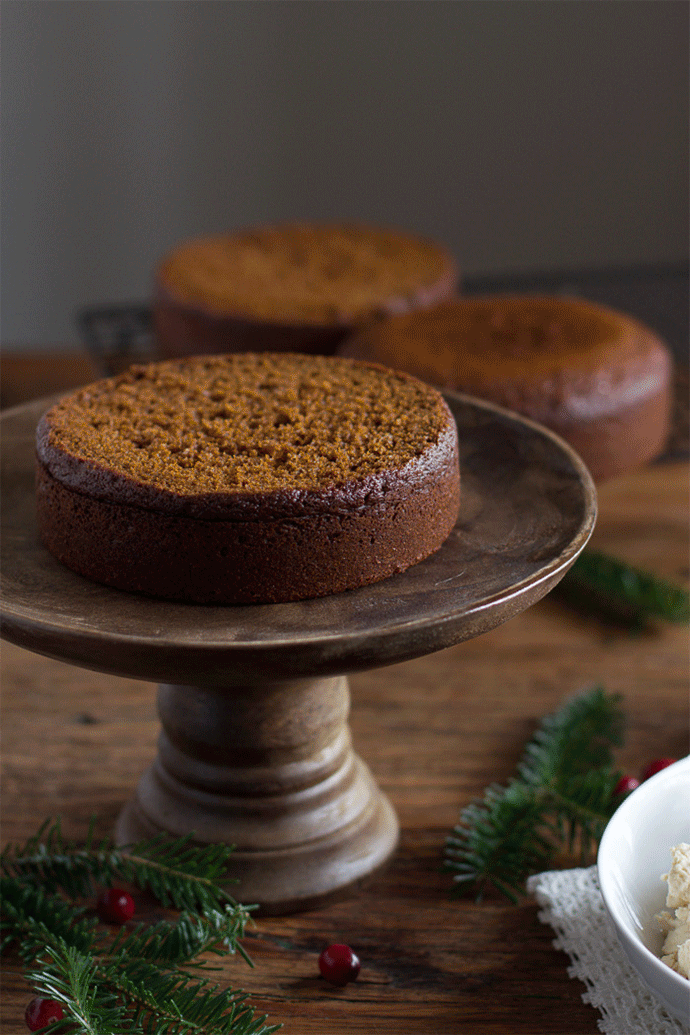 The inspiration for this cake came mutually from my new found LOVE for all things gingerbread spice AND a similar looking cake that I saw in a local bakery last December that gave me the idea for the chocolate trees.
I fully expected the chocolate trees to be more difficult to make but it was really as simple as melting chocolate, putting it in a plastic baggy, and piping it out in the shape of trees before putting it in the fridge to re-harden.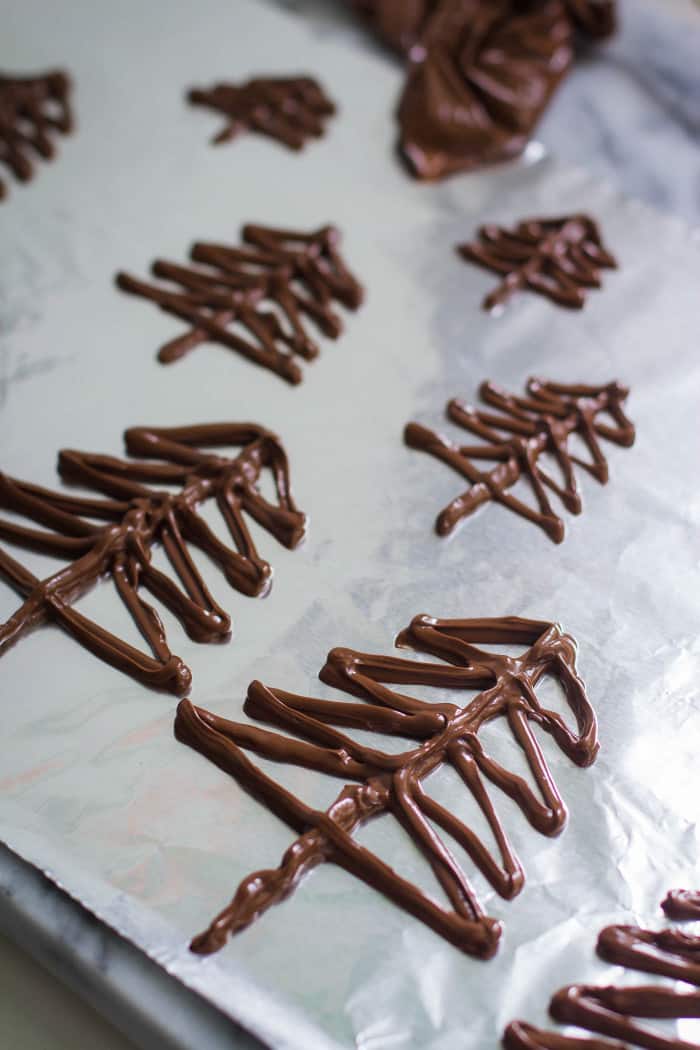 The cake itself is very easy to make. I'm partial to 3 layer cakes so I baked mine in three 6″ cake pans but you can instead use two 8-9″ cake pans. I've also gotten better about measuring everything out very precisely so that my layers all come out even.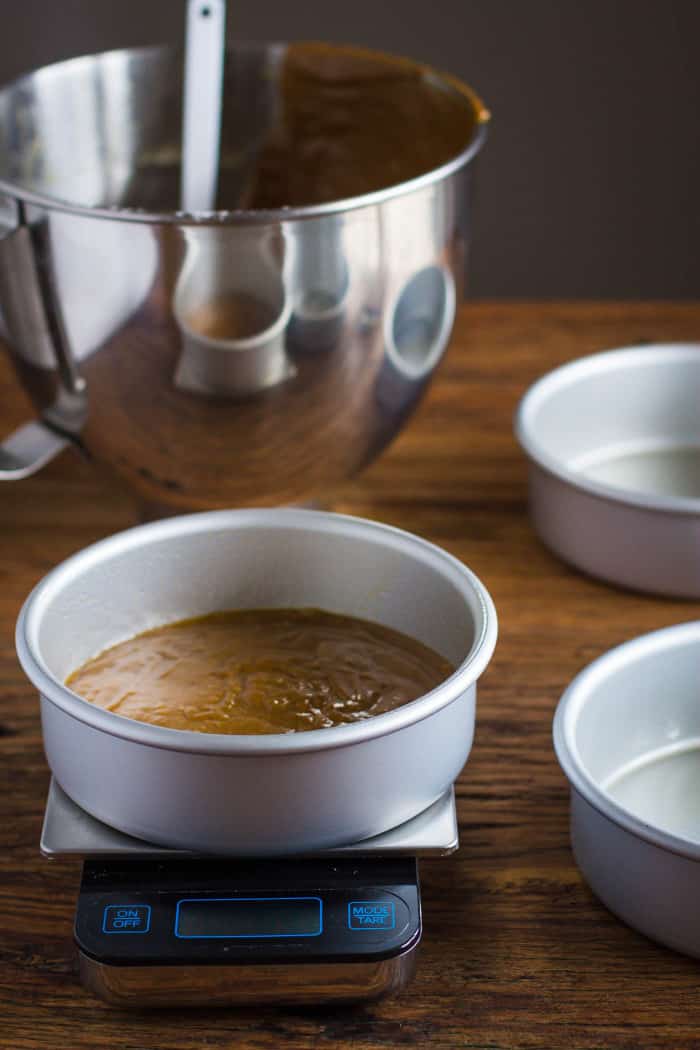 The frosting is actually a recipe that I got from Martha Stewart. It's not really a traditional buttercream recipe. It's kind of thinner and not quite the consistency of regular buttercream. It's a bit more like a whipped cream frosting, honestly. Some of my frosting absorbed into the cake a tiny bit on some of the layers so if you want very distinct layers, I recommend using a more traditional buttercream recipe for the cake filling.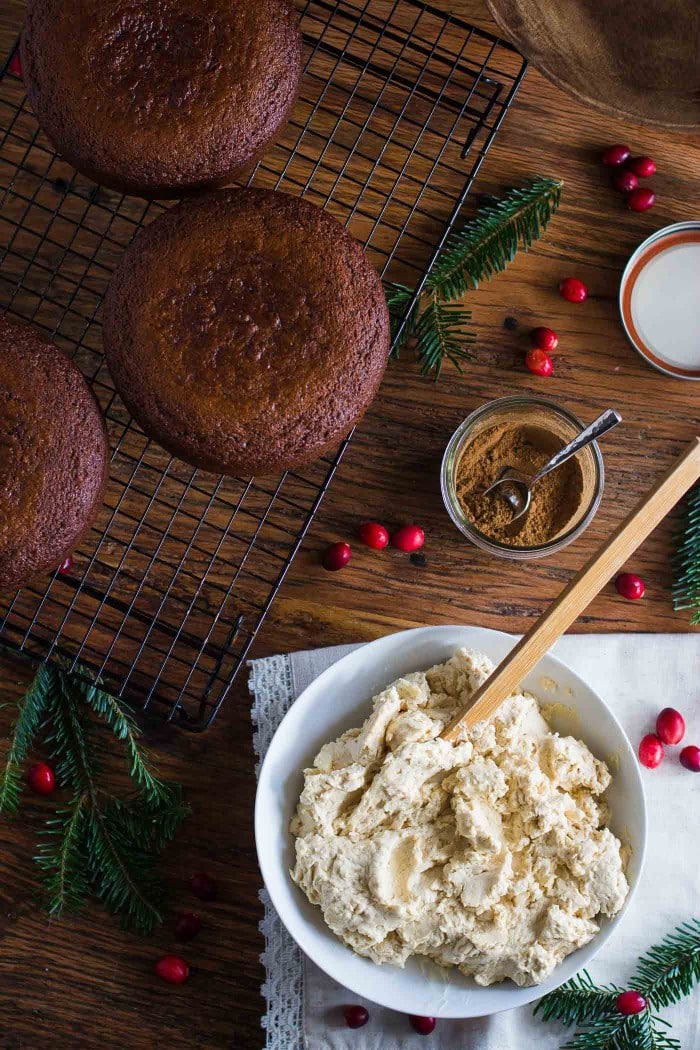 The cake is actually also an adapted Martha Stewart recipe because I'm no cake expert but I am an expert cake eater. So, kind of the same thing. Right?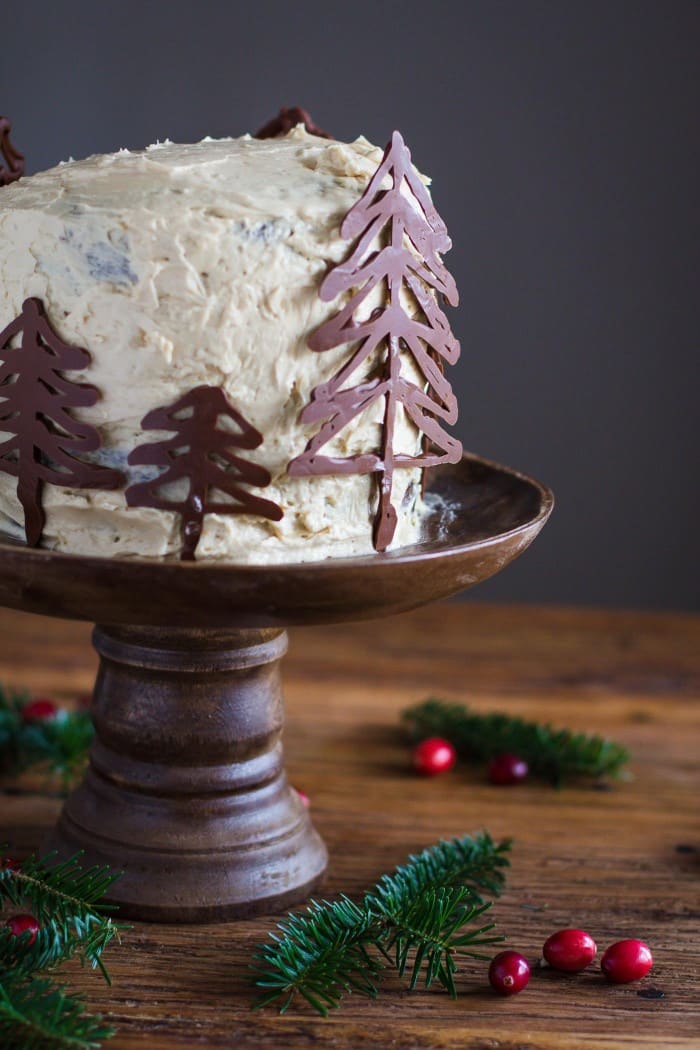 This cake is ridiculously delicious and very easy to make in the grand scheme of cakes. I highly recommend it for the holidays!! I'm most likely going to make it again on Christmas day :D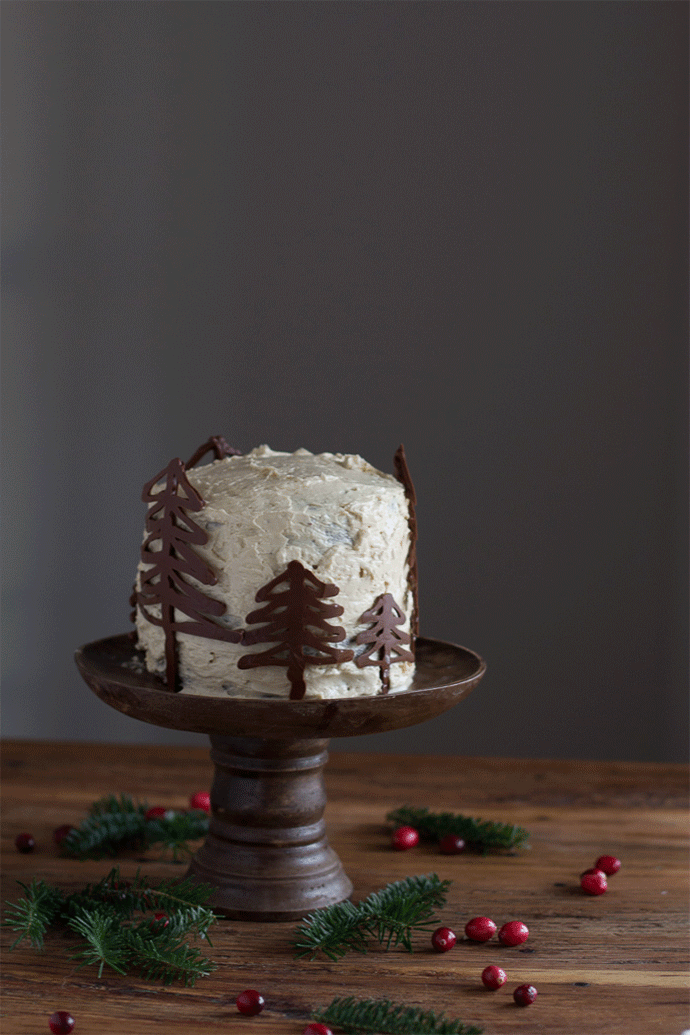 Print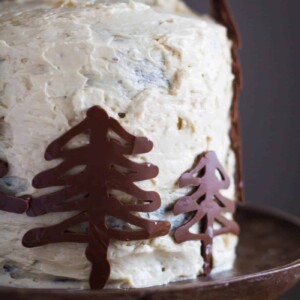 Gingerbread Cake with Brown Sugar Buttercream Frosting
---
Total Time:

1 hour 5 minutes

Yield:

1

1

x
For Chocolate Trees:
6 ounces

of dark chocolate
For cake:
2 1/2 cups

all-purpose flour, plus more for the pans

2 1/2 tablespoons

of Gingerbread Spice

1/2 teaspoon

salt

2 teaspoons

baking soda

2 teaspoons

baking powder

8 tablespoons

(

1

stick) unsalted butter, room temperature

2/3 cup

packed light brown sugar

1 cup

hot water

1 cup

unsulfured molasses

2

large eggs, room temperature
For Brown Sugar Buttercream:
---
Instructions
For the Trees:
In a double boiler, melt chocolate. Set aside to cool slightly about 3-4 minutes. Prepare your surface by placing tin foil neatly over a large, flat baking sheet.
Pour the chocolate into a plastic baggy and cut off one corner of the baggy about 1/8th of an inch cut.
Pipe the trees out onto the foil until you have your desired about of trees. I made 4 trees each of 3 different sizes.
Place the tray in the fridge for at least 30 minutes.
For the Cake:
Pre-heat oven to 325 degrees F. Butter three 6″ round cake pans or two 8-9″ pans.
In a large bowl, sift together the flour, gingerbread spice, salt, baking powder, baking soda. Set aside.
In a stand mixer with the paddle attachment, cream butter until it's just light and then beat in the brown sugar. Continue to beat until fluffy and then beat in the hot water, molasses, and flour mixture. Once just combines, beat in the eggs until fully combines.
Pour the cake batter evenly into the cake pans and bake for 30-40 minutes depending on the size of your pans. Check at 30 minutes for doneness by placing a toothpick in the center. If it comes out clean, the cake is done.
Let the cakes cool for a few minutes before taking them out of the pans and then let them cool on wire racks for about 20 minutes before assembling the tiers.
Assemble the cake by putting a hefty portion of icing in between each layer and then generously icing all the way around the cake.
Once done, neatly arrange your chocolate trees around the cake with the flat sides of the trees (the side that was directly touching the foil) facing away from the cake.
ENJOY!
Prep Time:

20 minutes

Cook Time:

45 minutes
This post may contain affiliate links. Please read my disclosure policy.