Healthy Cinnamon Raisin Lactation Muffins
This post may contain affiliate links. Please read my disclosure policy.
Hi friends! Just popping in real quick to let you know that while I'm on maternity leave, I'm going to have a few blog friends guest posting for me. I'm so grateful to all of them for jumping in to help keep my blog active while I take some time to spend with family. Please make sure to hop over to their blogs and say hi!
Up first, Mary from Minutes Per Mile….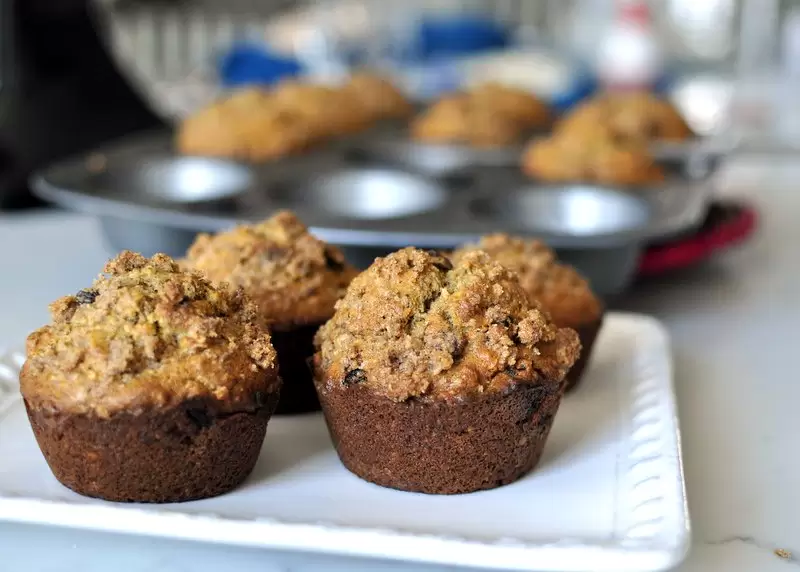 Hello, B. Britnell readers! I am so excited to be featured on Brita's blog and hope you like me even half as much as you like her. As a new mom and blogger myself, I know it's hard to find time to type up a post — so I'm happy to fill in for Brita as she is busy soaking up newborn snuggles (and hopefully catching up on sleep). I also have something to share that I think she'll find both delicious and timely — lactation muffins!
Everyone tells you how ravenous newborns are, but no one fills you in on how hungry you'll be as a breastfeeding mama. When I had my daughter six months ago, I felt like I was eating around the clock!
A friend told me about special lactation foods that are supposed to increase your milk supply. Some of them, like brewer's yeast, coconut, oatmeal, and flax seed, are perfect for baking. I don't know if these foods have been officially and scientifically proven to increase milk production, but I decided to believe the rumor and use it as a good excuse to eat more baked goods. And, anecdotally, I can tell you that I've had no milk supply issues since I started eating a lactation muffin a day.
You can sneak brewer's yeast, coconut oil, flax, and oatmeal into about any muffin (or cookie, or cake) recipe you like. My favorite recipe lately are these cinnamon raisin muffins that I adapted from a Kitchn recipe. In addition to the healthy breastfeeding ingredients in this recipe, I use whole wheat flour and just a smidge of sugar — so I think these treats are actually quite healthy.
Side note: my blog is mostly about marathon training and consists of snapshots taken from my phone. When it comes to exercise, eating, and blogging… I'm all about speed. Which is why I say to skip the whole "beat butter and sugar" and then add vanilla and then egg and then mix your dry ingredients in a separate bowl and then add everything together. Ain't nobody got time for that — new moms especially.
I say dump everything in the mixer at once and just go for it! You can whip these lactation muffins up in minutes :)
Once you've made your batter, pour it into your prepared muffin tin.
Like I said, this recipe is all about efficiency, so feel free to pop these babies in the oven right after you've filled your tin. BUT, if naptime extends a little longer and you have a few spare minutes, go ahead and make a sweet crumble topping (butter, sugar, flour, cinnamon) for extra pizzaz.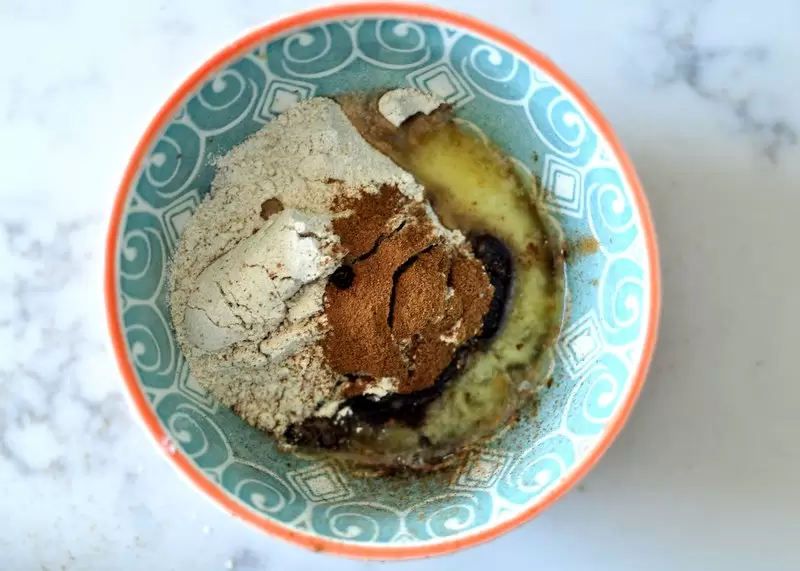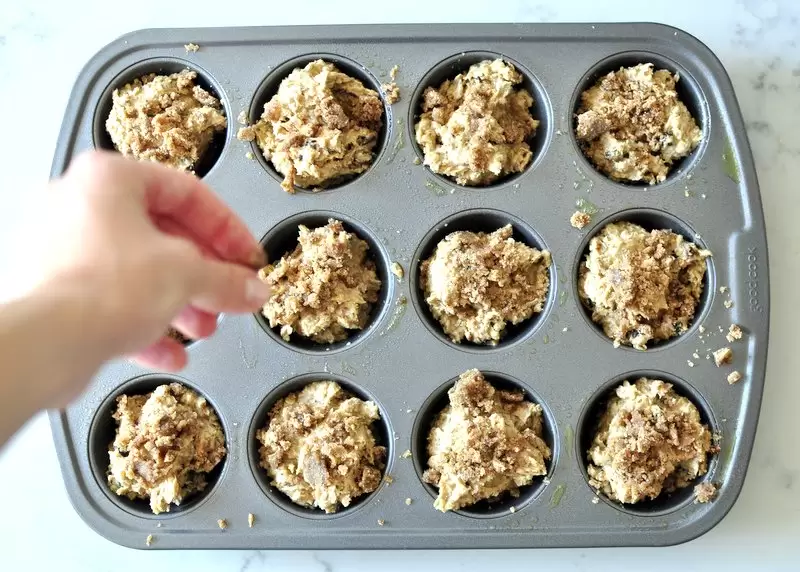 Bake for 10-13 minutes and boom! Take a bite and make your belly, boobs, and baby happy :).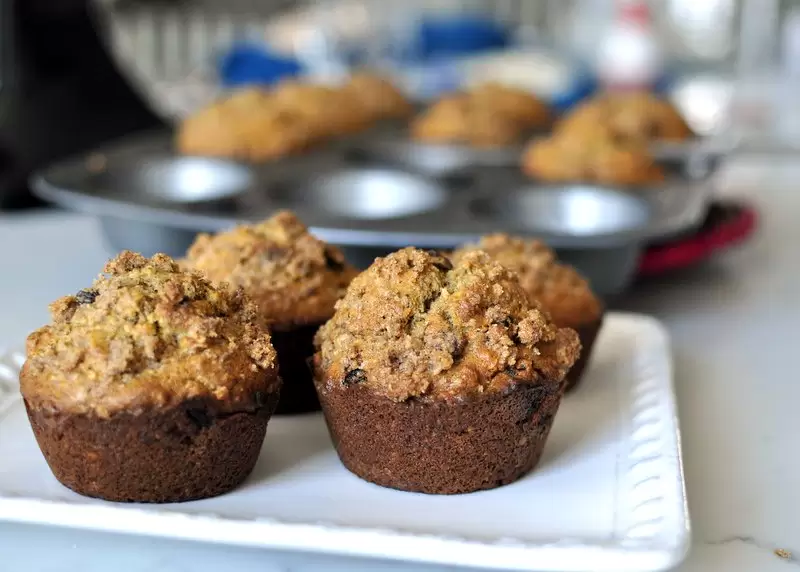 Print
Healthy Cinnamon Raisin Lactation Muffins
---
For the muffins
1.5 cups

whole wheat flour (I prefer King Arthur brand)

1.5 cups

oatmeal

⅓ cup

brown sugar

⅔ cup

coconut oil

3 tablespoons

butter

2

eggs

1.5 cups

milk

1 teaspoon

vanilla

1.5 tablespoons

brewer's yeast

1.5 tablespoons

ground flax

1 tablespoon

baking powder

1 teaspoon

salt

2 tablespoons

cinnamon

¾ cup

raisins

1 cup

walnuts, chopped
For the Cinnamon crumble topping (optional)
2 tablespoons

brown sugar

2 tablespoons

flour

1 teaspoon

cinnamon

1 tablespoon

butter
---
Instructions
Preheat oven to 425 and prepare muffin tin with butter or cooking spray.
Combine all muffin ingredients in mixer and beat until combined. If you want to make the crumble topping, stir ingredients together in a small bowl.
Pour batter into prepared muffin pan and top with crumble.
Bake for 10-13 minutes or until golden brown.
This post may contain affiliate links. Please read my disclosure policy.