How to Make Oat Flour
This post may contain affiliate links. Please read my disclosure policy.
If you're looking for an inexpensive and EASY gluten-free flour alternative, then look no further than OAT FLOUR! It comes together with just ONE simple ingredient and takes only a couple of minutes to make.
One question that I get asked more and more lately is "can I use oat flour in this recipe instead of regular!?". Up until the past year, I haven't done much baking or cooking with oat flour so it has been a fun experiment to learn how it works when substituted.
My first true oat flour recipe on the blog came in the form of these Vegan Oat Flour Muffins and they're legit one of my favorite things that I have EVER posted! I can't even believe that they're vegan and gluten-free! The crumb on those muffins is unbelievable and so ridiculously delicious.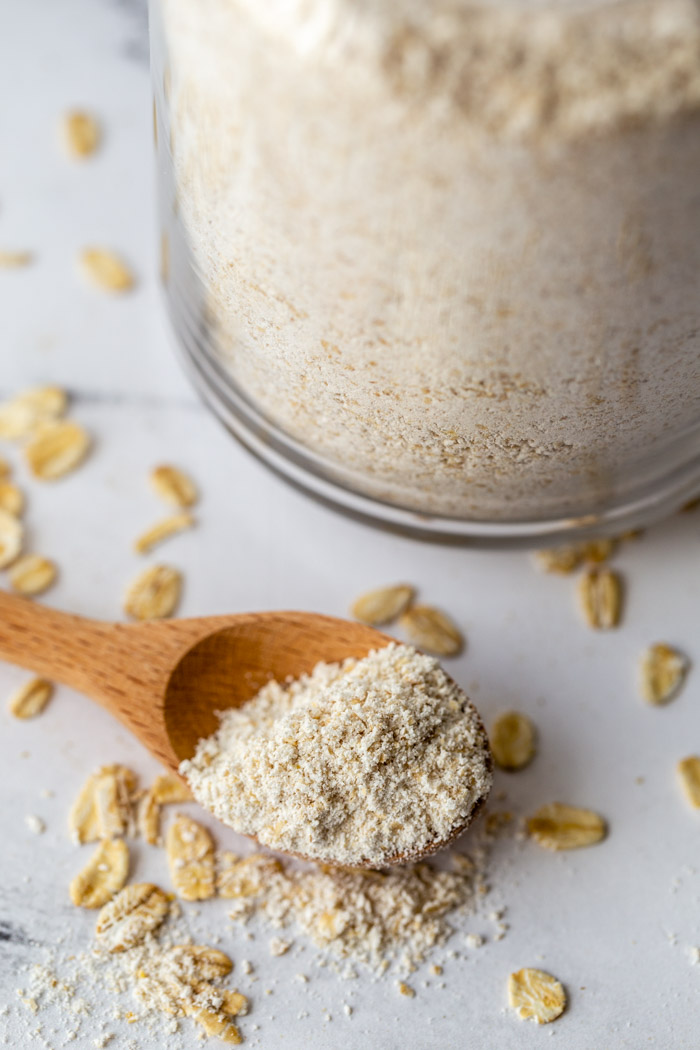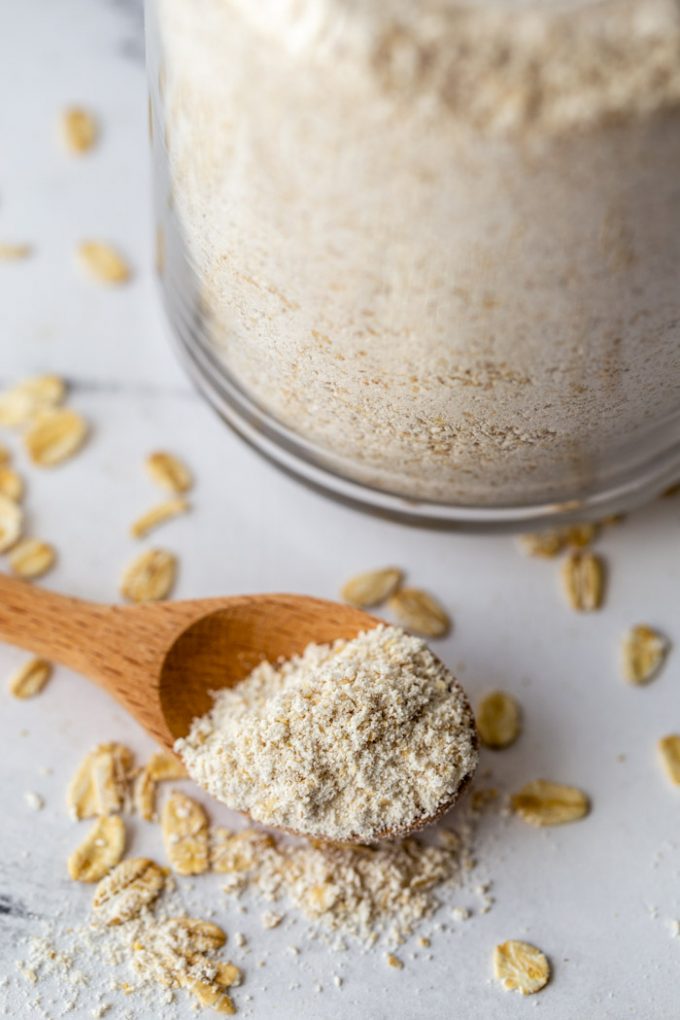 So, without further ado, let's go over everything that you need to know about making and using OAT FLOUR!
Can I make oat flour from oats?
I was surprised to get this question quite a few times on Instagram after posting the video for my oat flour muffins. I forget that oat flour is still a new ingredient to so many people which is why I wanted to make this post.
Oat flour quite simply IS OATS. So yes, you can make oat flour out of oats :)
What kind of oats should I use to make oat flour?
You can use old fashioned (rolled) oats, quick cooking oats, or even steel cut oats. I test all of them out in my blender and it worked great. I've yet to try out any recipes using the steel cut oat flour but I've heard great things from those that have used it in recipes.
One thing worth noting is that steel cut oats will produce considerably more flour than regular oats (more on that later).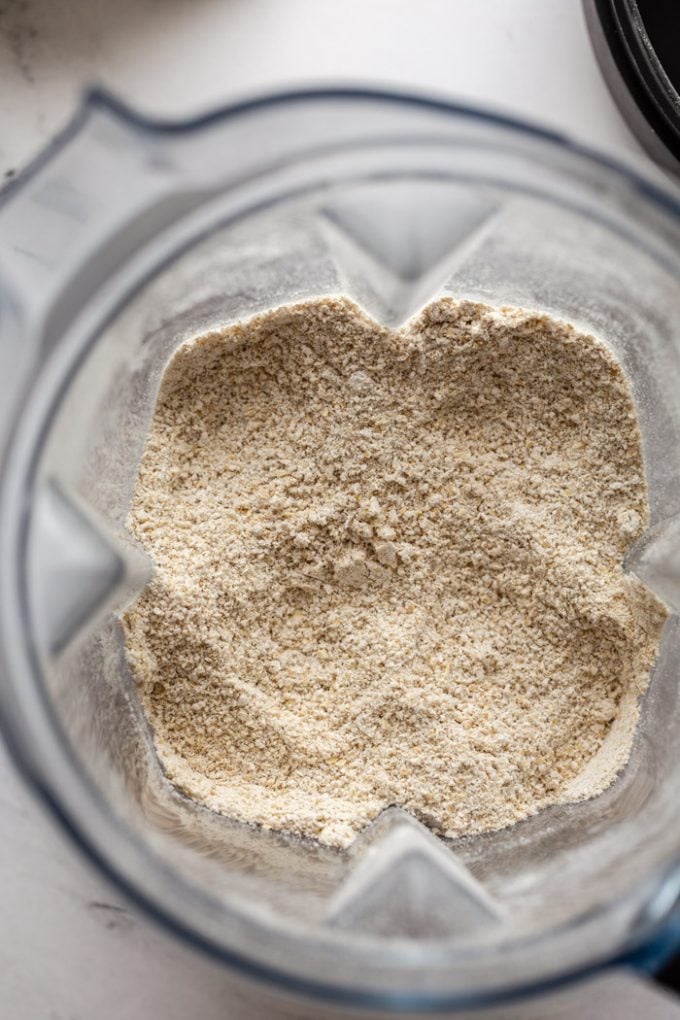 How to make oat flour:
Making oat flour is ridiculously easy largely because it requires just ONE ingredient: oats!
Add your oats of choice into a food processor or blender and pulse a few times to get things going and give the blender/ food processor bowl a quick shake. Blend for 1-2 additional minutes. You want the flour to be fine (see photos and the video) but you may still have some very small visible chunks left.
Store the flour in an air tight container at room temperature for up to about 3 months.
How much oat flour does 1 cup of oats make?
1 cup of old fashioned OR quick cooking oats produces an equal amount of flour: ~1 cup.
The one exception to this is STEEL CUT oats. 1 cup of steel cut oats produces about double the flour: ~2 cups.
The recipe below calls for 2 cups of oats BUT you can obviously make more or less depending on how much you need. The nice thing is that it stays good for quite a while so I almost always make extra for future recipes.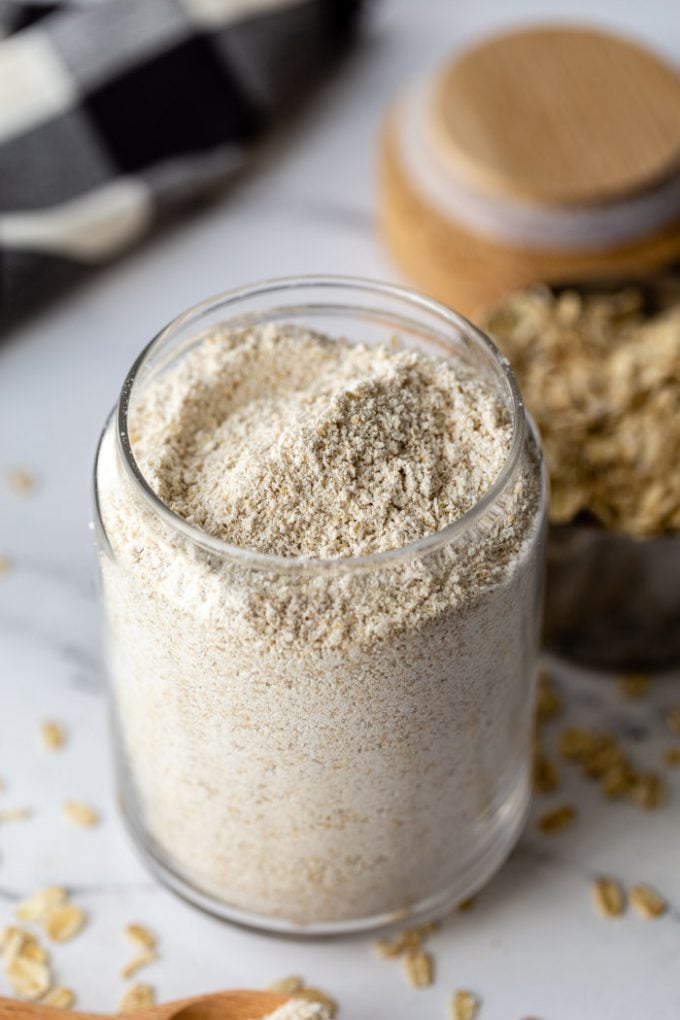 Can you bake with oat flour?
If you're reading this post then my guess is that you're wanting to bake with oat flour (although I've tried a few savory recipes that use oat flour!).
The answer is YES! You can most certainly bake with oat flour. The most important thing to know is that since oats are a naturally gluten free food, your baked goods most likely won't rise much or at all. My oat flour muffins, for example, are pretty flat on the top. I kept trying to make the recipe in a way that produced a nice and pretty domed muffin BUT that's just not the reality of baking with oat flour since it lacks the gluten needed for rising.
Bread and cakes will be the same way: tasty but very flat.
**I suggest starting out with recipes that are SPECIFICALLY written with oat flour in mind (unless you're ready to experiment and maybe waste a little food as you figure out how it operates in your favorite baked goods).
Some things to keep in mind:
Oat flour absorbs significantly more liquid than regular flour
Oat flour does not have the gluten make up of all-purpose or wheat flour so your baked goods WILL NOT rise in the same way.
*Homemade* oat flour is much lighter and fluffier than regular flour. I say homemade because if you buy store bought oat flour, I've found that it's super packed into the bag and measures more similar to regular flour. So, 1 cup of oat flour will likely weigh much less than 1 cup of all-purpose flour. When possible, I definitely recommend weighing it.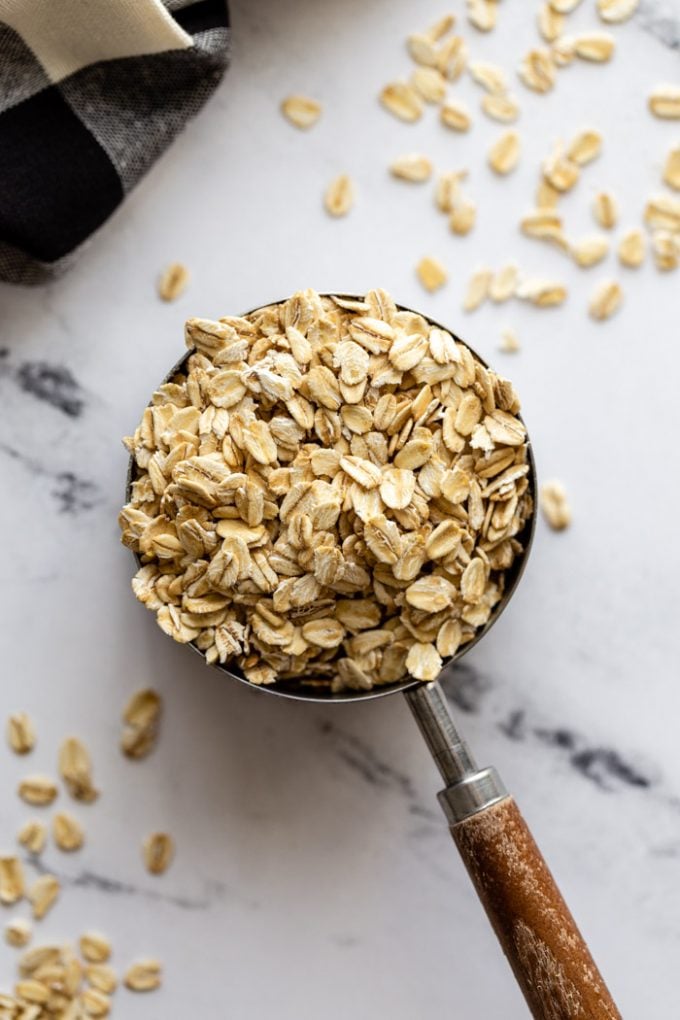 Can you use oat flour instead of all purpose flour?
In addition to what we've already discussed regarding baking with oat flour, I wanted to stress that NO: you CANNOT just pick up any recipe and replace the all-purpose/ wheat flour with oat flour 1:1 and expect it to work out.
I can't tell you HOW MANY times I've received comments along these lines: "I made your recipe exactly as written and it turned out horrible and so dry! I swapped the all-purpose for oat flour/ almond flour". ??‍♀️ Those comments get me every time lol.
There are ways to sub in a *portion* of the all-purpose flour with oat flour but in my experience, people seem to want all or nothing when it comes to using oat flour.
Do oats have gluten?
Technically NO, oats do not contain gluten. They are a naturally GLUTEN-FREE food. However, oats often gain traces of gluten while being processed so if gluten-free is important to you, make sure that you purchase *certified* gluten-free oats. For the average person however, regular oats are totally fine.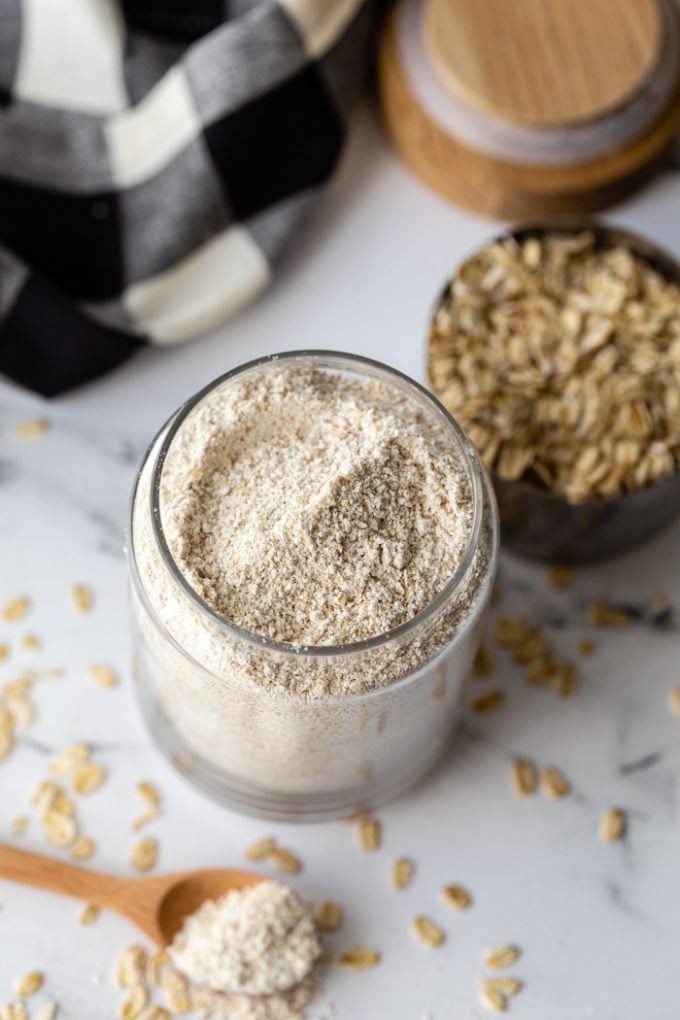 My favorite recipes using oat flour:
See how to make oat flour here:
Print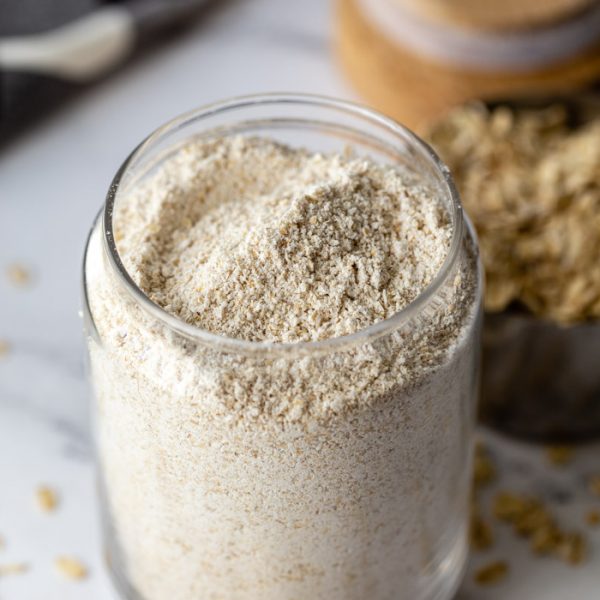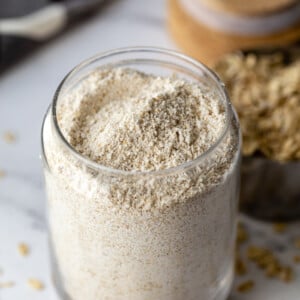 How to Make Oat Flour
---
Author:

Total Time:

5 minutes

Yield:

2 cups

1

x

Diet:

Vegan
Description
Make homemade oat flour is SUPER simple and requires just ONE ingredient: OATS!
---
2 cups

of old fashioned oats*
---
Instructions
Place the oats in a food processor or blender. Pulse on and off a few times and then give everything a quick stir/ shake. Blend for about 2 minutes, stopping midway to stir things up, until the oats have a very fine texture. See photos above for reference. It won't end up as powdery and fresh as all-purpose flour and will still have very fine chunks still left in it.
Store in an air tight container and use in your favorite oat flour recipes!
Notes
*this can also be done with quick cooking oats or even steel cut oats as desired. If needed for your diet, make sure that you buy *certified* gluten-free oats
Prep Time:

0 minutes

Cook Time:

5 minutes

Category:

Flour

Method:

blender

Cuisine:

american
Nutrition
Serving Size:
Calories:

100

Sugar:
Sodium:
Fat:
Trans Fat:
Carbohydrates:

18 g

Protein:

3.3 g

Cholesterol:
Keywords: gluten free baking, vegan baking, how to make oat flour, oat flour recipe
This post may contain affiliate links. Please read my disclosure policy.