Pumpkin Goat Cheese Risotto
This post may contain affiliate links. Please read my disclosure policy.
Welcome to Pumpkin WEEK and the Virtual Pumpkin Party!! I'm so excited to be doing pumpkin week as it's something I've wanted to do for YEARS. I'll be posting a new pumpkin recipe everyday for 6 straight days (which is a *little* ambitious even for me). These themed weeks are something that I would love to do a few times a year. I'm thinking a zucchini week in the summer, maybe a cookie week around the holidays? I have a LOT of ideas, guys. Get ready!
But right now, it's ALL THINGS PUMPKIN!
Today also just so happens to be the Virtual Pumpkin Party where a bunch of amazing bloggers have come together to share a bunch of amazing pumpkin recipes. This is my FORTH YEAR participating in the Virtual Pumpkin Party which kind of seems crazy!
You can see year 1 here, year 2 here, and year 3 here.
You can also see a list of all the delicious recipes HERE.
And a big thanks to Sara from Cake Over Steak for organizing the party each year!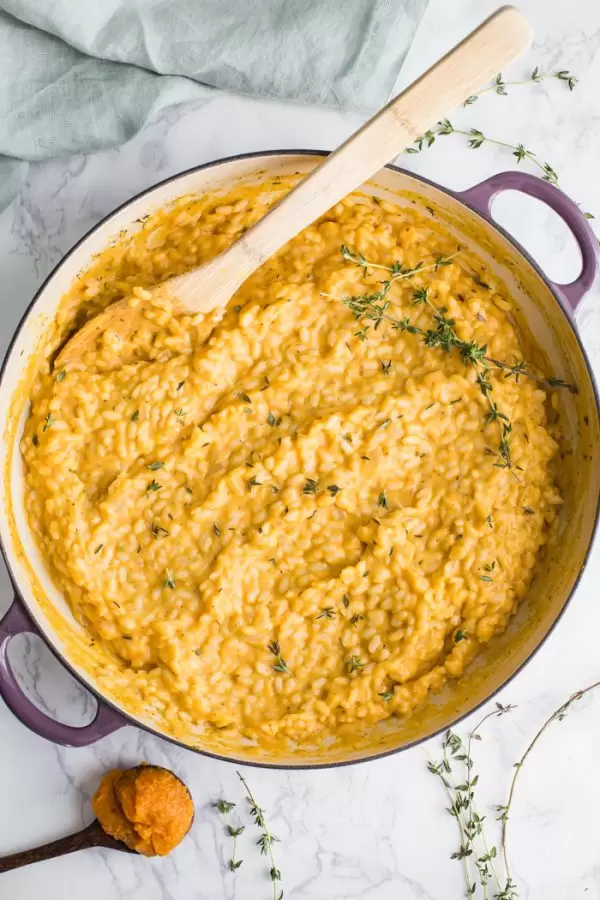 For this year's virtual pumpkin party, I'm making a DELICIOUS and easy Pumpkin and Goat Cheese Risotto. I have a soft spot in my heart for a good risotto dish and this particular risotto is NO exception!
It's creamy, and cheesy, and filling, and DELICIOUS!! Besides the pie that is coming tomorrow, this Pumpkin Goat Cheese risotto might be Jemma's favorite dish of pumpkin week.
How to Make Pumpkin and Goat Cheese Risotto
Risotto is SO easy to throw together and I wish people made it at home more often!
We start by melting a little butter and sauteeing onion and shallot with some herbs. The rice goes in and, I know this might seem a little weird, it gets toasted in the pan a bit before adding any liquid. Then our WHITE WINE goes in.
Now, the key to a good risotto, is to slowly cook it while gradually adding in the broth. We're going to add the broth, a little at a time, and not add anymore until the previous bit of broth is almost completely absorbed by the rice. This is continued until almost all of the broth is gone.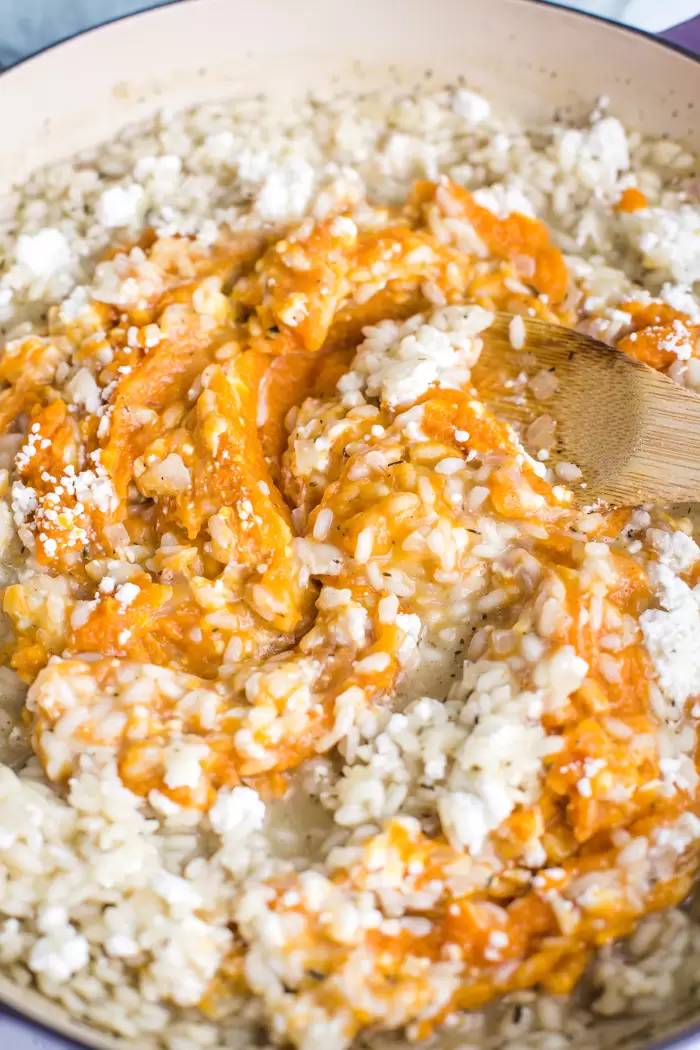 Once off of the heat, the goat cheese and pumpkin is stirred in and it's ready to EAT!
What kind of rice for risotto?
To make risotto, you want a short grain rice. Short grain rices tend to have a higher level of starch which means that it absorbs less liquid than other rices. This results in a thicker and creamier rice dish (which is what makes risotto SO GOOD!).
I most often use arborio rice mostly because it's the easiest short grain rice to find in my area. But other short grain rices such as Carnaroli will work as well!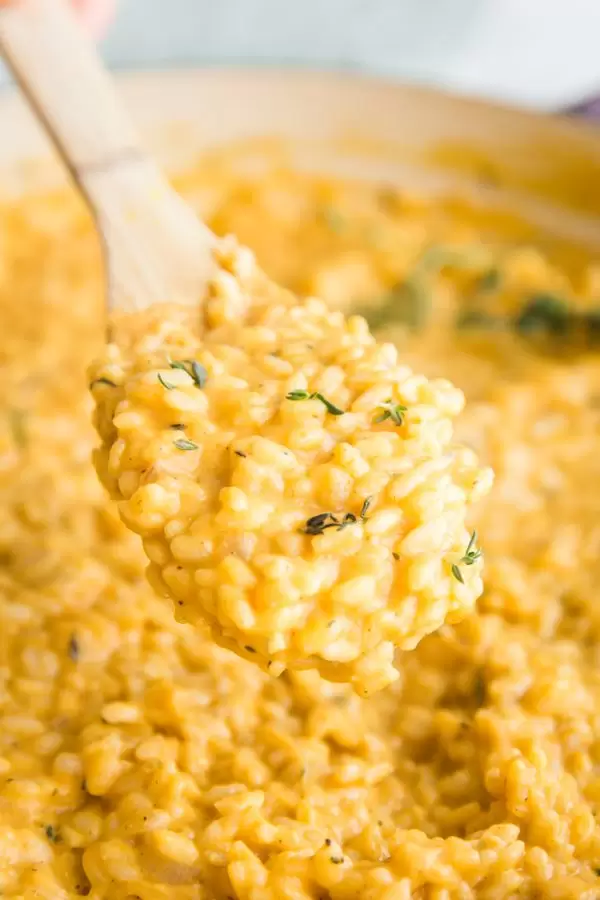 See How to Make the Risotto here:
Print
Pumpkin Goat Cheese Risotto
---
Author:

Total Time:

25 minutes

Yield:

4

servings

1

x
4 cups

of broth (chicken or vegetable broth will work)

2 tablespoons

of butter

1/2

of a sweet onion, finely chopped

1

shallot, finely chopped

½ teaspoon

or dried stage

½ teaspoon

of dried thyme

½ teaspoon

of garlic powder

1 1/2 cups

of

risotto rice

(most short grain rices will work, see note above about types)

2/3 cup

of white wine (I really like Vermouth in this recipe but other dry white wines work great)

s&p to taste

4 ounces

of goat cheese, divided

1 ½ cups

of pumpkin puree (this is *almost* a full can. Do a taste test and then feel free to add the remaining bit of the can in there!)
---
Instructions
In a medium saucepan, heat the stock so that its just warmed through and at a VERY minimal simmer. Keep on the heat until needed.
In a large pot, heat the butter until just melted and then add in the onion, shallot, thyme, sage, and garlic powder and cook until the onion is just translucent which is about 8 minutes.
Turning up the heat a bit, add in the risotto rice and let cook for a few minutes, stirring frequently to let the rice get to the point that it's almost frying and the rice becomes a bit translucent. About 2 minutes.
Add in the wine and stir to combine. Turn the heat back down to a gentle simmer.
Add in just one ladle full of the stock and a pinch of salt. Stir to combine and let simmer until most of the liquid has been absorbed. Repeat this until all of the stock has been added. Take off of the heat with a few tablespoons of liquid still in the pan (it will continue to absorb once off of the heat).
Stir in the pumpkin and ~2/3 of the goat cheese (the rest is for topping). Season to taste with salt and pepper.
Garnish with remaining goat cheese, some thyme, and enjoy!
Prep Time:

5 minutes

Cook Time:

20 minutes

Category:

dinner

Method:

stovetop

Cuisine:

Italian
Keywords: risotto, healthy, pumpkin
This post may contain affiliate links. Please read my disclosure policy.