Stuffed Shells with Butternut Squash Sauce
This post may contain affiliate links. Please read my disclosure policy.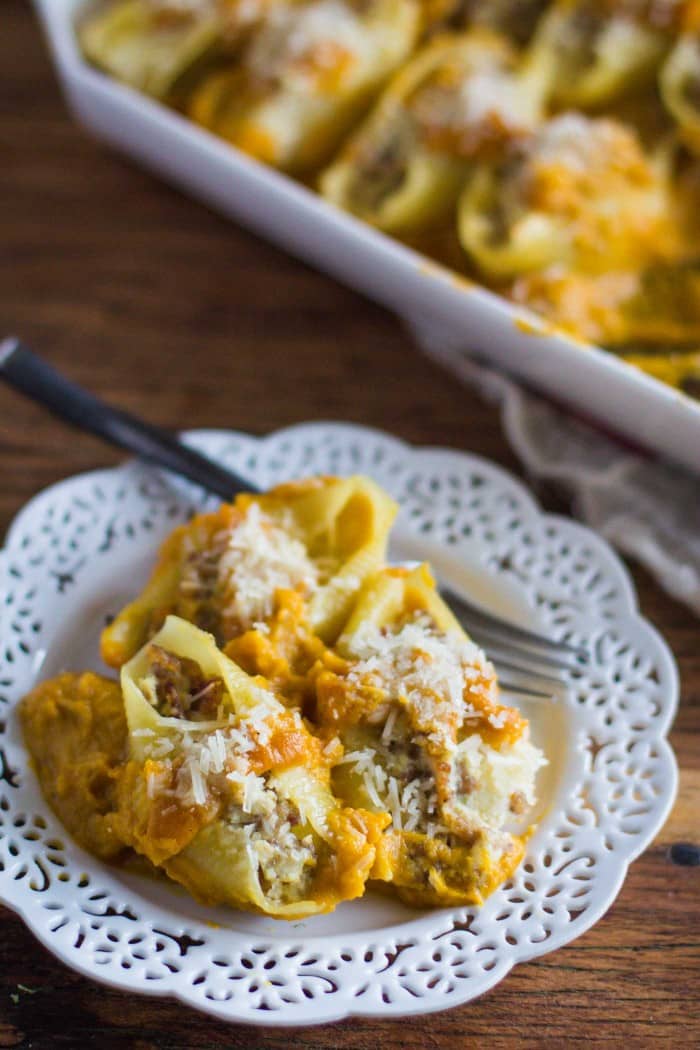 I have been staring at these stuffed shells for literally hours (with lots and lots of little distractions thrown in there) and have come up with no suitable words. It's interesting because a blog friend of mine recently sent me the link to a super long forum post titled something like "Why do all food blogs suck!?".
One of the complaints that people had, apparently, is that they hate all the meaningless rambling that bloggers often do before finally getting to the recipe. Guilty. They also complained that bloggers put too many photos in one post and they're often the exact same picture just at slightly different angles. Guilty of that too.
I started my blog originally as a personal journal and never could have imagined that it would morph into this food and photography obsession that it has. So, I'll just keep on doing me: sharing my random life stories and taking too many pictures.
These Stuffed Shells with Butternut Squash Sauce are one of the BEST things I've made in a while. I've made stuffed shells like this for a long time so it's something that I'm rather comfortable with. I thought I would switch it up a little bit and try it out with the Butternut Squash Pasta Sauce that I posted recently.
I recommend making the sauce ahead of time. Like, the day before preferably just to make the whole process really smooth.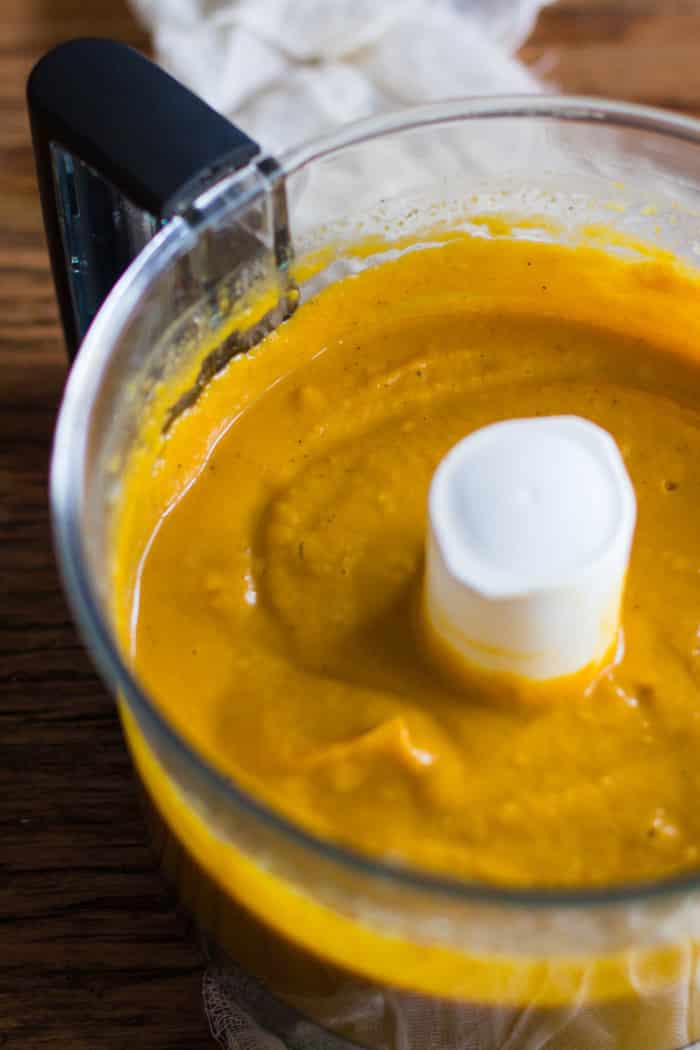 The pasta cooks while the sausage is fried.
While those cool off a bit, the cheese mixture is prepared by combining the cheeses and the spices and eventually the egg.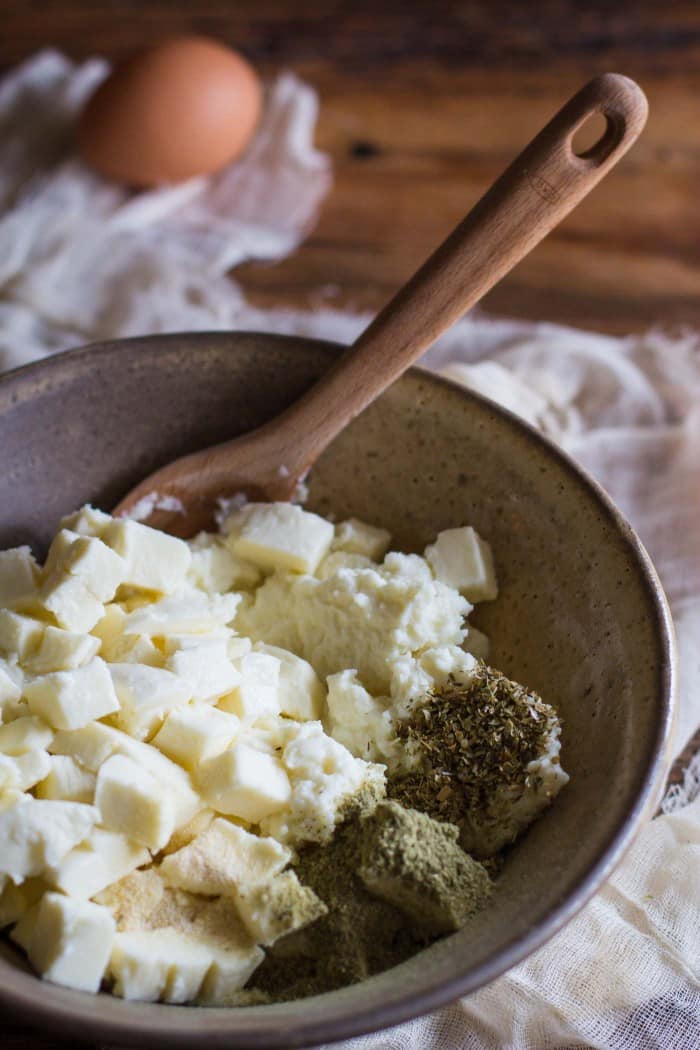 Next the sausage is mixed in.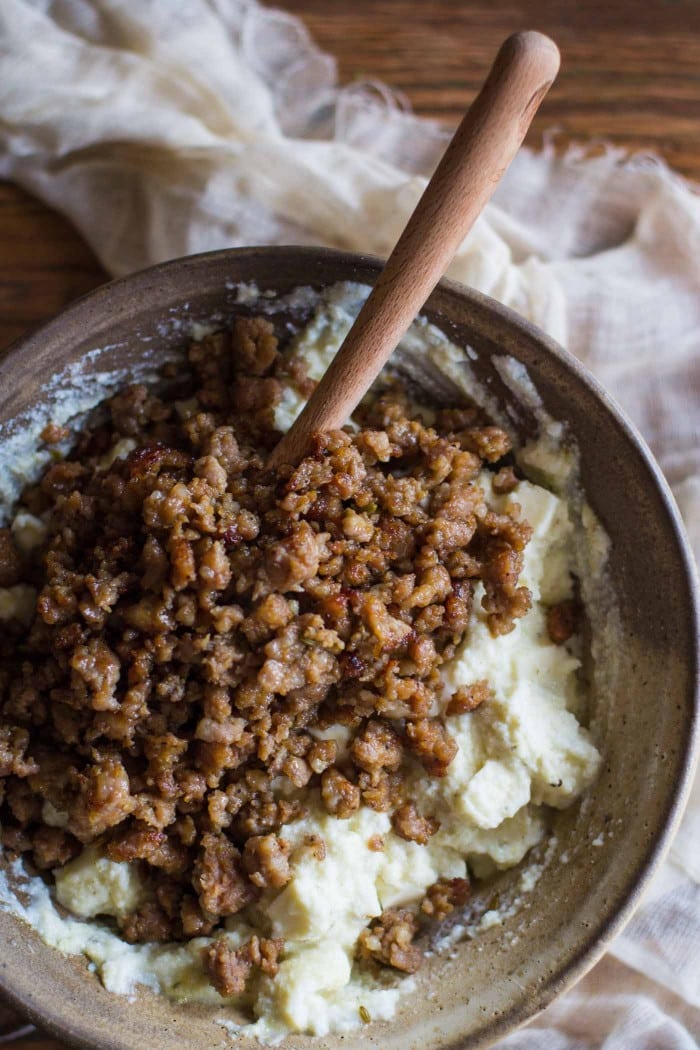 The shells themselves are prepared by first pouring 2/3 of the butternut squash sauce into the baking tray. If you have one big tray, that will work but I used 2 medium trays so that the shells weren't all squished together and they'd look a little prettier :)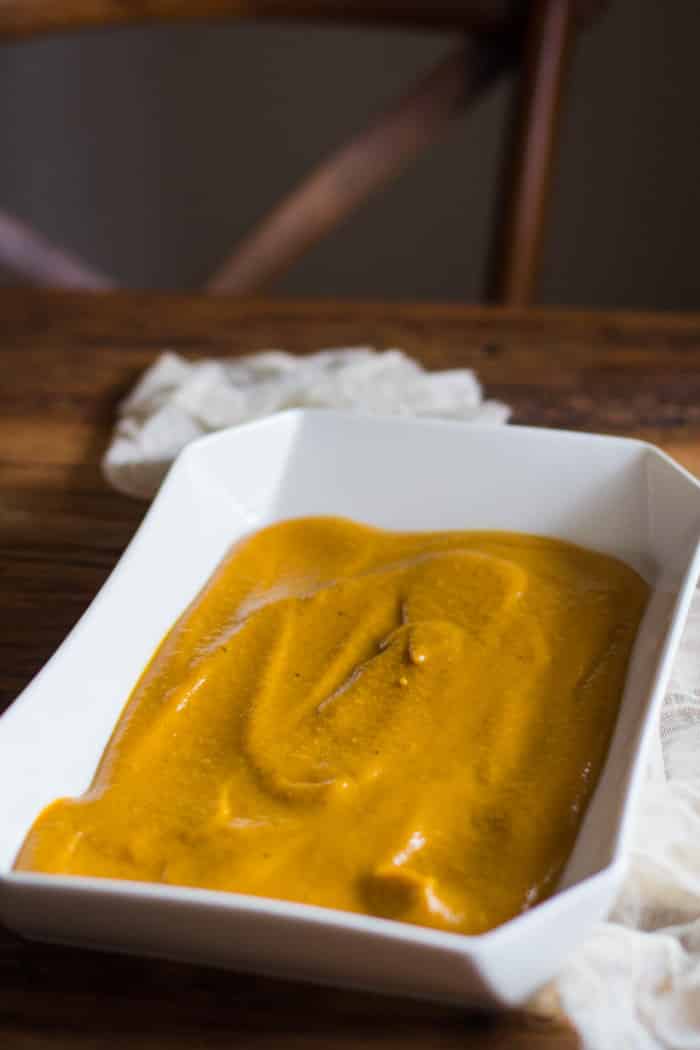 Next the shells are arranged on top of the sauce and they're filled with the cheesy sausage mixture like sooooo: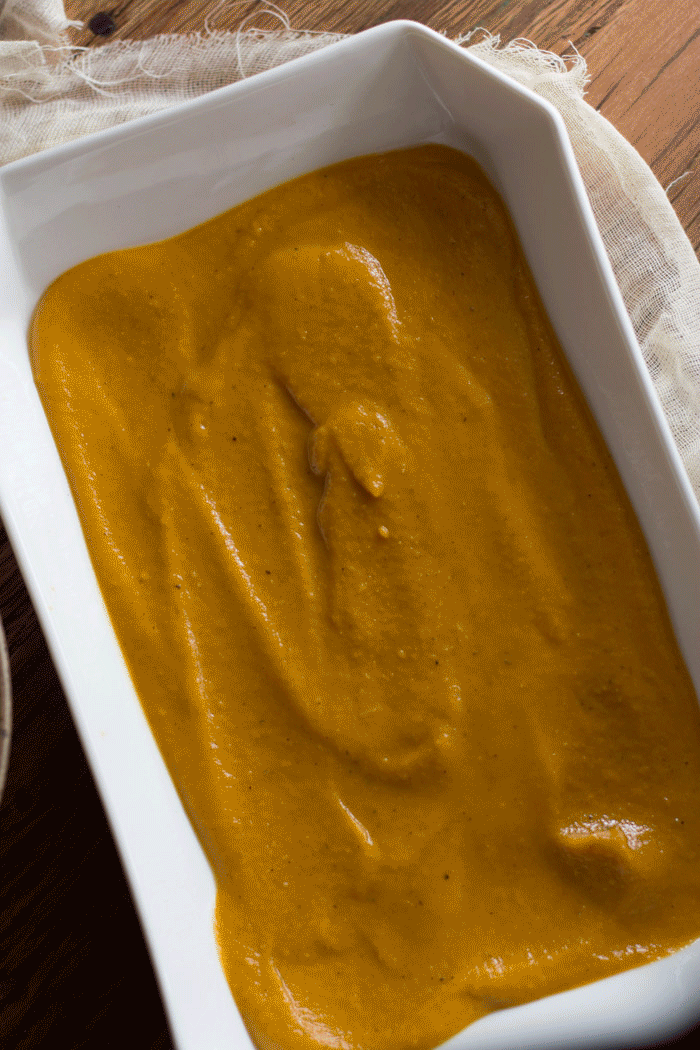 Just bake from for about 35-40 minutes and ENJOYYYY!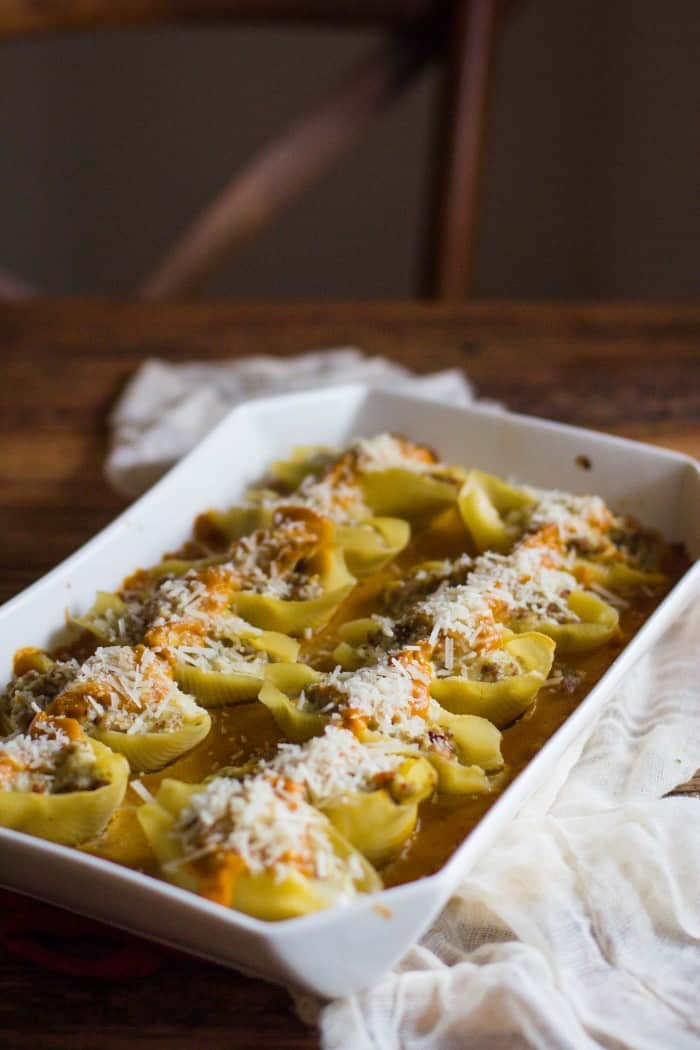 Ya know what else is really great about this dish!??? It freezes SUPER well. Just put a few of the shells and a little sauce in a tupperware container and freeze it. Now you've got a ready made microwave meal. Easy!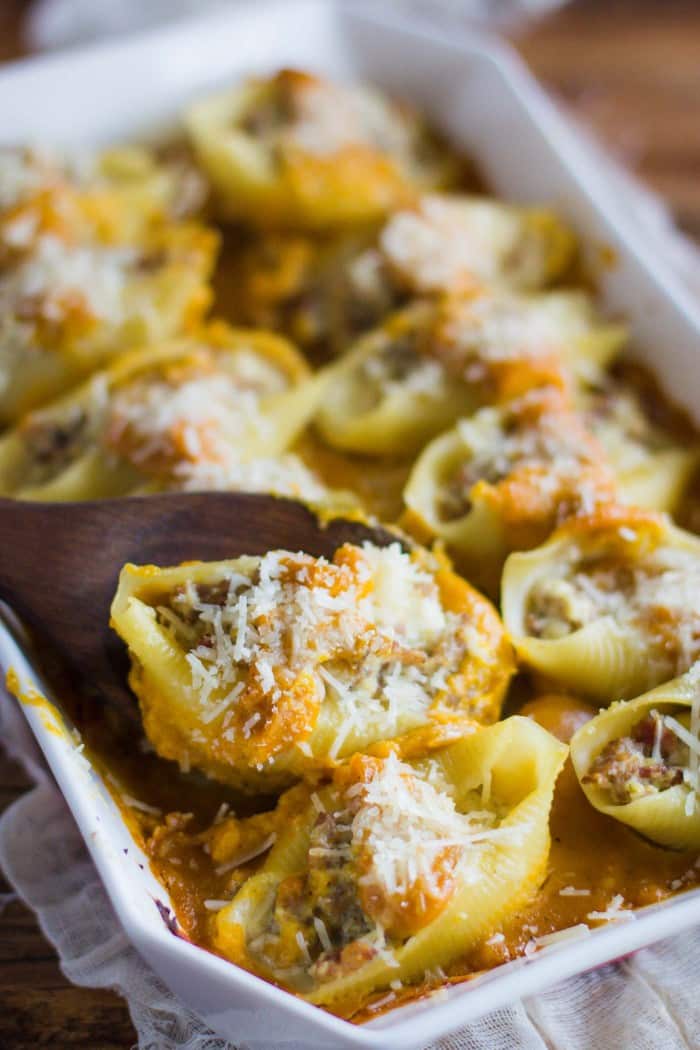 Recipe for the Butternut Squash Pasta Sauce HERE.
Print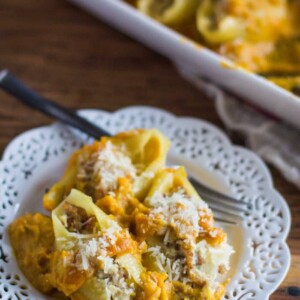 Stuffed Shells with Butternut Squash Sauce
---
Total Time:

55 minutes

Yield:

8

1

x
1/2

box of jumbo pasta shells (

6 ounces

)

1

pound sweet Italian sausage

15 ounces

of ricotta

8 ounces

of mozarella, finely chopped

1

large egg

1/2 teaspoon

of dried sage

1/2 teaspoon

of oregano

1/2 teaspoon

of onion powder

2 cups

of butternut squash pasta sauce (link to recipe above)

1/2 cup

of shredded parmesan cheese for topping
---
Instructions
Pre-heat oven to 375 degrees F.
Start by cooking the sausage according to package directions until it's cooked fully through. Set aside on a few paper towels to absorb some of the excess grease and to cool.
While the sausage is cooking, the shells can also be cooking. Cook to your desired doneness. Drain and set aside to cool enough for you to handle them.
In a large bowl, combine the ricotta, chopped mozarella, egg, sage, oregano, and onion powder. Once the sausage is moderately cooled down, stir it into the cheese mixture.
In a large baking tray (or 2 medium sized trays which is what I did) pour 2/3 of the butternut squash sauce into the bottom of the tray and spread it out evenly.
Evenly space out all of the shells and fill them evenly with the chesee and sausage mixture. You'll put about 2 tablespoons of the mixture into each shell. If you have some of the filling leftover, you can add it to some of the already filled shells.
Cover the stuffed shells evenly with the remaining butternut squash pasta sauce and top evenly with the parmesan cheese.
Bake for 35-40 minutes until the cheese on top is thoroughly melted in.
Optional: once out of the oven, top with a bit more parmesan cheese and ENJOY!!
Prep Time:

20 minutes

Cook Time:

35 minutes
This post may contain affiliate links. Please read my disclosure policy.